We've written a complete guide to Chamonix and the essentials you need to know if you're thinking of visiting. Working with several local experts is a perk of working with CAY so we've collated the best of this local knowledge and information over the following four blogs, which will be released every 2 weeks.
In the second post of our guide to Chamonix we will talk about winter; it is what Chamonix is most famous for and for good reason, the skiing, the snowboarding and other activities like ice climbing and husky dog rides. Despite this Chamonix is a popular summer destination attracting more visitors per day than in winter.
Chamonix in summer, is it really that good?
The mountains surrounding Chamonix are great for skiing, but they also make a great base for many summer activities – from mountaineering, hiking, and mountain biking to via ferrata, climbing and white water rafting. There are lots of marked trails in the mountains where you will find it hard to avoid spectacular mountain views and in particular the year-round, white-capped Mont Blanc is breathtaking.

For those who want something a little less extreme there are markets, golf, wine tasting, swimming, or simply relaxing in a beautiful environment with Chamonix's wellness facilities. Culture vultures will love the Cosmo Jazz music festival too.
The summer is packed with events with the largest being the Chamonix Marathon du Mont Blanc and the Ultra Trail du Mont Blanc for any running enthusiasts.
If you are looking for somewhere for a family holiday, Chamonix is an excellent destination. Teens and adults enjoy many of the same activities, and for families with younger kids there are hikes for all levels, an adventure tree park, an animal park, and several good play parks. For our family guide to Chamonix summer activities see here.

Where to Eat and Drink in Chamonix
Food for many is such an important part of a summer holiday and Chamonix does not disappoint, from the best bakeries to Michelin-starred restaurants, this mountain town has all a gastronomist could ask for.
The local cuisine is Savoyard, and although usually more associated with winter, there are two dishes that are the most famous and enjoyed by all year round.
Raclette is a type of cheese that is melted and scraped onto your plate over an array of meat, potatoes and bread. Although there are machines that take individual slices of cheese, the most traditional is a ½ or ¼ wheel of cheese speared above an open flame ready for your own scraping.
Tartiflette is the cheese, onion, bacon and potato dish that warms you to your boots and fills you during or after a day in the mountains.
There is also, of course, the traditional Savoyard cheese fondue, croutes and other specialities also available at all traditional restaurants.
Chamonix also has a range of other cuisines available, such as Japanese, Italian, Chinese, Indian, Thai and much more. If fine dining is your thing, there are the two Michelin-starred restaurants as part of the Hotel Albert Premier that will never disappoint.
In summer there are several ice cream spots located around the town centre, find out where the best ones are here.
A couple of our favourite picks for restaurants in Chamonix are: Munchie, L'Impossible, Bizes, and La Crèmerie du Glacier for Savoyard specialities. That last one is situated at 1300 m altitude, tucked away in the forest. For families with younger kids, we also recommend Rockypop for its kid-friendly play area and games.  Or if you are looking for the best 'haute' cuisine to keep you satisfied while hiking and biking, our guide to Chamonix mountain restaurants is what you are looking for.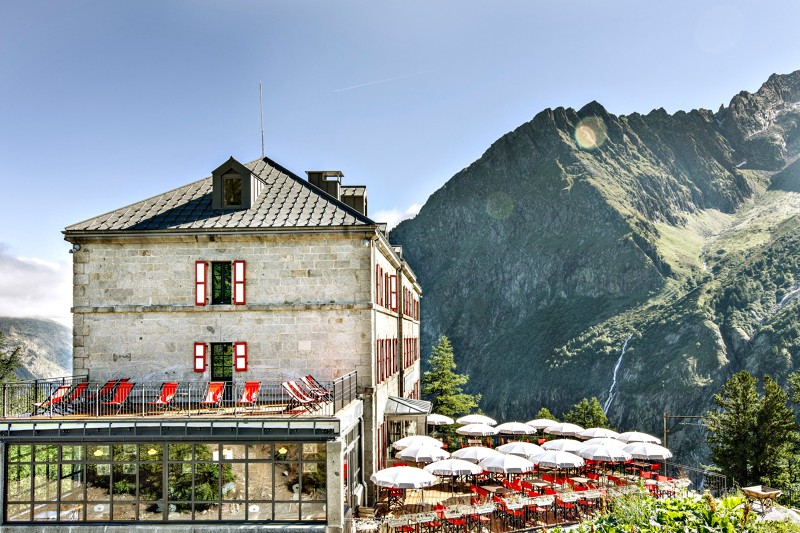 Getting Around
The public transport links mean that you really don't need a car if you are staying in Chamonix centre, however if you're staying in some chalets further, or want to explore out of the valley it can be useful.
There is a network of buses that link Chamonix with the rest of the valley, working routes from Servoz up to Le Tour. There are some dedicated bike buses taking you straight to Les Houches and Le Tour so you can take advantage of the mountain biking tracks. The buses are free with your guest card which Chamonix All Year will provide you.
The local TER train service runs from le Fayet to Martigny in Switzerland (although you have to change trains in Vallorcine). You can usually take your bike on the train, although officially it is limited to 5 bikes per train. The train is free with your guest card between Vallorcine and Servoz.

Exploring the Region
Chamonix is situated in a nook between Switzerland and Italy allowing access across all three countries within 45 minutes. There is plenty of hiking and mountain biking over both borders and plenty of day trips to take.
Indulge in an Italian wine and cheese tasting trip; visit Annecy, Geneva, or head through the Mont Blanc tunnel to explore Italy, activities in the Aosta Valley or drive a little further to reach Turin, or even the fashion capital, Milan, less than 3 hrs from Chamonix. A great day trip can also be to take the train to Martigny. How many holidays allow you take in three countries with such ease?!
=> Move on to the second post in the series: Winter