Mont Blanc helicopter flights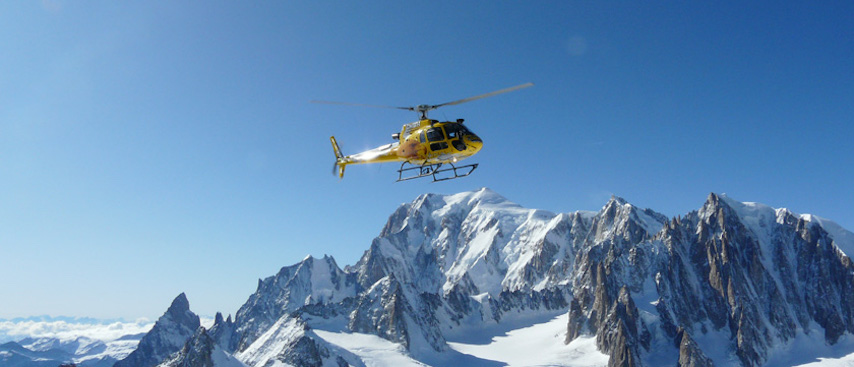 For a once in a lifetime adventure, book an unforgettable helicopter flight over the Mont Blanc massif. You won't believe your eyes as you hover beside beautiful glaciers and snow-capped mountains, experiencing breath-taking views that you won't see anywhere else.
A helicopter flight is a perfect treat for a special occasion and can be enjoyed by everyone in your group (children from 7 years).
Choose from 4 different flight paths
Head for the Aiguille Verte which reaches 4122m of rock and ice
Fly along the Franco-Italian border past the Aiguille Verte to the Grandes Jorasses which occupy a special place in the history of Alpinism before returning over the Vallée Blanche and Mer de Glace
Summit the highest mountain in Europe and see the routes which alpinists take to climb to the top of Mont Blanc at 4810m, taking in Mont Blanc du Tacul, Mont Maudit, Dôme du Goûter and the Aiguille du Midi
The Mont Blanc massif route takes in all the highlights from the shorter flights on offer as well as the Italian side of Mont Blanc and the Aiguille de Bionnassay, beyond the Dôme du Goûter
Minimum 6 people, subject to weather conditions bookings will only be confirmed a day before the flight.
Enquire about your unforgettable flight with Chamonix Mont Blanc Helicopters – let them know you're coming from Chamonix All Year when you book.