Mer de Glace & Montenvers train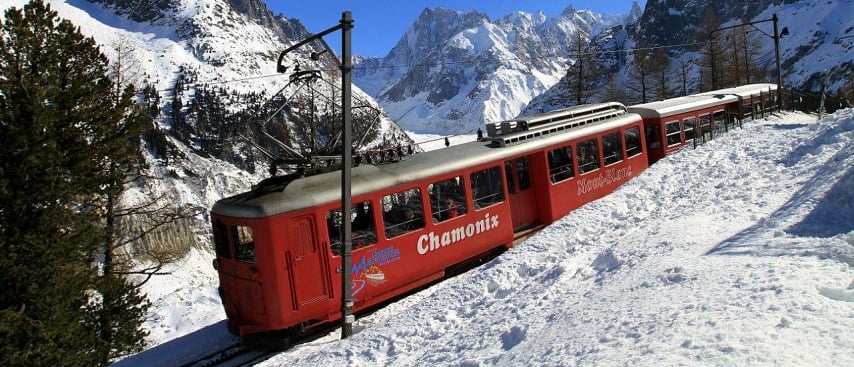 Leaving from the centre of Chamonix, this little red train takes you on a panoramic ride up to France's largest glacier, the famous Mer de Glace – "Sea of Ice", through the forest on a beautiful 20-minute journey. You might find you're sharing the journey on the way up with mountaineers heading for a glacier hike or else returning to Chamonix with skiers and boarders who have just completed the Vallée Blanche.
At the top, leave the station and the vista opens up to an extraordinary view of the glacier, frozen like a sea in motion. From the station, take the bubble lift down and enter the ice cave – carved into the glacier anew every year. You'll be amazed to see the markers indicating how the glacier has retreated since the train line was completed in 1909. Please note: There are more than 500 steps between the bottom of the bubble lift and the ice cave, due to the continued movement of the glacier since the lift was installed.
You can also visit the Glaciorium for an interactive display on the formation and geography of glaciers all over the world, as well as seeing the amazing crystals hewn from the rock in the natural gallery.
There is a café at the top and a restaurant at the Grand Hotel du Montenvers which was built in 1880 to house the first mountaineers who came to see the Mer de Glace.
Allow 2-3 hours for a complete visit of the site, including ice cave and return train journey.
The Montenvers train is included on the Mont Blanc Unlimited winter lift pass and the summer Mont Blanc Multipass. Pre-order your lift passes with us at no extra cost and we will deliver them to you on arrival – easy! Order now in our Chamonix Resort Shop.