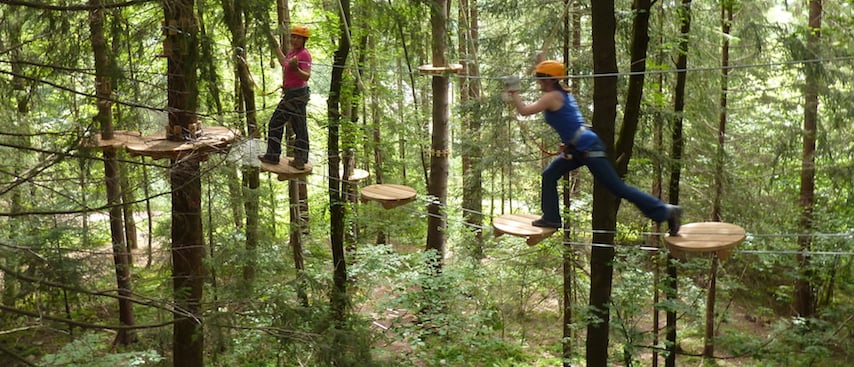 Down by the Lac des Gaillands, just 20 minutes' walk from Chamonix town centre, the eco-adventure tree park snakes through the forest, creeping higher and higher as you make your way through the obstacles along 4 courses of increasing difficulty. Like ski pistes, start off on the green course, where you can get to grips with the safety equipment and find your feet on the wobbly bridges before working your way onto blue, red and black – for the adrenaline seekers!
See how far you can get – will you make it to the black? By the end you'll have navigated monster ziplines, Tarzan swings and even a flying skateboard, completing up to 70 different elements.
Need to know
Typical price: 26€ per person (18 years+), 23€ pp (teenagers)
Group discounts are available for 5 people or more – 22€ per person
Price includes safety equipment and initiation
Booking the adventure tree park
Contact the Compagnie des Guides de Chamonix to book the adventure tree park – let them know you're coming from Chamonix All Year when you book.