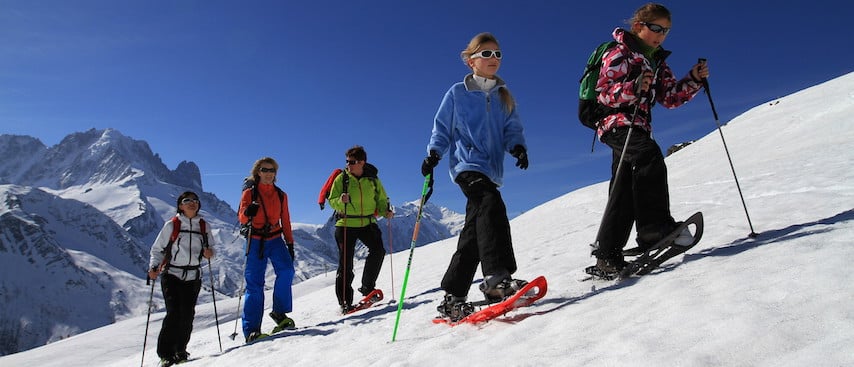 Discover a tranquil way to explore the mountains
If you like spectacular mountain views, peace and tranquillity, and getting out and about in the fresh air, snowshoeing in Chamonix could be perfect for you. Whether you're a summer hillwalker or a non-skier, you'll be surprised and delighted by how easy it is to escape the crowds and enjoy a magical winter walking experience. When you book with a guide, snow shoe trips are safe, informative, friendly and fun, and require no organisation on your part.
Enjoy a day snowshoeing
You can usually book half-days or full-days and they will choose a bespoke itinerary to suit your group, here are some possible itineraries that you could experience on a day of snowshoeing.
Winter Wonderland – Snowshoeing doesn't have to be taxing. There are many charming routes which take us into pristine woodland, with stunning views, without the need to climb mountains. The woods are home to wild flora and fauna, the tracks of which you can easily find and identify, and evidence of the human history of the valley, in the form of ancient alpine farm buildings and seasonal villages, abandoned in winter.
Panoramic Peak Challenge – The Mont Blanc massif and surrounding Alps provide some of the most stunning mountain views on Earth. There are many lesser summits within easy reach of Chamonix which make worthy snowshoeing objectives for any reasonably fit and determined walker. With leadership and a little coaching you'll leave the crowds far behind as you gain height under your own steam and marvel at a stupendous, unspoilt viewpoint — perhaps all to yourself! Make sure the guide knows your aspirations and general fitness level so they can choose a suitably challenging and rewarding route.
St Bernard Monastery Trip – the St Bernard Hospice, the original home of the famous St Bernard mountain dogs, is a fascinating place to visit on a day's snowshoeing. Walking in the footsteps of centuries of pilgrims and travellers, you'll ascend a fairly gentle but sustained trail to the monastery, which sits just below the once perilous St Bernard pass, a gateway through the Alps between Switzerland and Italy. Enjoy a bowl of homemade soup in the monastery refectory, and perhaps a brief tour of this important historical building, before descending to the valley. (Please note this snowshoeing starts in Switzerland, around a 90 minutes from Chamonix).
Torchlit Evening Walks – Book an unforgettable night time experience exploring the valley by torchlight.
Booking snowshoeing with a guide
Contact the Compagnie des Guides de Chamonix or Evolution 2 to book a snowshoeing experience – let them know you're coming from Chamonix All Year when you book.