Chamonix caters perfectly to holiday makers seeking a retreat from the hustle and bustle of modern life. Extreme sports are a perfect distraction, or to truly mellow out nothing beats a spa day in Chamonix's many beautiful and luxurious wellness spas.
Spa Days in Chamonix
For many years, our favourite spa was the QC Terme is Courmayeur, Italy – read on for details. So we were delighted to know that the same people behind that spa opened another one in Chamonix in Summer 2018.
QC Terme Chamonix is located next to the sports centre and brings the surrounding Mont Blanc mountain range to the heart of everything it offers for an authentic Alpine relaxation experience.
Waters heated to a very comfortable 34-36°C
Whirlpools & panoramic views
Waterfalls & hydro-jets
Salt room
Saunas
Steam baths
Sensory tubs
Relaxation rooms
Olfactory space
More new rooms added in 2021!
Unlike at Pre Saint Didier, the Chamonix spa doesn't have an all-day buffet to help yourself to. However, if you're visiting over lunchtime you can add a delicious and nutritious wellness lunch to your entrance.
Evening visitors can also enjoy the famous QC Terme aperitif, known as the "Aperiterme". This is included in the entrance price you pay, and while the buffet opens at 6.30pm, you may want to scout the eating area out before that – from our previous experience, we know that the queues can start to form early!
Ticket prices vary throughout the week, with discounted entrances available from 5.30pm. Booking in advance is highly recommended; under 14s not admitted.
Italian spa day
Another of our favourite ways to unwind during a Chamonix holiday is to go on a day trip to the luxurious thermal baths in Italy.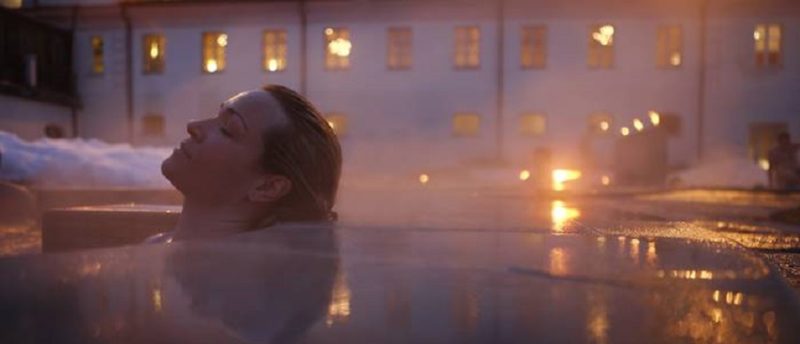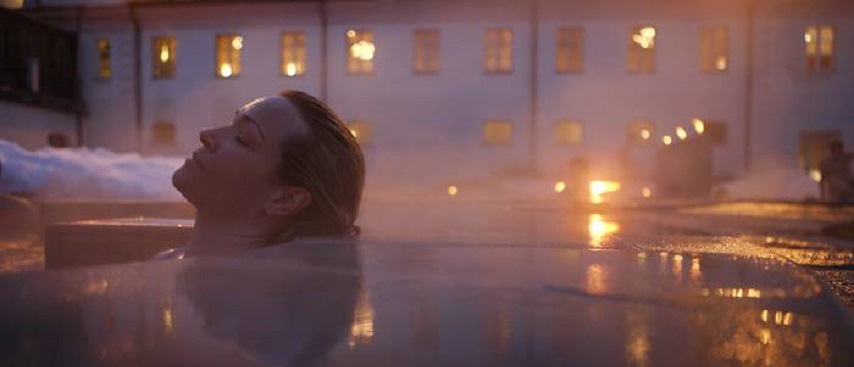 Pré Saint Didier spa is totally unbeatable for luxury, mountain views and facilities. Set in the mountains of the Aosta valley, just on the other side of the Mont Blanc tunnel, Pré Saint Didier is a whole complex perfect for a spa day from Chamonix.
The list of facilities is almost endless… 3 outdoor pools, indoor and outdoor saunas, a Turkish bath, relaxation rooms with chromotherapy and aromatherapy, and a veranda with a panoramic view of Mont Blanc!
There is nothing more magical than enjoying the naturally heated thermal waters of the spa while surrounded by snow on the ground – you can also laugh at the brave souls who come out of the traditional wooden saunas and roll in the snow.
The price of entrance includes the use of bathrobe, towel, flip flops and a lovely buffet with healthy snacks of fruit and vegetables, bread, breadsticks, infusions and fruit juices – so all you need to bring is your swimsuit. In fact – you can even buy a swimming costume when you get there if you forget to bring it with you, so it really is a hassle-free spa day option.
With such a range of facilities, you can easily spend all day there exploring the different relaxation options , but if that's not enough for you then additional treatments such as massages can also be booked for an extra fee.
Best of the rest – Chamonix spas
Deep Nature Spa at Les Aiglons Hotel: Experience absolute alpine relaxation at Les Aiglons hotel's Deep Nature spa. The list of facilities is almost as lengthy as at Pré Saint Didier – you can enjoy the outdoor heated pool with Mont Blanc views, the jacuzzi, the outdoor wood cabins housing sauna and steam rooms, the indoor steam rooms with galaxy ceiling, the multi-sensory showers and the relaxation room. There are also four treatment rooms, plus a double treatment room where you can share a pamper session.
Tel: +33 (0)4 50 55 96 37
Address: 270 Avenue de Courmayeur, 74400 Chamonix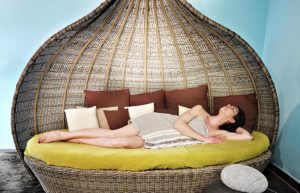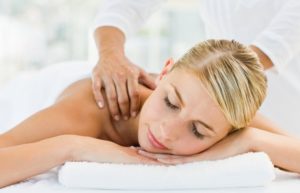 Les Thermes – Saint Gervais Mont Blanc: Since 1807 the baths which gave Saint-Gervais-les-Bains its name have offered pools, sauna and hammam, as well as massage and renowned skin-care treatments or 'cures'. Why not couple it with a trip to the Tramway du Mont Blanc, which sets off from St Gervais and heads up into Les Houches towards Mont Blanc?
Tel: +33 (0)4 50 47 54 57
Address: 392 Allé Dr. Lepinay, 74170 Le Fayet
Spa Le Bachal at Albert 1er Hotel: Le Bachal is an old Savoyard dialect word meaning pool or basin, and this spa is part of one of Chamonix's oldest family-run hotels, the Albert 1er. Their spa and indoor/outdoor heated pool are normally reserved for residents of the hotel, but if you book one of their spa treatments you'll be given access to the other facilties too and will be able to enjoy the spectacular views of the Mont Blanc massif and the Glacier des Bossons. There's also a gourmet option for enjoying the facilities: book the "Pool & Lunch" package for 82€ per person, which includes access to the wellness centre from 9am and then lunch or the menu du jour, plus two glasses of wine.
Tel : + 33 (0) 4 50 53 05 09
Address: 38 route du Bouchet, 74400 Chamonix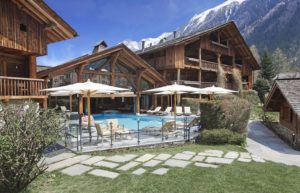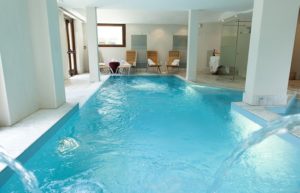 Grand Hotel des Alpes – Centre Bien-Être: Another popular hotel spa, the centre bien-être (wellbeing centre) is located in the heart of Chamonix's high street, with swimming pool, jacuzzi, sauna and various body treatments. Spa access is free with any 30 minute massage.
Tel: +33 (0)4 50 55 37 80
Address: 75 Rue du Docteur Paccard, Chamonix
Spa by Nuxe at Heliopic hotel: Within the impressive surroundings of the Aiguille du Midi cable car, the Nuxe Spa at the Heliopic hotel offers an appropriately impressive range of facilities in a unique setting comprising mirrors, stone walls and raw materials, amongst waves and waterfalls formed by free flowing water. Book face treatments or massages, or just enjoy the tea room, natural products, indoor swimming pool, jacuzzi overlooking Mont Blanc, steam room or sauna. You also won't want to miss the unrivalled ice grotto and ice bath!
Tel: +33 (0) 4 50 54 55 56
Address: 50, place de l'Aiguille du Midi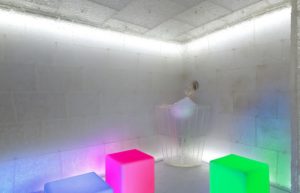 Accommodation with spas
We have hand-picked some very special apartments in Chamonix to offer you more than just a place to rest your head.
Ginabelle 14 apartment
Ginabelle 14 apartment is located in Chamonix town centre and as well as offering everything you need in the apartment to enjoy a relaxing stay, you also benefit from access to the adjacent spa facilities, so every day is a Chamonix spa day!
This 2 bedroom apartment has luxury holiday rentals amenities of swimming pool, sauna, hammam and gym access within the residence. Find out more and how to book »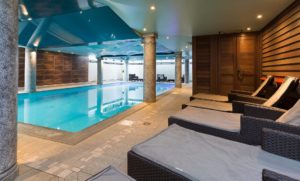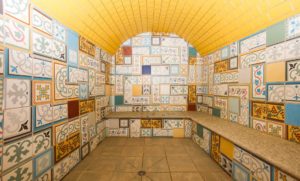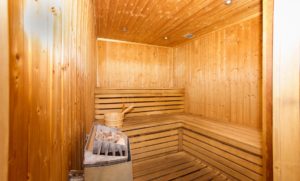 La Cordée apartments
The brand new (2018) La Cordée residence is located in the attractive area of La Plaine des Praz. Résidence La Cordée has luxury facilities on site including a heated indoor swimming pool, jacuzzi, sauna, hammam, fitness room and a climbing room.
There is also a comfortable reception area which is for all guests to use, with lounge area and log fire, kids' play area, table football and pool table, and a shared sun terrace outside which overlooks the lake and Mont Blanc mountain range.
Chamonix All Year manages multiple apartments in la Cordée: