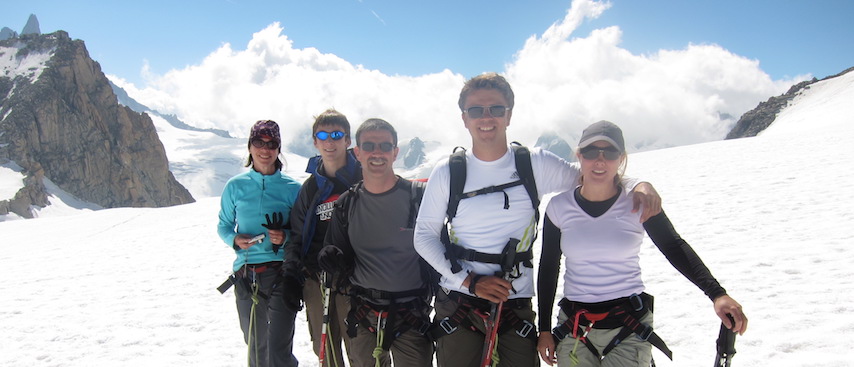 Once you've conquered the mountains, next up are the glaciers! Explore these majestic frozen rivers with an experienced guide and discover their beauty for yourself – we guarantee you a totally unforgettable day.
Glacier discovery
No experience is necessary for the glacier discovery hike on the Mer de Glace. After taking the traditional Montenvers train, you'll descend iron ladders bolted to the rock face*, leading you onto the 'Sea of Ice', where you'll learn the basic techniques for hiking in crampons and may even get the chance to try your hand at ice climbing. When you return to the train station, you'll be amazed to see how far you've been. On a warm day you can even top up your water bottle from the streams which flow on the surface of the glacier!
Vallée Blanche traverse
If you already have some experience of hiking on glaciers, altitude and crampons, then the Vallée Blanche traverse is a wonderful experience, starting from the top of the Aiguille du Midi lift and the famous arête* ('ridge') that you'll cross to reach the main hiking routes. In the middle of summer, you'll walk towards Italy before taking the Panoramic Mont Blanc cable car to return to France. Even out of peak season, when the cable car is closed, your guide can take you on similar routes to experience glacier hiking at altitude.
Guides will also offer tailor-made hikes or multi-day excursions on request.
Need to know – typical prices
Glacier discovery: 115€ per person (4-6 people per guide)
Vallée Blanche traverse: 160€ per person (3-4 people per guide)
Harness, helmet, mountain boots, crampons and ice axes provided. Bring your own lift pass, gloves, warm clothes, sun cream, food and water.
*Good head for heights needed!
Top tips: Taking several warm layers for your glacier hike is a must – even if it's a scorcher on the valley floor – as you will find that the temperature differences are quite dramatic when you're moving between rock and ice. What's more, on a sunny day you'll get warm when you're moving around in direct light, but if you head into the shade then you'll be glad of the extra layers that you brought with you. Waterproof trousers and jacket are highly recommended, as are telescopic poles which you will use for balance while you hike. You will need to take a rucksack, which should ideally be a mountaineering bag suitable for carrying your ice axe too (these can also be bought or hired in the town centre – speak to your guide).
Booking glacier hikes
Contact the Compagnie des Guides de Chamonix or Evolution 2 to book your canyoning activity – let them know you're coming from Chamonix All Year when you book.