Driving to Chamonix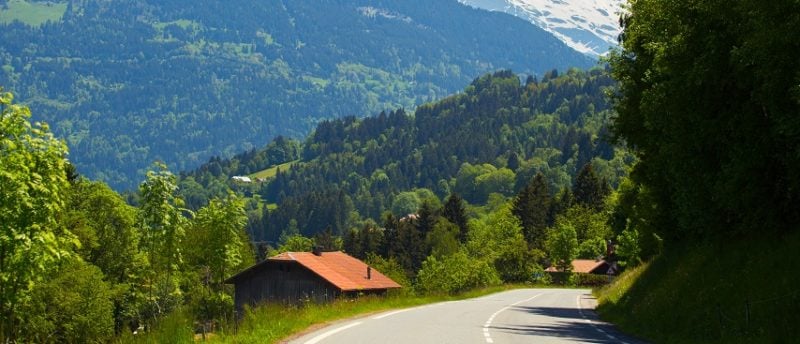 We will provide driving directions to your accommodation when you book with us, but if you're driving from further afield and need help planning your route, check out ViaMichelin, an online route-planning service which will also indicate information about road tolls. Note that driving in both France and Switzerland will be subject to charges, in the form of tolled roads in France and road tax (which requires a window sticker or "vignette") in Switzerland.
Taking public transport
Public transport in Chamonix is very good – and free when you stay with Chamonix All Year – so we encourage our guests to consider other means of transport when travelling to Chamonix to reduce their carbon emissions. Read more about travelling to Chamonix by train, and get more ideas and suggestions to protect the local environment on our eco-friendly holidays page.
See also our information on transport around Chamonix. Our Resort Team will also give you more information on local transport around the valley when you arrive in resort.
Driving from Geneva airport
When exiting Geneva Airport, we strongly recommend driving through the Swiss part of the city which makes the journey to Chamonix less than 90 minutes. Driving through the French part of Geneva does not require paying Swiss road tax but will at least double the length of your journey. See our car hire information for more details.
Getting to Chamonix
Driving to Chamonix from the UK – from Calais to Chamonix is approximately a 8-9 hour drive. If you are driving from Switzerland via the Col des Montets, Chamonix is about 18km from the Swiss-French border, or from Italy via the Mont Blanc Tunnel, Chamonix is about 6km from the Italian tunnel entrance. Note that at peak periods throughout the year, the Mont Blanc Tunnel can get very busy and experience long delays, so see their website for the latest traffic forecasts and information. It is also worth noting that in winter, the Col des Montets can be closed due to sudden heavy snowfall.
Driving in France
Driving in France is also subject to certain rules and regulations which are different from driving in the UK and other countries. Obvious considerations, such as the fact that you will be driving on the right-hand side of the road, do not need too much explanation, but you will also need to consider adapting your car to conform to French laws. The AA have a very comprehensive guide on their website and lots of useful information on the latest news regarding in France, driving abroad and driving abroad in winter, but we especially recommend that you consider these points before setting off for your holiday:
Compulsory equipment: You must carry in your car at all time a warning triangle and a reflective jacket which must be kept within reach of the driver's seat so that you can put it on before exiting the car. (See below for information on compulsory snow chains.)
Winter tyres: we strongly recommend that you drive to Chamonix in winter with winter tyres. These are much more effective as soon as temperatures drop below 7ºC, and will often allow you to drive in snowy conditions without having to use snow chains.
Snow chains: you should also carry these in your vehicle and know how to use them in case of heavy snow. There may be times where road signs indicate that you must fit snow chains to your car. Some of our properties are also located down smaller or steeper lanes where you may need to use snow chains more often (we will indicate this to you when we send the driving directions).
If you would like additional information or help just get in touch with us relax@chamonixallyear.com. See also details for discounted car hire if you are flying and need to pick up car hire from the airport.
Crossing the Channel – Ferry & Eurotunnel
P&O Ferries – Dover to Calais (crossing about 75 mins)
Tel: 08705 20 20 20 for bookings / 0870 600 0611 for information.
Web: www.Poferries.com
Eurotunnel – Dover to Calais
Tel: 08705 35 35 35 for bookings
Web: www.eurotunnel.com
Preparing for your arrival in resort
Once you have paid the final balance on your Chamonix All Year accommodation we will send you the address and directions to the property. We'll also be in touch to organise your check-in at the property and explain how you can get the keys. Once you know your travel plans please contact us so that we know roughly what time you will be arriving in resort so we can organise your check-in.