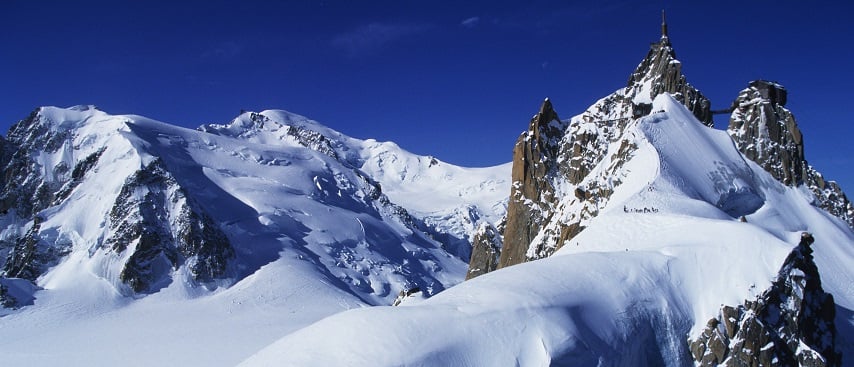 Look up from the centre of Chamonix and you'll see why you're here – Mont Blanc sits majestically as part of the massif surrounding Chamonix. However, from the bottom of the valley the perspective can make it look like some of the other peaks tower over Mont Blanc so get up close and appreciate its true height by riding the Aiguille du Midi cable car, the highest in Europe, and reach the rooftop of Europe at 3,842m.
There is a restaurant at the top, and a viewing platform too with amazing panoramic views across the Mont Blanc massif and down to the valley below. If you're skiing the Vallée Blanche you'll start from the top of the cable car, and if you're not, you can watch the lines of skiers and snowboarders making their way down the famous "arête" (ridge) – the first obstacle to overcome and not for those with a fear of heights!
In summer, you can explore the glaciers with a guide on a glacier hike, or walk from the mid-station of the lift – the Plan de l'Aiguille – to the Montenvers train station along the "Grand Balcon Nord".
On average, allow 2-3 hours to visit the site (including return journey). This visit time can double in peak periods, with specific journey times being allocated. If you are keen to stop off at the mid-station (Plan de l'Aiguille) to have a look around, we recommend doing this on your way back down to Chamonix.
All year round we recommend wearing warm clothes to visit the top of the Aiguille du Midi, sometimes the temperature will be more than 20ºC colder than the town centre so you'll need to wrap up even in summer. It is not recommended to take children younger than 3 years old to the top of the cable car, due to the extreme altitude.
The Aiguille du Midi cable car is included on the Mont Blanc Unlimited winter lift pass and the summer Mont Blanc Multipass. Pre-order your lift passes with us at no extra cost and we will deliver them to you on arrival – easy! Order now and pay securely in our Chamonix Resort Shop.