You have arrived on your holiday and you want to go on one of the family hikes in Chamonix valley. Which hike do you choose and how do you prepare with little ones in tow? Well, all will depend on the age and ability of your walkers, and the weather of course!
We have teamed up with our friends at Mont Blanc Family Fun (MBFF), who have written this handy guide covering everything you need to know about setting off on family hikes in Chamonix.
In the following post you will find information about:
choosing the right hike for your family and basic preparation;
ideal family hikes in Chamonix for different family make-ups: with a buggy, with a baby-carrier or backpack, with 7 to 11-year-olds, with teenagers and with older relatives.
NB – all timings given are approximate; all depend on walking speed, time spent taking photos, resting, changing nappies, etc . . .
Choosing the right Family Hikes in Chamonix for you
Whether hiking with adults or with young children, it is always imperative to do some preparation. With young hikers especially, it can make the difference between a stressful hike and a really enjoyable one!
The Chamonix Tourist Office (and affiliate tourist offices in the valley) have excellent resources at hand:
online itineraries: these are colour-graded and point out features like playgrounds, waterfalls and buvettes (snack bars);
booklet & accompanying map, highlighting graded walks for Vallée de Chamonix Mont-Blanc: Sentiers Randonnées Pédestres au Pays du Mont-Blanc, also available for other areas in the Pays du Mont-Blanc (region of towns, villages and resorts in the French region surrounding Mont Blanc), 6€
Other good books – there are several other good reference books for family hikes in the Chamonix Valley and Pays du Mont-Blanc, see this post from MBFF: Family Hikes – tips for hiking with small children.
Preparation for Family Hikes in Chamonix
Always set off on a hike safely equipped. Essentials include medical kit, sun protection, waterproofs, sufficient water and food, emergency numbers and fully charged mobile phone . . .
Ideal family walks with a buggy (pushchair) or pram
NB – do make sure that you have a black-out fixture for your buggy, for those moments when you might be facing the sun as you hike
Arve river walk to Les Praz & return via Bois du Bouchet (Chamonix)
You can vary this walk (a boucle – a "loop"), depending on the distance that you would like to walk . . .
The walk can start in the centre of town or at the Centre Sportif Richard Bozon, and follows the route of the Arve river (a shady start). Upon arrival in the village of Les Praz, you have several options for lunch or refreshment stops. We recommend the Hôtel Les Lanchers, Hôtel Eden, Chalet Hotel le Castel, La Cabane des Praz, La Crèmerie du Moulin des Praz at 2186 route du Bouchet, or picking up picnic staples at the lovely épicerie (corner shop) Le Comptoir des Praz at 1545 route des Praz.
You can visit the chapel and take iconic photos with the Drus behind . . . then you come back via Les Bois du Bouchet, crossing over the Arveyron river (there is also a path down the Arveyron, but there is less shade here). On the route back through Les Bois du Bouchet, you can stop for refreshments at La Crèmerie La Montagne or Le Robinson (on promenade des Crèmeries).
Good to know – there are playgrounds a-plenty on this boucle: in Chamonix (at the MJC), at the Centre Sportif Richard Bozon (very small), and in Les Praz, opposite Hôtel Les Lanchers. If you want a shorter walk, then you can take the train to Les Praz and you have the above options to head back to Chamonix
Extension to walk – you can extend this walk in Les Praz by heading towards the Pierre d'Orthaz (an iconic bouldering rock), past the héliport (great fun to watch a helicopter landing or taking off!) and back through the village of Les Gaudenays to Les Praz
departure point/parking: Centre Sportif Richard Bozon or centre of Chamonix
train/bus stop: Chamonix centre/Les Praz
duration: 1.5 to 2h walking (not including refreshment breaks and playground stops!)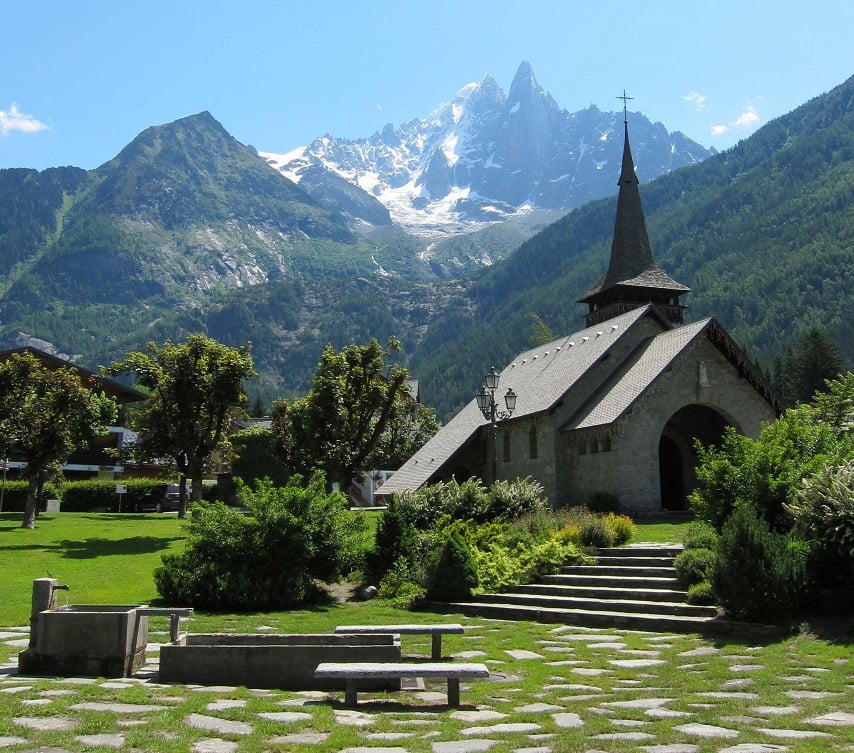 Le Paradis des Praz (Les Praz de Chamonix)
This is a very short, flat walk ideal for buggies (also great with bikes and push bikes), which has a lovely destination for children and families: Le Paradis des Praz. This little paradise is set among the forest: a gurgling stream for paddling, a playground, buvette, pony rides . . . MBFF has more info.
departure point: Les Praz (or you can start from Les Tines for a longer walk)
parking: golf course car park or Flégère car park in Les Praz
train/bus stop: Les Praz SNCF or Tines SNCF / distance: 3km return
duration: 1h return from Les Praz SNCF (or less from car parks)
more information from the Tourist Office
Ideal family walks with a baby-carrier or backpack
How far you can walk with a baby-carrier or backpack depends on a couple of factors:
how far you yourself can comfortably walk with the extra weight on your front or back;
how long your little one can sit comfortably in the baby-carrier or backpack!
Hiking with a very small baby is different to hiking with the weight of an 18-month old on your back, and sleeping requirements/irritability could be very different, depending on the child, the life phase, the weather, etc . . .
Things to note
when using baby-carriers and backpacks, do make sure that there is an adequate shade facility . . . as well as sunglasses, suncream, sunhat. It is hot up there!
It is important NOT to head above 2500m with children under the age of three years.
It could be that you feel comfortable setting out on a long hike. But if you need a shorter hike, with a tranquil, shady buvette at the end for a rest (and homemade cake!), then here are a couple of tried and tested recommendations, where you gain a little altitude for mountain views and get a good work-out, without walking too far:
Chalet la Floria to Les Praz (Chamonix/Les Praz)
This is one of the first short hikes I ever did when I first moved to Chamonix (with my friend and her 10-month old in the backpack), and it is a walk that never loses its charm for me. It is the perfect distance for families with a baby-carrier/backpack or with children of a walking age. From Chamonix, the route starts off from the pretty village of Les Nants and heads up fairly steeply through the shady forest and onto the Petit Balcon Sud.
Upon arrival at the colourful Chalet la Floria (named after the flowers adorning the mountain chalet, spilling out of pots and window boxes), you can have a refreshing drink and snack, with beautiful views of the Aiguilles de Chamonix. The return route of this boucle is via Les Praz (a steeper downhill), or you can shorten the hike by taking the same route back down to Les Nants. The advantage of heading down to Les Praz is that there is the charming Le Paradis des Praz to have a relaxing moment (see above).
From Le Paradis des Praz, depending on energy levels, you can either walk the flat stretch back to Chamonix along the Arve river, or take the train back.
departure point: Chamonix (Les Nants)
parking: Parking du Brévent or Parking St-Michel
train/bus stop: Chamonix centre
max altitude: 1330m (La Floria)
Les Tines SNCF to La Buvette Chapeau Lavancher (Chamonix/Les Bois)
This shady boucle starts at Les Tines SNCF train station, and heads up to the hamlet of Le Lavancher (30mins), before continuing to the Buvette du Chapeau Lavancher . . . Here you will find a lovely place to pause, admire the views and indulge in some delicious homemade cakes. You can then continue up to the Point du Vue de La Mer de Glace (an additional 15mins) for a viewpoint of the famous glacier, before heading back to Les Tines via a different path through Les Bois des Sources de l'Arveyron.
departure point/parking: Les Tines SNCF
max altitude: 1600m (Point de Vue de la Mer de Glace)
duration: 3h (with refreshment break at Buvette du Chapeau Lavancher)
Ideal family walks with toddlers / very young walkers
There comes a point when children no longer want to sit in a backpack, and they want to explore the mountain paths on their own two feet. This is great news, as it means you have the start of a young hiker! Don't be fooled though, as this early enthusiasm may wane, and then you may seem to regress! My advice at this stage is to choose a hike with rewards along the way (cabanes [dens] to build in a forest, a waterfall, a playground) and to take the carry-backpack just in case.
For more advice, see MBFF's advice on Family Hikes – tips for hiking with small children. For our family, we have found that with small children a themed walk has always worked well.
Le Parc Animalier de Merlet (Les Houches)
A visit to an animal park with children is hopefully a winner! The Park Animalier de Merlet in Les Houches has it all: around 80 mountain animals wandering freely around the park (chamois, ibexes, marmottes, and the odd llama . . .), incredible views of the Mont-Blanc massif, an interactive course for children, a restaurant on-site, baby-changing facilities and family activities during the summer months. See MBFF post for more information about planning a visit here or the park's website. This is also a great visit with a baby carrier or back-pack (and even an all-terrain buggy for the lower path).
departure point & parking: Le Parc de Merlet (several car parks)
train/bus stop: Les Houches SNCF + shuttle bus (see here – info only in French)
max altitude: 1500m
La Cascade de Bérard (Vallorcine)
This is a very short hike, perfect for small walkers or families with baby-carriers or backpacks. Equally, with older and more competent hikers, the hike can be extended along the Vallon de Bérard and up to the Pierre à Bérard, where you might be rewarded with some views of marmottes or ibexes (bouquetins). Or, alternatively, up to the Alpage de Loriaz.
The walk starts just opposite the train station in Le Buet, next to l'Hôtel du Buet; you then hike past the hamlet of La Poya (beginner ski area in winter). There are shady paths along the way, and once you arrive at the Cascade de Bérard, you can relax at the lovely Buvette Cascade de Bérard and explore the waterfall (via a  walkway) . . .
departure point & parking: Le Buet SNCF
train/bus stop: Le Buet SNCF
max altitude: 1420m (Cascade de Bérard)
distance: 2km return
duration: 45mins return
Ideal family walks with 7 to 11-year-olds
You've got competent walkers, but not yet teenage ability . . . a few ladders, some boulders to scramble up and over, a spectacular view, and a great destination are the ideal combination for this age group. Throw in a télécabine (bubble lift), a télésiège (chairlift) or a téléphérique = perfect excitement!
Lac Blanc to Lacs des Cheserys boucle (Flégère in Les Praz)
This iconic Chamonix hike really is perfect for families with slightly older children . . . set within the Aiguilles Rouges Réserve Naturelle, the views upon arrival at Lac Blanc are superb: les Aiguilles de Chamonix, Les Drus, L'Aiguille Verte, les Grandes Jorasses and the glaciers. This hike is a boucle, and I think most enjoyable with the use of the téléphérique de la Flégère and the télésiège de l'Index (thus avoiding a steep ascent/descent).
There are some very steep sections and some metal ladders on the section between Lac Blanc and Lacs de Cheserys, so do keep an eye on children – but this does also add to the fun of the walk! From the Lacs de Cheserys, you head back to the téléphérique de la Flégère via the Grand Balcon Sud. At the end of the walk, it can be rewarding to head to Le Paradis des Praz (10-minute walk from téléphérique de la Flégère), to refresh your feet in the gurgling stream.
departure point: Les Praz – téléphérique de la Flégère – check hours
parking: téléphérique de la Flégère
train/bus stop: Les Praz de Chamonix SNCF
max altitude: 2352m (Lac Blanc)
distance: 7.5km
duration: 4h to 5h walking (with lunch break)
Lac de Pormenaz (Passy/Servoz)
This day hike to Lac de Pormenaz actually leaves from the commune of Passy, but I think it is the perfect hike for families, so worth a little detour from the Chamonix Valley . . . it was actually one of the first longer hikes with a baby backpack that we did with our then 18-month-old. As well as a lovely picnic stop at the Lac de Pormenaz, we had a lovely refreshment stop at the Refuge de Moëde Anterne.  The refuge is an old chalet from 1898 originally used by chamois hunters (its cantine was also used to hide resistant fighters during WWII!), where our then little boy had a play in the sandpit. The Lac de Pormenaz (1945m) is located within the Réserve Naturelle de Passy, with imposing views of the Chaîne des Fiz, Les Aravis and the Pointe Noire.
For our hike, we parked just after the Refuge Châtelet d'Ayères (the road leaves from past the téléski), at Parking du Gouet, but you can equally set off from Servoz or Plaine-Joux, for a longer hike. From here, we walked towards les Chalets de Souay and then took the La Chorde route – this path is steep, with metal ladders and cables, so you must be vigilant! The return route takes you past the Refuge de Moëde Anterne, and then along the Tour du Pays du Mont Blanc (TPMB) route, past the Pierre à l'Ours, then down to Ayères du Milieu, to get to get back to the car.
Good to know – you can shorten the hike by heading back down the La Chorde route from Lac de Pormenaz, or down the Argentières route (also exposed, with ladders and cables).
departure point/parking: just after Refuge Châtelet d'Ayères (Parking de Gouet)
bus stop: Bus SAT (Sallanches-Passy line)
max altitude: 2002m (Refuge de Moëde Anterne)
duration: 6 hours, with lunch & refreshment stops
more information (only available in French)
Ideal family hikes in Chamonix with teenagers (competent walkers)
La Jonction (Les Bossons)
Another iconic Chamonix walk, this one is not for the faint-hearted; there is a scrambling section at the top, and this is a full and long day's hike. I would only recommend it for families with older children and very competent walkers . . . this is not a hike for little ones! This is one of the first longer hikes I did when I first moved to Chamonix in autumn 2007, and I loved it so much that I then opted to take friends when they came to visit.
You get it all on this walk: forest paths, the Gîte à Balmat (walking in the footsteps of the pioneering Chamonix mountaineers), some scrambling at the top and an up-close-and-personal meeting with the Glacier des Bossons, its seracs and crevasses . . . and, of course, majestic views of Mont-Blanc, l'Aiguille du Midi, le Dôme du Goûter and les Aiguilles Rouges . . .
To shorten the hike, take the télésiège des Glaciers/Bossons to the Chalet du Glacier des Bossons (this also works as a shorter walk little ones in tow; panels with explanations about the glacier along the path; see here for more information).
Good to know – you can also stop for refreshments higher up at the Chalet des Pyramides (1895m).
departure point & parking: Parking Télésiège Glacier des Bossons
train/bus stop: Les Bossons SNCF
max altitude: 2589m (La Jonction)
distance: 13km return
duration: 8h, a full day!
Refuge de Loriaz via Barberine canyon and the Emosson dam (Vallorcine)
This is a wonderful all-day hike, with little sections of via ferrata, perfect for families with older children or competent walkers. The hike can also be extended, to include a night in a refuge: along the Lac d' Emosson dam and then around the Lac du Vieux Emosson, past dinosaur footprints (!) and then up and over the Col de la Terrasse (2648m), down to an overnight at the Refuge de Loriaz (2020m). There are also alternative, shorter routes up to Loriaz, from Vallorcine, Le Couteray or Le Siseray.
This specific hike starts from Vallorcine, heads towards the hamlet of Barberine, and then up to the Cascade de Barberine (the torrent being a popular canyoning spot), up to Lac d'Emosson (lovely picnic spot), and then from the Col du Passet to the Refuge de Loriaz, a stretch along which there is a short section with cables and ladders. From the alpage de Loriaz, there are various routes back down to Vallorcine.
Good to know – in the summer, you can visit the Maison de Barberine (website in French only, check opening hours)
Good places to eat in Vallorcine at the end of the day's hike: Le Café Comptoir, L'Arrêt Bougnête at Vallorcine SNCF and La Ferme des 3 Ours.
departure point & parking: Vallorcine SNCF
train/bus stop: Vallorcine SNCF
max altitude: 2020m (Refuge de Loriaz)
duration: 7 to 8 hours, with breaks
Ideal family walks with older relatives
It could be that you are visiting the Chamonix Valley with older relatives who have trouble walking too far or need to avoid too much uphill/downhill . . . this is the perfect hike, as it works equally well with young walkers or with a baby-carrier or backpack:
Bisse du Trient (Trient, Switzerland)
The hike along the Bisse du Trient takes you along an irrigation channel dating from 1895 – this brought water from the glacier du Trient to the Col de la Forclaz, and the route was also used to carry blocks of ice from the glacier! We actually discovered this family walk thanks to the music festival CosmoJazz (our children are no longer in buggies, but we did see people arriving with all-terrain buggies). The easy path follows the course of the Bisse du Trient, with a parcours ludique (fun course) along the way, with explanations about the irrigation channel and transportation of ice, At the end of the walk you are rewarded with a view of the Trient glacier and a buvette, La Buvette du Glacier (you can picnic here, as long as you purchase refreshments).
departure point & parking: Col de la Forclaz (Trient, Switzerland)
distance: 6.5km return
duration: 3 hours, with a lunch break
don't forget your passport for the trip across the Swiss border to Switzerland, as well as a few Swiss Francs (CHF) for the buvette or restaurant at Col de la Forclaz.
Further hiking suggestions en famille au Pays du Mont-Blanc
If you are interested in some more family hiking options a bit further afield, then head to MBFF's recommended family hikes in the Pays du Mont-Blanc . . .
About Mont Blanc Family Fun
Mont Blanc Family Fun is a website designed to help families find activities, whatever the weather, in the Pays du Mont-Blanc: outdoors & nature, sport, culture, festivals, rainy days . . .
As a mother of two boys living in this corner of the French Alps, the idea for the MBFF website began to take shape with the birth of Fiona's first son, and evolved as she discovered more and more fabulous family activities with the birth of her second son.
At the time, she was unable to find ONE website that united family activities throughout the Pays du Mont Blanc, so she decided to design her own. To read more about the shaping of the MBFF website, please head to the About section on the website.