Chamonix in summer is a wonderland of outdoor adventure, spectacular scenery and amazing wildlife – if you're lucky enough to spot them as you explore the mountains. There's a huge range of exciting summer activities to try, all supervised by qualified, experienced and passionate guides.
So who better to guide you through the flora and fauna that you might see in Chamonix in summer than Anja and Raphael, both qualified International Mountain Leaders (IML)? To get this qualification, our guides have proven their knowledge of outdoor first aid, basic mountain rescue techniques and the mountain environment including flora, fauna and geology.
Anja & Raphael's guide to Chamonix in summer wildlife
Go on an unforgettable outdoor adventure and explore the beautiful wildlife!
The stunning mountains around Chamonix in summer are not just a huge playground for parapenting, mountaineering, hiking and other activities: they are also home to numerous animals and plants.
So if you go on an adventure in the mountains, look around, above and below you and you might discover some amazing wildlife.
Whether a whistling marmot talking to its friends whilst observing you from a rock, an impressive ibex just sun bathing on a vertical cliff or even a majestic eagle circling high above the snowy peaks, the animals of the Alps are simply beautiful!
Here are some of the most important residents who would like to introduce themselves:
Ibex
Even though we belong to the family of goats, we are much wilder, stronger and bigger than the domestic ones! As a male Ibex I can weigh up to 100kg and with my huge, curved horns I can impress the lady ibex who is just half of my size.
The female ibex live in herds of around 20 members while I am only allowed to join them during the mating time. The rest of the year I scramble around steep rock faces just by myself.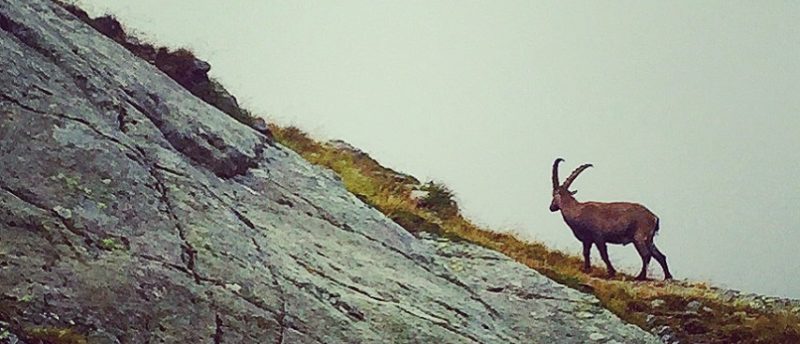 Chamois
Whilst it would be a strenuous day hike for most people, it doesn't even take us 15 minutes to ascend 1000 vertical meters. We are perfectly designed for high altitude and our hooves allow us to remain stable-footed on rocky ground. We can easily be recognized by our beautiful white facial markings, the brown stripes along our backbones and our short but strong curled horns.

Marmot
During the day we spend lots of time strolling along meadows above the tree line eating green grass, herbs or yummy bilberries. There will always be one of us sitting on a rock to look out for enemies such as eagles or foxes. If there is any potential risk this marmot will whistle really loud to alert his friends. All of us will quickly run into one of the numerous holes in the ground which lead into our tunnel house.

Bearded Vulture
We love to fly high in the skies above Chamonix and we can have an impressive wingspan of 3 metres! Unfortunately we are one of the rarest birds of prey in Europe; however, we are now successfully rebreeding in the Haute Savoie region.
Golden Eagle
Like the vultures we are also a threatened bird species. We are phenomenal hunters and we love circling high above some alpine meadows and with our amazing eyesight we are able to spots our favorite dish which is mouse or marmot.
See if you can catch a glimpse of eagles in this video – taken during a parapente flight in Chamonix in Summer 2016.
Flora to spot in Chamonix in summer
The vegetation in the Alps is very diverse and it gradually changes with altitude. The reduction in temperature in higher altitudes limits growth of plants considerably.
Above 1,800m trees become smaller and rare. Above heights of 2,300m grass and a great variety of alpine flowers have their home. Finally, above 3,200m only mosses and lichen may survive.
So why not head off on a hike to see some of the vegetation?
Edelweiss
Known as the queen of all alpine flowers, I stand as a symbol for love, courage and eternity. Many brave alpinists risked their lives to pick me in very dangerous, exposed spots to prove their love to their girl. Being so famous and protected, it is strictly forbidden to pick me nowadays!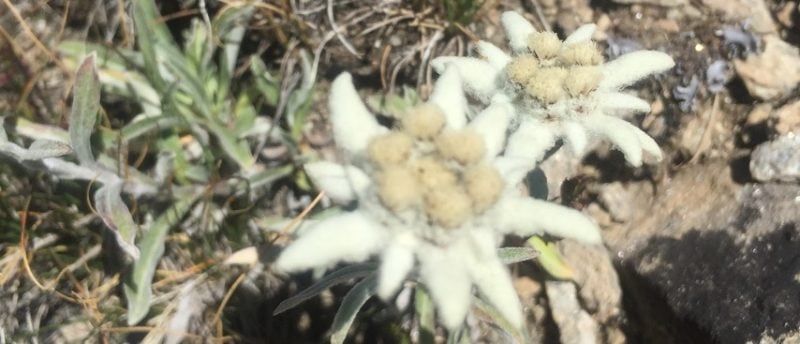 Bilberries
We are known as myrtilles in French, and we grow as bushes often next to the rhododendrons. We are spread everywhere in the mountains surrounding Chamonix in summer. Depending on weather conditions my berries are ripe in August and September, and you can pick me from the bushes all along the hiking trails. They taste so good, especially if they are processed into a homemade cake or schnapps.
Gentian
I am found in the short grass across meadows during the summer months and I have over 400 species. You can often recognize me for my mostly large, trumpet-shaped flower, which is often intense blue. My flowers are used for tea or liqueur to stimulate the appetite, reduce fever or rheumatism.

Alpine Lichen
You can admire our yellow, orange or white color growing on many rocks or hanging down from the branches of fir or pine trees. We especially grow in areas where other plants struggle as we can find enough nutrients directly in the air or in the haze. We like to spread out when the air is clean so when you see us it's a good sign!
Where to see animals in Chamonix
Getting out and about in the mountains is the best way to try and see these animals in Chamonix in summer their natural habitats. Why not try one of our must-do summer hikes and walks?
However if you want to guarantee seeing lots of animals all at once, visit the Parc de Merlet. Located up above Les Houches at 1,562m, the park offers unbeatable panoramas of Mont Blanc and also offers the chance to see mountain animals including ibex, chamois, marmots, deer and llamas, across 50 acres of parkland.
If you've come on holiday with your pet pooch, you'll need to know where they are welcome on the mountain, to avoid the natural reserves where many of these animals roam. Find out more about coming on holiday in Chamonix with your dog.
Thank you to Anja & Raphael from Happy Tracks for writing this guide to some of the wildlife that you might see during your stay in Chamonix in summer. Why not book one of our exclusive summer activities to join them in the mountains this summer?