Depending on who you are and where you come from your idea of adventure may be as different as a favourite dessert! In the Mont Blanc region, our list of Chamonix adventure parks really is the cherry on top of your holiday. From the mini mountaineers to the family that prioritises the place over the pace, there's something for every level of adventurer. Savour the taste of adventure this summer in one of these Chamonix adventure parks, or one of the ones located close by.
Parcs Animaliers – Animal Parks
The Alps are packed with history and animals, and where these two elements meet in our top recommendations, there is lots to explore. We particularly love sending the youngest and the oldest family members to discover these areas together.
Parc de Merlet
Les Houches, Chamonix valley
High on the hillside of Les Houches at 1562m, discover the wildlife that calls the Chamonix valley home roaming freely in their natural habitat, across 50 acres of parkland. With its magnificent panorama of Mont Blanc on the other side of the valley, the Parc de Merlet has 80 different local species including ibex, chamois, marmots, stags, deer and llamas.
You can access the park by hiking from the Petit Balcon Sud path or Les Gaillands for a discount on your entry fee, or there is a 15-minute walk uphill to access the park from a communal car park. Once there you can also settle in for lunch, snacks or refreshments at the on-site bar and restaurant.
Their high season runs from July to August with daily openings. They are also open May, June and September, every day except Monday.
Paradis des Praz
Les Praz, Chamonix valley
This tranquil and twee adventure playground is dotted with animals, including chickens, goats, ponies and dogs. Paradis de Praz is a child- and animal-friendly zone which is totally free to access. In the heat of summer, it's very popular for the fresh creek that runs right through the park, filling a small lake to cool off in.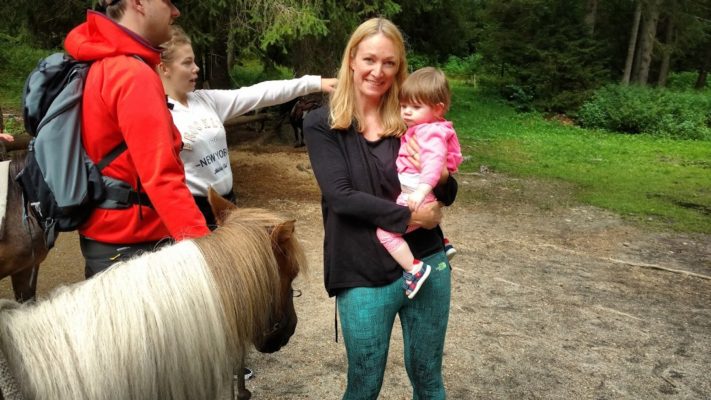 Paradis des Praz is also dotted with children's activities from pony rides to climbing obstacles, and playground installations including a sand pit. There is a cabin serving refreshments and snacks from mid-June to early September but be warned they only accept cash!
For those who drive, there is a car park near the golf course nearby; from here allow a 5-minute forest stroll to the park itself. If you take the train or bus to Les Praz, you will have a further 5 minutes to walk, for a total (and pram-friendly) distance of 1.2 km to your destination. (Public transport is free with your guest card which Chamonix All Year guests get on arrival.)
Barryland
Martigny, Switzerland
The St Bernard breed of dogs is a national symbol of Switzerland, taking their name from the Col du Grand St-Bernard (connecting Martigny with Aosta valley in Italy, above 2,469m).
Martigny is a fantastic day trip away from Chamonix, and one of the must-see attractions, once you get there, is Barryland. At the kennels and museum, found adjacent to the ruins of an ancient Roman amphitheatre, Barryland stands proud awaiting to educate generations to come about the history and myths of the St Bernard breed.
There is a cinema room, children's play and learning zone, numerous relics and even some interactivity with St Bernard puppies on offer.
St Bernard kennels
La Fontaine, Servoz, Chamonix valley
For St Bernard fun closer to Chamonix, join Jean-Pierre and René Dumont for a 1-hour guided tour of their breeding kennels in the Les Houches suburb "La Fontaine" (Servoz). These kennels are touted as the most significant for the short-haired St Bernard breed in France. On a sunny day, you share the terrain of this idyllic site with both master and puppy for just a few euros.
Accrobranche – Adventure tree parks
Sometimes the wild and vast adventure of the French Alps requires a more structured warm-up. There exists a number of places in the Mont Blanc region, near Chamonix, where you can discover elements of high-altitude adventure fully supervised and safely. These Chamonix adventure parks are often high in the trees and over lakes run by trained mountain guides or qualified ropes experts. They are sure to give you a taste for heights as you climb through each level!
Accro' Park des Gaillands
Les Gaillands, Chamonix valley
The Accro' Park is run by the official guide company of Chamonix. You can make a booking for this adventure tree park through our Chamonix Resort Shop, with options for every age and fun for the whole family. Chamonix All Year also offers trips to this area as part of our all-inclusive kids' summer holiday alpine activity programmes.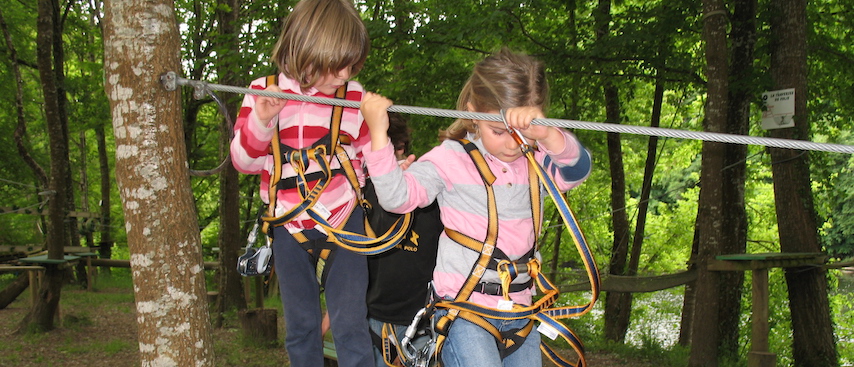 Located down by the Lac des Gaillands, you can access this park by train, bus, or just walk 20 minutes' from the Chamonix town centre. There are five different difficulty levels of tree rope courses and a handy buvette (snack bar) to keep you fuelled.
La Forêt Magique
Les Tines, Chamonix valley
"The Magic Forest" is known for being a moment of calm, even amid such adventure! With a picnic table, barbecue and fresh drinks on offer, it's easy to pass the day here. This Chamonix adventure park is also easily accessed by bus or train, just get off at the "Les Tines" stop. On your way back, a visit could be combined with a river walk returning down the valley past the nearby Paradis des Praz (mentioned above).
There are three course levels to evolve through and a family favourite is definitely the filet or netting zone which is part of the blue loop.
Acrobatic Island
Les Contamines-Montjoie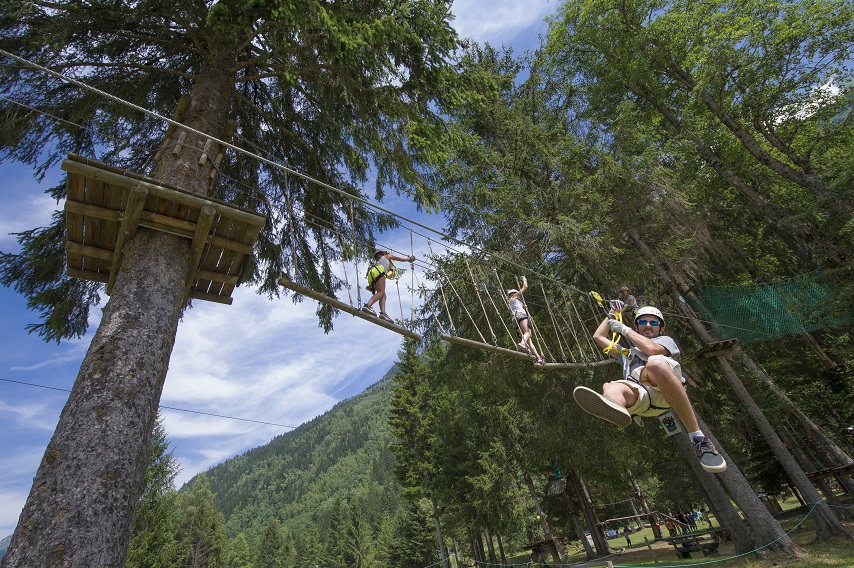 Acrobatic Island is a vast park has been in operation for over 10 years as part of the Parc de Loisirs du Pontet (described below), and is a 45-minute drive from Chamonix. The terrain is separated into four levels: kids, discovery, discovery+ and sensational. There are climbing obstacles, nets, bridges, and zip lines up to 7 metres from the ground. The summer season opens on 1st July but there are also some limited weekend dates in spring.
Cote 2000 Aventure
Megève
From mid-July to the end of August, the adventure park of Megève is in full swing. In the off-season, you can also make a reservation for a minimum group of six.
There are flying foxes, footbridges and Himalayan bridges all connected by a series of ropes and zip lines allowing you to progress freely from tree to tree. While they have something for every age (from 5 years) and level, they even have a mammoth two-hour course le grand parcours for the bravest tree folk willing to set off on three stages of ropes courses between 7 and 10 metres from the ground.
Parcs de Loisirs – Leisure Parks
It's all about joy and creating fun new memories at these Chamonix adventure parks and beyond. Elements of a classic theme park come into play on a much smaller, family fun size, scale.
Parc d'Attractions de Chamonix
Central Chamonix
While park entrance is free, once inside you will need to buy tokens for access to the different attractions. The park is open all day every day in July and August, plus selected afternoons in spring. There is a large free car park by the park should you need to drive, however with a very central location right by the Montenvers train station you should be able to make your way on foot (especially following a trip to the famous little red train itself).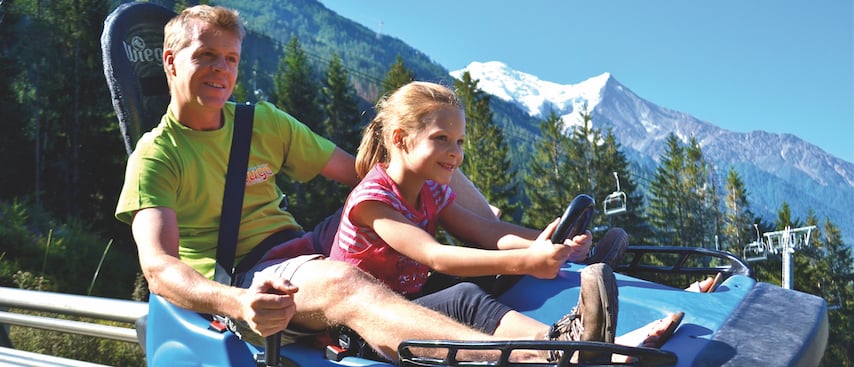 There are slides, trampolines, nautical jets, a flying boat, water pistols, comet ride and motorcycle go-karts and the all-important summer luge! With its 1300m track of jumps, turns and spins, you're the one in control of your own speed for the adrenaline level to suit you.
When you're in-resort, benefit from 20% off a single or double Chamonix luge descent. Your Resort Team will give you a great discount voucher sheet when you arrive in Chamonix.
Parc de Loisirs du Pontet
Les Contamines-Montjoie
The Parc de Loisirs du Pontet boasts the largest leisure park in the region, located in an exceptional setting at the foot of the highest altitude nature reserve in France – La réserve naturelle des Contamines-Montjoie.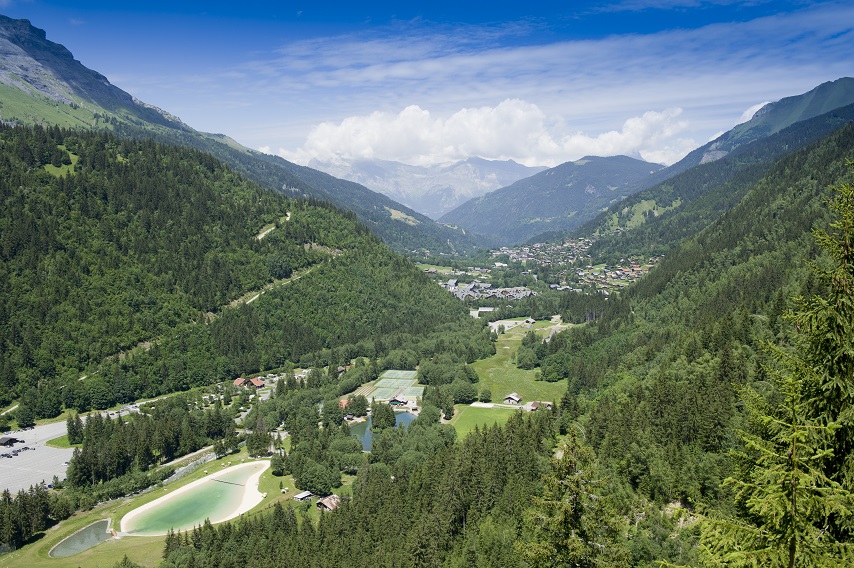 30 hectares of relaxation and recreation are on offer with more than 20 activities for the whole family such as paddle boats and kayaks, beach style lake, a giant trampoline and lots of animals. The scenic drive takes 45 minutes from Chamonix. While here you can also benefit from a visit to Acrobatic Island one of the tree and ropes courses mentioned above.
En Plein Air – Other Outdoor Parks
Just on the other side of the Swiss border, get some fresh air together as a family, doing some hiking hours and discovering a new historical or scenic element of the region.
Parc d'attractions du Châtelard: Emosson Dam & Vieux Emosson
Châtelard is just over the border in Switzerland, 19 km from Chamonix. Here there are three fun railway attractions: the steepest funicular in the world (87% gradient), the panoramic train and the mini-funicular.
Once you're at the top you can enjoy the views, visit the café/restaurant, take a walk across the awesome Emosson dam wall, and for budding palaeontologists, there's a dino-discovery trail.
The dinosaur theme trail has 250-million-year-old footprints, 12 stations of games and a quiz. The walk starts from the funicular/parking lot, continues on the Emosson dam, and then on a paved road to the Vieux-Emosson dam and the restaurant Cabane du Vieux-Emosson. The path is ok for prams but you would need to cut your trip short at the restaurant and go back the same way you came.
Alternatively, you could continue alongside old Emosson lake up-hill to the site of some ancient pre-dinosaur tracks, imprinted in the rock face. Set aside a full day trip if you want to see this relic, as the full return hike to see the real dino footprints will set you back 5 hours and a fair amount of energy. Study up on all of your hike path options with the Charlotte Marmotte trail map online.
Enjoy Chamonix adventure parks this summer
The Chamonix adventure parks, and those in the surrounding region, are perfect for family outings during your summer holiday. Don't forget to share your pictures of your holidays with us on Facebook and Instagram!