In this two-part series about two of our favourite locations beyond the Tunnel Du Mont Blanc, Chamonix All Year has teamed up with Italian bloggers. This week Maria and Andrew from Mi O My Italy have helped us to discover culture, history and shopping in Turin.
Discovering Turin
Located 170km from Chamonix (just over 2hrs by car), the Italian city of Torino unites culture, history and shopping! Known as Turin in English (and French), the city was once a Roman military colony and the first capital of a united Italy from 1861 to 1865 (see History below). Today it is the capital of the Piedmont region and since 2017 has become the heart of contemporary art and electronic music culture (see Culture below) as well as home to the Egyptian Museum, the second largest in the world.
And if you're wondering why the word 'Turin' is ringing a bell in your mind… it's because the city is home to the famous (and mysterious) 'Shroud of Turin' said to have been wrapped around Jesus Christ following his crucifixion. All of this combines to make Turin an interesting destination for a day trip from Chamonix.
Turin History
As explained by the Encyclopedia Britannica, Turin has a special connection to the Savoie region of France, as it was once ruled by its royalty:
Dominated by barbarians after the decline of Rome in the 4th century, the city became part of the Lombard kingdom and then of the Frankish empire. It was linked to Savoy in 1046 by the marriage of Countess Adelaide to Count Odo of Savoy, and it recognized the supremacy of Savoy in 1280 after an intervening period of semi-independence and conflict. Occupied by the French from 1536 to 1562, Turin became the capital of the duchy of Savoy in 1563. It was besieged in 1640 and 1706 (during the War of the Spanish Succession) by the French, who were defeated by Eugene of Savoy in 1706, and it was occupied again by the French during the Napoleonic Wars.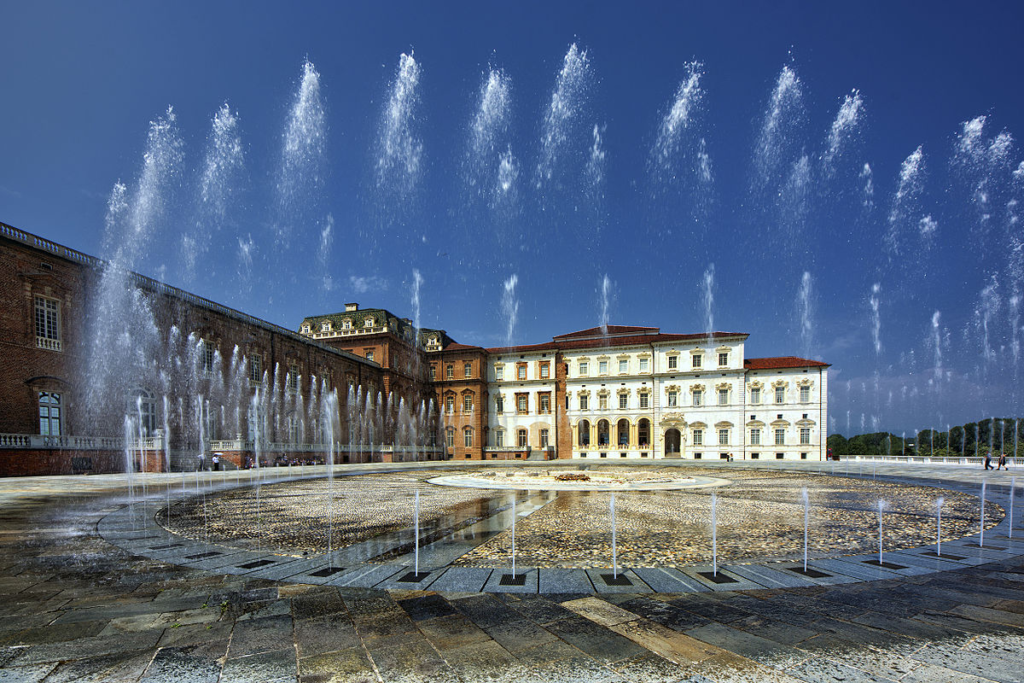 Later, in the 19th century, Turin became the political and intellectual centre for Italian unification, and served as its first capital from 1861 to 1865. Throughout its history, and in spite of heavy bombing raids during World War II, Turin retained its regal character as described by Andrew:
with wide squares, arcaded avenues (so royalty could walk without getting wet!) and of course the palaces, Palazzo Reale, Palazzo Madama [see below], Reggia di Venaria [see above] (the best of them all) and Stupinigi.
The palaces of Turin are UNESCO World Heritage sites and Andrew believes they are equal to the splendour of Paris and Versailles.
Culture in Turin
The Shroud of Turin is one of the most famous relics of Christendom and calls Turin home. While you will not see the original on display to the public anymore, The Museum of the Holy Shroud has rave reviews on TripAdvisor for its open look at both sides of the religious and scientific spectrum.
Turin is also home to the hugely important Egyptian Museum and since 2017 an industrially renovated ancient train depot called L'OGR, with 35,000m2 of modern art, food and music.
"Top of the list of all the museums and other attractions in Turin has to be the Palace of Venaria, one of the Top Five Tourist Attractions in Italy, a UNESCO Heritage site and an equal in every way to the Palace of Versailles. Any Turin tour should include the Egyptian Museum of Piedmont, the largest museum of Egyptology outside of Egypt. The museum is located in a beautiful part of Turin and was entirely revamped in 2006.
Italy's National Museum of Cinema is also well worth a visit, if you have a good head for heights. It is located in the Mole Antonelliana (mole meaning monumental building and Antonelliana after its architect Alessandro Antonelli), a striking construction with an unusual dome and spire roof which reaches 167.5m, meaning the building is believed to be the tallest museum in the world.
As well as taking a look around the interesting National Museum of Cinema, you can take a lift up the centre of the dome to view Turin from on high.
If you're looking for an overview of Turin which includes the Mole Antonelliana, the Basilica di Superga is a great elevated spot, with its own done which you can also climb for some spectacular views.
Getting to Turin
Turin is roughly a 2hr drive by car from Chamonix Mont Blanc, but that's not your only option for travelling to Turin. You can save money and stress (and the environment) by taking a bus!
Bus company SAVDA have regular 8.30am buses from Chamonix Sud that will have you in Turin by lunchtime, changing at Courmayeur and Aosta. However, as the return buses to Chamonix leave Turin in the early afternoon, we recommend you stay a night if sightseeing is your main goal and you're arriving by bus. Or speak to the Chamonix All Year Resort Team about organising a private shuttle.
If however shopping in Turin is on the agenda, the Torino Outlet Village has a free same day solution for you! You can enjoy 7hrs of discounted luxury shopping in Turin by jumping on their weekly Wednesday 'navette' (shuttle bus) to Turin from Chamonix. (Times and frequency correct for Summer 2018.)
Avid followers of our blog can also download a voucher for an extra 10% off on outlet prices, at participating stores in the village.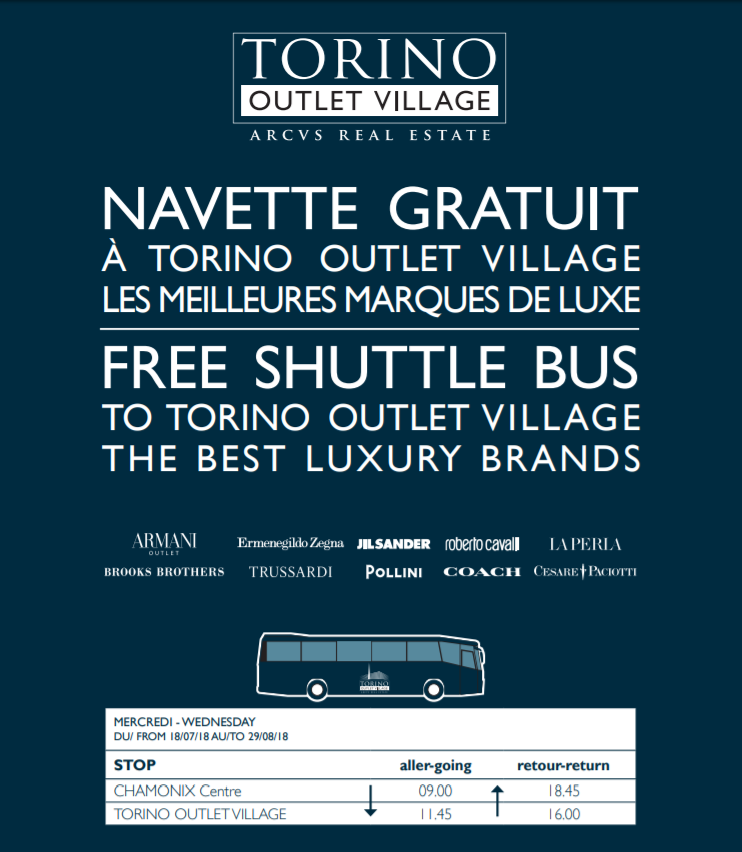 Shopping in Turin
Marie from Mi oh My Italy is Andrew's wife and, according to their blog, she (pictured below in Turin) is the shopping queen. Her advice is as follows.
Turin's Markets
For serious shopping in Turin and great value visit the markets, I simply love them and nearly every neighborhood in Torino has its own local market. The most famous by far is the Porta Palazzo market in Piazza della Republica.

This huge market is the biggest in Europe and sells nearly everything you can possibly imagine from fish to shoes and lots of other weird and wonderful stuff. I could spend the entire day here… and often do!

Every second Sunday of the month the Gran Balon antiques market is held in  the same area and this really has to be seen to be believed.

The morning market in Crocetta

Just off Corso Duca degli Abruzzi, is another great favorite of mine. Crocetta is the best market for clothes, bags and shoes. Original and 100% authentic designer names are everywhere at a fraction of the price of the stores. Crocetta is a pretty upmarket area so they would never dare sell fakes!

If you are looking to do some serious clothes shopping in Turin then do make a point of visiting.
Italian Fashion on a Budget
Other serious clothes shoppers from Chamonix should consider taking the free navette to the Torino Outlet Village.
It is 15 minutes from the centre of Turin and was designed by one of the best known contemporary architects, Claudio Silvestrin. The two white triangles which tower above the main courtyard join to form a needle, a well-known symbol of style and modernity on the Turin sky-line and referencing the art and precision that makes the luxury garment trade of Italy so famous.
The outlet has a ratio of 60% menswear to 40% womenswear, and also has outstanding shopping for children at stores such as Harmont & Blain Junior, Zero Più (multi-brand), Benetton. Other big names include Roberto Cavalli, Cesare Paciotti, Desigual, Ferrari Store, Converse, Armani, Skechers, Nike and Adidas.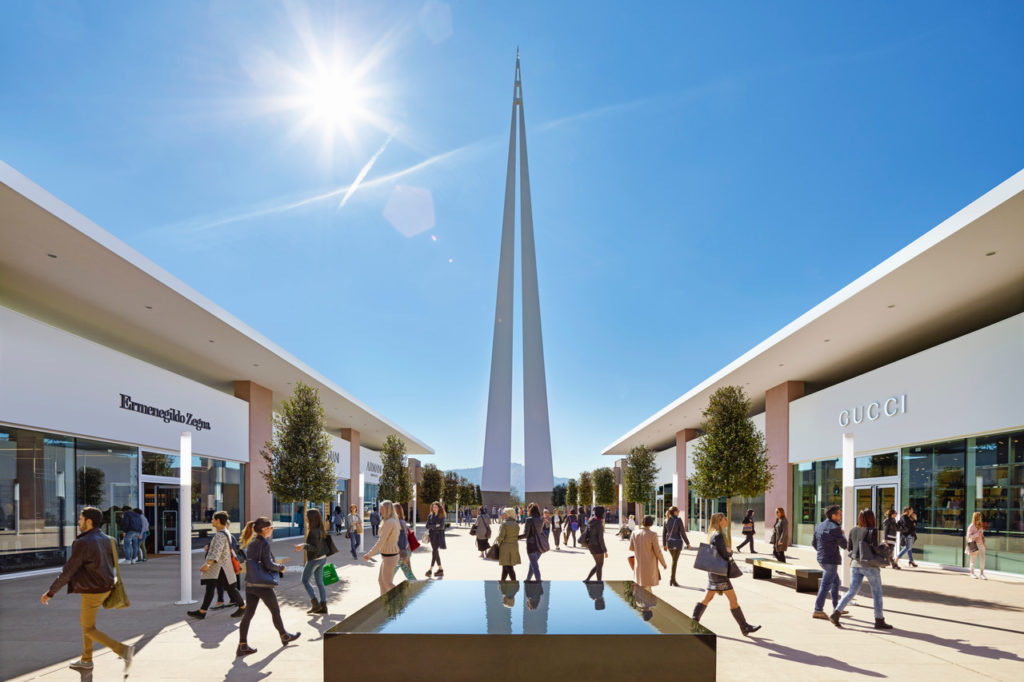 According to their website, the outlet is "A must for all shopping lovers. Torino Outlet Village offers 80 stores specializing in clothing, accessories and footwear, household articles, sport and personal care under top Italian and international labels, and with discounts of up to 70% all year round. Open 363 days a year, it's an elegant and relaxing place to spend a day's shopping, thanks also to top-end restaurants and services for families."
Summer Sales
The Torino Outlet Village is known for having great discounts, but for further and final mark-downs of prices be sure to visit during the summer; sales in 2018 will run until September 1st. During the sales period, there are special jazz and classical music concerts to add to the value of your trip.
If you're shopping ahead for ski gear try the Salomon store or the EA7 collection at Armani!
No need to pack lunch!
Torino Outlet Village has 6 restaurants sharing the many flavours of Italy:
Hamburgheria Eataly: excellence in the Italian cuisine in collaboration with Eataly
Casa Angelesi : Mediterranean cuisine
C-House : sandwiches, salads and typical Italian plates
Re Nero: Neapolitan cousin
Italia Gourmet: from breakfast to aperitif
Caffè Bollicine: for aperitif
Shopping for shopping?
If you're looking for the perfect killer luxury outfit to shop till you drop in Turin, Chamonix All Year has you covered; take a look at our previous blog about the luxury shopping brands in Chamonix. Since this blog was posted, however, an exciting new development is gaining momentum. Chanel in Chamonix is no more and will be replaced by Ralph Lauren. With sporting roots and accessible price lines, the opening is sure to be a success.
My Italy Part 2: Cafe culture in Courmayeur from Chamonix – coming soon…