The best things in life, and Chamonix, are free… but that's not to say you can't enjoy some retail therapy too with shopping in Chamonix during your stay!
Chamonix Mont Blanc is known the world over for its stunning scenery and extreme sports. However the town has also been a popular shopping destination for decades, with top luxury brands and high-end boutiques an important thread in the local tapestry of commerce.
Did you know, Chamonix is the third most visited natural site in the world behind Mount Fuji (Japan) and the Niagara falls (Canada)? With foot traffic like this through our famed pedestrian streets, it's no wonder prestigious and luxury brands have such a local presence. While Chamonix boasts a diverse range of stores that are guaranteed to suit all tastes and lifestyles, the luxury market is on a par with the sportswear market here in the true heart of alpinism worldwide.
High fashion shopping in Chamonix
From the perfect tennis outfit to the tricky task of dressing up for a winter wedding, our local luxury stores have you covered.
La Canadienne
134 rue Joseph Vallot, 74400 Chamonix
Your destination for all things fur, leather, down, and Canadian. They even have an infants rack. With famous men's leather brands Chevignon and Oakwood, La Canadienne has luxury for all the family.
La Petite Cordée
176 rue du Docteur Paccard, 74400 Chamonix
Speaking of family,this little store established in 2014 proposes luxury children's brands including Petit Bateau, Noukie's and Falke.
Lacoste
151 rue du Docteur Paccard, 74400 Chamonix
Founded in 1933 by André Gillier in association with tennis player René Lacoste, Lacoste has a fun, light and sporty approach to luxury that has grown ever more sophisticated over recent years. Have a look for yourself in the Chamonix store and give the little croc a go!
Eric Bompard
225 rue du Docteur Paccard, 74400 Chamonix
Nothing says luxury like cashmere, and Eric Bompard have been covering the world (or at least the French part of it) in cashmere since 1986. They even have a range of cashmere-infused beauty and bath products!
Arpin Boutique
138 rue des Moulins, 74400 Chamonix
Hop from cashmere to pure savoyarde wool at the Arpin Boutique, situated in the Alpina end of rue des Moulins. The elegant family-run boutique sells beautiful woollen textiles from coats and cloaks to travel bags with the quality and uniqueness of any top luxury brand, like a Louis Vuitton for countrymen or campagnards. They also stock homewares (see below).
Ski fashion shopping in Chamonix
It is well known among frequent ski vacationers who's who, in which brand. While the high end sport brands can blend into the crowd, our luxury shopping in Chamonix offerings will set you a world apart in quality and style.
Ogier
30-36 rue des Moulins, 74400 Chamonix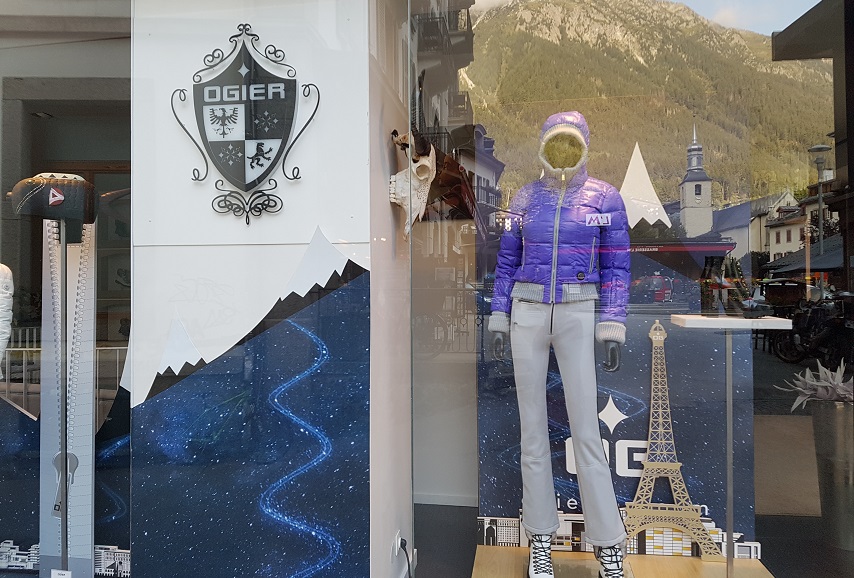 Established in 1948, Ogier is a French fashion house with a chain of stores thoughout the Alps. They specialise in luxury ready-to-wear, ski wear and leather goods. Their chain of stores is also proud to present the luxury brands (German) Bogner and (Italian) Fendi. Bogner cover a great deal of the ski selection while Italian luxury fashion house Fendi offers fur, ready-to-wear and leather goods.
Rossignol
205 rue du Docteur Paccard, 74400 Chamonix
For more luxury ski names consider the extremely French brand Rossignol. Their famous boots, colourful jackets, and sexy ski pants for women can be a symbol of both performance and wealth.
Moncler
90 rue Joseph Vallot, 74400 Chamonix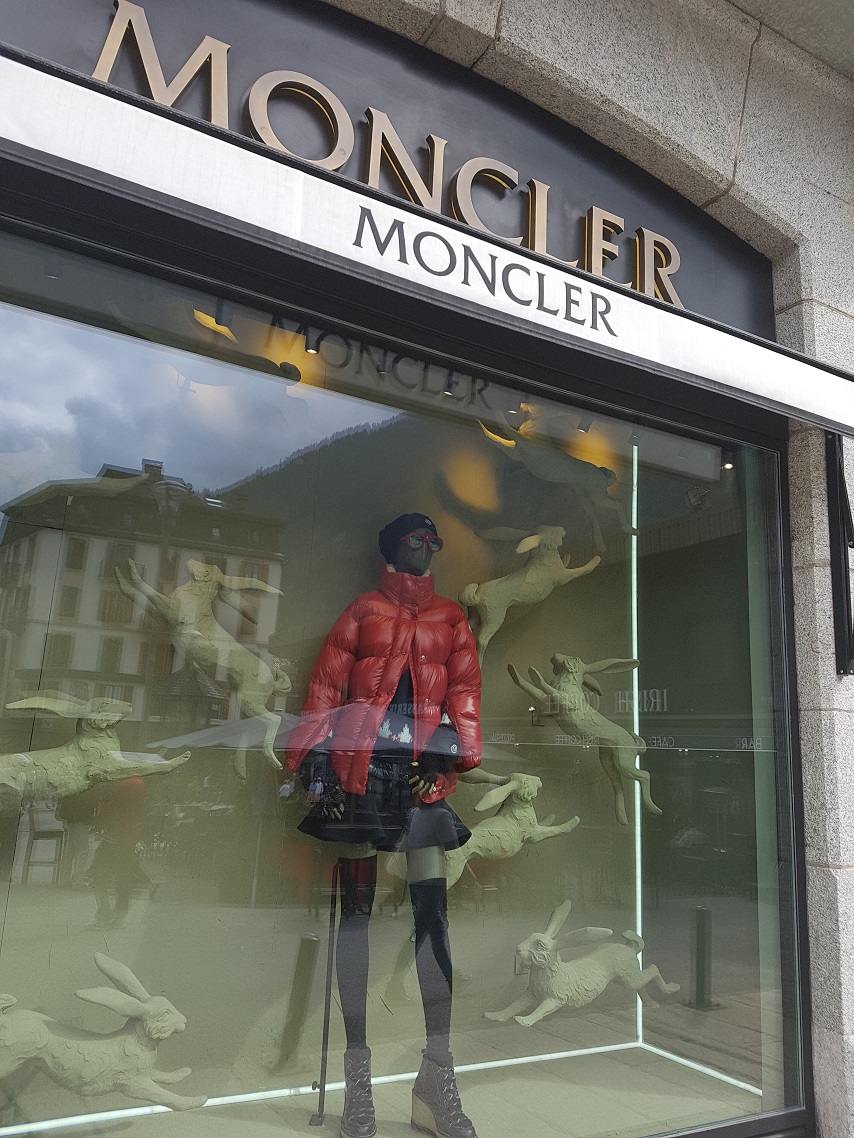 This ultimate ski-luxe destination has a host of eye-popping colours, original embroidery and quilted jackets. The retro-chic style of Moncler is timeless, while their work with French artists remains a well known source of individuality and inspiration. All you have to do is look at their window displays to see how creative they are. The clothing company founded by French entrepreneur René Ramillon was subsequently bought out by Italian Remo Ruffini, and appears at Paris Fashion week each year with their 'Moncler Gamme Rouge' haute couture collection.
Underneath it all
For a true makeover from head to toe you must start at Chamonix's one and only lingerie boutique:
Amazone Lingerie
12 avenue Ravanel le Rouge, 74400 Chamonix
Amazone is the only lingerie and nightwear specific store in town, also carrying a range of swimwear. Brands include Aubade, Lise Charmel, Antigel, Chantal Thomas, Simone Pérèle, Marjolaine, Calida and Oscalito.
Recycled luxury shopping in Chamonix
The urban phenomenon of recycled luxury clothing is also in Chamonix:
Oh…My dressing!
120 avenue Ravanel Le Rouge, 74400 Chamonix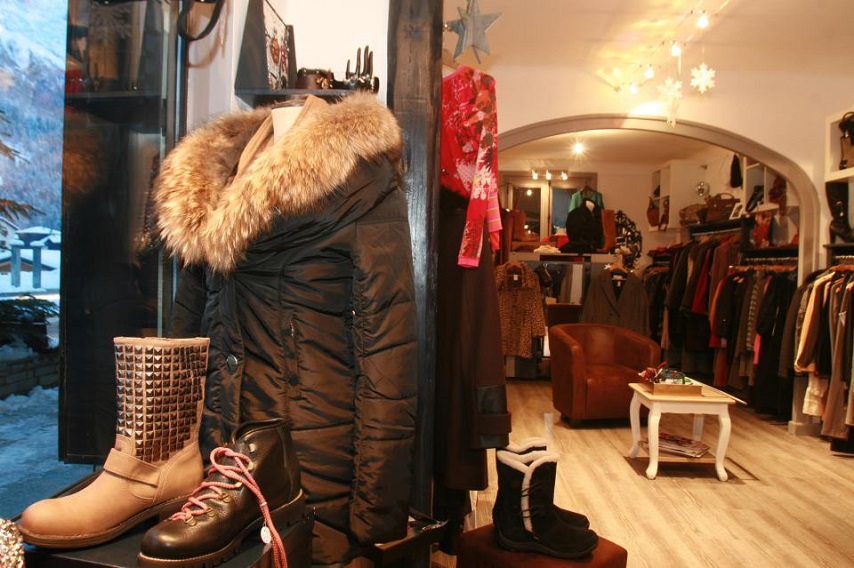 Every visit to this lush boutique is a unique experience, as from one week to the next the entire stock could change. Like an art gallery, the clothing and accessories are lovingly selected. You can hunt for brands like Isabel Marrant, Chloé, Kenzo, Dolce and Gabbana, Chanel and Gucci all in one spot, and all at special second hand prices. However, this treasure chest is not only a 'pre-loved destination', they also have luxury brands like Joseph, Twinset and Imperial in store.
Accessories and more
From perfumes and accessories to a luxury new handbag to put them, shopping in Chamonix also offers the best in bling at the destinations below.
Swarovski
125 rue du Docteur Paccard, 74400 Chamonix
If your holiday needs a little sparkle, Swarovski continues to be a market leader in the highest quality jewellery, watches, figurines and fashion accessories from right here in Chamonix.
Parfumerie du Mont Blanc
15 rue Joseph Vallot, 74400 Chamonix
The Parfumerie du Mont Blanc not only sells perfume, but also a range of beauty products, eye-wear, leather goods and watches. Some of the prestigious brands stocked include Cartier, Givenchy and Chanel.
Parfumerie des Alpes
30 avenue Michel Croz, 74400 Chamonix
In hot competion with nearby Parfumerie du Mont Blanc, why not take the time to visit both to settle on the best price? Sniff out a deal…
Zanetta
70 rue du Doctor Paccard, 74400 Chamonix
The most striking thing about Zanetta is their gorgeous selection of Longchamps bags and colourful assortment of watches in the window. This boutique works with numerous luxury and local brands which can't be found anywhere else in Chamonix, for example, Franche-Comté brand Akteo watches. Pride of place at Zanetta, Akteo's thematic conceptual design gives luxury Swatch a run for its money.
Lucie F
15 rue Whymper, 74400 Chamonix
After two decades providing beauty and wellness services, the move towards jewellery was natural for Lucie, who used to run the hair salon just next door! This dazzling boutique offers brands Messika, Dinh Van (Paris), Dodo, FRED, Ginette NY, Poiray (Paris) and Ole Lynggaard (Copenhagen) – the royal jeweller of Denmark.
Bijouterie Claret
116 rue Joseph Vallot, 74400 Chamonix
Marc Jacobs and Michael Kors under one local roof! There's even rising Italian brand Ti Sento (Milan) who celebrate the art of being a woman. And for the men? There are watches from Tissot, Swatch and Mondaine among other treasures.
Home / antiques
Whether you drove to Chamonix and can fill up the car, or simply want to fill up your Christmas stockings in resort, don't hesitate to do the tour of our favourite decorative shops in Chamonix :
Le Dogue Bleu Antiquités et Décoration
168 avenue Michel Croz, 74400 Chamonix
Follow the yellow brick road behind the Credit Agricole bank and you will find the Dogue Bleu, an ideal destination for all things rare and decorative. Virginie Philippe established the showroom over 25 years ago and her passion for local fare is clear. High quality alpine furniture and mountain art pack the rafters of this 200 sqm space.
La Manufacture
12 impasse Primevère, 74400 Chamonix
Working with Elitis France this almost secret boutique has some amazing, unique items and ideas for a point of difference in your deco.
Les Racines
34 Le Pont Pelissier, 74310 Servoz
Les Racines is a little off the beaten track in Servoz, however for those looking for a truly unique piece of furniture or artwork then it is well worth a look. Florent Dunand's bespoke furniture is all inspired by nature with driftwood, tree stumps, roots and branches all used to make beautiful, tables, stools, ornaments and more. Check out his work in some of Chamonix's central bars and restaurants including Buck's on Avenue Aiguille du Midi and Cha Cha Cha on Avenue Ravanel le Rouge.
Arpin Boutique
138 rue des Moulins, 74400 Chamonix
Not only a great spot for unique woollen clothing and leather accessories, Arpin has amazing pillows and cushions, even sofas and chairs, that are truly authentic to the French Alps.
Rêves d'Hiver
222 avenue Michel Croz, 74400 Chamonix
A concept store in the mode of Alps Chic: interior design, jewellery & accessories, textiles & cashmeres, cosmetics & fragrances, this showroom has it all. It even has the heart of Chamonix All Year co-owner Jo who heralds the store as her favourite in Chamonix!
Loft
The Alps 3/167, rue du Docteur Paccard, 74400 Chamonix
Loft interior designers are now in their second year in Chamonix. Visit their showroom for inspiration and some unique Italian furniture available on site. Some of their work and furtniture/accessories can be discovered at the Hotel Morgane.
More about shopping in Chamonix
Read more about shopping in Chamonix from earlier posts in our blog, from where to buy locally produced food, to supermarket opening times and more.