A wise man once said "whatever your problem is, the answer is in the fridge". If your problem, however, is finding out how to fill said fridge in Chamonix, then look no further!
A few words of wisdom — in Chamonix, and throughout France, it's important to note that much of local commerce closes down for a period over lunch and most of Sunday. Follow our guide below to find the best Chamonix supermarkets to suit your needs and shopping hours. Keep in mind that the hours suggested below can change slightly in very high or very low season, and that public holidays in France will also have an effect so check your calendar too!
Regular Shopping Hours
Monday to Saturday 8am to 7:30pm + Sunday morning
117 rue Vallot, 74400 Chamonix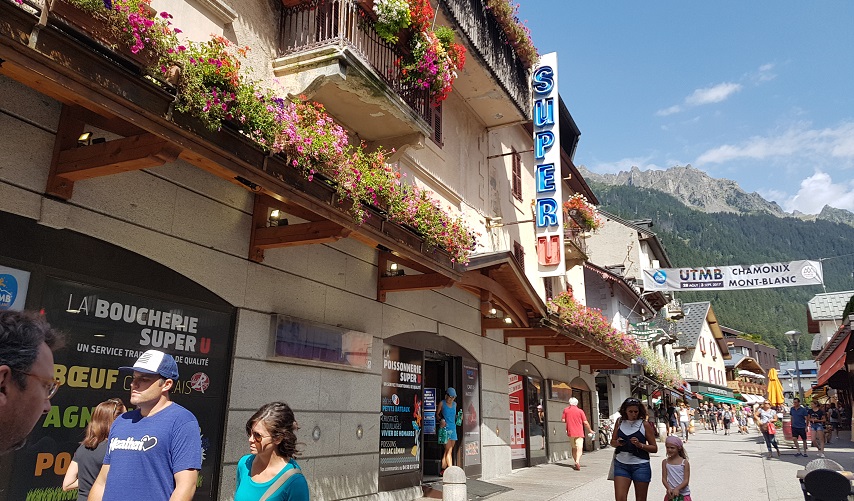 Super U is the most extensive and central of the Chamonix supermarkets with limited free parking on site (you will need to validate your ticket at the check-out to exit for free). They have a great butcher, delicatessen and cheeses. There is even a bakery and floral section.
Take note that there are two levels to browse and be prepared for long lines at the till before closing due to its central location.
On Sundays, Super U Chamonix is open until 12pm.
Le Borgeat, 74310 Les Houches
Super U in Les Houches has, in our opinion, the best butcher, delicatessen and local cheeses, and because it is out of the thick of things in the town centre, you'll also find a calmer ambience and easier parking. You can also fill up your vehicle with petrol or diesel at their pumps.
Super U Les Houches is open Monday-Saturday 8am-8pm. On Sundays it's open all year till 1pm, and in high season also in the afternoon 4pm-8pm (December, February, March, July & August).
339 route Blanche, 74400 Chamonix

Carrefour is conveniently located along Route Blanche (the main highway of Chamonix), with ample parking and a petrol / diesel pump. There is no butcher, cheese counter or delicatessen, however, this is one of the larger Chamonix supermarkets and it has competitive prices.
On Sundays, Carrefour Chamonix is open until 12:30pm.
39 place du Marché, 74400 Argentière
Marché U is the little sister to the local Super U offerings with about half the floor size and selection. However the handy location for Argentière locals and visitors, combined with free parking, makes this little sibling a popular destination.
On Sundays, Marché U Argentière is open until 12:30pm.
32 place de la Mairie, 74310 Les Houches
Carrefour Contact proposes a butcher's shop, delicatessen, cheeses and a multitude of regional products in the very heart of Les Houches. Parking is limited and behind the supermarket but there is a bus stop and bakery very close by. Monday – Saturday it is open 8am-8pm.
On Sundays, Carrefour Contact Les Houches is open until 13:00 all year but either 16.00 or 20.00 in high season.
Casino "corner stores" – 4 locations
Galerie Alpina, 17 avenue du Mont Blanc | 73 avenue Ravanel le Rouge | 50 rue du Docteur Paccard | 199 rue du Docteur Paccard | all in 74400 Chamonix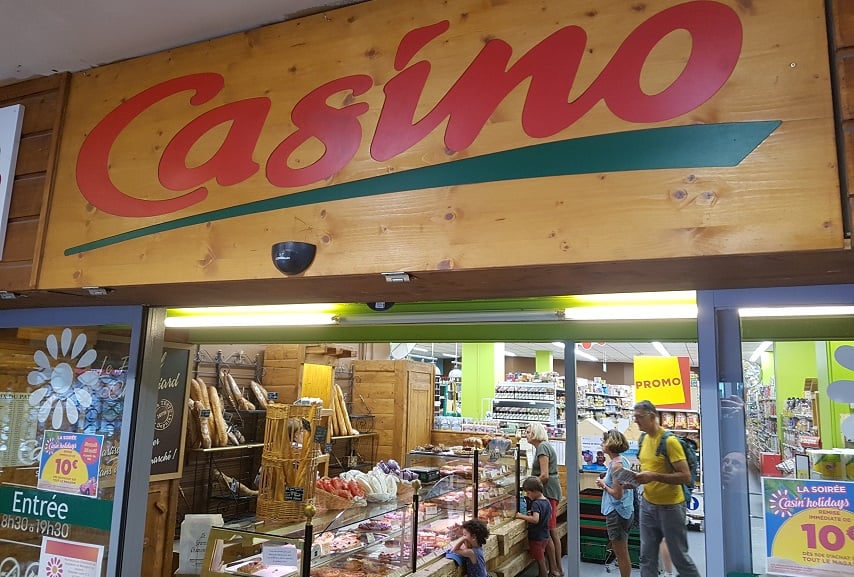 These little "grocer-style" Chamonix supermarkets are spread along the main high street of the town centre with all your basic essentials; the largest being in the Hotel Alpina building with a good selection of wines!
On Sundays, Casino stores are open until 12:30pm.
Chamonix Supermarkets open late & on Sundays
Sherpa Supermarché
190 avenue Michel Croz, 74400 Chamonix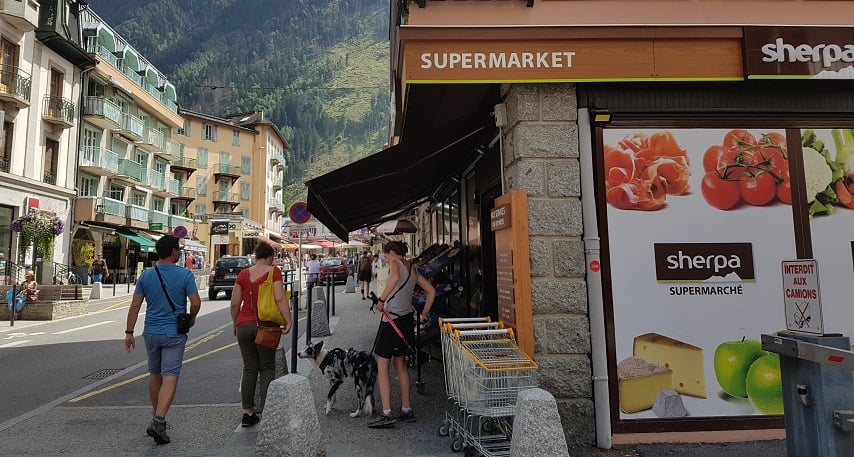 Much like a Casino store this corner shop is your go-to "I forgot to buy this" store in the centre of town on Avenue Michel Croz from 8am – 8pm, 7 days a week.
95 place Edmond Desailloud
Chamonix Sud's Spar is a larger mini-market with quite an extensive bread section that even features pies, quiches and roast chickens on a good day. For opening hours every day is literally a good day: from 7.30am to 8pm daily in high season, Spar has your back!
166 rue Joseph Vallot, 74400 Chamonix | 255 rue du Docteur Paccard, 74400 Chamonix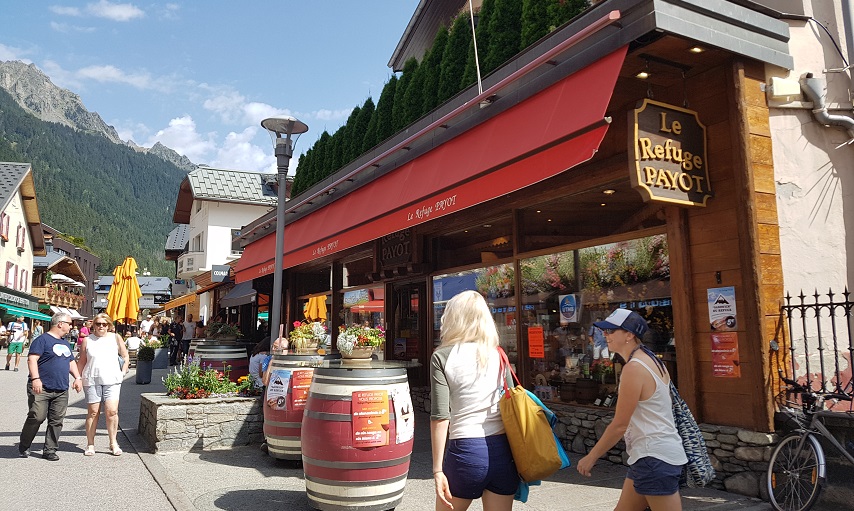 Two central locations are on offer for this must-visit, but highly local / specialist destination, for any visitor to Chamonix. Browse the speciality meats, cheeses, beverages from Haute Savoie and more with roast chicken, bread and even sweet treats on offer 7 days a week: 8.30am to 8pm. Read below for details of their shop in Les Houches.
Open on Sundays but closed for lunch
46 impasse du Genepy, 74400 Chamonix
This organic, vegetarian and vegan speciality store is open behind Super U in Chamonix centre 7 days a week, closed 12.30pm – 2.30pm so their staff can have a nice long (bio) lunch. Cham Bio has organic food, cosmetics and makeup, food supplements, gluten-free products, baby section, green products, home care, etc. Catch them 9.30am to 12.30pm and 2.30pm to 7.30pm.
87 rue Whymper, 74400 Chamonix
Picard are an amazing French brand selling delicious gourmet frozen products at truly economic prices. They are open 9am to 7.30pm Monday to Saturday but close at midday for an hour-long lunch break.
On Sundays, Picard are open until 1pm.
Other hours
804 avenue des Alpages, 74310 Les Houches
Another addition to the organic, vegetarian and vegan family of Chamonix. Leo Savoyard Bio Market in Les Houches also has organic food, cosmetics and makeup, food supplements, gluten-free products, baby section, green products, home care, etc.
He is open 9am – 1pm and 2:30 p.m. to 7:30 p.m.
Closed: Sunday, Thursday morning and holidays.
Place de la Fruitière, Les Houches
Offering a "little sister" version to the larger central locations, Refuge Payot in Les Houches is a great stop-off ahead of picnic! Open 9am to 7pm Monday to Saturday, plus on Sunday they will be open for your lunchtime essentials from midday to 2pm.
Place des Séracs, Les Pélerins, 74400 Chamonix
Under renovation at the time of publication, this handy supermarket with plenty of parking is open Monday to Saturday but closed for lunch: 8:15am to 12:30pm then 3pm to 7pm. There is also a pharmacy, bakery, tabac, butcher and hairdresser all in the same mini shopping centre.
Chamonix Markets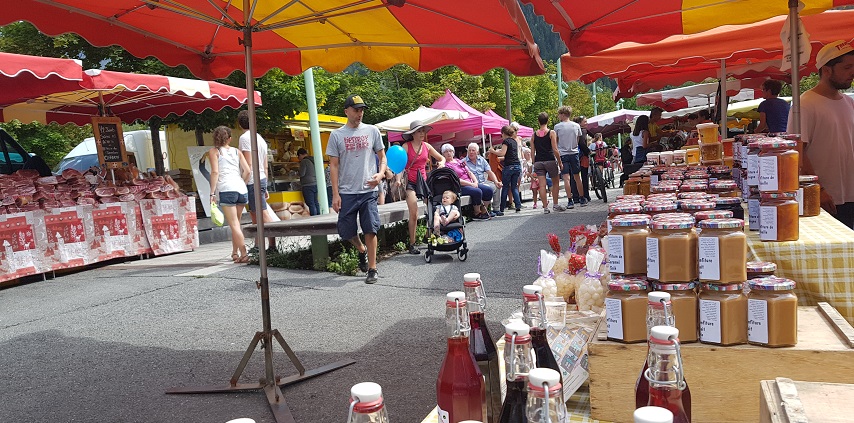 The weekly market takes place every Saturday morning on Place du Mont Blanc, where you can purchase everything from flowers to local cheese and meats (including fish), fantastic Alpine honey and fresh hot roast chicken and 'taters!
Pre-order your groceries
Dreaming of arriving on holiday to a full fridge? Then why not book grocery services ahead of your stay. Our Resort Team will visit the Chamonix supermarkets on your behalf and bring along everything you need for your breakfast essentials or more.
Featured image © M Dalmasso OT Chamonix