Everything's better at altitude; the music, the sports, the yoga! That's the general theme of the top Chamonix summer events that fill the calendar. There's a great deal to see, do and experience, and almost as much to compete in! Get ready, get signed up, and get up there in the mountains for the numerous events on offer for all ages under the sun in the Chamonix Mont Blanc this summer…
Chamonix Summer Events start here:
MJC en Fête 2019
8th to 15th June
94 Promenade du Fori
For the third year in a row, the MJC will be celebrating the end of a busy season with a special week to discover or rediscover all the top events and activities of the year!
Enjoy concerts, workshops, exhibitions, conferences and a veritable neighbourhood party!
Find the complete program on their website.
Football / Valley Tournament 2019
17th to 23rd June
Stade des Glaciers, Les Pelerins
With France taking the football world championship, the time has never been better to get out on the grass in Chamonix! Although in this football tournament the matches will be held at the 'Stade des Glaciers' which is entirely artificial terrain. There are nightly matches in a knockout event until a winner can be crowned.
Tennis / Proshop Tournament 2019
15th to 30th June
540 Promenade du Fori
Every night, tennis buffs take to the courts to battle for prizes including cash winnings! You can compete as male or female singles, or as a doubles team.
Fête de la musique à Chamonix Mont Blanc 2019
21st June
Throughout Chamonix
The 38th edition of Fete de la Musique will be celebrated all over France on the 'Summer Solstice'. Known around the world as "World Music Day" it is an opportunity to celebrate music and culture, and its free access to all. This music event requires no tickets and knows no boundaries! Music of all genres will sound from the bars and restaurants and out onto the streets 'till late at night.
More information here.
2019 Mont Blanc Marathon
27th to 30th June
Since 2003 the end of June has been marked by this event, which has now grown to have 8 races and 10,500 runners from 80 nationalities. Each demanding race is held high above Chamonix and many trail running industry stars battle it out for podium position. The Mont Blanc Marathon does however also pride itself on being open to everyone with a number of events adapted to all levels of experience. There's the 42km "flagship event" of the weekend, 90km, 23km, 10km, the Starry Duet (night run for teams of two), Vertical KM and even races for children.
In late spring you can still register for the 10km, Vertical KM, and children's races as all the others are booked up well in advance.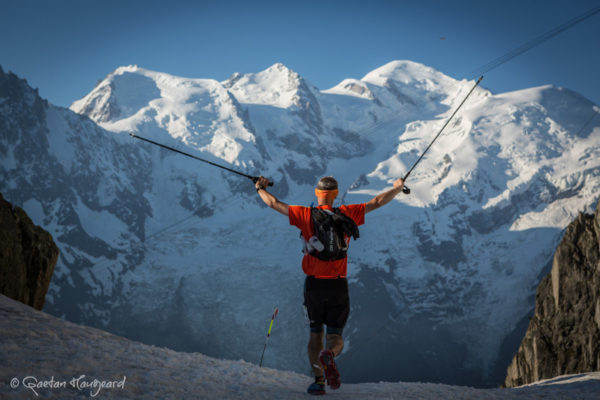 Photo- gaetanhaugeard
Arc'teryx Alpine Academy 2019
4th to 7th July
The 2019 Arc'teryx Alpine Academy displays a set of 40 different clinics for all types of mountain activities, skill levels and budgets. Clinic participants will be inspired and get coached by 120+ certified mountain guides and 30+ professional athletes.
Plus… Under a giant transparent canopy right in the centre of Chamonix, the 'Arc'teryx Alpine Village' will be the place to hang out in front of the Tourism Office. Enjoy the speaker series, bouldering wall, movie night, live bands, gear tests and world-class athlete demos. And to top it off, it's all free!
Chamonix Yoga festival 2019
5th to 7th July
The Majestic de Chamonix
This three-day festival promotes the benefits of yoga, massage and healthy eating with classes and workshops run by internationally renowned yogis and artists.
In past years, various passes have been on offer, with prices ranging from 10€, to 360€ for the unlimited 3 days pass.
At the Chamonix Yoga Festival various different yoga styles, dance classes, Ayurvedic medicine workshops, meditation classes and vegan cookery classes take place throughout.
There is a kinder garten where your kids can play whilst you take part in classes and for ages 5+ there are adapted yoga classes and a spectacle.

Photo – karen-allais
2019 Climbing World Cup
11th to 13th July
Place du Mont Blanc
Since the inclusion of climbing disciplines into the Tokyo Olympics in 2020, all eyes have been on the sport and its rising stars! This World Cup event will be one of the biggest international meets ahead of the Olympics so you can expect an exciting atmosphere and athletes at their absolute best! Right in the heart of Chamonix at Place du Mont-Blanc, the best climbers of the World put on a show for up to 17,000 spectators, so get in early with a good blanket, cushions and snacks to last the evening.
+ Free concert: Welsh singer Michael Jones, who has worked with French legend Jean-Jacques Goldman including on the smash hit below (which also become a hit for boy band 'Worlds Apart'). He officially opens the event on July 11th with a free show.
Bastille day
14th July
Bastille Day is celebrated on the 14th of July in France, the equivalent to the American 4th of July, it is a national holiday. It was on July 14th, 1789, the Bastille prison was stormed and common prisoners liberated, kicking off the 'French Revolution' for independence from the monarchy and aristocracy. There will be a number of events on to celebrate the occasion throughout Chamonix valley.
For more information contact the Office du Tourisme: +33 (0)4 50 53 00 24
2019 Cosmo Jazz Festival Chamonix
20th to 28th July
The Cosmojazz Festival Chamonix returns to the Vallée de Trient and Chamonix Mont-Blanc with music from all corners of the globe being performed in some outstanding venues, all free to the public.
As well as a daily agenda of events at altitude or in unique places, the after party heads to town each evening for everyone to enjoy in Parc Couttet and the nearby Maison Des Artistes.
 
(photo: Cosmojazzfestival.com)
 Fete des Guides
August 12th – 15th
Held annually every August 15th, the Chamonix Fête des Guides celebrates the rich local history of these alpine experts and is both funded by, and raises funds for, the 'Caisse de Secours', whose role is to assist all members of the company in the event of injuries, or their families in the event of death. The Compagnie des Guides de Chamonix was founded in 1821 and it is considered the first established guiding company in the World. The event is often held between the centre of Chamonix and the Gaillands park, and can include interactive experiences, high wire shows, and fireworks.
For more information contact the Office du Tourisme: +33 (0)4 50 53 00 24 or visit here
Triathlon International du Mont Blanc
August 23rd to 25th
Combining the three disciplines of trail running, biking and swimming in gruelling alpine environments, the Triathlon International du Mont Blanc is a true challenge for serious athletes and anyone willing to give it go. There are four different races to test your level, and even a race for 8 to 11-year olds. Registrations close August 20th for those who wish to take part, otherwise we encourage spectators to head to Lac Passy to watch the swimming stage and the finish line.
Ultra Trail du Mont Blanc 2019
August 26th to September 1st
UTMB® – is the "World summit of trail-running" from August 27th to September 2nd. We've actually written up a very handy guide to what it is and how you can watch it. All in all, there are 6 races of different lengths across three countries, seven valleys, 71 glaciers and 400 mountain summits!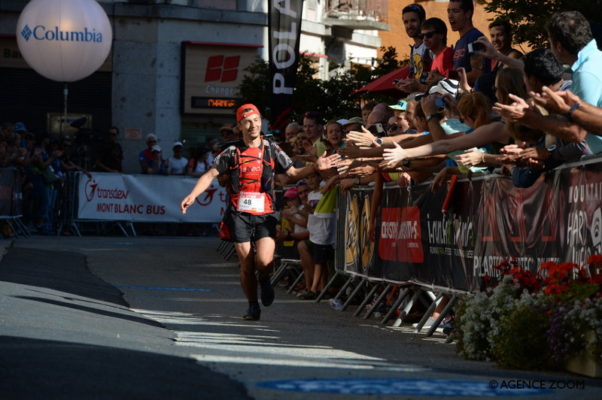 The flagship UTMB Chamonix® race is 171km, with +10,000m (positive height gain). The other 5 are:
CCC®: Courmayeur – Champex – Chamonix, 101km, +6,100 m
TDS®: Sur les Traces des Ducs de Savoie, 145km, +9,100 m
OCC: Orsières – Champex – Chamonix, 56 km, +3500 m
PTL®: La Petite Trotte à Léon, approx. 300 km, +25,000 m (team challenge)
MCC: Martigny – Combe – Chamonix, 40km, +2300 m (new in 2018, for UTMB® volunteers)
Catch the start/finish line in the very centre of Chamonix by the Tourism Office and our apartments Le Kursaal and Les Balances!
More info: https://utmbmontblanc.com/en/UTMB

View of UTMB finish line from Apartment Balances
Evergreen Endurance triathlons
Saturday 14th September
This year marks the fourth Evergreen Endurance triathlons, and to celebrate four years, this year there are four races.
The newest race is a "sprint" distance – the Evergreen 28 which will be an "off-road" triathlon, and the first Evergreen Endurance race to take place entirely in the Chamonix valley. The "M" distance Evergreen 58 also has a new route this year which no longer begins in Switzerland but again is based uniquely in Chamonix. Both races will involve mountain biking for true mountain triathlon experience!
The Evergreen 118 and 228 which have been part of Evergreen Endurance since the beginning are still as epic as ever – starting with a swim in Montriond lake near Morzine, then a cycle of some of the French Alps' most legendary cols, and finishing with the run which takes in Chamonix's most beautiful trails. These races are also available as relays.
The races have a strong focus on minimising their environmental impact too.
Bataille des Reines
22nd September
This event traditionally takes place in the Bois du Bouchet (paragliding landing pad) of Chamonix, in the 3rd weekend of September. It is a relic of pure alpine tradition where the black 'Hérens' cows naturally engage in a spectacular battle to designate the "Queen" of the herd. It is accompanied by an artisan market and local produce, entertainment and refreshments.
For more information contact the Office du Tourisme: +33 (0)4 50 53 00 24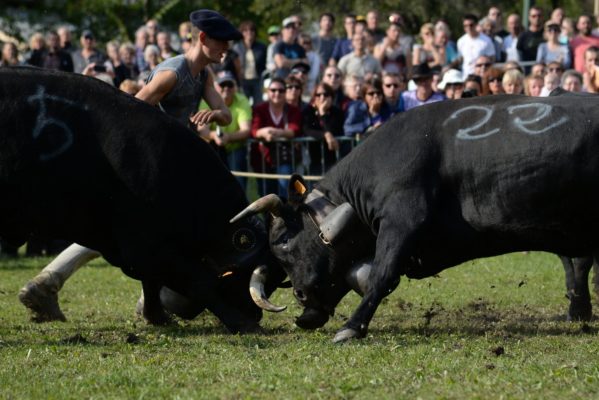 (Photos: Charles Gilbert, Chamonix.fr)
Trail des Aiguilles Rouges
29th September
This year the event returns to Vallorcine and the 'Vallée des Ours'. Whether you're taking on the full TAR at 54km or the Petit TAR at 15 kilometres the views are sure to be as amazing as the trail is challenging. New in 2019 is the Mini TAR "Tom's Trophy", which is reserved for runners in the Cadet category. A loop from Vallorcine of 10km for about 500m of altitude gained.
Booking for Summer
Using the Chamonix All Year booking platform you can not only search for the period of dates to suit the events you wish to see and take part in, but you can make sure your pet will be welcome/there is a garden or even that the property has your favourite type of Nespresso brand coffee machine!
Take a look at the search functions, put in your dates here and make the most of Chamonix summer events!