Isolated for months during long, snowy winters with nothing but cheese and potatoes… no, it's not the next ski holiday fad! It's the way the Haute-Savoie locals of long ago survived on the Alpine foods they produced themselves that would stay the distance, remaining preserved for sustenance throughout the season.
Perhaps you're interested in the culinary traditions and farming of Haute Savoie, or maybe the local cuisine of Chamonix, its products and distinct styles of cooking? You don't need to lock yourselves away with a few goats and a stack of Reblochon to experience the historical Haute Savoie way of life. After a long day of skiing or hiking, you can indulge in our regional specialities. Choose from a diverse range of local recipes rich with generations of flavour, all of which continue to be consumed throughout the valley — either at home, or in on of our top picks of the valley's restaurants given below.
Highlights of Savoyard cuisine
Chamonix All Year serves you the most famous Alpine dishes enjoyed in Chamonix…
Raclette is a semi-hard French cheese, made from cow's milk, that is usually fashioned into a wheel of about 6kg (13lb). It is most commonly used for melting. It is also the name of a dish, popular in the French and Swiss Alps, based on heating the cheese and scraping off (from the French: racler) the melted part.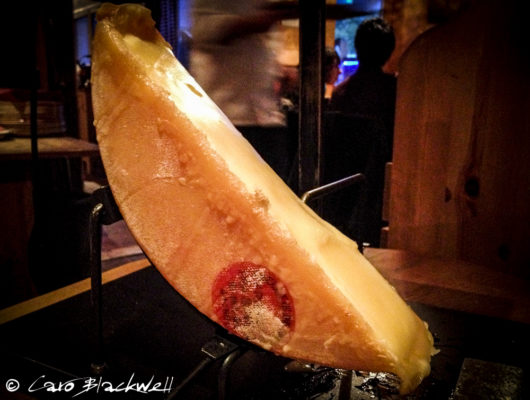 Raclette is accompanied by small firm potatoes (Bintje, Charlotte or Raclette varieties), gherkins, pickled onions, and dried meat, such as jambon cru/cuit, salami and viande des Grisons. Drinks such as kirsch, herbal tea or Fendant (a local wine from the Chasselas grape) accompany the dish.
Tartiflette is a dish from the Savoy region in the French Alps. It is made with potatoes, reblochon cheese, lardons and onions.
The word tartiflette is probably derived from the Arpitan word for potato, tartiflâ. This modern recipe was inspired by a truly traditional dish called "péla": a gratin of potatoes and onions (without cheese) in a long-handled pan called a pelagic (shovel) in the Provence region of France. Tartiflette was developed in the 1980s by the Union Interprofessional Reblochon to promote sales of reblochon. It can even be made with salmon!
Fondue Savoyarde consists of Comté, Beaufort and one or two other local cheese such as reblochon, abondance, or the French equivalent of gruyère.
melted cheese served in a communal pot (caquelon or fondue pot) over a portable stove (réchaud) heated with a candle or spirit lamp, and eaten by dipping bread into the cheese using long-stemmed forks
Crozets de Savoie are small flat square-shaped pasta originally made in our local Savoie region. The crozets were made traditionally at home by housewives using buckwheat or wheat, or sometimes both. This pasta is used mainly to prepare two regional dishes, the croziflette (a variant of tartiflette) and crozets with diots (a type of sausage).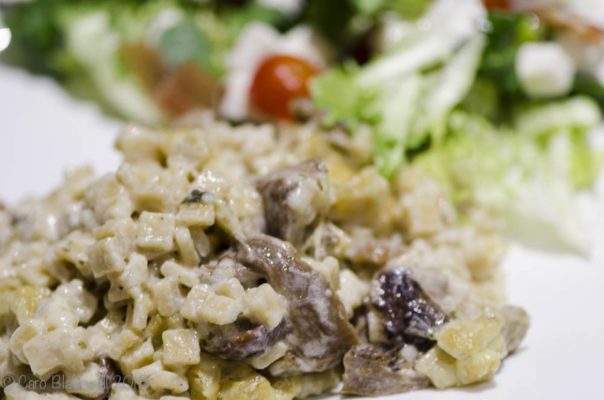 Diots are local sausages which come in several varieties.
Some diots are eaten cooked, (grilled, boiled or in the traditional manner, with white wine) while some are dried. They may be eaten both cold and hot. When eaten hot they are usually served with boiled potatoes or polenta.
Croûte Savoyarde is a dish originally created to utilise ageing bread and cheese. Slices of thick bread line a small baking dish doused in local wine before local cheeses, some meat or mushrooms are added with cream. The dish is baked in the oven until crisp and golden on top. Often served with porcini mushrooms, known in France as cèpes.
Le Farçon requires a special mould, first lined with streaky-bacon. This Alpine dish contains onions, prunes, raisins, potatoes and cream, all baked in the oven. Sometimes known as "le farcement", it is popular in home kitchens of Savoie's Mont Blanc region, but is rarely to be found on restaurant menus.
Where to experience local cuisine in the Chamonix valley
From Servoz to Argentière, our top tips on tasting the Savoyard cuisine in Chamonix will take you back in time and across borders!
Maison du Lieutenant
2231 Le Mont, 74310 Servoz | +33 (0) 7 78 24 96 77
In the heart of Servoz village, discover the Maison du Lieutenant's exhibitions on rural life in the mountains. Built around 1480, the building is a prime example of local historical architecture. Free to all visitors, the attraction offers a unique insight into Alpine life in bygone times.
Part of the experience is bread-making in the original kitchen after you have learnt about the local farming history, produce and techniques. Other cooking classes for local cuisine are held regularly, as well as workshops and outings for children in the school holidays.
While in Servoz, don't forget to visit the nearby Maison de l'Alpage, another building of historical significance with an Alpine farming ambience. Here you can learn more about the region's shepherding traditions and agriculture which contribute toward the local culinary customs even today.
La Fine Bouche
120-140 Place du Poilu, 74400 Chamonix | +33 (0) 4 50 21 10 63
La Fine Bouche offers fait maison  (homemade) dishes with fresh and seasonal produce in central Chamonix. Not only can you enjoy the taste of Savoie in their small restaurant and terrace, they are happy to offer takeaways and cater for events. There is even a small selection of artisanal products for sale on-site such as sirop de sureau (elderflower syrup), sirop de sapin (fir syrup), terrines and fine local wines. You will also find a selection of different cheeses and charcuterie (cold cooked meats).
This restaurant is very conveniently located on the same square as two Chamonix All Year apartments – Ginabelle 14 and Ginabelle 8, making it easy to stagger home under the weight of your delicious meal!
La Calèche
18 Rue du Dr Paccard, 74400 Chamonix | +33 (0) 4 50 55 94 68
Serving traditional Savoyard cuisine in the heart of Chamonix, La Calèche has over 20 Savoyard plates in an old stone farmhouse packed full of Chamoniard charm. The multi-storey restaurant is great for large groups and full of interesting Savoyard antiques and artefacts. The "big show" is the raclette, to be self-served with a huge block of melting cheese against your very own personal melting iron. The whole restaurant smells heavily of cheese as a result, which may overpower some.
La Cabane des Praz
23 Route du Golf, Les Praz, 74400 Chamonix | +33 (0) 4 50 53 23 27
Combining a traditional wooden lodge with modern interior design, this clash of old and new is mirrored in the menu. Our top pick for contemporary French cuisine alongside your Savoyard favourites lies right next to the Chamonix golf course. La Cabane des Praz has a sunny terrace with expansive views of the Mont Blanc all summer, and a roaring fire all winter.
Le Castel
100 Route des Tines, Les Praz, 74400 Chamonix | +33 (0) 4 50 21 12 12
Take a step back in time with decadence at the foot of the Flegère cable car. Enjoy the chef's selection of fresh Italian quality products that also integrate the local culture and traditional meals. You will find a mix of fantastic Italian dishes with the rich and cheesy typical foods of Haute-Savoie alongside them. The Castel restaurant is a regal take on local culture with top-shelf wines and Italian flair – courtesy of our neighbours from the other side of Monte Bianco!
La P'tite Verte
89 rue Charlet Straton, Argentiere, 74400 Chamonix | +33 (0) 4 50 54 54 54
Well known for being family friendly at all hours, this family restaurant has a wide choice of regional specialities, served in a "where the locals eat" style. Their most famous dish is the excellent fondue with cèpes, however, we recommend the tomato fondue. To wash it all down? Your very own cup of "P'tite Verte" – a shot of Génépi, a liqueur perfumed with the flowers of a plant which only grows at high altitudes aptly titled Génépi.
La Crèmerie du Glacier
100 Route des Tines, Argentière, 74400 Chamonix | +33 (0) 4 50 54 07 52
In 1926, Georges Ravanel started selling drinks to hikers from a little wooden hut at the foot of the Argentière's glacier. In the 1950s, his son added home-made tarts and croûtes and by the 1980s the rich menu of Savoyard staples was famous throughout the region. At 1300m altitude in Argentière, it's well worth heading up the valley to enjoy the historical cuisine and location of La Crèmerie, tucked away in the forest.
Tuck into some Savoyard cuisine in Chamonix
In 2018 Chamonix continues its celebration of the "golden era of mountaineering" – 153 years since 1865, when a whopping 65 Alpine peaks were conquered (including seven on the Mont Blanc massif) – indulge in a golden encrusted "croûte" or the "tartiflette" of your dreams in honour of our Alpine heroes who stocked up on a similar menu at their refuge huts, on their way into the history books!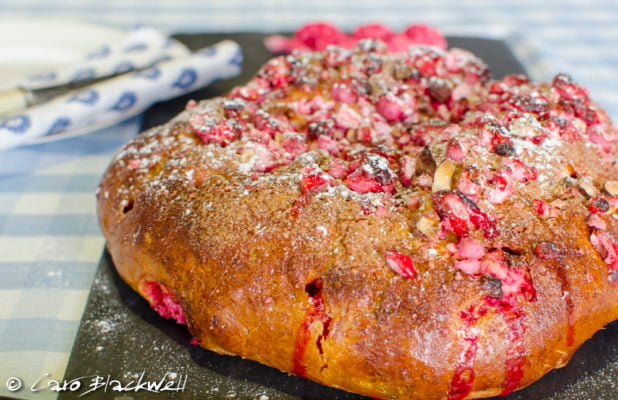 Many thanks to Caro Blackwell from the blog Taste of Savoie for giving us permission to use her wonderful photographs. Caro's blog includes recipes for many Savoyard favourites and some twists on the classics, like her five ways with Reblochon. We haven't covered sweet Savoyard dishes in this blog, but she has some delicious cakes on her blog including Brioche de Saint Genix (pictured above). Why not try one of these recipes while you're staying in your self-catered Chamonix accommodation?