Some of the best pastries, cakes, and breads in the world are French, and you can try and test them all in the Chamonix Valley. Whether it's your morning baguette and croissant, or afternoon tea with a side of macarons and chocolate eclairs, be sure to consider our top picks for Chamonix bakeries and patisseries.
Le Fournil Chamoniard
204 Avenue Aiguille Du Midi, Chamonix | +33 (0) 4 50 53 98 16
386 Rue Charlet Straton, Argentière | +33 (0) 4 50 54 07 08
21 Chemin de la Resse | +33 (0) 9 79 73 08 79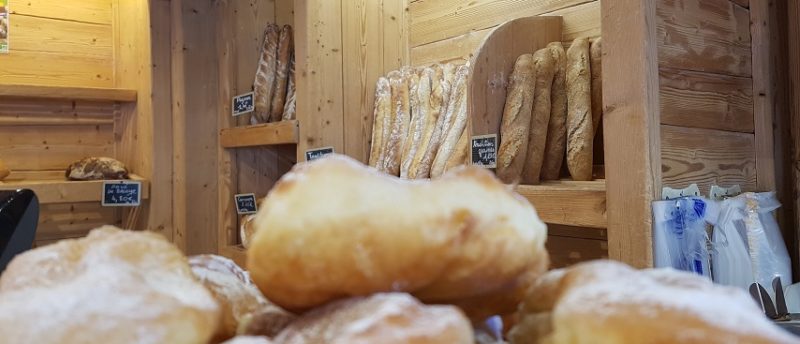 Three locations for these Chamonix bakeries but in no way industrial, Le Fournil Chamoniard produces taste fresh, authentic French baguette sandwiches, quiches, and delicious dessert pastries, all made maison (in-house). With Italy just through the border it's also no wonder the paninis are perfection, while Parisians insist the Croque Monsieur (speciality cheese toasty) is the best in town.
The foot long sandwich extra for 4.80€ has to be the best value lunch option for skiing (you'll need a backpack!) – good bread, fresh ingredients including the salad, and huge in size. What more could we ask for?
Le Fournil Chamoniard is also our local favourite for their almond croissants, with almond flakes and chocolate chips coating a golden sweet, crisp exterior with a smooth almond-flavoured cream waiting inside. There's even a "Viking bread" which is perfect fibre-loading for the mountains.
Aux Petits Gourmands
168 Rue du Docteur Paccard, Chamonix | +33 (0) 4 50 53 01 59
A true contender for the best dessert pastries in town for quality and economy. Their rich chocolate or café eclairs are my personal favourite, while the tartelette aux framboises (raspberry tart) takes the cake for my daughter.
It's the perfect place to pop in for a treat, or to pop out and buy a treat for your non-skiing better half before you abandon them for the slopes a'callin'.
Aux Petits Gourmands is our local favourite for their sunny and central terrace area!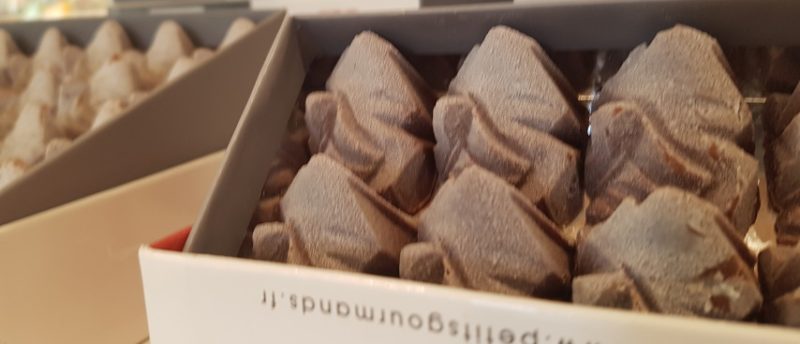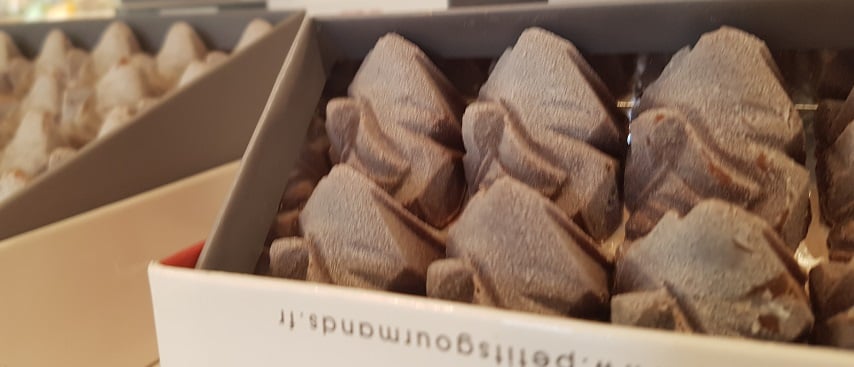 Not only that, but their "4810" chocolates are the perfect souvenir to take home – for yourself or for a loved one – although you might change your mind and find yourself unable to part with them! Carefully crafted and exclusive to Aux Petits Gourmands and Chalet 4810 (see below), they look like mini Mont Blancs and are gorgeously packaged for gifting.
Chalet 4810
191 Rue Joseph Vallot, Chamonix | Tel +33 (0) 4 50 53 00 43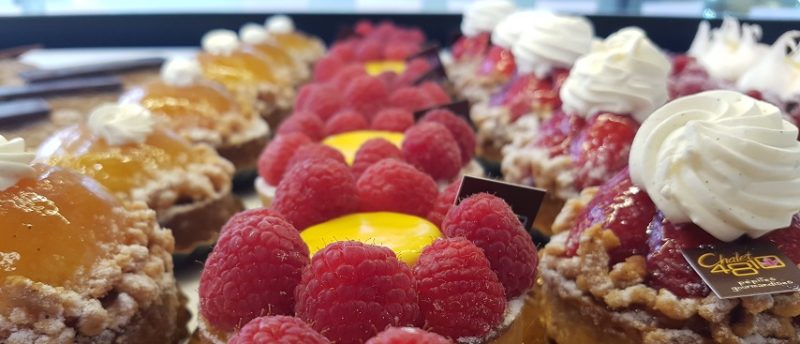 You'll want to move into this chalet, owned and run by the same Chamonix bakeries experts as Aux Petits Gourmands!
Here in the warmth of an authentic wooden chalet filled with local and international crystals you'll find the best dessert pastries and souvenir chocolate in Chamonix. Each chocolate is designed for a local mountain or gem, which makes them perfect treats to take home for the mountain lover in your life, and you can buy the speciality 4810 chocolates here too.
Every cake, macaron, nougat, pastry and biscuit is lovingly crafted to exceptionally high standards, and each visit is a pure joy, although heavy on the purse strings.
Plus! Be sure to venture to their first floor salon to enjoy, not only the unique crystals on show, but the luxury chalet magazine-style setting as you sip back on your chosen aromatic tea with a treat on the side.
 Maison Richard
10 Rue du Docteur Paccard, Chamonix | +33 (0) 4 50 53 56 88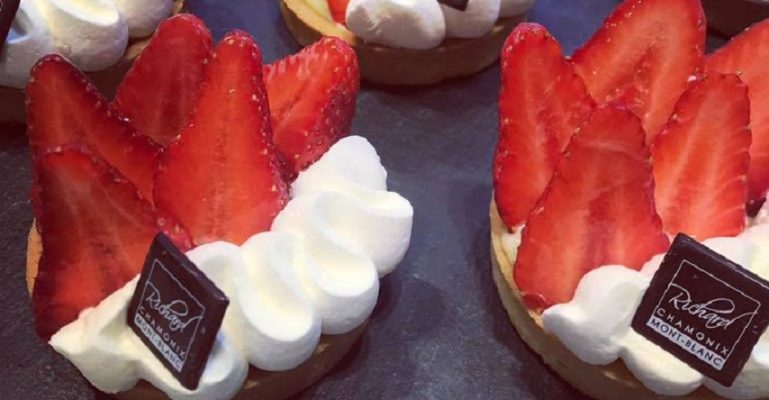 By far the best dessert cakes in town are found at the patisserie Richard. At Richard (pronounced Ri-Shar) tradition and creativity collide to produce colourful and phantasmal creations that explode the palette. At Chamonix All Year we buy all our birthday cakes from Richard, with such variety we've never had the same one, or a dud one, yet!
Richard is also our local favourite of the Chamonix bakeries to try the namesake pastry of our region: the "Mont Blanc" with a mountain of chestnut cream (crème de marron) to enjoy.
You'll find them right opposite our Lou Lou Apartment!
Côté Macarons
136 Rue Joseph Vallot, Chamonix | Tel +33 (0) 4 50 93 85 02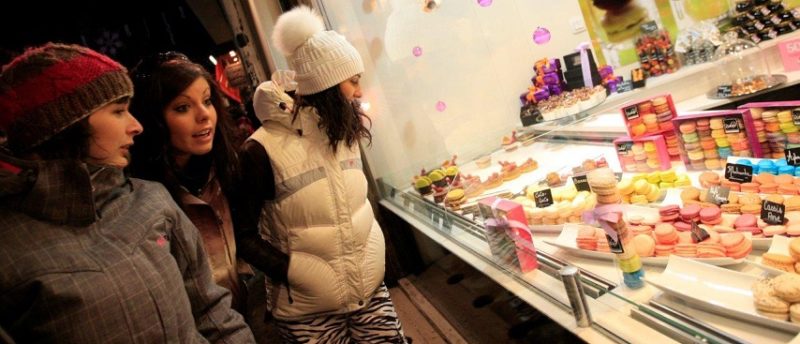 Did someone mention a macaron? No one has more colour, flavour and beauty on offer than the window display of Côté (pronounced coat-ay) Macarons.
It's an endless rainbow-coloured macaron paradise that could easily be considered the school of macarons in Chamonix.
Eric Jacquier
106 rue Mont Blanc, Les Houches | Tel +33 (0) 4 50 54 40 76
Easily the best bakery in Les Houches, and cheap too! Eric Jacquier also supply many hotels, restaurants and chalets in the area with their easily recognised delivery caddy.
Their bread is fresh, soft, perfect and delicious while at Christmas time their "Galette des Rois" (the Christmas cake of Kings, which is actually a pastry) is one of the best in the valley; find the traditional porcelain figure within and you'll be crowned the King!
La Panière
118 rue Whymper, Chamonix | +33 (0) 4 50 18 17 47
31 Place de l'Eglise, Chamonix (formerly Saint.Hubert)
Open from 6:30am below our Chamonix All Year Ginabelle 17 and Ginabelle 8 Apartments, there's an excellent array of fresh pastries, quiches, filled baguettes, savouries and sweet bakery snacks to choose from. The service is fast and friendly and most of the staff speaks good English to boot!
With the longest opening hours, La Panière is easily the most convenient, as well as most economical, of the Chamonix bakeries.
Lacking in the finer things and some local authenticity, you still won't go wrong with a backpack ski lunch on the run, or easy breakfast, from La Panière.
Honourable mention: Ancey Chocolates
98 Rue Joseph Vallot, Chamonix | +33 (0) 4 50 53 09 79
Ancey Chocolates is an institution in Chamonix with its extensive history of chocolates, nougats, marzipan, candied fruits, homemade jam, honey and more.
Ancey Chocolates is our local favourite chocolatière for Easter and Christmas alike, and old Chamoniards swear by their macarons in their turquoise boxes – they look like Tiffany and those in the know treasure them just as much!
A true, blue, family affair, Ancey has the depth of flavour that only generational learning can provide.
Bonne dégustation!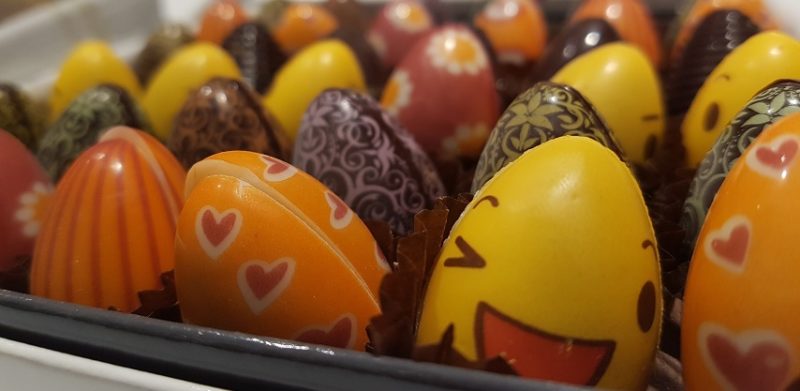 When you're enjoying delicious treats, instead of wishing each other bon appétit, use the local lingo and say bonne dégustation, which roughly translates as "enjoy savouring your treat".