Parts one and two of our complete guide to Chamonix have focused on summer and winter, both seasons being spectacular in their own right. Depending on when you come and whether your visiting in a big group, with kids, with lots of luggage or just yourself and hand luggage will influence your decision on your mode of travel to Chamonix – this is what today's blog is all about. There are several options to explore: travel by car; train; plane; bus transfers and car hire.
Travel to Chamonix by Car
Your starting location will obviously dictate how long the drive to Chamonix will take but here are some rough ideas (not including stops):
Paris, France – 6 hours
Bordeaux, France – 7.5 hours
Amsterdam, Netherlands – 10.5 hours
London, UK – 11 hours
Copenhagen, Denmark – 16 hours
Edinburgh, UK – 19 hours
If you're comfortable with driving long distances then driving to Chamonix is not difficult; unlike most ski resorts the main routes of access do not consist of a windy mountain road. If you are coming from Aosta or Geneva, the motorway leading to the Mont Blanc tunnel brings you 1km from Chamonix centre where there is a short dual carriageway to Chamonix itself.
The advantage of driving is space for luggage, being able to bring your own bikes and skis without any extra costs. Some families arrive with roof boxes and bike racks to bring everything they need. You then have your own transportation during your stay allowing you to get around the valley with ease. All the ski areas have dedicated parking that, apart from Brevent, are all free of charge, although they can get busy in peak weeks.
If you travel to Chamonix in winter, there are a few things to consider:
Have you driven in the snow before?
Winter tyres or snow chains are a must from December to March
Does your Chamonix accommodation come with parking?
Are there height restrictions on the parking?
Is your property up a steep hill (access in winter)
There are three main entry routes to Chamonix:
The Mont Blanc Tunnel from Aosta, Northern Italy
The Autoroute Blanche, from Geneva
Martigny, Switzerland (please note this route is over mountain roads and the mountain pass at the Col des Montets can close during high snowfall)
Most of Chamonix All Year properties have parking, but please double-check the height restrictions if you have a large vehicle or are bringing a roof box. If the apartment you booked doesn't have parking, the Resort Team can show you the closest free and paid public parking that is discounted if you buy a weekly pass with your guest card.
Advantages
Can bring lots of luggage
Transport within the valley
Disadvantages (some depend on start location)
Long journey time
Cost
Having to equip the car ready for snow in winter
Insider's tip: snow tyres on your car are invaluable in the winter, snow tyres on a 2 wheel drive car have been shown to greatly outperform a 4×4 in normal summer tyres. Pack a small snow shovel for the car!

Travel by train to Chamonix
Travel to Chamonix on a train can be relaxing, comfortable and good for the environment. The train line runs right through the centre of Chamonix so potentially dropping you close to your accommodation, but you may have to transfer a couple of times along the way.
In France, the line runs from Annemasse to St Gervais Le Fayet, and then you have to change onto the Mont Blanc Express to Chamonix. There is the ability to catch the Eurostar from London to Lyon and where you will have then 3 changes to get to Chamonix.
From Switzerland, several trains stop in Martigny where you can change to the Mont Blanc Express that heads up the mountain, you have to change at Vallorcine but there is only one line here so you can't go wrong! This train journey is spectacular and worth a visit in itself.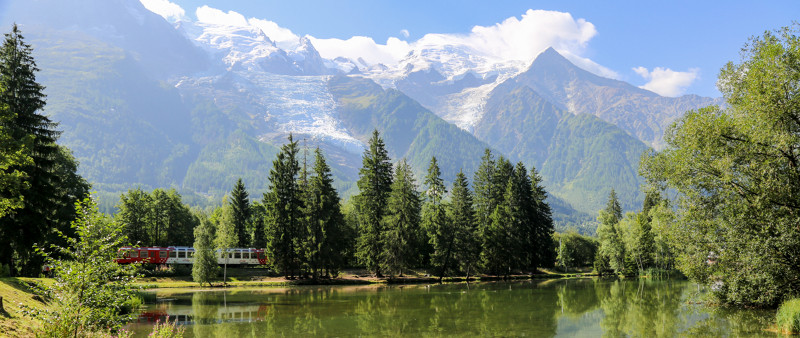 If you're travelling from Geneva, there is a new Leman Express that is running from Geneva centre to St Gervais le Fayet where you can change onto the Mont Blanc Express to Chamonix.
There's no rail service from Italy to Chamonix, your only option from Italy to travel to Chamonix is drive.
Advantages
Good for the environment
Relaxing
Picturesque
Disadvantages
Long travel time
Several changes
Having to walk from station to your property*
*Taxis in Chamonix are limited so you will have to walk from the local station to your accommodation.
Flying to Chamonix (Geneva)
Most people fly to Geneva in Switzerland and then travel to Chamonix from there. The airport is well-connected and used by many airlines, providing options for good value flights all year round. From Geneva airport, you can catch a train (above), rent a car or book a transfer (see below).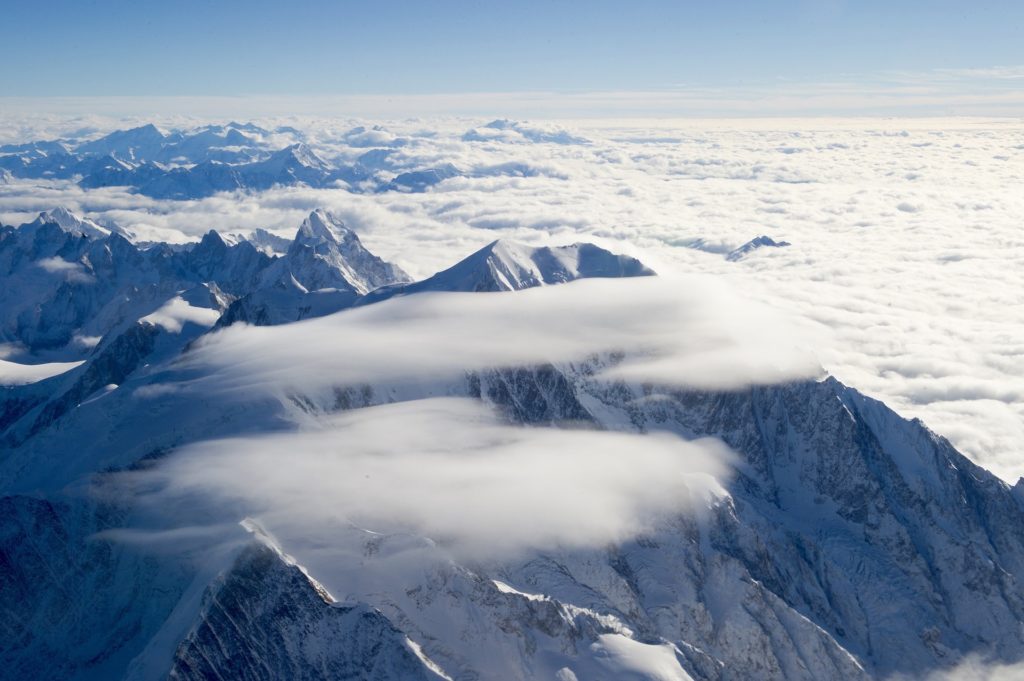 There are a few other airport options but they are a little more difficult. They are good options if you hire a car and travel to Chamonix that way and there is a new public bus service from Lyon airport to Chamonix but there are no dedicated transfer services. The following airports are around 2-3 hours' drive from Chamonix: Lyon, Chambery, Milan, Turin.
Advantages
Quick
Geneva is well connected
Geneva is less than 90 minutes from the airport to Chamonix by road
Disadvantages
If you are bringing luggage and sports equipment it can work out expensive
Limited timing options
Travel to Chamonix from Geneva airport
Car Hire
If you're flying into Geneva, you can book a transfer or hire a car to finish your journey to Chamonix. There are several car rental companies, get up to 15% discount if you book online with us.
There are two choices when hiring a car from Geneva airport, the airport is set across the country border so you can hire a car in Switzerland or in France.
Swiss car hire
This tends to be a little more expensive
Easier route to access the motorway to Chamonix
Swiss road tax is included
You have to let the company know you'll be driving in France as there was new legislation banning EU citizens from driving Swiss-registered cars in the EU
French car hire
Cheaper
You will need to purchase a Swiss road tax vignette for around 40€ to drive on Swiss roads
More complicated exit and entrance back into the French side of the airport (sat nav advised)
Longer drive time to Chamonix

Transfers
Transfers are the easiest way to get from the airport to your accommodation. The door-to-door service starts from 30€ per person (each way) for shared transfers if you book through Chamonix All Year Resort Shop. All the drivers are English-speaking, familiar with Chamonix and Chamonix All Year properties and fully competent in winter conditions.
Private airport transfers can be booked for up to 8 people per minibus and are tailored to your travel schedule, they are available from 185€ per minibus (each way). This is the most common and easiest way to travel to Chamonix from the airport right to your accommodation door.
Bringing Sports Equipment
If you are flying or a family getting the train it may be difficult or costly to bring your sports equipment and maybe better to hire. See our guide on whether to rent or buy ski equipment.
You can save up to 30% by booking through Chamonix All Year.
There are also plenty of bike shops where you can hire mountain or road bikes, costs are usually between 16€ and 80€ per day.
Almost there…
=> Move on to the final post in the series – Accommodation