The Léman Express is a new rail route that is connecting Geneva to the Alps. Before, the only option was to get a public or private bus or hire a car but you can now enjoy your whole route to Chamonix by the luxury of rail travel. Combining two countries and opening on 15th December 2019, line 3 of the Léman Express will now link central Geneva to Saint-Gervais-les-Bains-le-Fayet where you can then get to Chamonix on the valley's local Mont Blanc Express train.
The Léman Express
The Léman Express is actually a network of trains connecting Geneva to several areas in Switzerland and France, but to simplify it, we are only going to look at line 3 which is the link connecting Geneva to Chamonix. It has always been difficult with train travel crossing these two countries with differing laws, currencies and even train tracks but a lot of money has been put into this venture making the Léman Express an exciting new resource for both countries.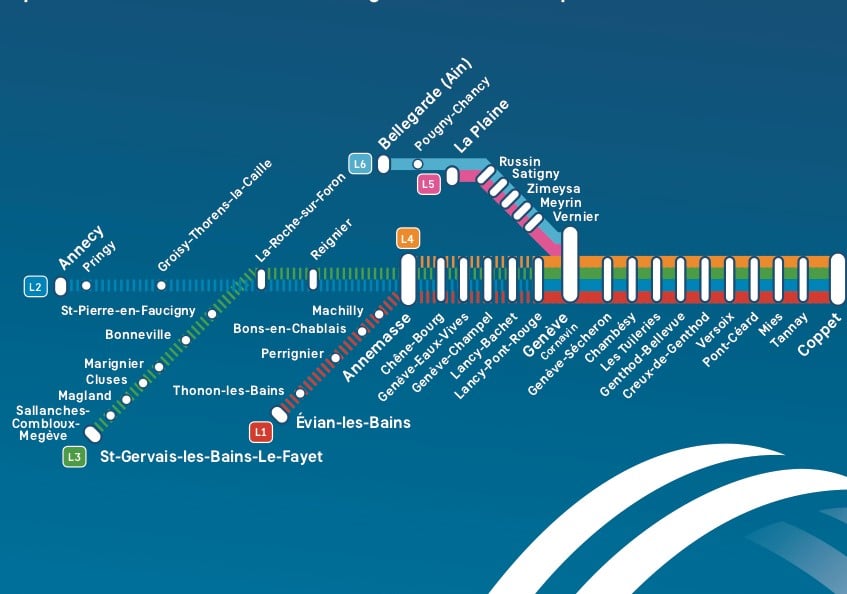 Getting to Chamonix
The Léman Express will bring you from Geneva to St Gervais le Fayet, which is the last station on the Mont Blanc Express line. It is located at the bottom of the Chamonix valley, close to the start of the viaduct. At this station, you need to change onto the Mont Blanc Express, which takes you right through Chamonix and its suburbs.
If you are renting any of the following properties, here are the train stations that are located very close by (within 200m):
Les Praz de Chamonix station
Chamonix Mont-Blanc station
Aiguille du Midi station
Pelerins station
Les Houches station
Frequency & Length of Léman Express trains to St Gervais
There will be 2 trains per hour during peak hours on weekdays. The journey time will take 1h38 and will either go direct or include a change at Annemasse station although this will not add any travel time as the train will stop in Annemasse for 7 minutes anyway.
The first Léman Express train will depart from Saint-Gervais around 04:50 and the last train leaving Geneva Cornavin will be around 21:30.
You can see the full timetables here.
Cost
You can buy a single/return ticket online or at the station, or if you will be doing more than one trip you can buy a Lémanpass. This is a multimodal cross-border tariff that has been brought in to save you money if you are travelling extensively on the Léman Express. It is valid on all forms of public transport in the Léman Express region and will be added to your existing French or Swiss travel card. You can buy the Lémanpass online and you can renew it at the station.
Fares start from €24.60 online for a single journey and under 5s travel for free. You can buy your ticket online through the French or Swiss rail sites.
A days Lémanpass is €39.90, one month pass is €233.60
Airport Link
The Léman Express does not connect directly to Geneva (Cointrin) airport, however there is a train station attached to the airport where you can catch a train into Geneva Cornavin – this is the station in the centre of Geneva. There are 5 trains per hour and they only take 7 minutes at which point you can change to the Léman Express.
The Trains
The Léman Express fleet contains all new trains. There are two different trains as some are Swiss and some are French but they all include:
Wider doors to make getting on and off easier
Platform level boarding
A first-class section with larger tables
Power sockets
Baby-changing facilities
Video surveillance system for security
Air conditioning throughout
All trains are advertised as silent
A new unique design with logo that runs the length of the train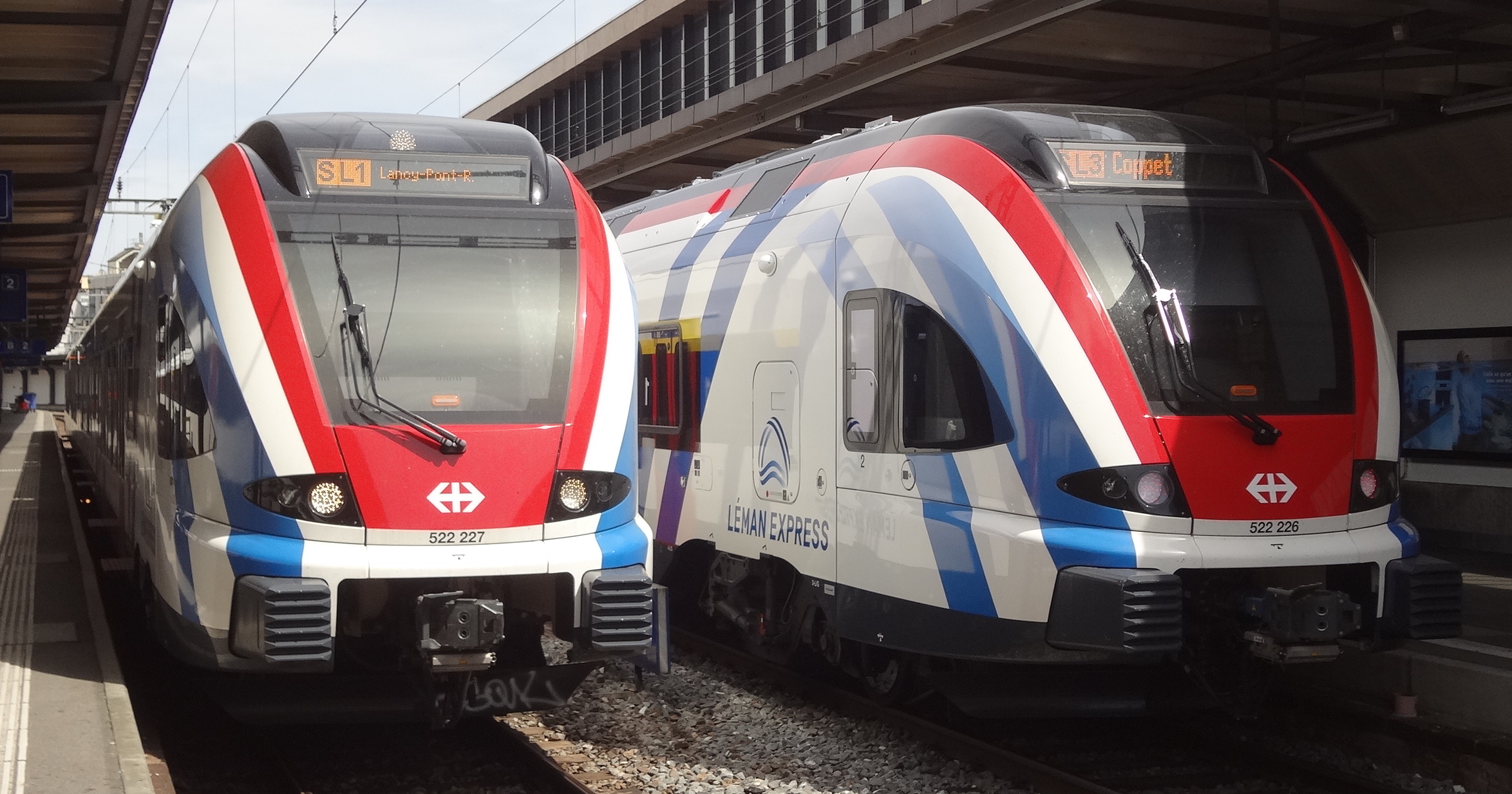 Luggage including skis and bikes
All normal luggage allowed on the Léman Express is considered hand luggage as this means items that you take on the train carriage rather than putting in the hold (which is reserved for larger items). Hand luggage items are up to 1.2m x 0.8m x 1.00m.
And great news for our winter travellers, the following items are considered to be hand luggage:
Skis and snowboards
Luges and skibobs
There is no charge for any hand luggage.
Bicycles are allowed on the Léman Express although discouraged at peak times. There is a limit depending on which train due to the storage arrangements, usually 2-3 per carriage. There is a fee for bikes unless they are folded – in which case they are considered hand luggage.
The following are not allowed: tandem bikes, tricycles, delivery bicycles, recumbent bikes and bikes with trailers.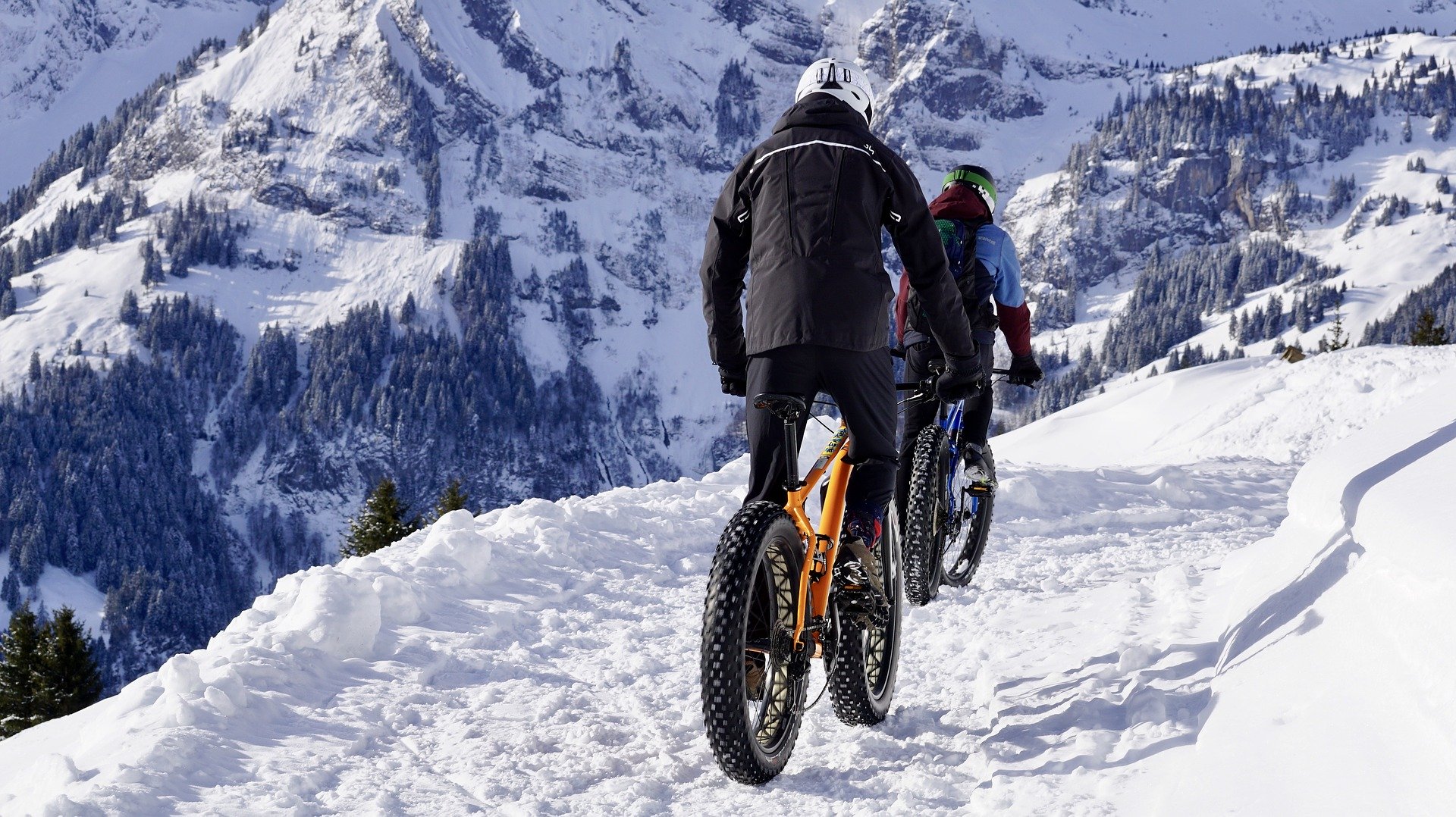 Pets on the trains
Pets are allowed on the Léman Express trains but they must have a ticket! There seems to be a little ambiguity around pets as the rules are different in Switzerland than they are in France, however as a general rule, the following applies.
Small animals including small dogs if they come in a carrier (a Labrador in a backpack doesn't count!) are a small set fee or free but a ticket for your larger dog is around half the price of an adult ticket (second class). On the French side, larger dogs may be asked to wear a muzzle. Guide dogs are free and do not have to wear muzzles if they are properly trained.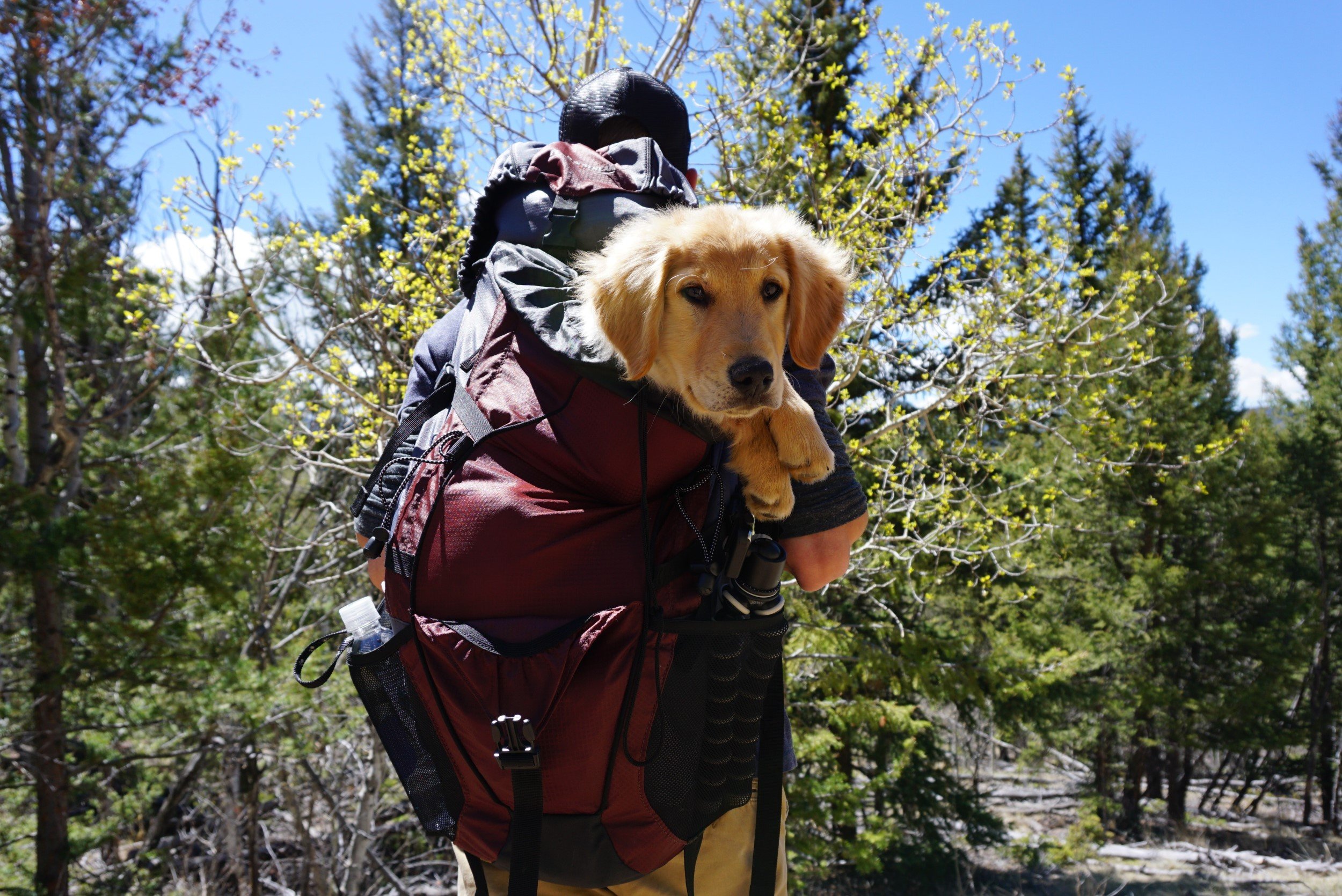 Overall we feel like the Léman Express is a great addition, especially if you are travelling with a small dog, a folding bike and skis! However, with 2- 3 changes to get from the airport it is still not the one-stop rail link to Chamonix that we would love to see. So despite the good luggage allowance, it is maybe more for those coming with minimum luggage or travelling from central Geneva where the previous options were limited.  For those not convinced, see our blog post on travelling to Chamonix for more options.