To rent or not to rent? That is the question, certainly if Shakespeare could ski. It inevitably arises as you prepare for your ski trip and instead of answering for you, we've laid bare all the facts we could think of. To buff your decision, we propose a series of four questions and advice from our local expert Ross Cluley, so you can decide if you should rent or buy ski gear.
Should I rent or buy ski gear?
1. How many days do you ski?
If like many skiers, you have the chance to ski only one week a year, the balance will strongly lean towards the rental. As the number of ski days increases, you will also have to consider that your skill level could develop past that of the equipment you are using. For example, if you purchase piste skis and get a taste for powder, you're going to need to upgrade your skis from one season to the next.
You must also consider if your ski days are consecutive, whole days or not, as the longer your rental period the better the value will become. For example, if you are renting half-day skis two or three days apart, you may end up paying the same as if you simply rented those skis over three or four days.
2. What is the age and level of the skier?
The choice of a ski depends on the size, weight, and ski level of the skier, and of course the chosen ski category (leisure, slalom, freeride, etc.).
It's no secret that children's and teenagers' sizes, weights and ski levels are changing rapidly between seasons. Therefore, in buying your skis, or snowboard equipment, you risk frequent purchases to keep up with your growing, advancing kids. On the other hand, with the perfect equipment purchased for them, children like adults could develop their skills faster with improved confidence and a 'money can buy' sense of pride.
Generally speaking, those who are progressing or ageing with each trip will benefit from the flexibility of hiring, where you could change equipment or even disciplines as you go! Alternatively, experienced skiers who have developed their skills and know where they will be skiing (piste or off-piste), might prefer to buy. (The flip side of this is that experienced skiers might like trying new skis with new technology each year, available to them via the flexibility of renting.)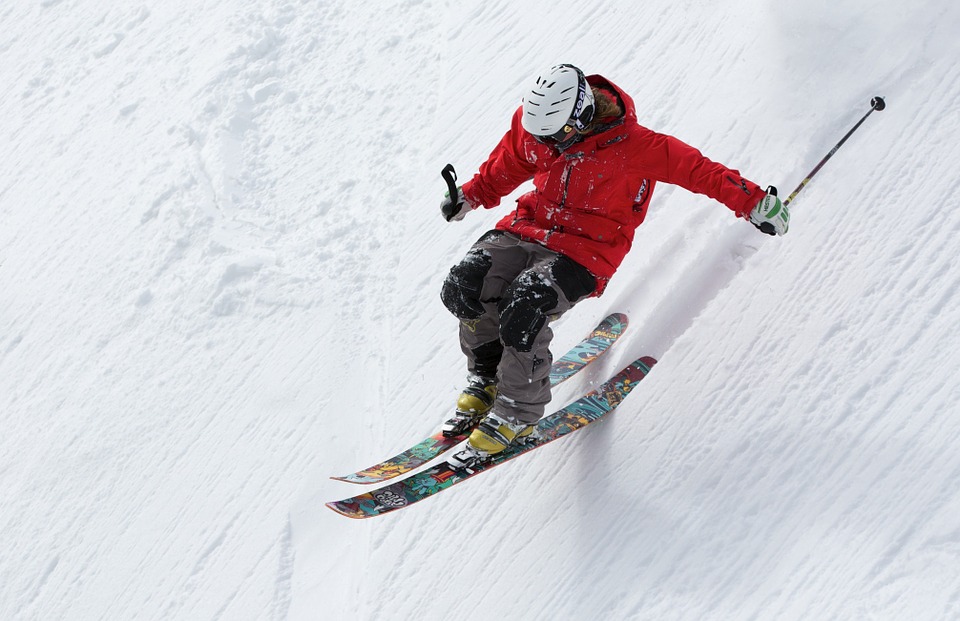 3. How will you take care of your skis?
When renting equipment, the shop will ensure that you are offered equipment in good condition.
For shoes you have to take a look at the inside of the liner, traces of wear or packing of the foam of the liner are not a good sign. For skis, check the base, they must be without significant scratches. They must also not appear "white" which is a sign the skis or board have not been waxed for a long time. Additionally, the edges must be shiny and sharp, when passing the thumbnail perpendicularly on the edge it should be sharp enough to scratch your fingernail.
For the bindings, they must open and close smoothly and be adjusted properly for your stance/shoe size.
When buying equipment, you have to maintain it to these standards for your own enjoyment and safety (as well as take full responsibility for any repairs). Take a look at our in-depth guide on how to wax your own skis at home.
However, to maintain ski boots, the only thing to do is dry them as often as possible.
4. How will you transport your skis?
Jet-setters know that checking in a ski bag comes with the risk of having your equipment lost or damaged… and, unless you are flying with Swiss Air Lines, always costs you money.
Purchasing your ski equipment and lugging it to and from your holiday can be a chore. Despite the obvious need to get some good use out of your own equipment, arriving with only hand luggage is always ideal.
For those who drive to Chamonix, the real estate in your vehicle dedicated to ski gear is still rather taxing, but probably a better argument for purchasing your ski gear. It's safe to say that those who can and will regularly drive to Chamonix can and will eventually purchase their own ski equipment.
A clear benefit for those wanting to travel light is being able to rent equipment on the spot in Chamonix.
NOTE: The benefit of the boots!
If you are making your first ski equipment purchase: start with the boots.
Why from "toe to top"? Simply because it is the most complicated element to choose for skiers, and needs to provide the best comfort possible for skiers and snowboarders.
A pair of skis can always be swapped or changed to fit your boot, but your foot cannot be swapped or changed for better boot comfort (at least not after they've stopped growing)! In saying that, it is quite rare that a ski boot does not require some small mechanical (or heat applicated) adjustments that are rather an expert field.
As such, the post-purchase customer service of a friendly and knowledgeable local shop is what you need; shoes cannot be bought just anywhere, especially not on the internet because it's impossible to try them on, and you risk wasting your time and money on returns. Read more about the best boot-fitting services in Chamonix.
If possible, it is ideal to rent the shoe that suits you for a few days, so stick to the stores in the resort where you spend most of your winter holidays… Chamonix of course!
Advice from local expert Ross Cluley
My name's Ross and I am the owner of Local CHX Ski and Snowboard rental in Chamonix since founding it 8 years ago to provide a different approach to ski and board rental in Chamonix.
Having experienced the big drawbacks of renting equipment as a customer on ski holidays in the past, we wanted to change how we provided the service to customers in Chamonix by making it customer-focused and providing good quality equipment that takes away the need to buy personal equipment (although we do agree some people should invest in boots as they can last a long time and provide the comfort that makes skiing extra fun).
Our philosophy begins with our offer of taking the ski shop out of the equation and delivering and fitting your skis / boards in the comfort of your Chamonix chalet or apartment. We also make any correction or changes there and collect the equipment at the end of your holiday. This means your holiday gets off to the best possible start, as you sip a glass of champagne whilst having your skis delivered to you.
From a financial point of view, you are going to be saving yourself the cost and hassle of transporting your skis. Some airlines will charge nearly £350 extra in baggage fees for a family of four on a return trip from the UK.   You also save the cost of the annual servicing of the skis as our skis are serviced prior to every rental and should you want to swap to snowboarding or try some of the latest off-piste skis, you have that ability as part of your rental.
Lastly, ski technology is changing with new materials and technology meaning that 10-year-old pair of skis in the attic is no longer going to help your skiing and enjoyment any more. With Local, you are always going to be getting the very best and newest skis available. Over 90% of our skis are under 2 years old and are serviced and maintained regularly.
Local CHX is one of Chamonix All Year's hand-picked ski hire partners – pre-book your ski hire online in our Chamonix Resort Shop and if we don't have a partner shop close to your accommodation then we'll arrange for Local to bring your skis and fit them at your accommodation.
Conclusion – to rent or buy ski gear
If you ski less than two weeks a year and frequently fly, renting your equipment will save you from transporting and maintaining it. In addition, skis technology is always advancing, so rental will allow you to benefit from recent models each season, and even the flexibility to make changes and upgrades during each ski trip.
However, purchasing your gear becomes the most economical option if you ski more than two weeks a year and know exactly the style of equipment you prefer. Knowing that skis or a snowboard can cost between 200€ and 1000€ with bindings, you have to take out your calculator to know if you will pay off this purchase compared to rental costs (a pair of skis can last up to ten years when well taken care of).
For shoes, the calculation is easier; it is always more pleasant to opt for personal shoes, for hygiene and comfort. A pair costs between 200€ and 300€ but can last up to eight years (for adults).
We hope this guide helps you to make the decision about whether to rent or buy ski gear ahead of your Chamonix ski holiday. Rest assured that when you book ski hire with us, we only work with partners like Ross, with great quality kit which is well-maintained for every week of the ski season. Plus, you'll save 30% by pre-booking before you arrive in resort. See you on the slopes!