Chamonix is a mecca for extreme sports all year round, meaning that many of our guests travel with lots of kit and choose driving in Chamonix over arriving by public transport, so that they can pack the car to the rafters. We have therefore asked Marcus from our transfer team to give his best advice and tips for getting around safely if you're driving in Chamonix over the winter season.
Driving in Chamonix: what to know
It goes without saying that it's cold in the winter when you're driving in Chamonix, especially at night, and the roads can be either ice covered or completely covered in snow.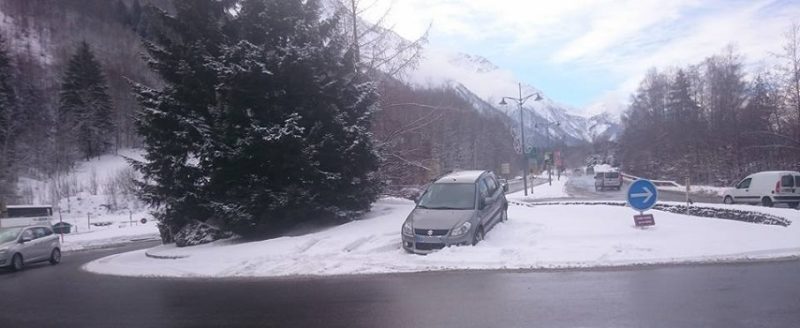 I am sure you have all seen the chaos caused back in the UK when grip is minimised at the slightest sight of snow, when 1cm of snow falls and the roads come to a standstill, the schools close and the country effectively shuts down. It doesn't happen in a lot of countries but in the UK it happens every time!
There are lots of reasons for this but let's look at the most relevant.
The biggest factor in maintaining grip on roads at anything below 7°C is winter tyres. Without getting technical, winter tyres help maintain a much higher level of grip in all conditions, you only have to YouTube a comparison and the results are startling. Here is a good example: https://www.youtube.com/watch?v=j32vXbe-JBk.
We'd love to see all countries forcing road users to change tyres for the season like they do in Germany, for example. As this is not the case at the moment, a great many visitors to Chamonix arrive with summer tyres in the winter season, even if they arrive by rental car from one of the nearby airports.
So with slippery conditions for driving in Chamonix in mind, what should you do?
Well firstly, we obviously can't recommend winter tyres enough. Four wheel drive and all wheel drive might help you gain traction for moving away but they do very very little for steering and braking.
Whether you have winter tyres or not, new tyres or tyres with a lot of tread left will always grip better than tyres near their legal wear limit.
Always carry snow chains of the correct size for your tyres and know how to fit them, practice a few times at home before you come out. The last thing you want to be doing is fitting them for the first time in sub zero temperatures and getting it wrong. With practice you'll be able to do the driving wheels of the car in less than 10 minutes, to get you back on your way in no time. Our top tip is to pack an old pair of gloves that you can use in the chain box as well as a bin liner to kneel on.
Don't forget as well when you're driving in Chamonix to carry extra jackets or blankets in the car and a warning triangle too. If you get stuck you could start getting cold and you'll be grateful of the extra layer, while the warning triangle will hopefully warn others drivers behind you that there is a stuck car up ahead and slow them down.
Think ahead as well, sudden inputs to the car controls will only raise the likelihood of skidding and possibly crashing. All inputs or actions to the car should be thought out and executed in a smooth manner.
Find out more about driving to Chamonix.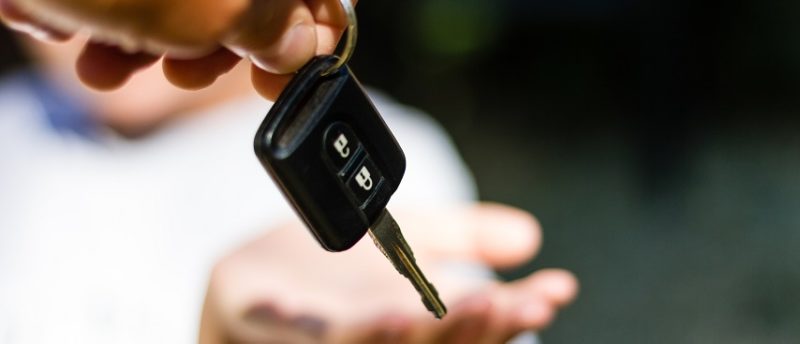 If you've hired a car, don't forget to make sure that it is also appropriately equipped for the winter conditions with winter tyres and snow chains.
Getting to Chamonix without a car
If you are nervous of driving in Chamonix in winter conditions, then why do so? If you cannot afford another set of tyres for your car specifically for a holiday, why worry about that?
The good news is that you don't have to drive at all while you are here. Getting to Chamonix valley from Geneva airport is easy if you don't want to hire a car. There are many airport transfer companies which run shuttles between the airport and Chamonix, but how to choose between them?
Airport transfer companies
Airport transfer companies such as Chamonix All Year or Chamonix Valley Transfers can collect you and all your luggage from the airport and return you there at the end of your holiday, all at a cost effective price. They will provide child or baby seats at no extra charge, meeting you in the arrivals hall and offering a door-to-door service to drop you as close to your accommodation as possible.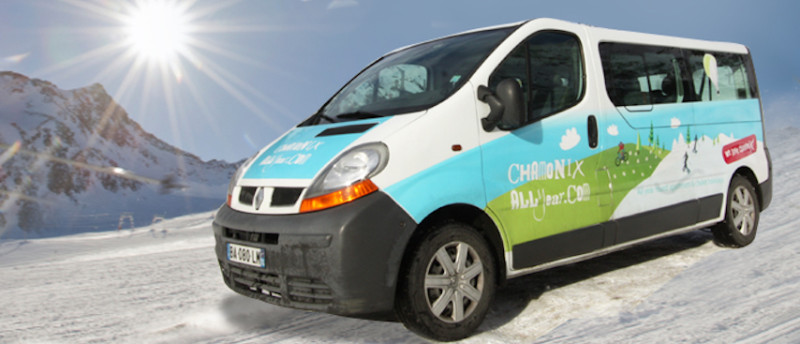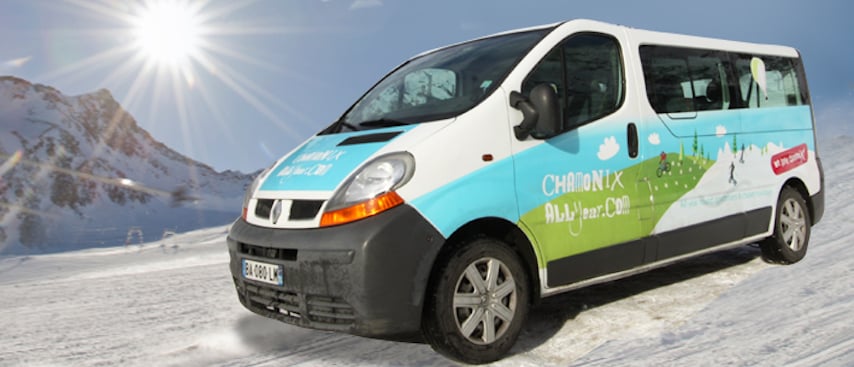 All the transfer companies who will be driving in Chamonix ensure their drivers are trained to drive in winter conditions. Drivers will be practised in fitting snow chains too if they should ever need them and all the transfer minibuses will be fitted with winter tyres to ensure your safety too in the slippery conditions driving in Chamonix. And, unlike your car, a transfer bus will always have room for your ski kit and luggage.
As an alternative to flying and taking an airport transfer, if you're looking to reduce your carbon footprint, why not look at our information on getting to Chamonix by train?
Alternatives to driving in Chamonix valley
Once you arrive in Chamonix on an airport transfer, public transport in the valley is free with the guest card that you'll receive from your accommodation provider (Chamonix All Year guests get these from our team on arrival), and the buses run directly to the ski areas in the winter to make it as easy as possible. Alternatively, your airport transfer company will often offer an in-resort shuttle service at a reasonable cost per head, during the day or in the evenings.
We encourage all of our guests to take public transport in Chamonix where possible, especially if you're also conscious of your environmental impact. Find out more about eco-friendly holidays in Chamonix.
Driving in Chamonix
If driving in Chamonix is still the best option for your group, just bear in mind that parking is at a premium, especially after recent changes to the town centre. And unfortunately there's always the chance of someone else doing damage to your pride and joy with a pair of unruly skis or a flailing pole.
So why not take the stress out of your holiday, and use a transfer service? Or if you have to drive, do so professionally by following our tips above for driving in Chamonix when it snows.
Book your airport transfers via our Chamonix Resort Shop – Chamonix All Year guests get 10% discount too so remember to quote your discount code.
Many thanks to Marcus and Chamonix Valley Transfers for this blog post. CVT are our transport partners and with them we provide a friendly, reliable and safe door-to-door airport transfer service between Geneva airport and Chamonix, with drivers who are experienced at driving in Chamonix.