So you've made it and your fingers are twitching to get into climbing in Chamonix. Whether you're an expert looking for the low-down on where to climb indoors, or an absolute fresh-out-of-the-chalk-box beginner, this blog detailing the French grading system and local indoor climbing gyms of Chamonix is for you!
All about indoor climbing
Bouldering Vs. Sport Climbing
Bouldering is the art of climbing with no rope, above some safety padding and (hopefully) your supportive friends known as "spotters" who will help guide your body to the correct landing position in the event of a fall.
Meanwhile, sport climbing is the traditional vertical rock climbing you may have seen with ropes and harnesses. If your route is referred to as "top rope" this means someone has already climbed the course for you and attached the rope to a strong bolt at the very top of the route. This means no matter where you may fall during the climb, you have the full support of the person managing the tension of the rope below (known as belay).
You may also hear the term lead climbing as you advance with your climbing career. This would be the role of the more experienced climber who would head up the route first, attaching the rope to the carabiner at each bolt (in the mountains they may need to insert the bolt/attach the carabiner first).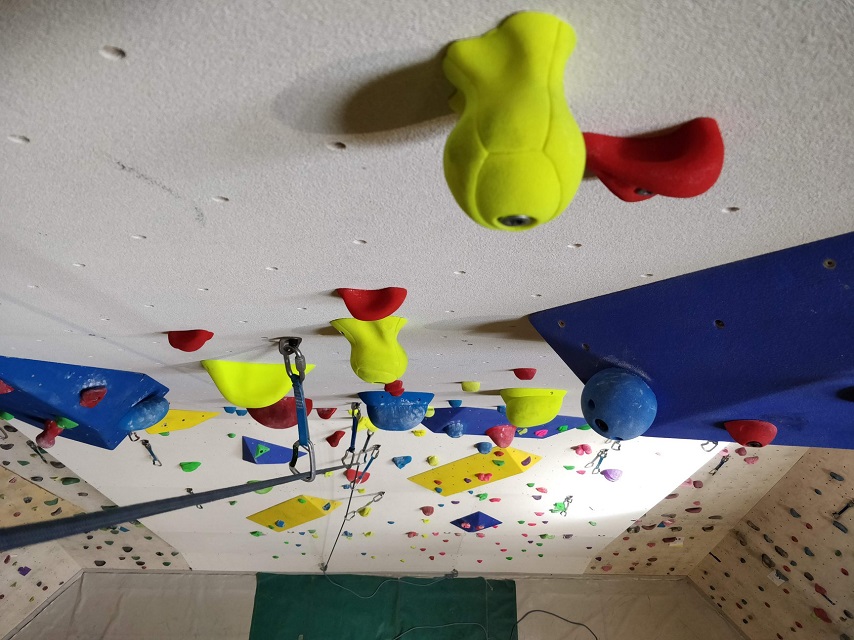 Grading?
A climbing grade represents a number of different things when you need to choose the route for you. Grading considers the technical skill, endurance and power needed to finish a route. It can also consider the difficulty in terms of risk, as well as the extra effort required in protecting other climbers on the route. Think about the difference between a green piste for beginners, and what it takes to go off-piste up the Aiguille du Midi in Chamonix.
French Grading for Sport Climbing
Starting at 1, the French climbing grades system is numerical: easy, right? Wrong! They are also subdivided with letters e.g. 4a, 4b, 4c, 5a, 5b, and additionally '+' symbols are added to show a route that's slightly harder than its grade but not tough enough for the next grade up, like adding a '.5' or ½ fraction to the number-letter combo.
The best starting grades are considered to be a 3 to 4 for your first climb.
The system is officially open-ended but the crême de la crême of climbers worldwide are climbing roughly 9b climbs.
Find out more on the RockFax website, who also produced the table below.
French Grading for Bouldering
Grading for bouldering in France is often referred to as the "Font Scale", this is short for "the Fontainebleau Scale" and is the predominant grading scale in all of Europe. In the image below you will see this numeric scale compared to the British grading system and the V-System of American bouldering, sometimes known as the Hueco System. According to Sierra Trading Post the American system "takes into account the difficulty of the holds, foot placements and muscular moves, not the danger of the route."

Indoor Climbing in Chamonix (ranked by size)
# 1 The Mont Blanc Escalade in Les Houches
ZA des Trabets, 74310 Les Houches
Located in Les Houches, this large climbing gym (1250 m2 of area for indoor climbing in Chamonix valley) offers beginner top-rope climbing and lead routes between grades 4 and 8. It is suitable for everyone from complete beginners to experienced climbers, and even has a bouldering area (see next section). The different levels of routes are colour coded and clearly marked beneath each one.
If this is your very first try at sport climbing you must call ahead to book a beginner lesson. The cost for this is 55€ for one person, any additional people (such as your family or friends) can tag onto your lesson for just 15€ each. The course includes a private instructor and all the rental equipment you will need for each paying member.
If the exercise makes you peckish (or the heights make you lose your lunch!), then a trip to the in-house cafe will give you the energy you need to climb on. From the comfy seating area (perfect for voyeuristic visitors) you will have a perfect view of the experts taking on the 9m overhang. Following the fitness and fun, there are also showers on site.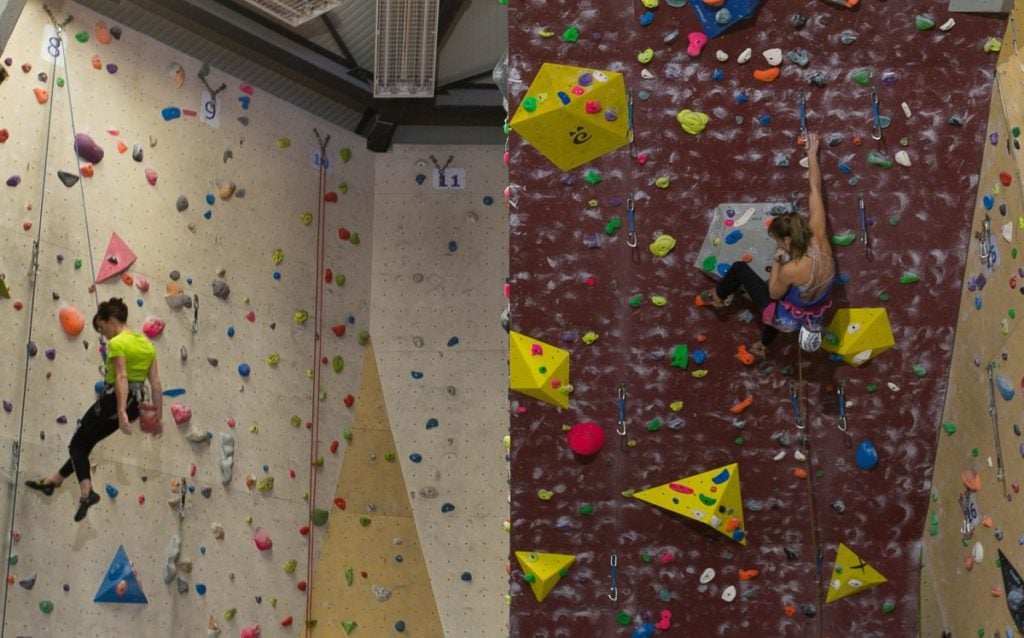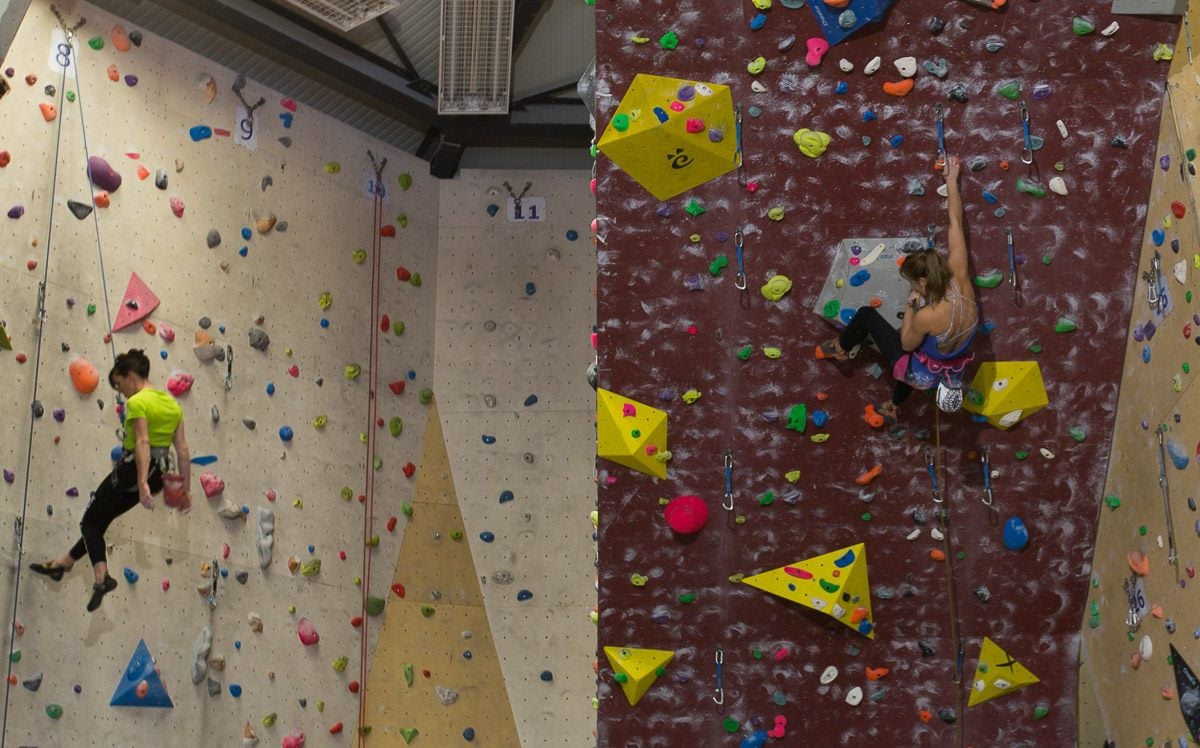 Equipment: a full range of equipment is available for hire at Mont Blanc Escalade. Climbing shoes are compulsory (no sneaking in with sneakers).
Attached to your harness you can request a chalk bag free of charge, however, you must pay for your own ball of chalk to place in it. There is also liquid magnesium on sale which acts as a similar dry-grip agent.
Should you find your clothing uncomfortable or unsuited for the sport, there is also clothing available to purchase from climbing specific brands.
Access: Pay an entrance fee or book private / group lessons. Opening times vary in wet weather conditions; the standard opening time is 2pm, however, in the event of rain they will open early at 12pm. During weekdays the gym closes at 10pm, while on Saturday they will close early at 8pm and Sunday at 7pm.
TIP: Follow them on Facebook for up-to-date opening and closing times, as well as special events.
#2 ENSA
99 avenue de la Plage, 74400 Chamonix
ENSA stands for the National School of Ski and Mountaineering (in French), and it is here that you will find the second best facility for sport climbing in Chamonix. Access is not public though, the only way to climb here is within the partnership with the Chamonix Sports Club (climbing section).
Equipment: no equipment is available for hire.
Access: You must be registered at the Chamonix Sports Club. During winter there will be the opportunity to climb 3 times a week outside of peak hours (evening).
#3 EMHM
820 Route des Pecles, 74400 Chamonix
The climbing wall of the EMHM (High Mountain Military School) is also private and belongs to the French army. The room is very well equipped and you will find climbing walls up to 6m high, however most people join for the superior bouldering (see below).
The benefit of joining this climbing in Chamonix gym is the free use of fitness machines to accompany your work-out.
Equipment: no equipment is available for hire.
Access: It will cost you 160€ to register as a member of the Sports Club of the EMHM; this membership will last one year from September 1st to August 31st. They are known to be flexible with seasonal or monthly contracts, these are to be negotiated with the staff available on their Facebook page.
Indoor Bouldering sites of Chamonix (ranked by size)
All of the bouldering walls, known as "block" in French, are no higher than 4m. Double spotters are recommended if you wish to climb that high. Bouldering can otherwise be a great introduction to climbing, with more independence and a lower height risk for first timers (taking on the appropriate level that is).
#1 EMHM
820 Route des Pecles, 74400 Chamonix
As mentioned above the superior bouldering is a real draw for this destination, often less used by the local military who are training for elite mountain exercises with ropes work and sport climbing techniques.
The bouldering room at the EMHM is 3 or 4 times larger than those of its closest competitors at the Richard Bozon Sports Centre or Mont Blanc Escalade.
Equipment: no equipment is available for hire, you will only need climbing shoes and some chalk.
# 2= Richard Bozon Sports Centre
214 Avenue de la Plage, 74400 Chamonix
The Richard Bozon Sports centre is the famous gym and pool complex which dominates the local sports and fitness training scene in Chamonix. Here you will find a well served bouldering room with an array of different access options that could see your bouldering work-out followed by a dip in the Olympic-sized pool. To give a rough idea of the size, 20 climbers can comfortably share the space, which is known to get quite hot (so stay hydrated!).
Equipment: no equipment is available for hire and climbing shoes are compulsory during use.
Access: 5€. Open daily from 10am to 7pm in the high season, this price includes use of the showers following your climb.
TIP: if you wish to access other elements of the facility along with the bouldering room, talk the front desk about your options of an all-inclusive gym pass.
#2= The Mont Blanc Escalade in Les Houches
ZA des Trabets, 74310 Les Houches
This bouldering area is very similar in size and style to the one at the Richard Bozon Sports Centre mentioned above. This is why we have ranked them second equal.
If you arrive at this facility as a first-timer, and have not booked a class ahead of time, the team at Mont Blanc Escalade welcome beginners to try bouldering ahead of booking their lesson in how the ropes and safety material works for "top-rope" sport climbing in Chamonix.
Having fun climbing in Chamonix
Enjoying climbing in Chamonix all comes down to preparation – and if you're reading this blog you're halfway there! When you're indoor climbing in Chamonix, always think about booking ahead to save time and stress. Speaking of stress, hungry = angry = hangry at the climbing gym. Part of staying safe is staying hydrated and well fed so be sure to take food, drink or money to your day on the wall.
For outdoor climbing in Chamonix options, look at our summer activities guide.