There is a wealth of Chamonix restaurants to choose from during your holiday in Chamonix, from quick bite eateries to bars serving snacks. However this Alpine town isn't short either of some upmarket Chamonix restaurants where you can enjoy some true fine dining and even some Michelin-starred cuisine.
Many of them are located in the town centre itself, but there are some throughout the valley close to many of our properties so you can enjoy some gourmet cuisine wherever you're staying. Either complement your stay in one of our luxury chalets or upgrade your stay in any of our self-catered chalets or apartments with a truly delicious meal in one of these Chamonix restaurants.
Some of the best Chamonix restaurants use local and organic produce, including vegetables from their own allotments, to provide a truly unique Chamonix experience which you'll rave about to friends and family when you get home. Our Resort Team has hand-picked some of their top recommendations, whether you're eating out for a special occasion or just treating yourself.
Fine dining in Chamonix restaurants
Albert 1er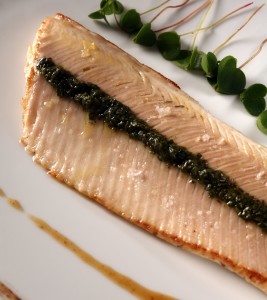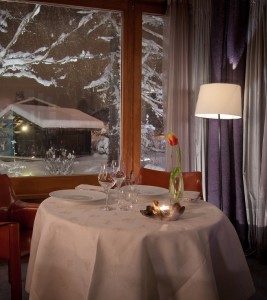 The Albert 1er restaurant in Chamonix centre is run by the Carrier-Maillet family who have been practising the art of hospitality for five generations, so you can expect conviviality and excellence as standard.
Chef Pierre Maillet has two Michelin stars and specialises in showcasing the flavours of his high-quality products so they sing on the plate, as well as celebrating the produce of the seasons: Arctic char, local porcini, broccoli and beetroot from the vegetable garden and snails from the Arve valley. Meals are seasoned with local mountain herbs including wild thyme and oxalis. Alain Gousse, the maître sommelier, will help you choose the best wines from the region to complement the food.
Menus start from 42€ at lunchtime, 66€ in the evening. Tasting menu 156€.
Enjoy access to the swimming pool and gourmet lunch for 82€ (indoor and outdoor pools).
Closed Tuesday and Thursday lunch, Wednesday all day.
Within the same hotel / Chamonix restaurants complex, you can also enjoy hearty French cuisine at the Maison Carrier; their famous lunch deal – the menu du marché – is great value at 20€ for two courses. Choose from starter with main course or our favourite – main and dessert, where you can eat as many of 'grandma's tarts' as you like! Or enjoy an apéritif, accompanied by the sounds of jazz-piano in the QuartzBar.
38 Route du Bouchet, 74400 Chamonix-Mont-Blanc. +33 (0) 4 50 53 05 09
L'Impossible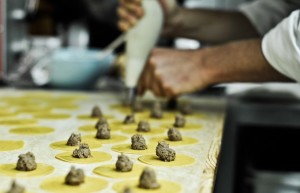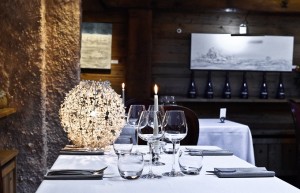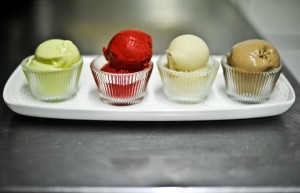 L'Impossible is one of the best family-run Chamonix restaurants, in the town centre. Its menu is strongly inspired by the family's Italian roots and has a strongly organic philosophy which runs through all of the original recipes on offer.
All the fish is wild and line-caught, or occasionally organically reared; the flour and bread are made by traditional methods; the ice cream and sorbets are all home-made, as are the pasta, desserts and petits fours. Where the producers don't have organic certification, the team checks that everything is produced naturally and without chemicals. Not only that, but most of the dishes are free of gluten and suitable for coeliacs.
The chef in your life might also enjoy their 'kitchen workshops' – learn to make fresh pasta and sauces or a full three course meal, taste them, celebrate your newly-acquired skills with a glass of champagne and then take away an 'Impossible' apron as a memento.
The restaurant is open every day from 6.30pm to 10pm, and for groups from 12 people at lunchtime by reservation only.
9 Chemin du Cry, 74400 Chamonix-Mont-Blanc. +33 (0) 4 50 53 20 36
Auberge du Bois Prin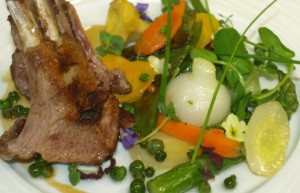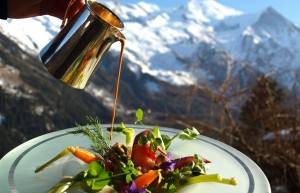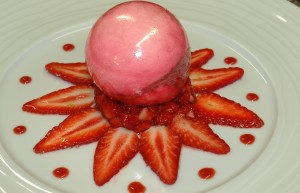 Denis Carrier welcomes you to one of the most incredible spots for Chamonix restaurants, overlooking Chamonix and with spectacular views of Mont Blanc. He tends the vegetable garden and then takes the produce to present delicious and inventive recipes which show off the traditional cuisine of the Savoyard region and French gastronomy, as well as the variety of the seasons throughout the year.
All of the best produce is selected for your enjoyment: fish from the mountain lakes, meat from the Alps, beautiful spreads of Savoyard cheeses, red fruits in summer, exotic fruits in winter and more. The only 'disadvantage' is that you might be distracted by the view! Not many Chamonix restaurants can boast a terrace which is directly opposite Mont Blanc thanks to its elevated position. You're sure to enjoy the terrace in the summer, while in winter you'll love the roar and cosiness of the log fire.
The restaurant is closed Monday all day, Tuesday and Wednesday lunchtimes.
69 Chemin de l'Hermine, 74400 Chamonix-Mont-Blanc. +33 (0) 4 50 53 33 51
Munchie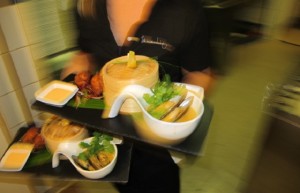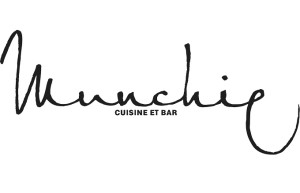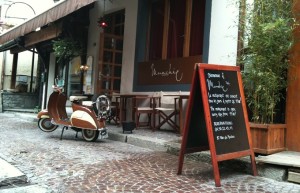 Munchie is one of the most popular Chamonix restaurants and a firm favourite of locals. The flavours of Asia combine with French and Scandinavian influences to give a fabulous new-school menu – featuring star dishes such as their famous Teriyaki Duck – as well as great sushi. All this is served in a lively, fun and friendly atmosphere down the bustling Rue des Moulins – book strongly recommended as this is one Chamonix restaurant which is always popular.
Open daily from 7pm to 2am in the winter and summer seasons.
87 Rue des Moulins, 74400 Chamonix-Mont-Blanc. +33 (0) 4 50 53 45 41
Best of the rest
Your choice of gourmet Chamonix restaurants isn't limited to the centre of town either, with great choices located all the way along the valley in Les Praz, Le Lavancher and beyond. If you want to make a night of it and enjoy some of the great wine selections in one of these Chamonix restaurants to accompany your food, then why not book our evening shuttle service to bring you back to your accommodation at the end of the night?
We've only chosen a few selected highlights above, but there are some other Chamonix restaurants which we have to mention when we're talking about fine dining in Chamonix.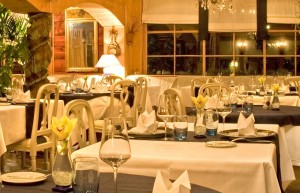 Le Rosebud is located within the hotel Jeu de Paume in the hamlet of Le Lavancher, nestled at an altitude of 1,250m surrounded by mountains and alpine forests.  Over the past 10 years, Chef Eric De Ganck has made an art form of mixing herbs and spices, creating an original and refined gastronomic signature of his own. Choose from one of their three themed set menus: World Flavours, Local Delicacies and Classic.
Open daily 12.15pm-2pm and 7.15pm-9.15pm, except Tuesday and Wednesday afternoon.
705 Route du Chapeau, Le Lavancher, 74400 Chamonix-Mont-Blanc. +33 (0) 4 50 54 03 76
La Cabane is set just at the entrance to Chamonix Golf course in Les Praz, the perfect distance for a postprandial stroll back to your Chamonix accommodation to walk off your meal. It is one of the Chamonix restaurants which is very popular with large groups for special occasions like weddings, so check ahead their availability to avoid disappointment.
23 Route du Golf, Les Praz, 74400 Chamonix-Mont-Blanc. +33 (0) 4 50 53 23 27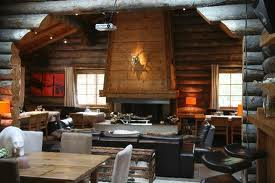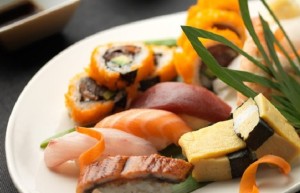 Le Caphorn is run by the same Chamonix restaurants team as La Cabane but offers a nautical atmosphere. Located in a multi-storey building in Chamonix's lively rue des Moulins, you can enjoy fine dining upstairs with nouvelle cuisine which mixes French, Japanese and international influences, with a focus on seafood, as well as a great sushi menu.
Le Caphorn: 12pm-3pm & 7pm-10.30pm
74 Rue des Moulins, 74400 Chamonix-Mont-Blanc. +33 (0) 4 50 21 80 80
Le Bistrot gives centre stage to fresh produce, forgotten foods and individual flavours. There is always a great menu du jour for good value lunchtime eating, and many of the dishes take inspiration from chef Daniele Raimondi's Italian roots, to inspire your taste buds.
151 Avenue de l'Aiguille du Midi, 74400 Chamonix-Mont-Blanc. +33 (0) 4 50 53 57 64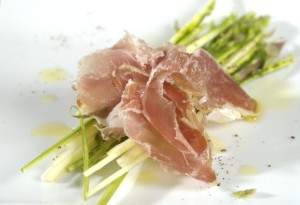 Top mountain Chamonix restaurants
While our Italian cousins in Courmayeur have a great reputation for slope-side food, Chamonix unfortunately has never reached those heights. The budget end of the spectrum is a fairly uninspiring selection of snack bars and self-service restaurants, but if you are prepared to spend a bit more then there are a couple of mountain Chamonix restaurants that you must visit.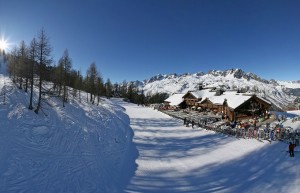 La Table de Plan Joran selects the best products of the Alps to offer the most upscale dining experience on the slopes of Chamonix. The Italian chef Giacomo renews the menu every week, with a choice of 4 starters (hot, cold, foie gras or vegetarian), 4 main courses (slow-cooked dish, roast or grilled meat platter, lake fish or vegetarian), and 4 home-made pastries. On a sunny day, enjoy all of this from their terrace at Les Grands Montets ski area.
Lift access: Plan Joran chair lift or Lognan cable car then follow the Liaison piste, Grands Montets, Argentière
Note: not accessible to pedestrians in winter.
Service: 12pm-3pm (winter only)
Booking is highly recommended: +33(0)4 50 54 05 77
La Bergerie de Planpraz is in a stunning setting at the top of the Planpraz bubble lift, overlooking Chamonix and opposite Mont Blanc from the Brévent ski area. It's also easily accessible for pedestrians so a great option for meeting up with your non-skier friends at lunchtime. They work closely with local producers to guarantee excellent quality and fresh dishes, including regional and national specialities.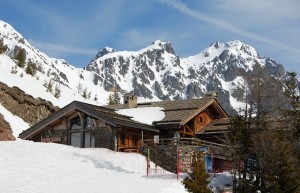 Lift access: Télécabine de Planpraz, Brévent, Chamonix
Open daily, winter from mid-December until mid-April and summer, from mid-June until mid-September.
1st service 11.45am-1.30pm
2nd service 1.45pm to 3.30pm
Booking is recommended: +33(0)4 50 53 05 42
Whichever Chamonix restaurants you decide to sample during your trip, we wish you bon appétit!