In-resort minibus and day trips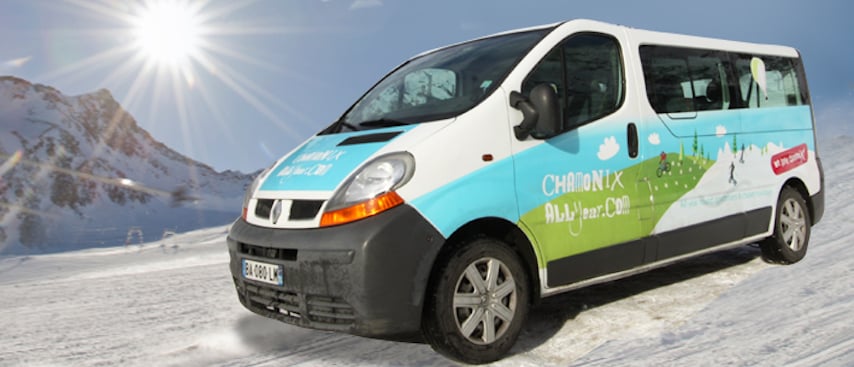 Our in-resort minibus service is here to make your holiday run a little smoother. In winter we offer a ski slopes shuttle service and in summer our minibuses can take you and your family to some of the lovely parks and attractions in the valley. Plus, all year round we offer day trips to some of our favourite locations nearby, allowing you to explore Chamonix and beyond. And, if you're coming to Chamonix without a car we can even take you to do your supermarket shopping!
Ski slopes shuttles
Don't worry about getting all your kit into a small hire car or worrying how to park closest to the lifts. Chamonix All Year can take you to the slopes and pick you up or even take you further afield to other neighbouring resorts and ski areas (included in your Mont Blanc Unlimited ski pass). The service is subject to availability so please reserve in advance or speak to your Resort Team as soon as we meet you in Chamonix.
Our service is run by our friendly team who know all the ski areas very well and can also make some suggestions if you want to head somewhere different or get to some fresh snow! Read our ski shuttles guide to pick the right package for you. You may also be interested in our winter day trips.
Summer shuttles
In summer, book our minibus to take you to some fun local attractions. Our friendly drivers will take you around the valley to the most popular parks and destinations and pick you up again so that you can enjoy everything the valley has to offer even if you didn't come with a car. See our day trips to local parks and attractions for more details or you might also be interested in our summer day trips further afield!
Shuttle services
With our resort transport, we'll pick you up and drop you off anywhere in the Chamonix valley. Go hiking, biking, skiing or out for a meal in the evening without having to take the car or make unnecessary return trips. See the table for prices of one way or return trips during the day, with prices for evening / night trips underneath.
We can also provide a train pick up service – picking you up from the train station and dropping you off at your apartment or chalet from as little as 15€ (subject to availability). Just contact the Resort Team to enquire or book.
Welcome shop service
We'll take you to the supermarket, wait while you shop and return you to your accommodation, meaning you can start your holiday even sooner! Contact the Resort Team for more information or find out about our grocery delivery services.
Day trips
We offer a great range of winter and summer day trips, carefully chosen to give you access to the best destinations outside of Chamonix. With Italian thermal spas, ski away days and city day trips to choose from, see our summer and winter day trip guides to get inspired for your trip to Chamonix.
Booking and payment for resort transport
Book your resort transport online now on our Chamonix Resort Shop and pay securely through our booking system.