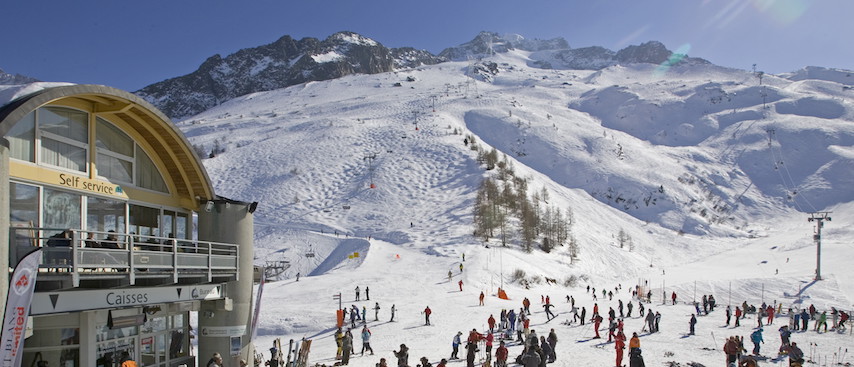 Vital Statistics
Resort Height: 1200m | Highest lift: 3297m
Slopes: 18
Blacks: 6 | Reds: 4 | Blues: 5 | Greens: 1
The largest and most challenging of Chamonix's ski areas, Les Grands Montets offers skiing up to 3300m, both on and off the glacier, and is a mecca for free riders and off-piste enthusiasts. Les Grands Montets is also the wild child of the valley – the first to open when the snow arrives and the last to go home, with a big "freeride" closing party always held at the end of the winter season.
In terms of pistes, there are 6 blacks, 4 reds, 5 blues and 1 green…doesn't seem much but this area isn't famous for the piste terrain, it is the off-piste (both marked out patrolled areas, and the unmarked areas) that makes it the most popular area in Chamonix.
There is also a boardercross at the top of the Marmottons and Tabé chairlifts, where you can practice some tricks. There are two different routes – one with stopwatch and video system which is perfect for competing with your friends and taking away some great souvenirs, and the second which meets international standards for higher levels, enthusiasts and ski / snowboard clubs.
Check out our Mountain Restaurants guide for the best places to eat on the slopes.
View Les Grands Montets piste map.
Local tip
Due to the north-facing slopes, Les Grands Montets can be chilly in the mornings, and earlier in the season the pistes will barely see the sun before lunchtime, so make sure you wrap up warm.
After a warm spell of weather though, this is the best ski area to head to as its shaded slopes will be the best preserved of anywhere in the valley.
Lift passes
Les Grands Montets is covered on both the Mont Blanc Unlimited and Chamonix Le Pass lift passes, but you can only access the top of the Grands Montets lift with the Mont Blanc Unlimited pass. Read more about them in our winter guide or go straight to our Chamonix Resort Shop to book now online.
Note that since September 2018, the "top bin" at Les Grands Montets is not available due to fire damage.