Chamonix is an icy destination, from towering glaciers to the legion of ice cream and sorbet destinations dotted around town. Ice even runs deep in the veins of locals and in the history of the valley itself: the very ice carved from the glaciers above Chamonix was once the same ice which served the wealthy gentry as far as Paris and Nice. Read on for our pick of the best ice cream in Chamonix, as well as a look back at the historical ice trade.
Top 5 ice cream spots in central Chamonix
Note: in our run-down of the best ice cream in Chamonix, destinations are open seasonally, dependant on demand.
Glaces Gérard Bellay
84 Rue du Dr Paccard
Malaysian blogger Sean Yoong of eatdrinkkl rates the ice cream of Gerard Bellay as his favourite in Chamonix for the boutique service and artisanal style. He says:
A scoop of Glaces Gerard Bellay's chestnut ice cream is the perfect pick-me-up at the Mont Blanc base commune of Chamonix, and a convenient reward after an afternoon spent exploring the hilly hiking trails of this placid French Alps region.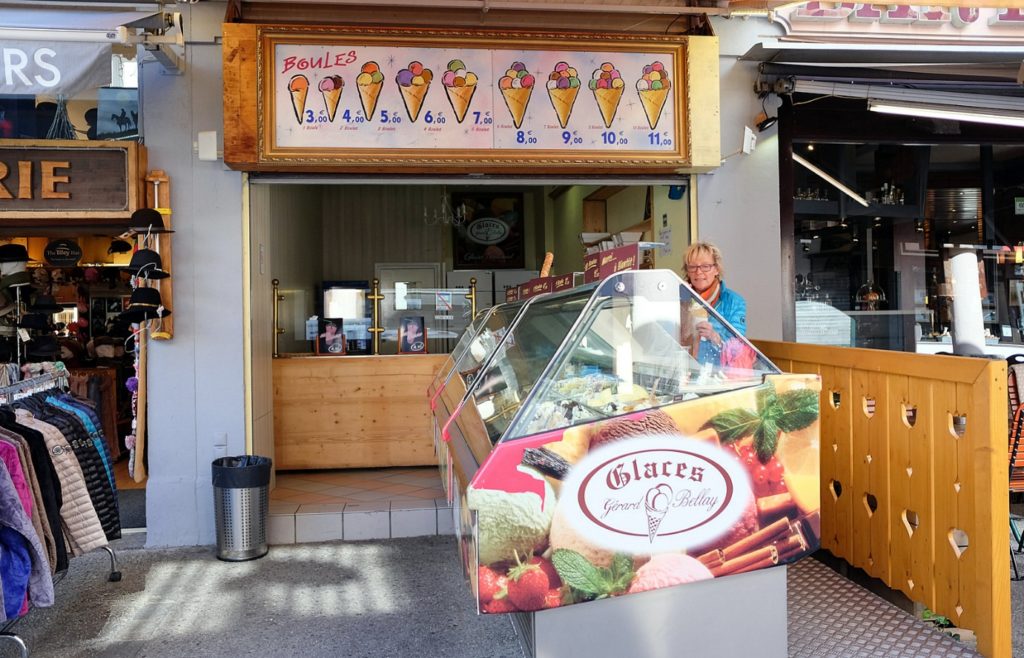 Chamon'ice
Place Balmat, opposite Balmat Apartment
TripAdvisor recommends this destination as the best choice for gelato lovers in Chamonix. If you don't mind the longer wait at this popular and central spot, their flavours are said to be "consistently good across cream-based and fruit flavours" alike. Mango, Nutella, vanilla and Kinder are particularly praised. There are even bench seats in the adjacent square for you to relax and enjoy your purchases before they melt!
La Mer de Glaces
Avenue Aiguille du Midi – near Apartment Aiguille
Traditionally this location has the shortest wait time, as it's slightly off the main pedestrian street of Chamonix, toward the Aiguille du Midi. Due to its location in the vicinity of the Aiguille cable car, it's a great quick visit as you wait for the next cable car. If you opt for a cup instead of cone they will even give you a re-usable bowl that can be washed and brought back for the next time (or used to serve as great Tupperware for toddlers!).
Chez Richard
10 Rue du Dr Paccard
In high season, this popular bakery and 'cakery' becomes a destination for ice cream fans too. They will park an ice cream trolley in the street right outside their doors, meaning you can stock up on bread and other lunch bits before indulging in an icy treat.
Chalet 4810
191 Rue Joseph Vallot
Similar to Chez Richard, Chalet 4810 offers an ice cream cart service in high season. This bakery specialising in chocolate, macarons and sweet treats has a lovely balcony upstairs from which to enjoy your dessert. On your way through the chalet marvel at the gems harvested from the mountains above, on which many of their chocolatier creations are modelled.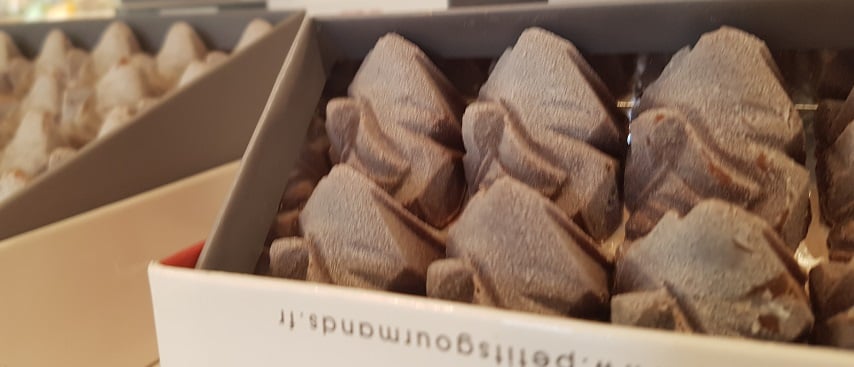 The local flavour
Chamonix celebrates Mont Blanc (or Monte Bianco) in the form of a special dessert named after the famous mountain peak.
The dessert is a chestnut purée carefully swirled into the form of a 'mountain', topped with some (snow-like) whipped cream or meringue.
In Chamonix, this local speciality can also be enjoyed in the form of chestnut ice cream, which has inspired famous chefs to create their own ice cream version of the Mont Blanc!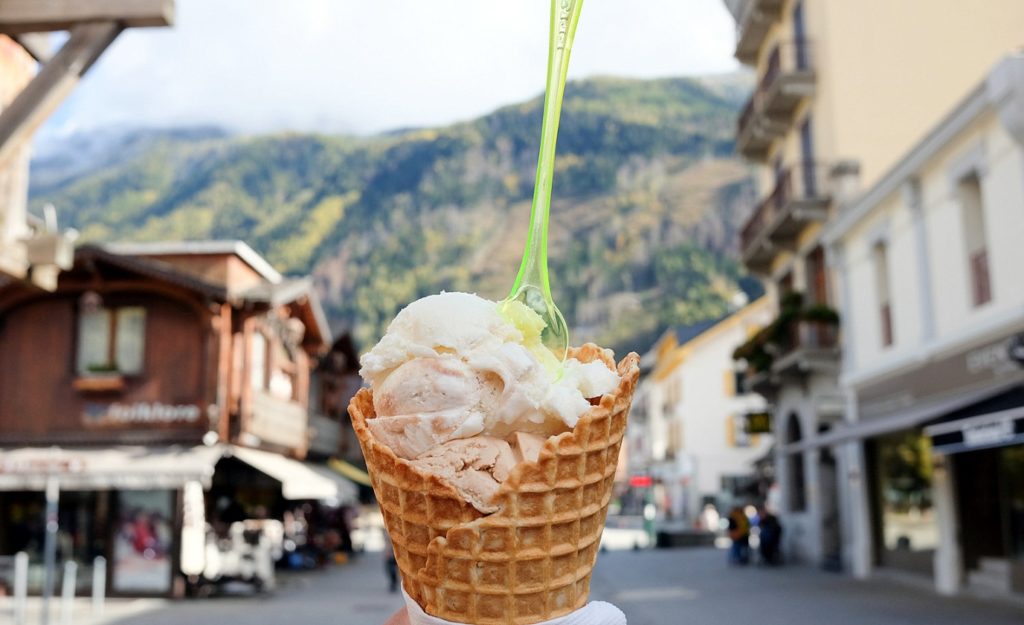 Local history
Refrigerators did not make their way into homes until 1913, before that enjoying any kind of frozen treat was a little more labour intensive, and one of the most famous exploits of this region.
Just outside of Chamonix in Trient you'll find a complicated series of water channels known as a "bisse". The "bisses" of this region are a series of man-made structures built to complement nature and deliver life-giving water from mountain streams and glaciers to the valley below.
In the past, this system also served to deliver ice, and today the carved route marked by the bisse is home to a magnificent walkway built to mimic the path. It winds from the Forclaz pass to a wide and easy trail which follows the bisse to the Chalet du Glacier. This hike is one of our most recommended family hikes near Chamonix, with under 10km to walk and an almost undiscernable altitude change of 247m.
This particular bisse has a spectacular history dating back to 1865, when Maurice Robatel obtained the exclusive authorisation to exploit the Trient glacier above. 30 or so workers would carve out the glacier, separating chunks with gunpowder explosions and shaping them into uniform blocks for sale. In 1883, Maurice was joined by his brother-in-law Claudius Bompard with a bigger and better idea for the ice.
Together, they adapted the bisse to transport the giant blocks to the Col de la Forclaz. From here, 10 to 15 large wagons would transport up to 30,000 kilograms of ice each day to the Martigny train station (this must have been quite a sight to see!). While close to a metre of ice a day was harvested from the glacier for over 30 years, the freezing cold, long winters of the "little ice age" meant that the glacier was also advancing daily. This guaranteed a constant renewal of ice resources, and good business for the Robatel/Bompard team.
To Martigny and beyond…
Martigny is the first large village across the Swiss border from Chamonix. It was a Roman village built to serve the constant traffic coming from Italy through the Turin pass. This traffic once famously included Hannibal's elephants and Martigny is the home of ancient Roman ruins, a fascinating museum, and the international home and hub of St.Bernard dogs. (Read more about Martigny in our day trip guide.)
Once the ice blocks of the Trient Glacier had reached Martigny, they were transported by train to Geneva, Lyon or Paris. Finally, as the ice arrived in the big cities, the technique used to keep the blocks from melting was to store them in little ice houses known as "boxes" lined with sawdust as an insulator.
Demand for ice in cold drinks grew with time, and demand grew even stronger when the public realized that storing your fruits and vegetables in ice makes them last a lot longer. Today it's hard to imagine how something as perishable as a tomato would have reached people's homes and remain appetizing.
If it weren't for the ice of the Mont Blanc region, the wealthy people of the biggest cities in France may not have had such a healthy stock of summer produce, a cold summer drink or let alone ice cream throughout the 18th and 19th centuries.
Hmmm….Maybe there's a Parisian who owes us an ice cream….?!
All pictures from Sean Yoong of eatdrinkkl.