Our team is out and about twice a week, on the slopes and in Chamonix town centre, to give you the latest on the Chamonix weather and what's on.
Read the most recent Chamonix Snow Report from Chamonix All Year, or see all the past reports from this month below. And make sure you follow us on Facebook to be one of the first to see the new snow report on Mondays and Fridays.
February Back Catalogue
Friday 2nd
After a snowy Thursday the sun has returned to Chamonix today for a magical blue bird powder day; 40cm of fresh snow is waiting to be discovered at altitude. Meanwhile in central Chamonix we discovered the picturesque 'Bois du Buchet' on crosscountry skis!
Chamonix weather experts say:
A weakening Westerly stream will be veering North overnight, thus allowing for more humid maritime polar air flow and causing somewhat cloudy skies on Saturday (yet without precipitation). This wintry pattern, somewhat uncertain in the short term, is expected to cause the same changeable cloudy weather on the whole for several days, mostly dry and unseasonably cold.
According to SkiPass.com we're in for a few more blue birds (sunny blue sky days) this coming week, perfect for trying something new like crosscountry skiing!
Pick of the pistes
When the temperatures are sub-zero and the sun is shining you really can't go wrong in any of the ski areas available to you in Chamonix. However if you are looking for a little more sun, South facing Brevent/Felegere is our top tip!
Crosscountry skiing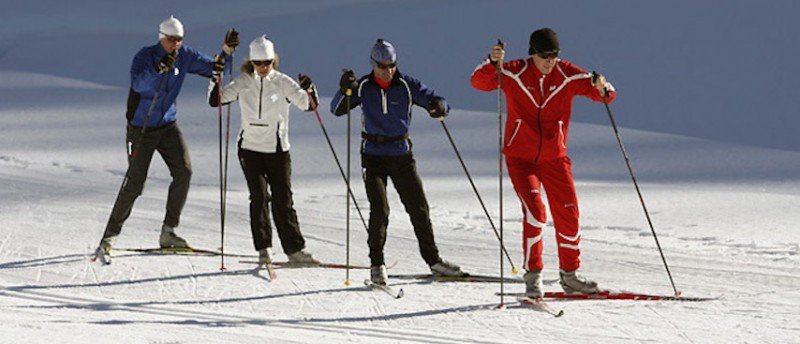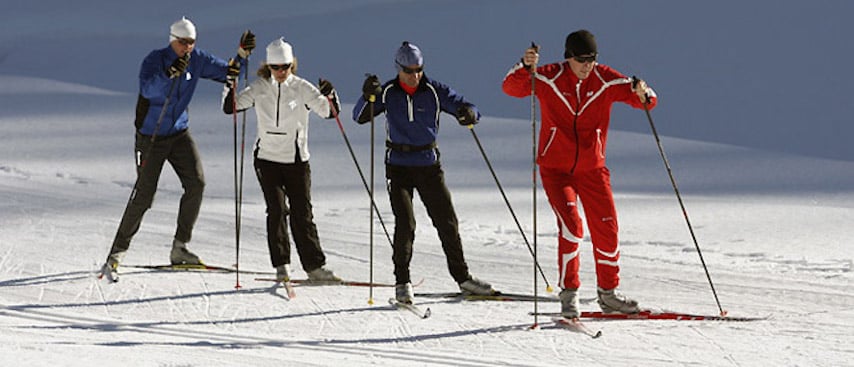 Known as "Ski du Fond" in French, or "Nordic Ski" crosscountry skiing is a great exercise in fitness and fun!
There is over 50km of piste in the Chamonix Mont Blanc area and the "Bois du Buchet" green loop is a great place to start. Not only is it in central Chamonix…you can warm your legs up there before continuing on to the red and blue loops that make up over 12km's of groomed adventure.
Beginners start out with "classic" skis, while more experienced skiers may prefer to try the "skate" variety. For more advice or to book an instructor contact the Chamonix All Year Resort team today; you might even like to try it with he addition of target shooting by taking on the Olympic event known as "Biathlon".
Ski pass required: You need to purchase your pass from the "Maison Nordic" it's just 10Euros for adults over 16yrs of age like me!
Bonus: With the same pass you can choose to access either the Richard Bozon Sport Center pool and sauna or the ice skating rink of your choice (Richard Bozon or Les Houches) FOR FREE!
Enjoy the sunshine.
Monday 5th
Cold weather has kept our last snowfall fresh and conditions for all kinds of skiing are great throughout the valley. This week wrap-up warm for patchy cloud and sub-zero wind chill in Chamonix!
Chamonix weather experts say:
Skies will be mostly cloudy this Monday and on Tuesday, with possible fleeting sunny spells; cold fœhn puffs will disperse the scarce snow flurries which might run over from the south.
According to SkiPass.com temperatures won't rise until the weekend when sun returns so layer up…especially if you have sensitive teeth like me!
Pick of the pistes
This week we tried out Les Planards ski area in central Chamonix, it's a great place to start your holiday if you're looking to get your "ski legs" back from hibernation.
Located near to the Montenvers train station, it is the largest local spot for beginners. It is also the spot where the very end of the Vallée Blanche run joins the town of Chamonix once more; Keep your eyes peeled for those wearing a harness, they've probably just skied 2,780 vertical metres of descent!
Les Planards boasts two drag lifts and two green pistes, as well as one chair lift and a red and blue piste. In addition to boasting there's also hosting; slalom races which take place during the winter as per our 2018 Events Calendar.
In the spring you can also enjoy a fantastic childrens playground, however right now it remains covered by our recent heavy snowfalls. Also, due to the North facing aspect of Les Planards (shaded from the peak sunlight) the snow coverage lasts later into the season with a higher quality of snow for longer.
Winter Luge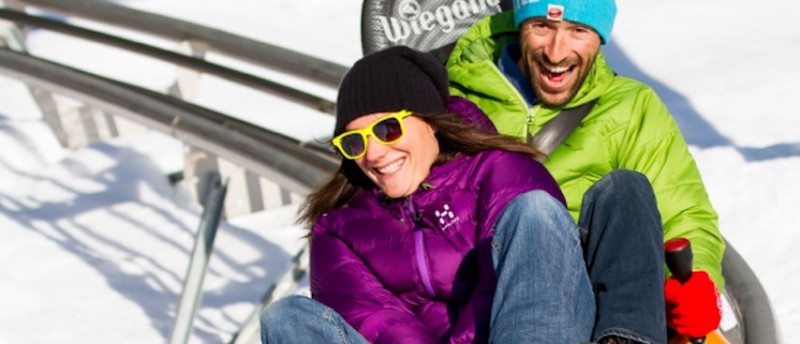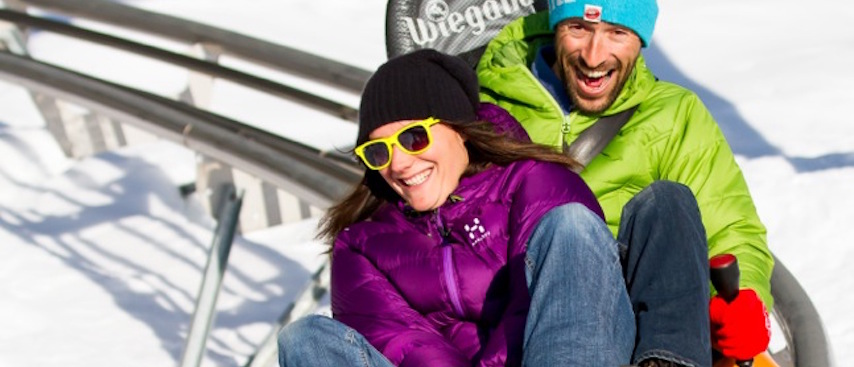 The "Alpine" or "winter luge" is fun for the whole family and certainly a bargain if you know your rights in Chamonix.
You have the right to 1 x FREE Luge per day with a Chamonix Unlimited Pass from the Chamonix All Year website here (conditional to your pass being 3-21days in length).
You also have the right to 1 x FREE Luge if you buy a "day ski pass" at Les Planards ski area directly.
BEST of all you have a 20% off voucher for single and double descents on the winter luge.
Speak to the Chamonix All Year Resort Team for more information as you check-in.
The brakes are in action automatically to slow you down, lift the lever to go faster or release it to control your speed as you hurl down thet 1300m long track with jumps, turns and spins of 540°.
Interesting fact: the brakes of the nearby Montenvers train work in the same way, check out our article here to discover more interesting Chamonix facts you might not know.
Getting Your Kids Booked for Ski School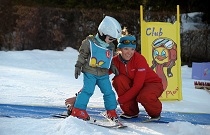 Time is precious (so are they) so contact the team as soon as possible to ensure your children have the February half-term holiday ski lessons they need.
If you miss out on the lessons you wanted this month, don't worry, you can just come back again!
Ski school in Chamonix is generally a week long experience for young children with strict attendance policies from the instructors. Get in touch ahead of booking your accommodation to make sure you're here on the days you need to be for the classes your kids need to be in.
For more information we have written this helpful guide to ski schools we work with here.
Friday 9th
We're sounding the alarm for a bluebird powder day on Tuesday, following a mixed weekend. According to SkiPass.com we're expecting a light dusting of snow throughout the weekend and a more modest addition of 10cm on Monday, ahead of clearing skies Tuesday.
Valentine's Day itself expect a romantic snowfall by the evening and a sunny morning skiing… So start early for your on-piste proposals people! (Otherwise, why not pop the question "dans le vide", the big glass box at the top of the Aiguille du Midi like this couple did.)
Chamonix weather experts say:
New disturbance passing to be expected between Sunday and Monday, likely triggering light to moderate snowfall.
Pick of the pistes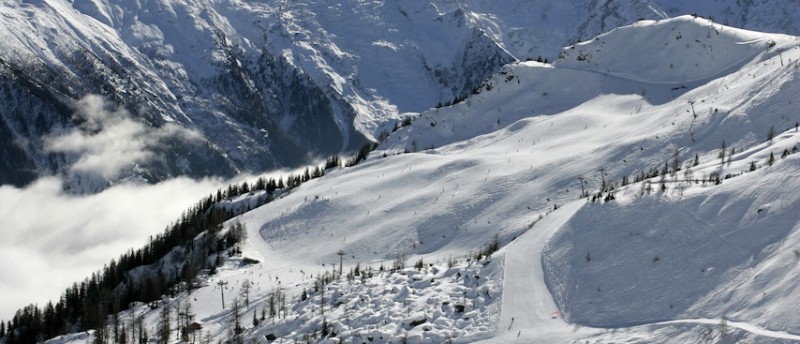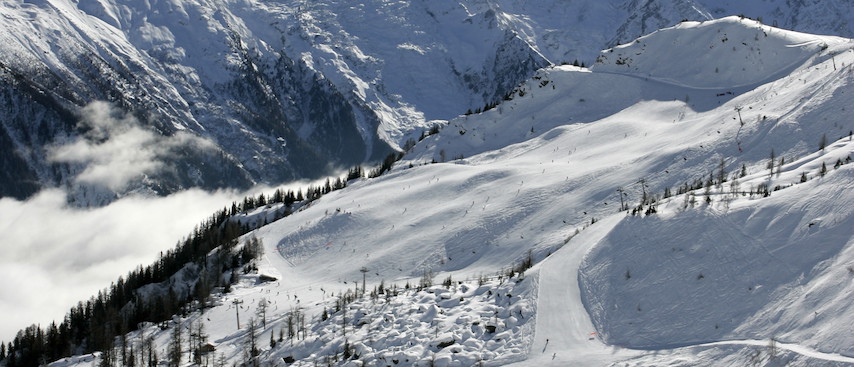 In mixed weather make the most of sunny La Flégère with something for everyone; Flégère has a great mix of pistes for all levels, including legendary off-piste runs from the Floria drag lift (téléski). It also has three great dining options that you can read about here.
Thanks to its south-facing slopes La Flégère will get the first sun and often the longest sunny periods. It is also easily accessible from the centre of town by skiing across from Le Brévent (with its rotating bubble lift) to the handy Liaison lift that links the two.
For now, the home run at La Flégère is still open; it is a black run and should only be taken on by confident skiers with its many fun but steep winding turns!
Events this week:
Sunday: Intervall'ee – from 6.30pm near the church in Servoz
Wednesday: Valentine's Day – mention this snow report to get one free "Apero Plate" (snack dish) when you buy 2 x Aperol Spritz at La Chavanne Flégère
Wednesday night: Nocturne ski and luge – ski by night and experience the thrill of the luge after dark from 6pm to 9pm
Thursday: Guided history tour of Chamonix – meet your English guide outside the Tourist Office at 2pm and bring 8€ per person (the walking tour will take roughly one hour by foot)
Valentine's Day: Wednesday February 14th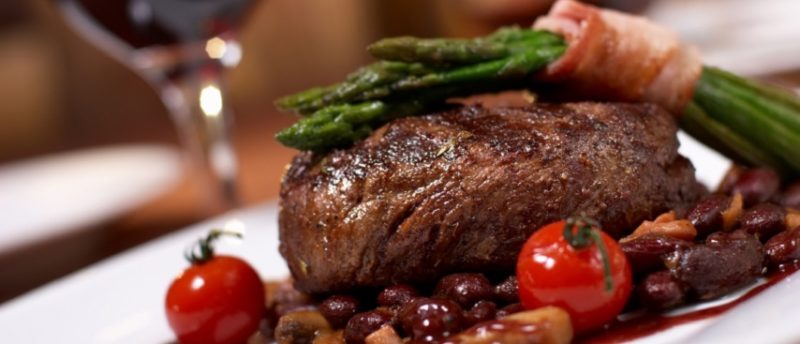 We recommend you book a table in advance of this busy night which falls in the popular "half term" holiday period.
We have made a list of our favourite fine dining spots in Chamonix here.
Or for special diets and vegetarian ideas read our blog here.
Monday 12th
Welcome to the Chamonix All Year Snow Report for Monday February 12th 2018.
The bluebird powder day came early today, with further sunshine ahead for tomorrow. Not only that! SkiPass.com has sub-zero temperatures pinned for the rest of the week meaning the new snow will stay fresh ahead of the next dump Thursday; upward of 24cm heading our way once more. If that's not the best half-term snow conditions we've had in 3 or 4 years I'll eat a rotten Reblochon!
NOTE: Wednesday is Valentine's Day with 75% sunshine predicted, expect a romantic snowfall by the evening and a sunny morning skiing.
Chamonix weather experts say:
Thursday : Getting milder ‑ frequent snow above 1800m ‑ fairly strong northwest high up at times.
Friday : Unsettled and colder weather ‑ mostly cloudy ‑ snow showers, locally fairly heavy.
Saturday : Sunny spells in the morning ‑ mostly cloudy to overcast with moderate precipitation in the afternoon.
Last minute ski holidays
View our properties now discounted from February through to March and beyond: click here.
Pick of the pistes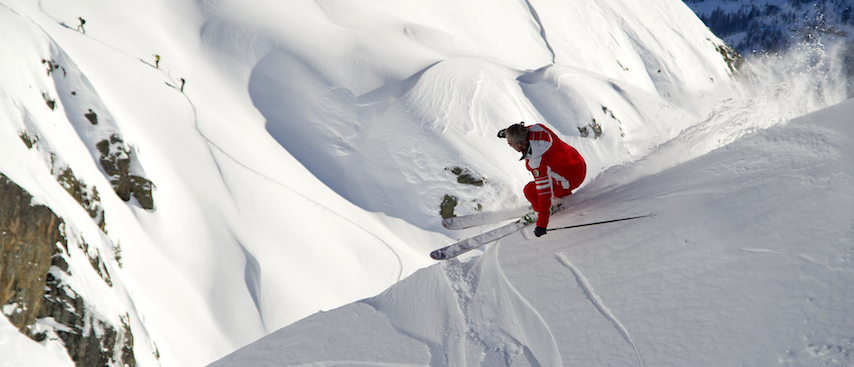 Read on below for our guide to finding the powder in the Chamonix back-country. Over the next couple of days, conditions are perfect for this type of skiing.
Conditions are likewise perfect on the pistes throughout the valley for every level. This week we pick Le Brévent for testing out terrain for all skill-sets, beginners included. A great family-friendly choice that even connects to La Flégère with a great mix of pistes for everyone and simple access from the centre of town.
Due to its south-facing slopes, Le Brévent has all day sun and now a nicely topped up home run (30cm fresh) that will take you back to the beginner piste Le Savoy in central Chamonix. Just like the run home at La Flégère it is also a black run and should only be taken on by confident skiers with many fun but steep winding turns!
Going off-piste this week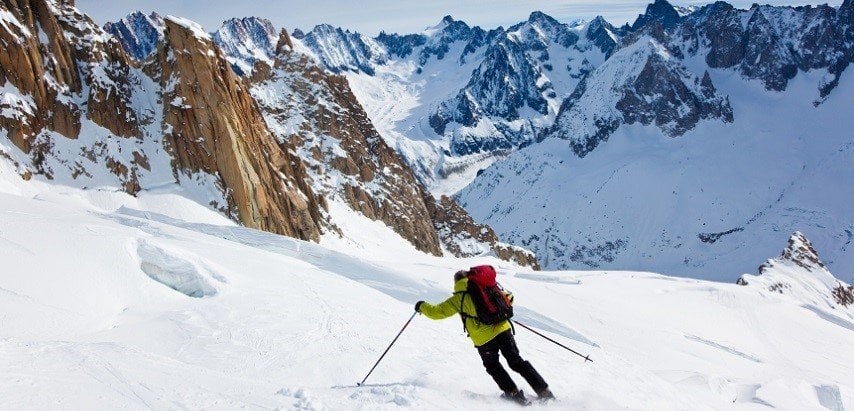 We recommend you book a guide when heading off-piste in Chamonix, and highly recommend making the most of high altitude perfect conditions ahead of Thursday when new snow may decrease the stability of the snowpack.
In half-term week you will find most group activities are booked and that a private guide may be your best option to experience "back-country" Chamonix and even improve your technique with tips from years of experience.
We are your local link to guides that speak many languages and are at the top of their field.
With fresh snow on the way for this week don't set foot off the piste without a guide if you want to be in full security. Why not then take one step further to the Vallée Blanche? It's one of the ultimate ski runs of the world and often claimed the longest with 2,780m vertical descent and 22km in length.
Fly away from the crowds
Half term week can be considered the busiest week in the French Alps, however the crowds can be easily avoided; with your guide or ski instructor you will skip the queues and discover new (off-piste) terrain. You will also find the afternoon period much calmer.
But to really get away… You can fly sky high for ultimate privacy with a Heli-Ski/Guide from the Chamonix All Year Resort Shop!