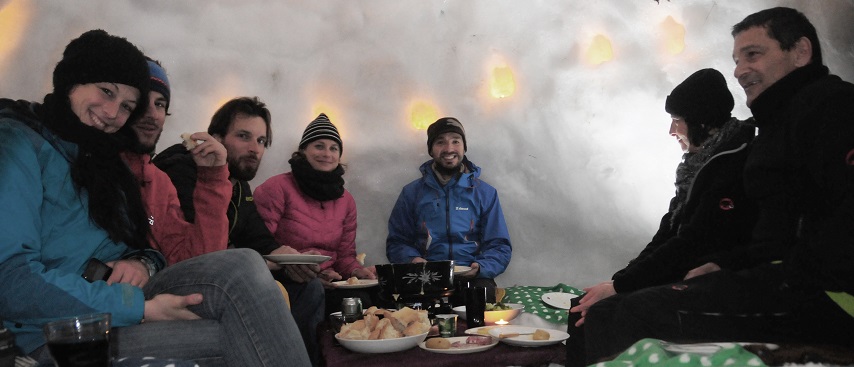 Our igloo and fondue adventures are truly unforgettable and unique experiences to tell all your friends about when you return home. Enjoy a traditional cheese fondue in a unique location – a handcrafted real snow igloo in the mountains.
Our qualified guide will take you to a beautiful scenic spot where the igloo is hidden in the forests of the Chamonix valley, close to Les Grands Montets ski area.
You'll be welcomed with an open fire where you can enjoy a mulled wine gathered around the flames. Then go inside the igloo which has been decorated with sheep skins and candles to keep you warm and create a cozy and romantic atmosphere.
Your guides and chefs will serve you a delicious fondue with a big choice of side dishes to dip into the creamy cheese.
Enjoy this adventure as a lunchtime treat or as an evening outing – perfect for skiers and non-skiers.
Igloo lunch for skiers & non-skiers
Our real snow igloo is perfectly located for a lunch time break from skiing in the Chamonix ski area of Les Grands Montets. Non-skiers can meet the rest of the group and enjoy an easy snowshoe walk from the cable car mid-station to the igloo so you can all enjoy this experience together.
Skiers' meeting point: bottom of Retour Pendant chairlift for a short 15 minute snowshoe walk.
Non-skiers' meeting point: Grands Montets Lognan cable car mid-station for a scenic 1-1.5 hour snowshoe trail for non-skiers.
After lunch you'll either take the short walk back to the chairlift to carry on skiing or enjoy the snowshoe walk back to the mid-station.
Evening igloo & snowshoe adventure
A real evening treat for those who don't want the adventure to end when the ski lifts close! Enjoy a beautiful snowshoe hike uphill through the woods to reach the igloo.
You'll be rewarded for your efforts by the views, sunset skies and mulled wine which greets you as well as the delicious cheese fondue.
Fill your stomach and then strap on your head torch and snowshoes to descend again through the forest to your transport which is waiting to take you home.
Typical prices
115€ per person, group price (5+ people) 90€ pp
Good to know
Evening igloo adventure – pick-up / drop-off are at your accommodation in Chamonix valley. The snowshoe ascent is 1.5 hours, 400m vertical gain and the descent is 1 hour, 400m vertical descent.
What's included: Qualified guide – English and French-speaking, all equipment (e.g. snowshoes, poles, headtorches*), mulled wine / hot chocolate & cheese fondue, return transport*.
*evening activities only.
What to bring: waterproof snow boots, jacket and trousers, hat and gloves, small back pack, sun protection and water.
*Ask our team about our special overnight stay in a mountain hut – perfect for a special occasion or surprise.*
Booking and payment for Igloo & Fondue adventure
Book your Igloo & Fondue adventure online now on our Chamonix Resort Shop and pay securely through our booking system.