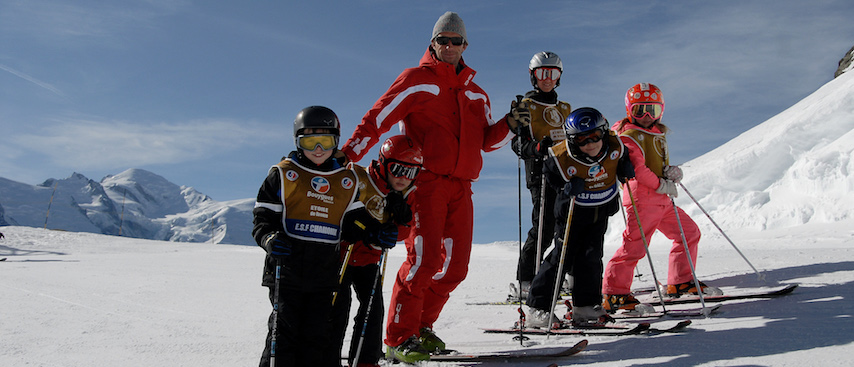 Arranging ski school for your children can be a daunting task. Which school is best for your child's needs? Which instructors speak your language? And which is closest to your accommodation?
Chamonix All Year are proud to have multi-lingual ski school partners up and down the valley, so you can be sure that there will be a suitable provider near to you. We can also suggest the most relevant schools based on price, location, teaching style and lesson schedules. Not only that, but we are pleased to offer all guests our online booking system which is quick and easy to use via our Chamonix Resort Shop, for kids' AND adult ski schools, private lessons plus mountain guides.
Ski schools
We have partners based in Le Tour (Balme), Argentière (Les Grands Montets), Chamonix and Les Houches, as well as the nursery slopes in Chamonix at Les Planards and Le Savoy. See our guide to the different ski areas for more information on which ones are close to your accommodation and which are best for your kids. When you visit our Chamonix Resort Shop to book, you'll see the location of the ski school specified and when you click on the "I" information button, our recommendations for which is best based on where you're staying. A quick summary for you of the ski school locations:
Chamonix: ESF Chamonix (Piou Piou / Cham Ski Session)
Argentière: ESF Argentière, Evolution 2 (Panda Club)
Les Houches: ESF Les Houches
Le Tour: ESF Argentière
Remember that you don't have to stick to the ski school closest to your accommodation: if you expect to be staying in the centre of Chamonix, for example, but want to ski in Argentière (Grand Montets), then check out the ski schools for your children in the Argentière ski area. Note also that while beginners may be based on the same nursery slopes all week, higher levels will most likely move around the valley each day to experience the different ski areas. You can check your child's level in our level guide, and please remember to specify this when you book.
Half terms and Christmas weeks – early booking required
Very busy weeks in Chamonix include the February half term – which includes both English and French schools – and the Christmas and New Year period. We recommend booking 2 months in advance to avoid disappointment. Head to our Chamonix Resort Shop for more information and online booking.
Typical prices
Every ski school varies slightly and so does the exact duration of each lesson. For an overview of prices see  below:
Typical 5-day morning/afternoon ski school for 3-4 year olds approx 205€ (additional cost for hot lunch and 'snow play')
Typical 5-day morning/afternoon ski school for 5-12 year olds approx 162€
Getting your child to ski school
As Chamonix is a resort made of 5 separate ski areas, many schools try to arrange some form of pick-up service or shuttle service to help you get your child to ski school as quickly and smoothly as possible. Your Resort Team will explain the arrangements of your specific ski school. Chamonix All Year also offer an in-resort minibus service so if you require a number of pick-ups and drop-offs, or maybe you are part of a large family or group all attending ski school, we can supply a hassle-free alternative that means you all get to the slopes on time.
If you have your own car then all ski areas have large car parks, but remember that these can become much busier at peak periods.
Note: Ski school shuttles are only at the start and end of the day, i.e. morning and afternoon. If you book your child in for a half-day, you will need to collect them or drop them off at lunchtime as shuttles will not be provided at that time.
Start days for ski school
Generally, ski school begins on Sunday or Monday each week.
Note: As ski school runs to a specific teaching schedule – based on the group progressing to the same level each lesson – beginners cannot join a course half-way through a week (intermediates may be able to subject to availability) and you will be unable to claim funds back for not attending all the lessons. This is standard practice across all the Chamonix ski schools.
Still not sure?
If you still have questions or would like more advice, just contact your Resort Team who will be happy to advise.
Booking and payment for lessons
Book online through on our Chamonix Resort Shop and pay securely through our booking system. Don't forget to check the ski school levels guide before booking.