Private ski lessons & guides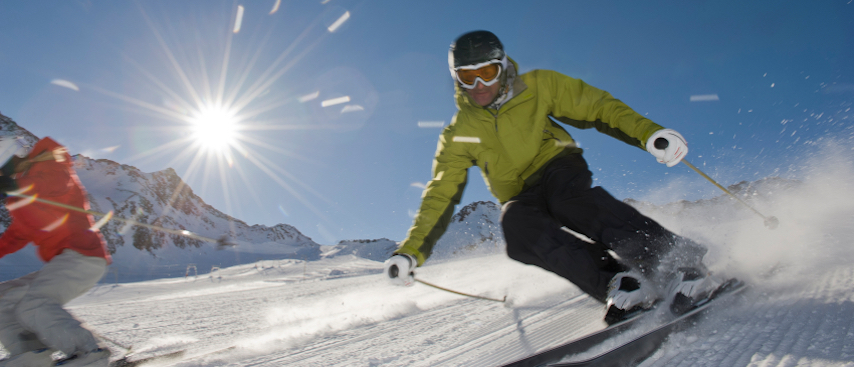 Spend some time with a private instructor to develop your ability, confidence and technical skills, or book a private guide to explore the slopes or off-piste for a great day out.
Private instruction offers a great and flexible alternative to ski school for adults and kids. You can book a private instructor for one-on-one targeted tuition, but don't forget that private lessons can also be booked for up to 6 people which is ideal if you have several members of your group or family who have a similar ability.
If you're looking for a way to spend time together as a family or group, then a private guide is the perfect option – they'll show you the best places to ski and even give you some tips along the way to improve your technique, so no need to keep stopping to look at your piste map! A guide can even show you the best ski areas away from the pistes so why not book a qualified high-mountain guide and explore the amazing glacial skiing, off-piste or back-country that Chamonix is famous for?
Our partners have instructors who speak a wide array of languages and are highly experienced in their field so a session with them really could take you to the next level.
Getting value for money
One-to-one: Private lessons can be a great alternative to group ski school if you really want to make some progression in your skiing or boarding. The nature of private lessons means the attention is all on you so there is greater opportunity to improve and gain tailored direction from your instructor to correct your own mistakes. Many guests will opt for 3 private half-day lessons instead of 6 days of ski school.
In a group: If you have a group of friends or kids who are all of a similar level then choosing a group private lesson can even work out cheaper with a lower instructor to student ratio, as our private instructors can be booked for up to 6 people.
Timings of private ski lessons
Private ski lessons will still follow a certain timetable, although there is room for more flexibility out of high season. However it will not always be possible to have a requested start time of 10am instead of 9am – this just means that you'll have more time on the slopes to practise!
Guide to prices
3 hour lesson (up to 4 people): 210€
2 hour lesson (up to 6 people) over lunchtime 12-2pm: 145€
Full day 9am-5pm: 380€
Meeting points and getting to your private ski lessons
When you book a full day lesson, there is often the chance that your instructor/guide will pick you up from your accommodation and drop you off again at the end of the day. Otherwise the meeting point will usually be at the bottom of the lifts in the relevant ski area. Your Resort Team will confirm all the necessary details with you.
Chamonix All Year also offer an in-resort minibus service so if you require a number of pick-ups and drop-offs, or maybe you are part of a large family or group all attending lessons, we can supply a hassle-free alternative that means you all get to the slopes on time.
If you have your own car then all ski areas have large car parks, but remember that these can become much busier at peak periods.
Note: If you fail to turn up to your lesson and do not contact either your instructor or Chamonix All Year you will still be charged. We will provide you with a contact phone number for the instructor, so please inform them or us as soon as possible if you get lost or feel you may be late for your lesson.
Still not sure?
If you still have questions or would like more advice, just contact your Resort Team who will be happy to advise.
Booking and payment for lessons and guides
Book online on our Chamonix Resort Shop and pay securely through our booking system.