Our popular Chamonix snow report has been running since the season started in Chamonix in December. We bring you the latest news on the weather, snow conditions and upcoming events every Monday at 6pm UK time / 7pm French time on our Facebook page.
You can find the report all week on the Chamonix All Year Snow Report page, and catch up on previous episodes of the December and January snow report in our blog.
We'll be updating this blog page in February, so you can see how the season's developing and get a feel for the conditions if you're planning to head to Chamonix for some mid-season skiing.
Weather and Snow Conditions
The famous Azores high ridge is keeping our skies azure blue once again! In Chamonix we have three days of fair winter weather, quite cold each morning and milder each afternoon forecast through to Wednesday. According to Chamonix-Meteo "Wintry deterioration likely between Thursday afternoon and Friday evening" and notably Wednesday has 100% sunshine in the forecast.
ski-pass.com has close to 10cm of fresh snow set to fall as the cold front sweeps in Thursday to Friday. Sunshine will return briefly late in the weekend ahead of more snow on the forecast for next week.


Pick of the Pistes
This week we pick Le Brévent for testing out terrain for all skill-sets, beginners included. A great family-friendly choice that even connects to La Flégère with a great mix of pistes for everyone and simple access from the centre of town.
Due to its south-facing slopes, Le Brévent has all day sun and now a nicely topped up home run, open for the first time this past week.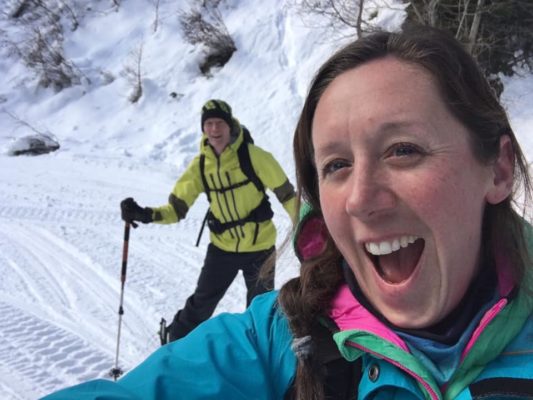 As seen in the picture above of Lisa (our sales manager) the home is fun black run that will take you back to the beginner piste Le Savoy in central Chamonix. But just like the run home at La Flégère it is a winding run that should only be taken on by confident skiers, as many fun but steep tight turns await you!
Going off-piste this week
We recommend you book a guide when heading off-piste in Chamonix to make the most of all our FRESH snow "#Snowmageddon". A private guide may be your best option to experience the "back-country" at your own pace, or that set by your friend or family group. Or for experts improvements to your technique opt for the more economic choice, a certified off-piste private ski instructor, who won't just improve your safety but also your technique, with tips from years of experience.
Chamonix All Year are your local link to guides that speak many languages, and are at the top of their field. Contact our resort team today for more details about private lessons and guiding in Chamonix.
This week in Chamonix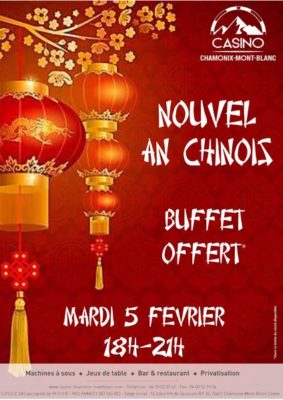 Tuesday 5th February: Chinese New Year at the Chamonix Casino
It's Chinese New Year! Happy year of the pig!
The Chinese year 2019 begins today and will be short because it only lasts until January 24 2020! The Chinese calendar, unlike ours the Gregorian calendar, does not always last 365 days, but varies each year. The good thing is that the party lasts several days….
Here in Chamonix, Tuesday night from 6pm, you can celebrate the Chinese New Year at the Casino de Chamonix, where a small buffet of Chinese specialities will be offered at no charge to players.
Wednesday 6th February: Chamonix Friendly Ice Hockey Match
The local pro team (Les Pionniers) take on the local wannabes and old-boys (Stars74) at the central hockey rink at 8.30pm. These matches are always the wildest as the locals try to one-up each other with crazy stunts and more!
Thursday 7th February: Le Torchet Night Skiing – FREE [FINAL SESSION]
8.30pm – 10pm It's the last session for the Torchet Night Fever! With hot wine, hot chocolate and crisp cold night skiing. Join the fun this Thursday before the lamps power down for a while.
Thursday 7th February: Thursday night cross-country ski sessions – FREE
Meeting at the Maison Nordic from 6.30pm a chain of head-lamped speedy skiers line up to boost around the green nordic ski loop of Bois du Bouchet. Don't worry there's also a leisurely "slow lane" as this piste is nominated "green" and this event is one which is open to all levels.
Friday 8th February: Live Opera at the Dance and Music School, Rue du Lyret
Just remember on the 8th at 8pm, it's time to discover opera at the Auditorium de l'Ecole de Musique et de Danse in Chamonix (381 Rue du Lyret). This special event is like opera for beginners as soprano singer ISABELLE GALLAROTTI (accompanied by BRUNO GEORGE on the piano) introduces you to the most famous opera arias and their stories in a fun and friendly environment. Note this event is in the French language, however the arias will be in a number of languages. Tickets are 12€.
Chamonix All Year Savings
This month we have drastically dropped prices at the Cocon Apartment, as seen in the snow report today (right at the end!).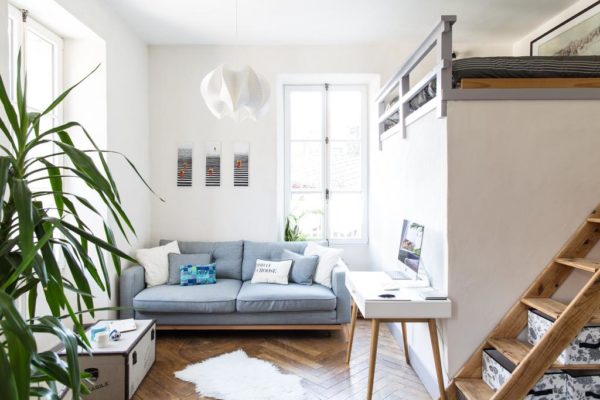 Near to Brevent, this property has one double bedroom and a mezzanine double bed, and is full of cool wintry charm and  functionality. Take it from a past guest themselves what makes this property magic:
"The location is perfect, just a five minute walk to the centre of town but in a lovely quiet site on the edge of the wooded slopes. The apartment has a very comfortable double bed in a separate bedroom and another double bed in a mezzanine above the lounge area. There is lots of storage room so you don't have to live out of a luggage bag. The apartment feels like a home and is superbly well equipped, even including an Apple computer for the use of guests. There is no TV but we made full use of the computer to stream programmes and music. There is an allocated parking space and a separate storage "cave" though we didn't use this facility. The kitchen area is small but well equipped and served very well for our needs. The views from the three main windows are stunning." – David, Keswick – August 2017
Weekly bookings at this property were £1000 – they are now £650 – and selling out quick! Book now here to get to the sun and snow quick!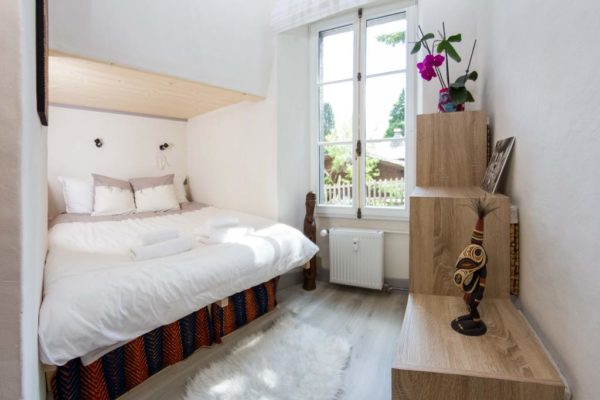 After 30cm of fresh snow fell above 2000m altitude over the weekend, another 10cm joined the party today right down to the town of Chamonix itself. According to Chamonix-Meteo tomorrow will be "sunny, yet still unseasonably cold with fairly strong wind high up", following that we have an "African originated high pressure component" developing from the South.
This high pressure system is the reason we can count on fair and mild conditions across sunny slopes right through to Sunday, ski-pass.com has published their forecast in the below pictorial:


Pick of the Pistes
This week we couldn't help but return to Le Brévent, which was privy to the best visibility as the sun burnt its way through patchy clouds, on and off throughout the day. This is because Le Brévent has South facing slopes which means that it generally will benefit from more sunshine than say the Northern facing Grands Montets, or lower altitude Les Houches.
Access: Le Brévent can be accessed easily from the center of Chamonix with "Plan Praz" cable car that runs from the area (suburb) known as Les Moussoux. The number 14 bus regularly takes skiers from central Chamonix up the hill directly to the cable car (especially handy for "little legs" in the school holidays!). On foot, if you walk in a straight line from the Tourism Office up-hill you will reach your destination. Another handy way to access the cable car is by using the drag lift of the beginners slope known as "Le Savoy", this way you don't have to hike the hill in ski gear, you can be dragged up it!
This week in Chamonix
Wednesday 7th February: Night Sessions at Les Planards

Two lifts will be running from 5.30pm to 9pm with music, a sledding area for non-skiers and snacks/hot drinks on hand.
Valentine's Day: Thursday February 14th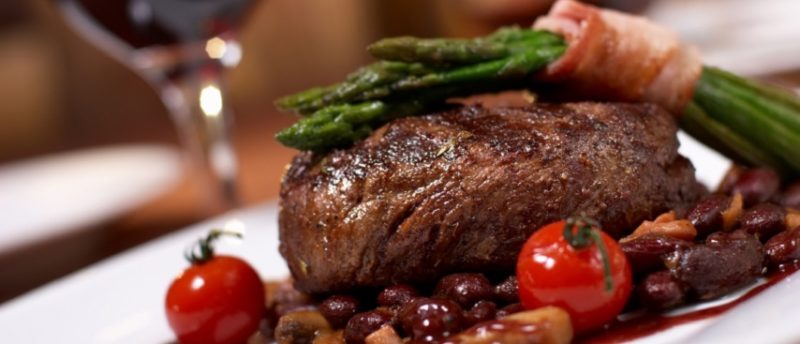 We recommend you book a table in advance of this busy night which falls in the popular "half term" holiday period.
We have made a list of our favourite fine dining spots in Chamonix here.
Or for special diets and vegetarian ideas read our blog here.
Special menus we recommend:

€

63 @ Le Impossible, on Route Des Pelerins – their menu includes a welcome drink, amuse bouche and 3 courses.
€45 @ Hotel Eden, in Les Praz – their menu includes three courses with a glass of Prosecco and a candle lit table and cool jazz on the background.
Chamonix All Year Savings
Book a last minute family "ski'n'sun" half-term holiday ski trip now and save up to 35%!
These properties all sleep at least 6 people and are available RIGHT NOW:
Le Paradis 24 (just down the hill from Le Brevent)
More than 90 sqm
Sleeps 4-6
Beautifully furnished in modern designer style
Join now until Saturday: £ 2,329 £ 1,747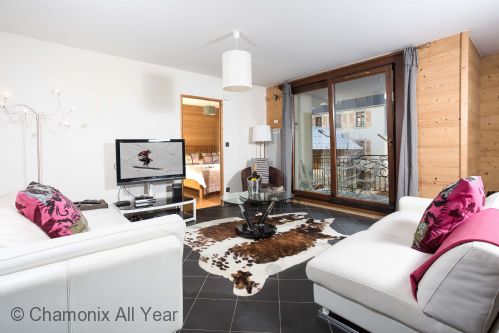 Balmat Apartment (in the heart of central Chamonix)
64sqm apartment
Sleeps 4-6
Private balcony overlooking the main street and piazza
Secure underground parking for one car (height restriction of 2m)
Join now until Saturday: £ 1,426 £ 927
Ginabelle 8 (near Place du Mont Blanc in central Chamonix)
80sqm
Three bedrooms, sleeping 6
Balcony with table, chairs and panoramic views
Join now until Saturday: £ 2,329 £ 1,630
Parc du Mont Blanc (near Chamonix All Year offices in central Chamonix)
85 sqm
Sleeps 4-6 people
Living room with log fire
Sunny terrace with table and 6 chairs, plus 2 deck chairs
Join now until Saturday: £ 2,536 £ 2,029
Caprice des Neiges (a short walk from the Savoy Slopes in central Chamonix)
160 sqm
Centrally located with log fire (as below)
Sleeps 6-8
500 metres from Savoy nursery ski slopes
South-facing aspect, looking onto the Mont Blanc massif
Sunny terrace with 6 seater hot tub and private garden
Join now until Saturday: £ 4,564 £ 2,967
Next report: Monday February 18th