When you come on holiday in Chamonix, you're sure to find plenty to keep the whole family happy! Read on for our guide to the best kids winter activities in Chamonix, with some great ideas to please all ages.
Skiing and snowboarding
Chamonix is the cradle of many mountain sports, and as soon as your little ones are out of theirs, they'll be ready to join ski school – from three years!
There are various ski schools in the valley who will accept children from three, providing a fun and relaxed introduction to the world of snow and winter sports which is adapted to their age and level. Kids can be signed up for a half- or full-day, with upgrades available to include childcare before / after and even lunch as well.
These great options mean you're sure to find something to suit your family, leaving you free to go and enjoy skiing with the other adults – booking a private or group lesson for yourself too!
There is a lot of choice out there, so don't hesitate to speak to our dedicated team here in Chamonix to discuss the option which is best suited to you, or check out our Chamonix Resort Shop online.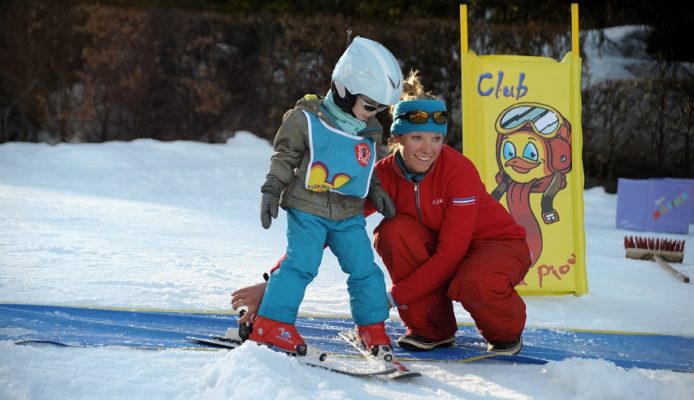 However, winter in Chamonix also offers plenty of other activities – for children that don't ski, for rainy days, for kids under 3 years and for spending quality time as a family. Read on for more of these kids winter activities in Chamonix.
More kids winter activities in Chamonix
Husky rides
To enjoy the snow without skis or a snowboard, don't miss the timeless experience of a husky ride. Every Wednesday, subject to snow conditions, you can learn to drive your own sled from 8 years, or enjoy the ride as a passenger from any age.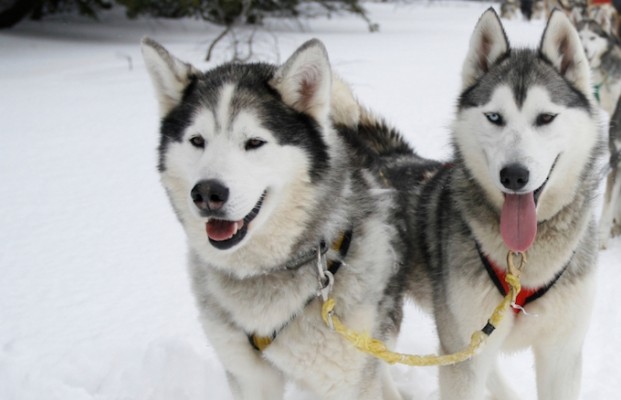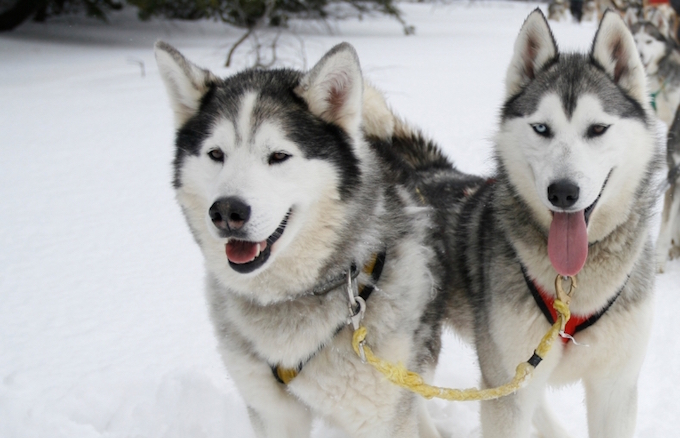 This is one of the most popular kids' winter activities in Chamonix, so we strongly recommend booking ahead to avoid disappointment. Book your husky rides online.
Paret sledge
Parets are traditional wooden sledges with one runner, and the sledging activity is certainly one to try during your stay in Chamonix. Take the last lift up to experience the slopes of Grands Montets once they've closed at the end of the day. It's a good thing the skiers have gone home, as you'll be slipping and sliding down the home run trying to control your paret! Kids from 12 years and adults with a sense of adventure can take part. Book your paret sleding.
Sledging
Babies and toddlers can also get a taste for some downhill action on the small slopes in Chamonix which are geared up for them. Free slopes are available behind the tennis course and next to the cross-country tracks in Chamonix centre. You can also take sledges on dedicated slopes at Les Planards or at the top of Prarion in Les Houches. Many of the ski hire shops around town will also sell or rent sledges for you, if you forgot to bring your own.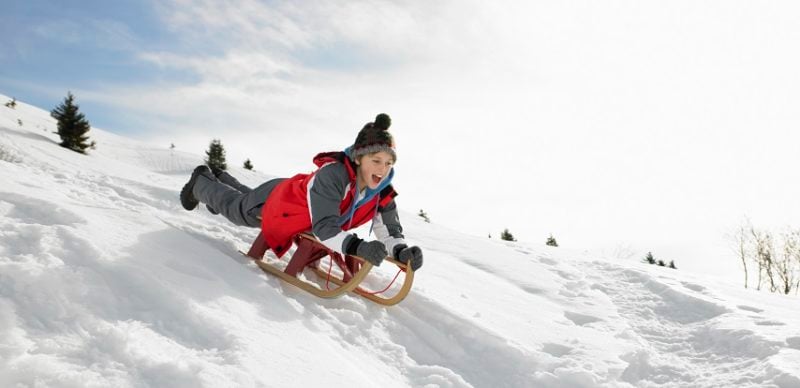 If older kids want to take their sledging to the next level, don't miss our Deluxe Igloo & Fondue Adventure. You'll head off into the Swiss forests (not too far from Chamonix!) to ride the 3km sledging track as many times as you want. You'll then strap on your snowshoes for a beautiful hike to the real snow igloo, where after working up that appetite you'll enjoy a traditional cheese fondue. Book your unique experience online. 
Luge Alpine Coaster (luge on rails)
Chamonix's Alpine Coaster is great fun – ride the luge along the 1300m track at the bottom of the Les Planards beginner ski area, in Chamonix town centre. Children can ride from 3 years old, and unaccompanied from 7, and you control the speed – how fast do you dare to take the bends and turns?!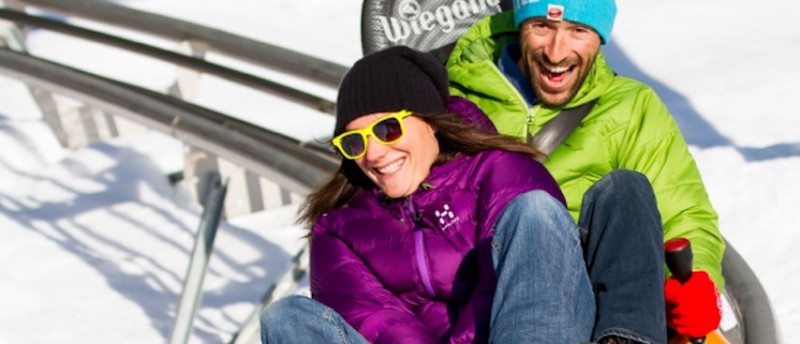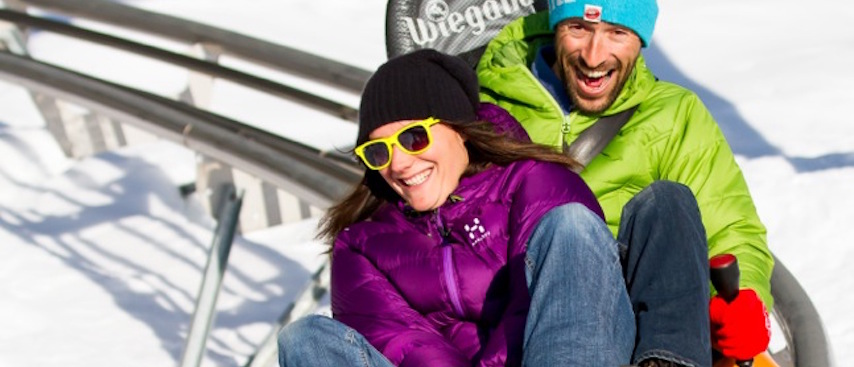 Chamonix All Year guests benefit from discounts on your tickets too. Open every day in winter 12.30pm-5pm, at Les Planards, 351 chemin du Pied du Grepon, Chamonix.
Montenvers train & Mer de Glace
You can discover France's largest glacier with babies from 1 year old. Take the red cog train up the side of the mountain to the historic station at the top and immerse yourself in the world of ice. The train leaves from the centre of Chamonix, behind the main SNF train station, and takes only 20 minutes to get to 1913m above sea level, for panoramic vistas of the Mer de Glace glacier. Visit the ice cave which is carved into the glacier, the glaciorium, or the crystal gallery, and then try one of the bars or restaurants.

Museums
Chamonix's long history is also worth discovering at one of the town's museums, with something for kids and adults alike. Our top pick:
Alpine Museum: explore the history of the Chamonix valley, including the beginnings of mountaineering, the first ascent of Mont Blanc, winter and summer sports and the birth of tourism.
Guide to prices: Adults 5.90€, children under 18 go free. Discounts are possible with your guest cards, which we'll give you on arrival.
Open mid-December to early May. Closed on Tuesdays, 1st January, 1st May and 25th December.
In school holidays, open all day except lunchtime. Outside school holidays, open afternoons only.

To get there: 89 avenue Michel Croz, Chamonix. In the pedestrian centre of Chamonix.
Don't miss our guide to all the museums and galleries in Chamonix.
Cinema
Chamonix's own multiscreen cinema, the Cinema Vox, screens the latest films including many in the original language (including English).
Look out on the programme for VOST for films in their original language.
Situé en plein centre ville piéton de Chamonix le Cinéma Vox propose les derniers films à l'affiche ainsi que des films en V.O toute l'année.
Guide to prices: Adults 9€, children under 14 years – 4€, Thursdays 5€ tickets.
Address: 23 Rue du Docteur Paccard, Chamonix
Sports centre: ice skating
In winter, don't miss the outdoor ice rink in Chamonix, with its unbeatable views of Mont Blanc – you'll also get discounts with the tourist guest card which Chamonix All Year will give you on arrival.
Guide to prices: Adults with guest cards – 5€
Open afternoons every day from early January, plus for night skating on Thursdays in school holidays.
Don't forget to check the website of the local ice hockey team, the Chamonix Pionneers, for a fun evening out supporting them.
Sports centre: swimming pool
On a bad weather day or for a change from skiing, the swimming pool in Chamonix is a good option. The pool is 25m long and there's also a fun zone with slide, rapids and massaging jets. If you upgrade your entry, adults can also make use of the sauna and hammam.
Guide to prices (swimming pool only, with guest card): 5€ adults 3.70€ kids.
Open afternoons, every day.
Address: 214 avenue de la Plage, Chamonix.
And much more…
In addition to the kids' winter activities in Chamonix, there's also a full programme of events throughout the winter to enchant and delight little ones, as well as the traditional horse-drawn carriage for touring the town centre and playparks around the town centre. You'll find the latest up-to-date info at the Tourist Office.
Enjoy your family stay in Chamonix!