The deeper into the winter we go… the deeper the snow. As the powder piles up, the time is right to put on your sledging hat and get up close and personal with the powder! There are a number of spots for sledging in Chamonix and the surrounding area to take your family or friends to a winter wonderland of pure powdered fun.
Designated sledging areas
Annually from mid-December to the end of March, Chamonix and the Mont Blanc region become home to a handful of designated sledging areas. These dedicated zones for sledging in  Chamonix are designed to maximise fun and safety. While not all of them have protective netting and soft fixtures, they are all maintained and groomed regularly by the communes, or ski areas, in which they are found.
Bois du Bouchet, Chamonix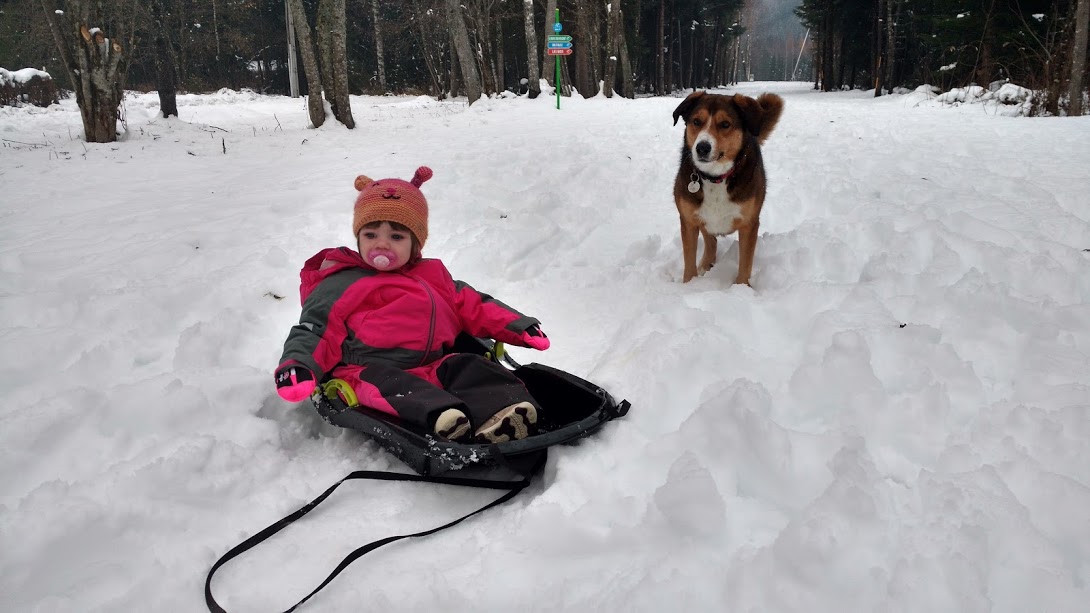 This area is located between the cross-country skiing piste of Chamonix and the Richard Bozon leisure centre. It is easily accessed by foot from either side, but if you want to extend your time on the snow (or even drag the kids there in the sledge itself) accessing the mini-slope is best done via the cross country ski area which accumulates a lot of snow and is well-maintained. Free parking can sometimes be found on the left-hand side as you exit Chamonix past the MBC burger joint.
Chemin des Diligences, Vallorcine
Located behind the Tourist Office of Vallorcine, this "Piste de Luge" is groomed regularly and secured for the purpose of dedicated sledging fun! You can easily take the train to Vallorcine from Chamonix and walk less than 10 minutes to your sledging destination. While you are in Vallorcine, consider a spot of "après sledge", or a gastronomic lunch at the Café Comptoir.
Piste de Luge des Chavants, Les Houches
Located on the allée des diligences of Les Chavants in Les Houches, this sledging-only area is strict about not mixing the fun with ski gear. Ski boots are not allowed at the area and there are even age restrictions in place: one track for 2 to 6-year-olds (the petite tortue) and another one for children over 6 years (the petit lièvre). As parents are discouraged from sledging with their kids on the pistes here, it is probably a good graduation slope to try after they have a little more confidence. However, it also means parents can be confident their little ones aren't going to injured by older sledgers or ski gear.
Piste de Luge du Prarion, Les Houches (ski area)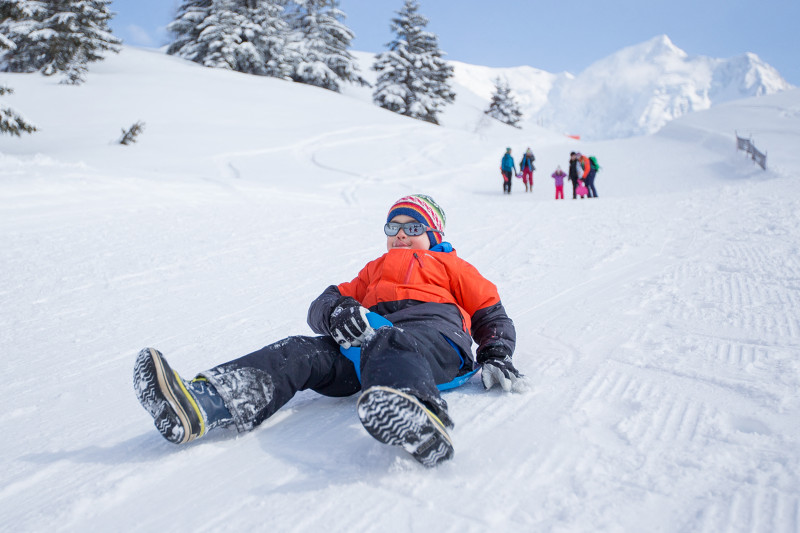 Take a break from skiing and access this dedicated sledging slope at the top of the Prarion cable car, near the beginners' zone of the Les Houches ski area. If you take the time to bring your sledges with you while you're skiing, this slope can be a great way to break up a day of teaching your little ones how to ski.
Other ideas for sledging in Chamonix valley
Piste de Luge "La Tour", Servoz
This natural slope is groomed and can be found at La Grangiat, Servoz, near the beautiful historic church in the town centre. Servoz is roughly 20 minutes by car from Chamonix, but (like Vallorcine) can also be accessed by train or bus free for those with a 'Carte d'Hôte'. These cards are provided to all Chamonix All Year guests and are the main benefit of paying your tourist tax with your accommodation booking. (Find out more about getting around in Chamonix.)
Sentier du Plan de l'Aiguille, Chemin à Batioret, Chamonix
(Opposite Parking du Grepon)
Very close to the centre of Chamonix, this hill has a great gradient for slightly older kids to enjoy with their parents. It is not maintained, however some skiers and boarders (as well as other sledgers) would have likely carved out a path throughout winter. Here you can very easily park at the Grepon parking and wander over.
Savoy beginners ski area, Chamonix
This well-known beginners' ski area is located in the heart of central Chamonix. Near the "magic carpet", you will see a mound of snow that is heaped up throughout the season and generally enjoyed for sledging. The best time to come here for sledging in Chamonix is mid-season.
Sledging recommendations in the greater region…
… but not too far away from Chamonix!
Trient, Switzerland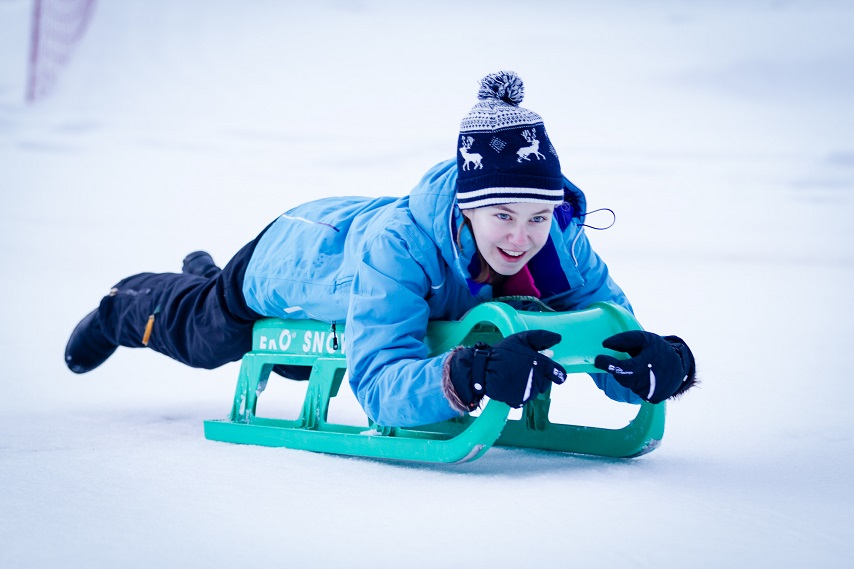 Get a trio of unique experiences with our Igloo & Fondue Deluxe Adventure in Switzerland. As well as enjoying a fondue in a real snow igloo, try out sledging on their 3km track and snowshoeing as well to reach the fairytale forest location. This exclusive experience is offered with our Chamonix All Year partners, mid-mountain guides, Anja and Raphael. It is only available to book on our website here: your booking price includes return van transfers from Chamonix.
"LaLuge" at La Princesse, Megève
"Laluge" also offers 3km of descent, through fir trees on its upper part, then through an open plain in the lower part. The track is accessible from the Mont d'Arbois cable car, therefore is only available during the opening hours of the ski lifts. Their website explains that only toboggans provided by Megève's ski area are authorised, they will also provide helmets for those without them. Each go will cost you 7€ (excluding ski lift access, see below).
You can access Megève LaLuge with your Mont Blanc Unlimited ski pass. If you have purchased passes for two or more days of skiing you have unlimited access to the lifts of the "Domaine Evasion Mont-Blanc" (St Gervais & Megève). To activate your access, make sure you've used your MBU ski pass once already within the Chamonix valley, then take it to the Megève ticket office (along with your purchase receipt) for validation.
Disclaimer – please remember that sledging in Chamonix is at your own risk and children should always be supervised by a parent or guardian. We recommend that you wear a helmet when partaking in this activity.
Mont Blanc Family Fun – Map
A big thank you goes out to family bloggers Mont Blanc Family Fun who have put together their own blog about sledging in the wider Mont Blanc region. They have even taken the time to put all the top spots together in one handy map.