Cross country ski lessons in Chamonix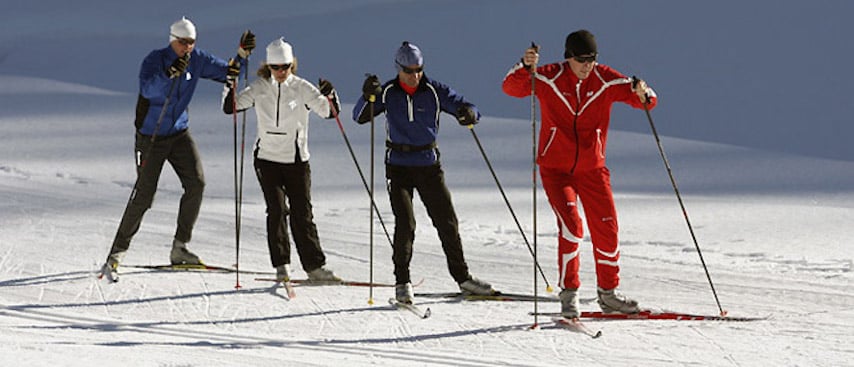 For those of us who avoid the flats at all costs on the pistes, or at the very least have to build up our speed when we see them coming, the sight of some skiers 'skating' along the flat on long, thin skis is a mystery. However cross country skiing is great fun and a good all-round workout which we highly recommend you try, if you're a non-skier or just looking to try something a bit different.
If you're tempted to give this sport a try then we can help you get to grips with the basics by booking you a lesson with an instructor. Anyone from 13 years of age can join a group for a couple of hours, either as a one-off or for a week of daily lessons. All abilities are catered for, so even if you've skied cross-country before you can get some tips on how to improve your technique.
See also our guide to the cross-country ski areas in the Chamonix valley and in Courmayeur, Italy, where you'll also find more information about equipment and lift passes.
Cross country ski techniques
There are two styles of cross country skiing on offer: skating and classic. In both styles skiers move forward by pushing off with one leg, in order to glide on the other. The classic style makes use of parallel grooves which are pisted into the track and is the easier of the two techniques for beginners to try. It's possible to walk on classic skis so it's easy to take a breather. Skating style looks and feels more like ice skating: skiers stay out of the grooved tracks so good balance is essential. The pace is generally faster than classic style, so skating can provide a fantastic workout, not to mention a lot of fun as everyone falls over on their first attempt!
Ski cross country – in another country
If you fancy trying out your techniques a little further afield, why not book a day with a private guide and head through the Mont Blanc Tunnel to Courmayeur, where the Val Veny circuit is served, naturally, by an excellent mountain restaurant! Your guide will take you into Italy and put you through your paces there, as well as an obligatory stop at the half-way point for some local Italian food including polenta and fabulous hot chocolate to fuel the fires for the return trip.
Biathlon – skiing with rifle shooting!
We are also now offering biathlon private sessions – combine cross country skiing with rifle target shooting! In a small group (up to 2) with an instructor, enjoy the experience of improving your skating technique and then try to slow down your heart beat to hit the shooting targets. Even total beginners can enjoy this activity.
Typical prices
Cross-country 2 hour session in a group: 32€
Cross-country half-day private session (morning/afternoon): 185€ up to 6 people
Cross-country full day private session: 348€ up to 6 people
Biathlon 1.5 hour private session: 130€ (1-2 people)
Prices do not include lift passes, see our Cross-country ski guide for info and prices. Full day private prices do not include Mont Blanc Tunnel (approx. 30€) or lunch.
Booking and payment for lessons
Book online on our Chamonix Resort Shop and pay securely through our booking system.