Mountain restaurants and their younger siblings, summer huts in Chamonix's lower altitude locations, are not-to-be-missed for refreshments during a hike or for a more filling lunchtime meal. Sometimes hidden away in the mountains, these pleasant rest stops are ideal destinations for a well-deserved break after a long day.
Some tips on terminology
A key French word to know if you're looking for a pit stop in Chamonix is buvette. This word usually refers to a refreshment or snack stall, but can also encompass the sorts of cafés that you're likely to stumble upon in different spots around the valley. In this article, it will refer to one of the summer huts in Chamonix, usually closed in winter, but open every day from June through to September.
Slightly larger establishments will usually refer to themselves as chalets. Bear in mind that, usually, buvettes and chalets will not be connected to municipal utilities such as water or electricity. Tap water with your food is therefore rarely possible, and menus may be limited to what can be prepared on a gas cooker. That said, you can still expect some hearty meals, including some local specialities and carefully prepared staples such as omelettes.
Card payments are usually not accepted either in these summer huts in Chamonix, so make sure you bring cash – and plenty of it. You'll notice that prices are inflated from what you would pay for similar offerings in the town centre, as produce has to be transported up to these sometimes remote locations. Lucky chalet managers can access theirs by a 4×4 track at least, but some are totally inaccessible by vehicles, requiring everything to be carried up by manpower.
Further up the scale from summer huts and chalets are refuges and mountain restaurants. Refuges are usually situated at higher altitudes and will offer overnight accommodation too for those who are undertaking multi-day mountain adventures.
Mountain restaurants usually resemble most closely the restaurants you might find in Chamonix town centre. They are often located close to mid-stations of the Chamonix cable cars for easy, are more likely to accept bank card payments (though not all of them do) and will offer a more elaborate menu.
Here is a round-up of some of the best summer huts in Chamonix and chalets for lunching or sipping a drink, as well as a handful of refuges which are easily accessible to walkers (as opposed to mountaineers), where you can also admire the surrounding peaks.
Addresses and map locations for most of these huts can be found on this useful print-out from the Tourist Office.
Chalets & summer huts in Chamonix
L'Alpage de Balme
This little chalet is located in the mountain pastures of Le Tour and offers the chance to taste regional delicacies while taking in the surrounding summits: the Chardonnet, the glacier du Tour and the Mont Blanc massif.
Access is very easy, via a 30-minute walk from the Charamillon bubble lift, making this a perfect summer hut in Chamonix to stop at if you're looking for a gentle mountain stroll.
Note: it is recommended that you call ahead to book a table, as the restaurant is often booked up, particularly on sunny days.
Find out more about L'Alpage de Balme
La Buvette des Mottets
The Buvette des Mottets is a small café located on one of the paths from Chamonix to the Mer de Glace and Montenvers. It's the ideal place to recharge your batteries or have some refreshments while enjoying the mountain vistas including the towering Drus, before starting off again towards Montenvers.
For a truly unforgettable experience, you can even book to spend a night under the stars in one of their bubble tents. The price is 70€ per person, with evening meal and breakfast included.
Find out more about Buvette des Mottets (in French only)
La Cascade du Dard
This summer hut close to Chamonix town (featured in the photo at the top of this page) is in an unbeatable location next to the Cascade du Dard. Get up-close and personal with the spectacular waterfall, as well as enjoying the panoramic views of the Aiguilles Rouges across the valley.
The chalet is easily accessed via a pleasant walk through the forest, or by car with a short stroll from the car park. Their menu offers dishes made with local produce, all served in a warm and welcoming atmosphere, perfect for families.
Find out more about Cascade du Dard
La Crèmerie du Glacier
A crèmerie originally referred to a dairy or a shop selling dairy produce, but now is used more generally for a café too. This café is accessible in winter and summer, nestled in the trees at the foot of the Grands Montets ski and summer lift area, and offers the best Savoyard croûtes in the valley.
After a long day of hiking and exploring the surrounding area, there's nothing better than settling down at the foot of the mountain to savour some of the local cuisine, on their terrace or inside.
Find out more about la Crèmerie du Glacier (French only)
Chalet de la Floria
One of the most iconic summer huts in Chamonix! "The Floria", as it's affectionately known by locals, is easily accessed from the town centre or Les Praz village, making it a popular choice for a short hike and a reward at the end. The walk is 45 minutes (mostly uphill) and takes you through the forest, with peeks of stunning views over the Mont Blanc massif at each corner.
The chalet offers the best of those views in all their splendour, on a pretty terrace liberally decorated with flowers. The thought of a chilled drink and omelette at the top will be enough to make your mouth water on the way up.
Chalet du Chapeau
If you're looking for the best pastries that the mountains can offer, look no further than the Chalet du Chapeau. This peaceful spot offers tarts and other sweet treats from the hands of a double Michelin-starred pastry chef, formerly of the Albert 1er.
Only 20 minutes from the top of Le Lavancher village, this is an ideal pit stop to combine a love of nature with that of fine dining. Don't miss the chance to walk on (5-10 minutes) to the viewing point and glimpse the retreating tongue of the Mer de Glace.
Find out more about Chalet du Chapeau (French only)
Le Cerro
This summer hut-cum-chalet radiates a familial warmth and is a perfect destination for a walk with little ones. At this location between the Cascade du Dard and the Plateau des Pyramides, you'll find cold drinks which will perk up even the smallest hikers in your family.
The hut is located about 35 minutes from Chamonix and the walk will take you through the forest where you'll also discover some pleasant mountain streams.
It is possible to book for lunchtime or the evening, to ensure you don't miss out on the chance to try a true mountain meal.
Paradis des Praz
The walk to the Paradis des Praz is perfect for families with very little ones – even if they're still in pushchairs. It's a short distance along a flat path from the golf course, alongside a stream and into the woods.
Upon arrival, you'll find a great little café serving drinks and snacks, where adults can keep an eye on the kids as they meet the ponies and enjoy the many activities that this little piece of "Paradise" has to offer.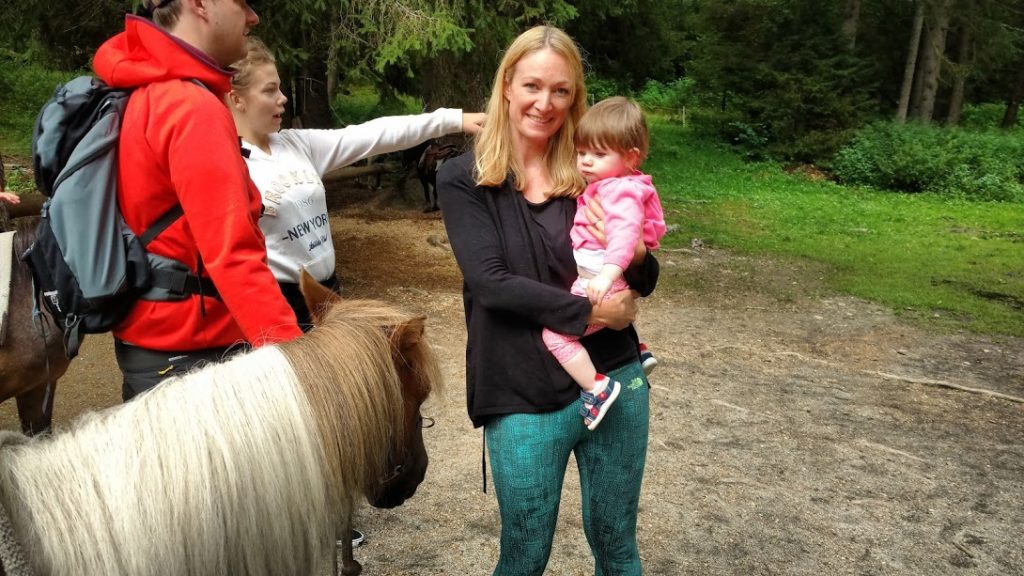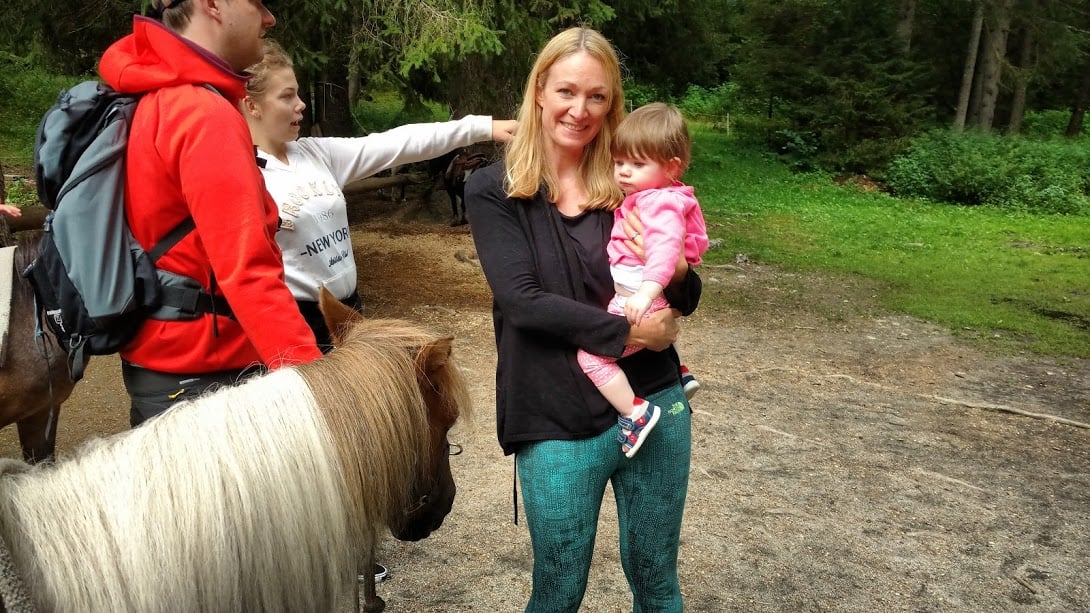 Find out more about Paradis des Praz
Restaurant refuge du Plan de l'Aiguille
The menu of the refuge at the mid-station of the Aiguille du Midi – the Refuge du Plan de l'Aiguille – offers a blueberry tart that will be a serious contender for the best you've ever tasted! Not only that, but the views of the Aiguille Rouges across the valley will take your breath away as well.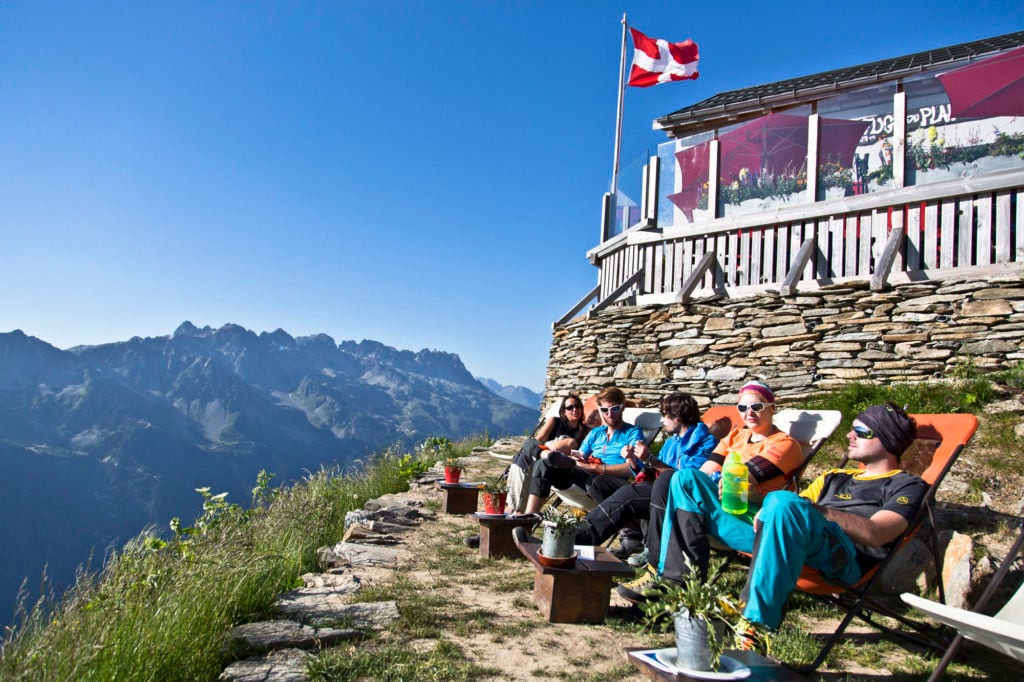 The refuge is a great pit stop if you've walked from Montenvers to Plan de l'Aiguille along the Grand Balcon Nord – an accessible walk for most levels of walker. More committed hikers can set off from Chamonix and hike directly up to Plan de l'Aiguille, to really earn their myrtille tart.
Find out more about Refuge du Plan l'Aiguille
Chalet de Caillet
This rest stop in Chamonix for winter skiers of the Vallée Blanche is just as charming in summer. You'll find this cosy chalet on the path between Chamonix and Montenvers (approx. 1 hour from Chamonix), offering a chance to pause and relax on your hike up to Montenvers.
From the menu, choose from craft beer and dishes cooked in the wood stove, all to be enjoyed along with the splendid views of the Aiguille Rouges and the valley of Chamonix.
Find out more about Chalet de Caillet (French only)
Chalet des Pyramides
If you are looking for a longer adventure in the mountains of Chamonix, then this walk of approx. 4 hours (return) is for you! When you arrive at this chalet, you'll be treated to an up-close-and-personal view of the ice formations of the Glacier des Bossons.
Chalet Glacier des Bossons
It's also possible to get close to the glacier des Bossons with less effort. This chalet is located a short distance from the top of the Bossons chairlift, or via a shorter walk than the one mentioned above (1 hour 20 minutes return, starting in Les Bossons village). Don't forget to order one of their croûtes to enjoy in this picturesque setting.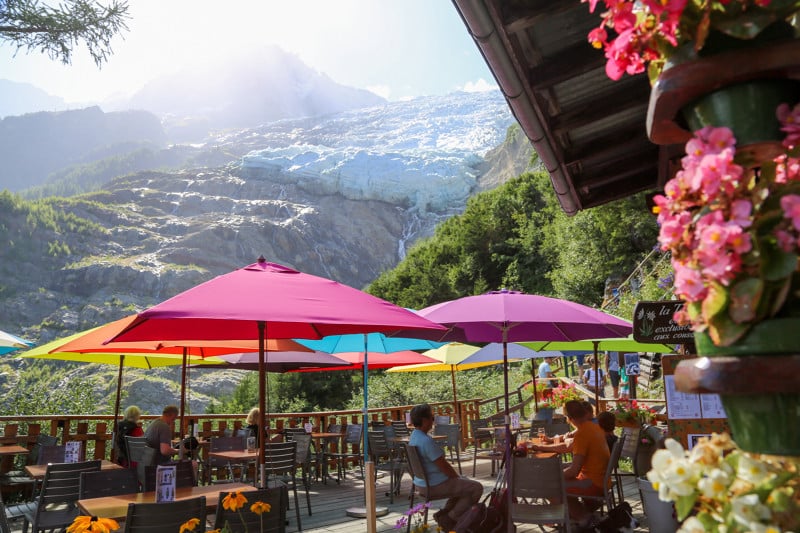 There is also a wealth of information to explore about the aircraft which have crashed on Mont Blanc over the years.
Chalet de Chailloux
The views from this chalet are arguably the best to be had over the Mont Blanc massif. As in all the best mountain summer huts in Chamonix, you can taste local products and dishes prepared with passion, and the warm welcome here makes them taste even better!
The chalet is an old shepherd's hut, and is ideally located for a pit stop on your way to the Aiguillette des Houches, easily accessed from Les Houches.
La Chalette
This summer chalet at Bellevue in Les Houches offers homemade ice cream and sorbets which are just the ticket on a hot summer's day.
Chalet Tête de la Fontaine
If you're staying in Servoz (for example in our Kipling Apartment) or exploring this pretty village, then the Tête de la Fontaine is the destination for you! Nestled into the mountains, the chalet offers a different panorama to others in the Chamonix valley, with views over the Fiz and Aravis ranges, as well as Servoz, Cordon, Combloux and Domancy.
The walk which leads to the chalet is pleasantly shady, so it's a perfect choice for a hot summer's day. From Servoz village centre, the walk is approx. 2 hours return.
Refuge de Loriaz
At the opposite end of the Chamonix valley, a chalet in Vallorcine offers different views again, including of the iconic Aiguille Verte.
The refuge can be easily accessed in a 2-hour walk from the car park, along a lovely path through forest and pasture. Alternatively, you can embark upon a steeper route through the forest for a more ambitious ascent. In both cases, keep your eyes peeled for local flora and fauna along the way.
Find out more about Refuge de Loriaz (French only)
Refuge Bellachat
The last on our list is very appropriate, as it's also the last refuge on the Tour du Mont Blanc before the final – and infernal – descent. The location is quiet and peaceful, situated at 2,152m altitude, and you're likely to bump into a bouquetin or two while you're up there.
The easiest access is via the top of the Brevent cable car, and from this location perched on high, you'll feel like you truly have the world – and the Chamonix valley – at your feet.
Find out more about Refuge Bellachat (French only)
Which are your favourite summer huts in Chamonix…?
We hope our list of chalets, cafés and summer huts in Chamonix will help you to fed and watered as you explore the walking and hiking in Chamonix valley. Get in touch with us on Facebook or Instagram to share which one is your favourite…