Luxury is probably not the first word you think of in association with Chamonix, more likely, extreme sports, mountain adventures and breath-taking views. However, residence la Cordée now provides a small oasis of calm and luxury in amongst those fighting for the first lifts or highest peaks.
The Hapimag complex was known to most locals as a point of reference when navigating through the confusing street pattern of Champraz – the sought-after area of flat land between Chamonix and Les Praz. The Swiss time share complex was unassuming and unknown by many. The complex which previously housed an outdated hotel and serviced apartments has been completely renovated and now contains 80 luxury apartments. The location was always outstanding, overlooking a small lake with 360 views of the mont blanc massif and the Brévent/Flégère mountains.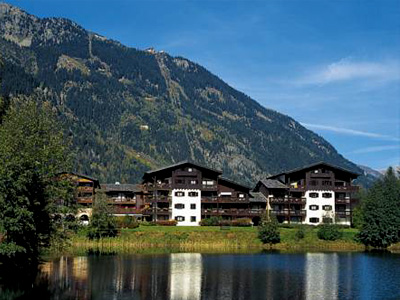 Hapimag prior to renovation
The complex was renovated by Cardea, a Chamonix-based developer who specialises in the development of residential real estate projects in Chamonix and acquired the complex in December 2015. The complex is made of 8 interlinked buildings, each with 2-4 floors, with almost 7,000 sqm of residential space over its 1.8 hectares. The car park itself is 3,023 sqm.
Residence La Cordée
The name was chosen to align with the history of Chamonix's Alpinism and the strength that a rope (corde in French) can provide. The logo is also representative of this rope with the individual threads making the mountain peaks.
Residence La Cordée now consists of 80, one to four-bedroom apartments including six penthouses that have been built with high-end fittings to create a feel of modern alpine living. The first apartment went on sale in 2017 and Chamonix All Year started managing rentals in 2018. Each owner has individually decorated and furnished their apartment, selecting the final fixtures and fittings themselves to ensure a personal touch that creates a home-from-home feel.
One of the best features of this complex is the facilities that each apartment has access to.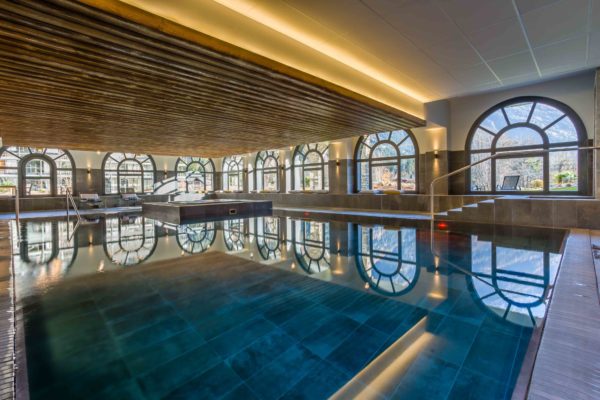 Available from 10.00 – 21.00 all apartments and guests are able to use the following:
Heated indoor swimming pool
Sauna
Hammam
Relaxation room
Climbing room
Gym
Workout studio
Games room with Pool table and table football
Kids play area
There is also a cozy communal lounge area with a large fireplace for relaxing after a long day in the mountains.
As well as underground parking, each apartment has a large ski locker with boot dryers.
The Garden
The surrounding garden overlooks the lake and is a great place to relax, walk or play. The lake is not fenced off so young children need to be supervised but there is enough to keep small minds occupied for hours. There is a deck with tables and chairs that offer stunning views of the lake and the surrounding mountains and there is a telescope for discovering the mountains in closer detail.

Location
There are not many properties that have such an exclusive location, the highly residential Champraz area is full of high-end chalets and is very quiet despite its central location in the Chamonix valley. With cross-country ski tracks, running trails and biking trails on the doorstep, la Cordée's peaceful lakeside location is 20 minutes walk along the river path to Chamonix town centre or 10 minutes to the village of Les Praz.
Les Praz is the first suburb of Chamonix while heading up the valley and hosts the Flégère cable car which is being newly built for 2019, from here you can access the Brévent/Flégère mountain area for hiking and skiing.
The church in the centre of Les Praz is iconic and very popular for a photoshoot and although you can no longer get married here it is often open for visiting.
The Chamonix golf course, an 18 hole golf course designed by architect Trent Jones Sr, is also located here next to La Cabane des Praz which is very popular as a wedding destination.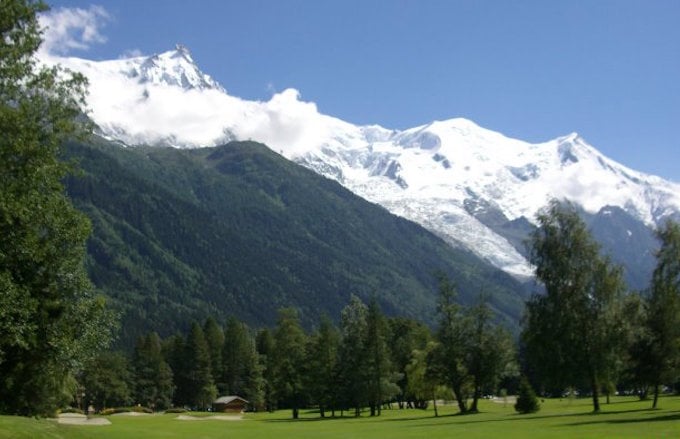 Paradis des Praz is a short walk along the riverside, opening up into a kids' play area that is open all year round. In summer there is a buvette serving food and drinks and pony rides for the children.
For skiing Flégère is the nearest cable car and is just 5 minutes drive away with car parking at the bottom, this links you to the Brévent-Flégère ski area.
History of Les Praz
1091
Les Praz has been part of Chamonix's history since the start. In the first recorded entry of 'Chamonix', a parchment donated to the monastery of Saint-Michel-de-la-Cluse stated that monks had settled on the bank of the river Arve and had built a farm at La Mollard and a mill at Les Praz.
Early 1900s
No longer just hotels, tourist accommodation was changing and chalets started to appear in the valley with Les Praz being a popular spot.
1914
Chalet Floria was built by M. Simond on the edge of a cow path used to take herds to the pastures of the Flégère.
1934
The first golf course of 4 holes was opened at request of the large hotel owners to satisfy their Anglo-Saxon guests. A further 5 holes were added the following year.
1945
Construction of the chapel in les Praz was started at the request of the local residents at the end of the second world war.  This iconic church, made of granite with slim steeple and steep sloping roof, wasn't finished until 1965 but remains one of the most photographed views in the valley.

Visiting Cordée
Chamonix All Year has been managing La Cordée apartments since 2018 with a range of sizes available. We currently have the following apartments available to rent for your holiday, watch the fireworks at New Year from the balcony of Cordée 612, relax on the terrace of Cordée 504 in the sunshine, take a romantic break in Cordée 412 or take a luxury family holiday in the Penthouse Cordée 221, the options are endless.
1 bedroom apartments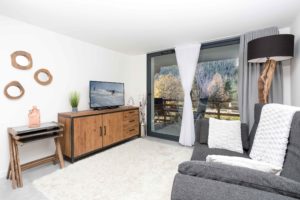 La Cordée 412
2 bedroom apartments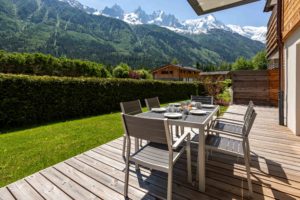 La Cordée 703
3 Bedroom apartments
  La Cordée 124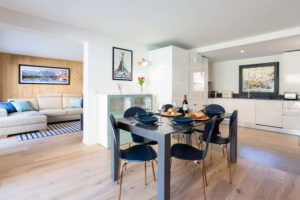 La Cordée 504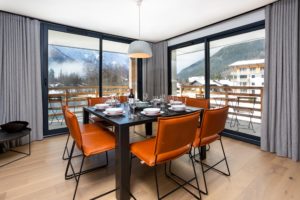 La Cordee 612
Penthouse Apartments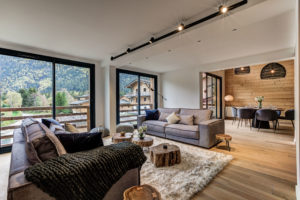 La Cordee 221
Our properties are available all year round, if you're not sure when is best to visit, check with our blog the best times of year to visit Chamonix.