The end of the winter season 2017/2018 has arrived. With a surprising amount of fresh snow, a great deal of snow coverage and a growing amount of soft, sugary piste snow, it's now or never to get up the lifts in Chamonix Mont Blanc. Wax and sharpen your skis or snowboard and enjoy the inevitable "goggle tan" that come with spring skiing in Chamonix, one of Europe's best late-season skiing destinations.
More Terrain at Altitude
The highest lift at Les Grands Montets goes to 3297m, while the Domaine de Balme (Le Tour) peaks at 2270m. Traditionally the higher altitude the ski area, the better the chance for late-season snow. In recent years the ski areas of Brevent / Flegère – with their highest point at 2525m – have also extended their ski seasons as far as mid-April (see below). Chamonix also boasts access to slopes as high as 3842m with Europe's highest cable car taking you to the Aiguille du Midi. From the Aiguille, you can take on the Vallée Blanche as a late-season skiing itinerary, so long as you have a guide.
In this hilarious season round-up for high altitude skiers in 2018, Natalie Segal seems happy to enjoy the extra snow (and a drink or two), but is pining for that powder snow Chamonix has been spoiled with all winter:
Like a friend who refuses to leave the bar after four solid hours of après, but can no longer hold a legible conversation, the snow just keeps on coming but it is no longer colder enough to create that incredible white room effect.
Take a look through our March round-up of snow reports to see for yourself the unseasonal amount of spring snow still falling at Easter as below:
Lengthy Lift Openings
With a total of 163 km of slopes, Chamonix is home to a huge collection of ski areas for any level of skier. You can enjoy the terrain at least at Les Grands Montets up until 1st May each year. Here are the closing dates for spring skiing in Chamonix Mont Blanc 2018 (2019 may differ depending on snowfall):
Les Houches: 9/12/17 – 15/04/18
Le Tour: 9/12/17 – 15/04/18
Brevent/Flegere: 9/12/17 – 22/04/18
Grands Montets: 0/12/17 – 1/05/18
Aiguille du Midi: open all year with the exception of Autumn (closed 5/12/18 – 12/12/18)
Special Events
Chamonix is known as the birthplace of modern ski mountaineering, but now it's become an iconic gathering spot of a different kind too… the kind that likes long luxury lunches and, of course, to party! April is an exciting month in Chamonix, starting with Easter you get to enjoy all the local pastries and chocolate delicacies. Then, there are two large-scale music events:
Chamonix Unlimited Festival: 4th-8th April 2018
"Five days of music and skiing. It's magic here in Chamonix."
– DJ and big-mountain skier Jose Lagarellos
Musilac Mont Blanc: 19th, 20th & 21st April
"Mobilize all the foreign communities of the valley around a strong ambition: that of becoming the closing destination of the ski season in the Alps."
– Director of the Tourism Office of Chamonix Nicolas Durochat
You can read more about the April 2018 events here.
Meanwhile, the cherry on top at the very end of the season is the famed "Freeride Day" at Grands Montets which is as amazing as it is accessible with the entire terrain of Grands Montets (right up to the top lift to 3297m) all yours for just 13€. At this end of season bash there are always fun and games with a special fancy dress theme to stick to, this year it's cult French films "Les Bronzes":
Longer days for skiing in Chamonix
Whether you're a Bridget Jones-type skier trying to find your mojo or a regular Travis Rice on your plank of wood, longer days mean more chance of sunshine! Sunshine is well known to lighten up everyone's day (literally!), with its healthy dose of vitamin D boasting a backdrop of blue skies across the Mont Blanc range, you can't help but stay up the mountain all day in Chamonix. All-day skiing will vastly improve your skills and technique faster and give you better value for money on your ski pass.
Fewer crowds
Chamonix lies at the foot of the most famous European mountain massif. Fame means crowds, but spring is the perfect time to avoid them. Most local crowds prefer to ski the mornings when temperatures are lower. This can be a good argument for fresher snow, however, if what you love is free reign of a quiet piste then an afternoon spring session in Chamonix is for you.
Even better you can work on your tan skiing in no more than a t-shirt and your ski pants as sunny afternoon temperatures can rise toward 20ºC. Make sure you stay hydrated and wear sunscreen.
Aiguille du Midi and The Void
Even if you are not heading up the Aiguille du Midi to step into your skis or board…you can "Step into the Void"! On a rest day from your spring skiing adventures, a must-do activity in Chamonix is to visit the Aiguille du Midi station at 3842m altitude.
Not for the faint of heart… Europe's highest cable car takes you to unprecedented heights with access to several panoramic terraces and a museum about the history of Mont Blanc.
From the look-out platforms, you can take in the lofty peaks of France, Italy and Switzerland all at once. To add even more to the thrill of the experience you can "Step into the Void"; a box of three glass walls, glass floor and glass ceiling. These glass perimeters form a cube that hangs outside the building itself and guarantees a spectacular experience with 1000m of free-fall directly beneath your feet.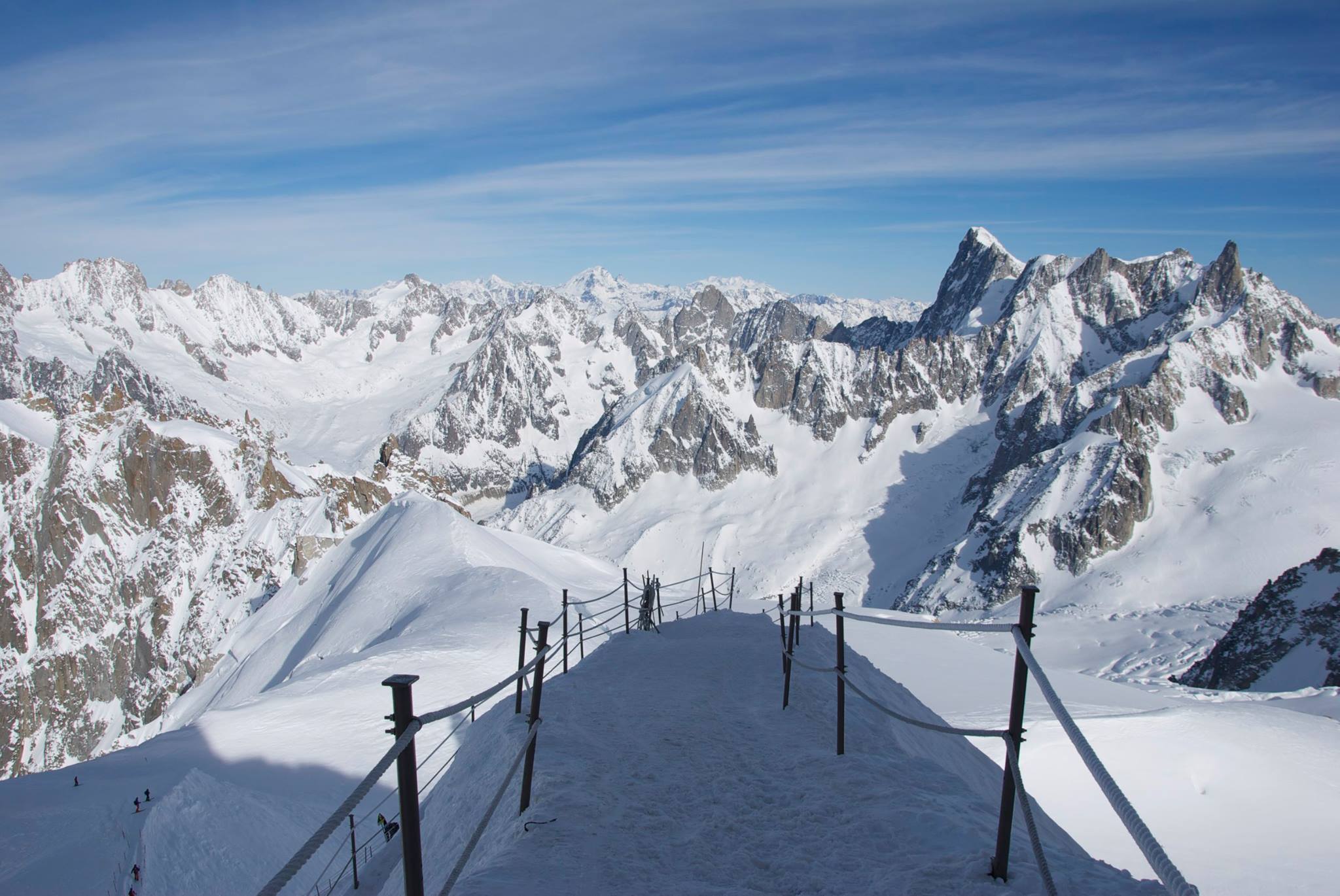 The top of the Aiguille du Midi is also the starting point for the Vallée Blanche – perhaps the most famous route for off-piste skiing in Chamonix. Late in the ski season is a great time to head up and ski this incredible run, with its views of the Mont Blanc massif from every angle.
Location! Location! Destination!
All in all, you can't beat the views surrounding Chamonix, the access to skiing for all levels, even its proximity to Italy and Switzerland. With an abundance of spring activities here to accompany your days on the pistes, including of course your obligatory trip to altitude at the Aiguille du Midi, a step into spring in Chamonix Mont Blanc is leaps and bounds ahead of what other French resorts can offer as a late season destination…