We've already explored the reasons why spring skiing is so popular in Chamonix – from cheaper lift passes to longer days. Next up is what you'll need to bring with you to make the most of it. Read on for some top tips on adjusting your kit for the change of seasons and as well as some other insider knowledge to help you enjoy the Chamonix spring skiing.
Clothing
Whilst your trusty ski gear will generally work whether you come on a ski holiday in January or April, there are a few tweaks you should consider to keep comfortable when the temperatures rise in the spring.
You might end up shedding some of your layers, but remember that sunny skies mean softer snow, and snow is just water after all. Make sure that your outer layers are waterproof so you don't get wet – and cold!
Base layers: a good base layer will still keep you warm if temperatures drop, but is breathable enough to make sure you don't get too hot in the sunshine. Merino wool is the perfect material for this.
Mid-layer(s): depending on how much you feel the cold, you may still want to wear a fleece or warm mid-layer, or at least to pack one in your backpack.
Outer layer: keep cool by wearing a ski jacket with underarm vents, or swap your ski jacket for a waterproof shell.
Trousers/ski pants: similarly, you might get away with lighter weight protection for Chamonix spring skiing, but they should still be waterproof. Or just make sure that your regular ski trousers have vents to allow for cooling.
Top tip: put your lift pass in your trouser pocket if you're going to be changing jackets, so you're not caught out without it at the lifts!
Don't be a hot head, and don't be tempted to discard your head protection – stay safe and cool with a vented helmet.
Avoid awkward moments and sweaty palms with some lighter gloves – but make sure they're still waterproof.
Sun protection
The sun's strength can be misleading at altitude, and even on days when it doesn't feel hot, UV radiation exposure increases. (UV radiation exposure increases 4 to 5 percent with every 300m above sea level). Furthermore, the snow also reflects the sun's rays back onto your skin and can cause snow blindness, so sun protection is essential.
Skin protection
First things first: don't go out skiing without lathering up with suncream. Take a tube with you so you can keep applying throughout the day (it's best to do this every 2 hours when you're exercising vigorously). There's nothing worse than getting red-faced and sweaty at après-ski, then going back to your accommodation and realising that it's actually sunburn from your bluebird day on the mountain.
While you're at it, make sure that you also protect the delicate skin on your lips, either with your sunscreen or with a specific SPF lip balm.
Eye protection
As mentioned above, the sun can also affect your eyes. In the colder winter months, you'd think nothing of wearing your goggles over your helmet to help with visibility, happy in the knowledge too that good quality ski goggles are also protecting your eyes from the UV rays. By the time spring rolls around though, you might well have decided it's too warm for ski goggles. If you do discard them, make sure you replace them with sunglasses that have adequate UV protection. Ideally, they should have large lenses and wrap around your face to ensure maximum protection for your vision.
Top tip: make sure your goggles are anti-fog, to combat the warmer weather when they'd otherwise steam up!
Remember, even if you have an overcast day of spring skiing in Chamonix, make sure you wear ski goggles or sunglasses, as UV rays can penetrate cloud cover. The same goes for suncream too!
In your backpack
A backpack/rucksack is an essential part of your ski gear at any time of year. There are a couple of things to bear in mind if you're prepping for Chamonix's spring skiing, and what to pack in your backpack.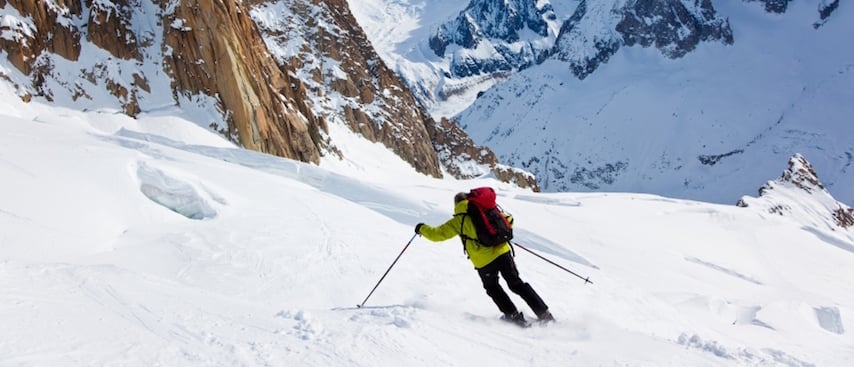 Spring offers the perfect weather for a picnic. It's warm enough to kick off your skis on the side of the slopes and enjoy a packed lunch in the sunshine, which is also a great way to save money too. Pick up a sandwich from one of our favourite bakeries and throw it in your backpack to keep you going all day.
Make sure your backpack is big enough for that mid-layer which you might want to discard in the middle of the day.
The sun is going to be warm, and if you haven't got your combination of clothing layers just right, you might get hot and sweaty throughout the day. Make sure you take a reusable water bottle so you keep hydrated and protect the mountains at the same time.
Chamonix spring skiing — just add music!
Chamonix's music scene really comes into its own once spring gets underway.

Chamonix Unlimited Festival, 4th-8th April –  ski, party, repeat is the motto of this techno/electro festival. Concerts take place up the mountain and in town, and there are also daily gear demos where you can try out next season's new ski kit.
Musilac Mont Blanc, 19th-21st April – the renowned pop-rock festival uproots from its summer location on the lake of Aix-Les-Bains and makes its way to Chamonix. Spring 2018 marks the debut of Musilac Mont Blanc, offering the perfect opportunity to rock and ride in the April sunshine. Check out our special Musilac festival packages.
Freeride Day marks the end of the ski season in Chamonix, which this year falls on 1st May. Enjoy the piste-side music, food and flowing drinks, and line up for your go on the water-skiing pool! There's usually a special offer on lift passes for this last day of the ski season.
Find out more
Don't miss our Chamonix weather guide for more info on what to expect in each of Chamonix's four seasons.