Chamonix is one of the world's most famous ski destinations and you will never fail to be amazed by the après ski atmosphere in resort, thanks to the best après ski bars in Chamonix! Many venues will have a real party atmosphere with live music or DJs to accompany your drinking and eating from as early as the middle of the afternoon.
It doesn't matter if you're with friends or family, as you're sure to find an après ski bar to suit everyone in your group. Our guide will help you choose the perfect place to start your evening, whether you're still in your ski gear or already dressed up for a night out on the town.
In addition to our top tips below, don't miss the cafés-cum-bars on the pistes of Chamonix's ski areas, where you can enjoy a beer or a hot drink before heading down the mountain and continuing your evening in town once the lifts have closed.
Our non-exhaustive list covers some of the best après ski bars in Chamonix valley for you to choose from during your holiday, all along the river Arve from Argentière to Les Houches, depending on the location of your Chamonix accommodation.
Best Après Ski Bars in Chamonix town centre
Chambre Neuf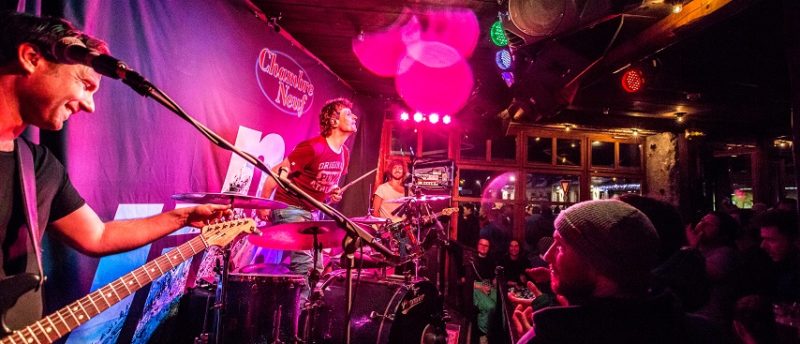 Top of the list of Best Après Ski Bars in Chamonix has to be Chambre Neuf, THE Scandinavian destination for Chamonix après. This hotel bar, just opposite the train station, is open every day from 12pm till late, and plays host to the best and most famous après ski band in Chamonix 6 nights a week (Sunday-Friday). A great atmosphere and dancing on the tables guaranteed! Get stuck in for some good beer, great music and a party mood such as you've never seen before, and all before you've changed out of your salopettes.
272 Avenue Michel Croz, Chamonix | +33 (0) 4 50 53 00 31
Elévation 1904
Also opposite Chamonix's train station, Elevation 1904 is the meeting point for Chamonix's locals and guides alike, which makes it the perfect place to enjoy a drink after a gnarly day on the slopes. Leave your skis at the door and enjoy live music or a DJ while you savour your beer, settling in to the warm timbered interior or admiring the views from the terrace. You can also sample one of the homemade burgers! Open 7 days a week.
259 Avenue Michel Croz, Chamonix | +33 (0) 4 50 53 00 52
MBC (Micro Brasserie de Chamonix)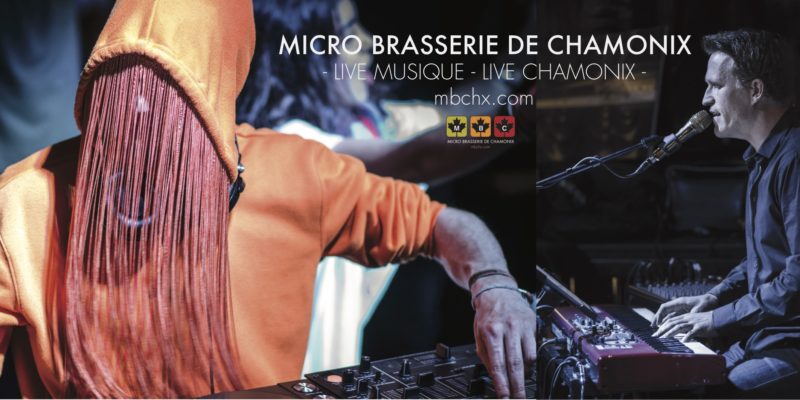 Facing the skating rink, MBC is our local micro-brewery. You'll feel right at home thanks to the chirpy staff, warm atmosphere and eclectic Canadian decor. There is a great range of beers to try and from the old favourites to the beer of the month, there's certain to be something to suit your taste buds. Plus the menu has a selection of bar nibbles to share – enough for everyone! All of this conviviality set to the tune of the latest live band or the staff's epic playlists, and often against a backdrop of their big screens which show the latest free ride sensations or Canadian hockey matches. You won't want to leave – no one else in Chamonix does as this is another of the best après ski bars in Chamonix, so make sure you book your table ahead. Guaranteed ambiance from 4pm each day.
350 Route du Bouchet, Chamonix (towards les Praz) | +33 (0) 4 50 53 61 59
Chamonix Social Club
Chamonix Social Club is a must-visit on your trip to Chamonix, and the perfect place to savour a spritz or mojito in a funky, disco setting. It's the ideal bar-cum-lounge for an elegant après ski venue, offering a wide selection of cocktails, liqueurs and fruit juices, all prepared by a friendly team of pros in a modern decor. Their in-house DJ plays all the best tunes to keep you dancing all night long, and they also invite other renowned DJs to introduce you to their own great music. Chamonix Social Club is THE place to enjoy a really classy night out in Chamonix. Open every day from 5pm till 2am!
90 Rue des Moulins, Chamonix | +33 (0) 6 72 11 96 19
La Terrasse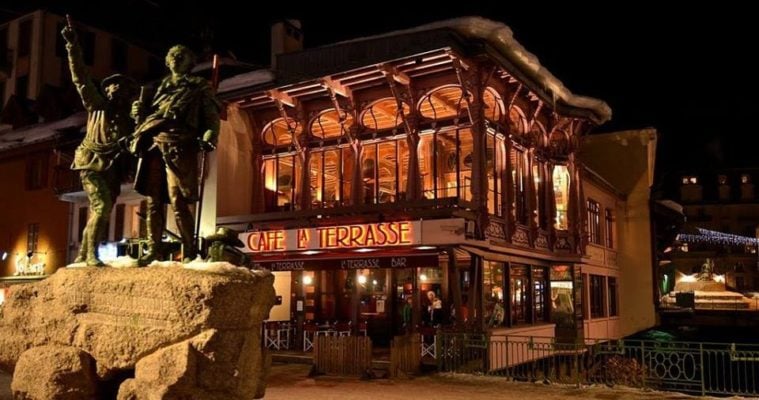 La Terrasse's famously pink Art Deco façade is nestled in the heart of Chamonix town centre. Their eponymous terrace has an unbeatable view of Mont Blanc, which you can enjoy as the river runs by, and there's always some live music on to get the party started as the friendly team serve up the beers. Open every day.
43 Place Balmat, Chamonix Centre | +33 (0) 4 50 53 09 95
Monkey
Monkey Bar is located in Place Edmond Desailloud in the heart of Chamonix Sud, and there are cocktails of every type on the menu, plus unrivalled happy hours between 4 and 6pm. There's also live music, a street-food inspired menu and even a ping-pong table with a view of Mont Blanc, so what are you waiting for?!
81 Place Edmond Desailloud, Chamonix Sud | +33 (0) 4 50 96 64 34
Après ski from Flegere ski area & in Les Praz
Le Castel
2km from Chamonix and only steps from the Flegere cable car in the centre of Les Praz, le Castel is the perfect location for having a drink and a snack after a day hammering the pistes of Flegere's ski area. Its sunny terrace has panoramic views of Mont Blanc, and is nestled next to the picturesque chapel of Les Praz, all of which makes this an idyllic setting in which to enjoy the refined atmosphere. There are regular live concerts and a warm ambiance is guaranteed all year round.
100 Route des Tines, Les Praz de Chamonix | +33 (0) 4 50 21 12 12
After a day at Les Grands Montets, in Argentière
La Yaute café
This café at the entrance to Argentière, not far from Les Grands Montets ski area, has a cosy lounge, pool table and dining room (serving Tex Mex-inspired food), plus a bar with low and high tables and an outdoor patio, for an authentic Chamonix feel and a warm welcome. With all these different zones, everyone will find a corner to suit them where they can cosy up among the wooden decor. The warmth is emphasised by the live blues and jazz music, and by the quiz nights on Thursdays, Fridays and Saturdays. Open from mid-December to end April, from 4pm to 2am. Closed on Mondays.
2100 Route d'Argentière, Chamonix, heading towards Argentière | +33 (0) 4 50 18 60 88
Le Slalom Bar
In the heart of Argentière on the main street, this little bar has a lively atmosphere, just a short walk from the bottom of Les Grands Montets. Come and enjoy their live music evenings, DJs, fun après ski, cocktails and beers, not to mention the rum and the local specialities. The team at Slalom Bar will make sure you have a good time all year round.
266 Rue Charlet Straton, Argentière (Chamonix) | +33 (0) 4 50 54 91 67
The Office Bar
On the same square as the Tourist Office in Argentière is the Office Bar, if you're craving an anglophone watering hole! It's well-known for its live music and lively après ski atmosphere, as well as its beers on tap and sunny terrace. The chef can also whip you up delicious homemade burgers, steaks, BBQ ribs and more.
274 Rue Charlet Straton, Argentière (Chamonix) | +33 (0) 4 50 54 15 46
Après ski in Les Houches
The village of Les Houches has a more family-oriented ambiance than Chamonix, and can feel quieter in the evenings, but there are still some of the best après ski bars in Chamonix valley located here, where you can enjoy the end of the day once you've made your way down the slopes of Les Houches.
Kitsch Inn

Open every day from 9am to 1am, this bar-restaurant is conveniently located at the bottom of the Bellevue cable car for direct access at the end of your ski day. Its retro decor and lively family-friendly feel guarantee that you won't be disappointed, and they often have live music entertainment too.
77 Place de la Fruitière, Les Houches | +33 (0) 4 50 34 41 74
Le Spot
Opposite the Bellevue cable car, just on the other side of the road from the Kitsch Inn, is the Spot which has a great range of Belgian beers and a musical atmosphere for a fun après ski.
66 Place de la Fruitière, Les Houches | +33 (0) 4 50 54 46 76
And also in Les Houches, don't miss the new RockyPop – we haven't had the chance to try it yet so tell us what you think!
1476 Avenue des Alpages, Les Houches | +33 (0) 4 85 30 00 00
Reasons we love après ski
You don't have to get dressed up to have a good time. In fact, it's better if you're still in your ski gear. Bonus points if you're still in your ski boots (no points for snowboard boots which are basically slippers!). Which brings us to…
Bad dancing is positively encouraged. There are only so many moves you can throw if you're wearing ski boots, so no one will judge you for your dodgy dancing.
Shots. And shot skis. 'Nuff said.
Drinking buddies from all over the world. Chamonix's Scandi population generally home in on Chambre Neuf, so before you know it you'll be linking arms with your new found friends from Northern Europe. All of the best après ski bars in Chamonix foster this kind of convivial atmosphere too, so you're bound to share an international drink at some point during your stay!
What are your Best Après Ski Bars in Chamonix?
Every area of the Chamonix valley has its own atmosphere and bars, so we hope this guide will help you pick the best ones for you – why not try a different one each day of the week and let us know your favourites? And if you find a great one that isn't featured on the list, let us know and we'll 'sacrifice' one of our evenings to go and try it out…
We hope your holiday in Chamonix will leave you with unforgettable memories, including of the après ski which we're sure you'll want to return time and again for!
Read our other articles on nightlife and eating out, including gourmet restaurant recommendations and best bars serving food.