Spring in Chamonix is arguably one of the best periods for skiing in the winter season. The peak weeks of Christmas, New Year and February school holidays have long passed, so the slopes will be less crowded, but that's not the only advantage – there are at least 6 more reasons why spring skiing is not to be missed.
Keep reading to find out why spring skiing in Chamonix should definitely be on your radar for your next ski holiday. Maybe we'll convince skiing snobs who've always prefered the crisp days of January to try out Chamonix in the spring next year!
1. Spring skiing Chamonix weather
While there's no denying the quality of the snow in January is kept in tip top condition by the cold weather, you'd have to be a sucker for punishment not to prefer the blue skies and sunshine which you can experience in March, April and even into May. Get up early to enjoy the snow at its best, and then enjoy a late lunch when the mountain restaurants are quieter – you'll be able to get a prime table on the terrace and catch some rays too. What's not to like?
All that sunshine means that you will definitely need to pack some suncream to take in your backpack on the mountain. Keep applying it regularly to make sure that you come back from your holiday with a healthy – not radioactive – glow! You want your colleagues turning green with envy at your goggle tan, rather than laughing at your red skin.
And the warmer weather really doesn't mean terrible snow conditions. As an idea, average snow depths in April historically remain over 350cm on the top slopes, with 20cm+ remaining on the lower slopes, where there are also snow cannons if the levels need topping up.
Getting around town however is usually a lot easier come spring, as most of the snow will have melted, flowers start to sprout around the valley, and people wandering around Chamonix will start looking distinctly summery!
Find out more about the weather throughout the different seasons in our annual Chamonix weather guide.
2. Longer days
As well as more sunshine, the days start getting longer too as we move to our Chamonix spring skiing season. We love the extended lift opening times, but if you think the afternoon snow is too slushy then there's nothing to stop you lapping up the extra rays outside one of the après ski bars in town. Get the best spot for when the musical après entertainment starts later on and before you know it, it'll be time to sample a bite to eat in the town centre, or head back to your accommodation to relax for the rest of the evening.
3. Brilliant spring skiing Chamonix events
Chamonix Unlimited Festival has had several guises over the years. It's back this winter from 5th-9th April, giving you the chance to enjoy some of the finest in electro music in the ski areas of Brevent and Grands Montets, and then carry on the party in town in the evening.
Their motto is "Ski. Party. Repeat." and it's very appropriate! Find out more on their website.
A few weeks later, the first Sunday in May marks the end of Chamonix's official ski season, and while die harders will keep seeking the powder ever higher and further off the beaten track, most will hang up their ski boots until next winter. Before that though, Grands Montets hosts the end of season party – the Freeride Day.
There's usually piste-side music, courtesy of a DJ below the Herse chairlift, as well as a BBQ, tartiflette and flowing drinks – plus a water skiing pool! Lift passes are also usually discounted for this last day of the season. For more information, go to www.montblancnaturalresort.com or enjoy a taste of the festivities in this video above from the 50th birthday celebrations a few years ago.
4. Ski pass deals on spring skiing
As well as the reduced price day passes on the last day of the season (see above), spring skiing Chamonix lift passes are usually discounted for the last 3 weeks in April until the lifts close on the first Sunday in May, meaning you get even better value for money.
In this later part of the season, the Mont Blanc Unlimited ski pass is reduced in price by 20%, but still gives you all the same access across 3 countries – France, Italy and Switzerland.
The glorious sunshine and longer days will also help you make the most of the free unlimited access that you get to Chamonix's public swimming pool, thanks to your spring skiing Chamonix MBU ski pass.
If you can't wait until then to enjoy some spring skiing in Chamonix, you can still get savings on your lift passes throughout the winter. Book more than three days before you arrive, and get one day free!
Book discounted ski passes now »
5. Vallée Blanche
The Vallée Blanche is the ultimate Chamonix skiing experience, but its 'ski-ability' depends on snow cover, and so March and April are generally better options for getting up there than January.
The benefits of spring skiing are enhanced even further when you combine them with this spectacular ski run – the sunshine will show the breathtaking views at their best, and you'll be glad of the warmer weather when you step out of the Aiguille du Midi, although 'warm' is relative at 3,842m!
Less experienced skiers elsewhere on the mountain will find the snow conditions more forgiving too in spring, the snow is 'softer' and you'll feel happier about regrouping with your classmates in group lessons when you aren't desperately trying to keep warm.
Book a ski lessons or a guide for the Vallée Blanche »
6. Spring skiing Chamonix atmosphere
All that sunshine and skiing never fails to put a smile on everyone's face, and once we get into the season of spring skiing, there is always an intangible positive vibe around Chamonix.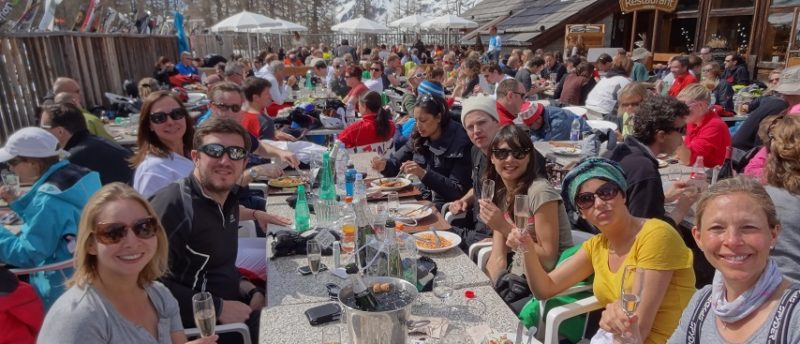 The warmer weather also brings out more silly ski costumes to enjoy wearing – or spotting – on the slopes, as you don't have to worry about fitting all your layers of thermals underneath that retro onesie.
So make your next trip to Chamonix…
… a spring skiing Chamonix holiday! Enquire now and our dedicated team will advise on the best accommodation to suit your needs, as well as helping with ski hire, lift passes and more.