All in all, you can't beat Fall!
Suddenly as interseason in Chamonix arrives, the valley walls are painted with the stroke of a dusty orange ombré. Amber hues fill the horizon as frost and snow returns to the mountain caps above. A warm fuzzy scarf is calling your name… and so is Chamonix All Year!
As the school holidays approach at the end of October, it's time to give autumn the attention it deserves… and it does deserve it! French schools get two weeks off at the end of October / start of November, called the Toussaint holidays, and UK October half term usually coincides with the first week of that period.
Families often relegate this holiday period as the boring, calm one ahead of Christmas, but it doesn't have to be that way… In Chamonix, not only can you have a break full of exhilaration, you can save money with our accommodation offers, miss crowds and make new family traditions as you fall in love with autumn under Mont Blanc.
Getting altitude
Chamonix Mont Blanc is of course home to the mighty Mont Blanc massif and being here in its shadow inspires adventure and pushes us to new heights. During the autumn interseason in Chamonix, the following cable cars will have opening hours in Chamonix:
La Flégère: last week of October / first week of November (to coincide with the Toussaint French school holidays)

2019 update – the new Flégère lift is under construction so will not be open this year in October.

Aiguille du Midi: normal operation continues through to the end of the Toussaint holidays (including 'Step into the Void' experience). The lift will close on the first Sunday of November, and reopen on the Saturday before Christmas.
NOTE that in 2018 the top section of Aiguille du Midi is closed, but your Multipass includes access to the Skyway Monte Bianco instead.
Montenvers train: usually closed in October, reopening when the Aiguille du Midi closes at the start of November (though gondola and ice cave may remain closed)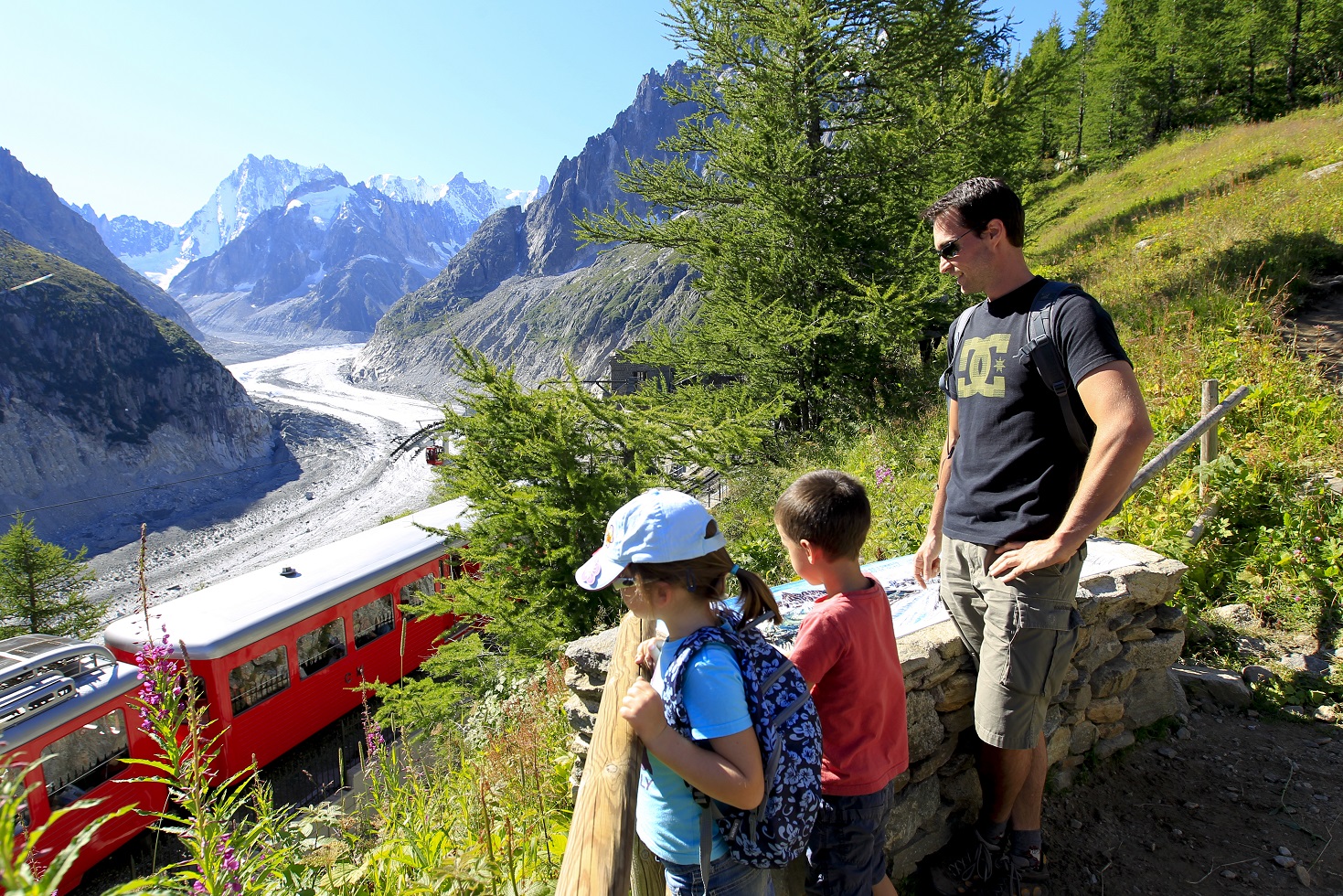 'Autumn' luge
Better known to our guests as the Summer Luge and Winter Luge on rails, this Alpine Coaster also has limited opening hours during the interseason in Chamonix. In October, the luge at the Parc des Loisirs opens every Wednesday and at weekends until the Toussaint holidays. During school holidays, the luge is open daily ahead of its annual closing period once the holidays are over. Opening hours are usually in the afternoons, from 1:30 pm to 5:30 pm.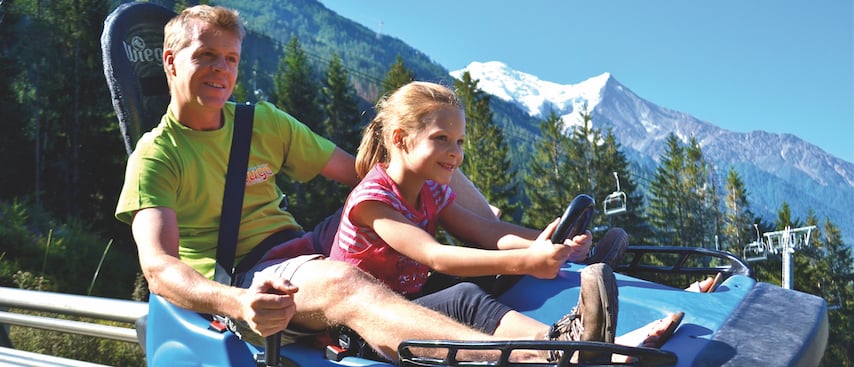 Amazing views & photography
Many (but not all) of our most highly recommended spots for photography are accessible during this period. Not only that, you won't have annoying strangers wandering into your Instagram-perfect snaps. With the cooler temperatures come the serenity of being some of the only hikers on the trails. You are also likely to encounter more wildlife in Chamonix during this calmer season (when they are not frightened away by human interference). Keep your eyes peeled for mountain goats and even foxes!
LOCAL TIP: We can arrange a guided walk with an experienced local; Theresa Kaufman. She's an American who has called Chamonix home for many years. She'll take you beyond the classic viewpoints and knows the valley like the back of her hand. She has secret intel on spots that you can't find without her expert knowledge!
Hiking in interseason in Chamonix
For hikers, as the first snow makes access difficult for higher altitude terrain, you can take on lower altitude hikes such as a meander along the Arve river, or through the Bois du Bouchet as described in our recommended hikes for families. Your forest hikes will be easy on the knees as a growing bed of ageing leaves blanket the forest floor. However, this mixture of mud and leaves can make the routes difficult if you are pushing a pram; try hikes in the crisp early morning when the ground is hard from overnight frosts to get those wheels turning. The changing colours and quiet trails make for more amazing photo opportunities.
LOCAL TIP: You can find out the latest trail conditions and access by asking for advice at the Maison de la Montagne, opposite the Tourist Office in the Chamonix town centre.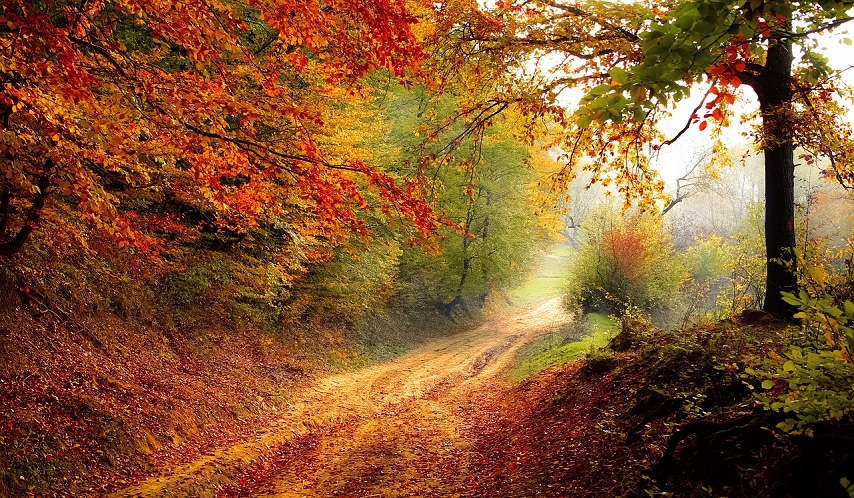 Via Ferrata
With the operation of Flegere lifts during the October school holidays, you will be able to book in a Via Ferrata excursion through the Chamonix All Year Resort Shop in the last two weeks of October. As described in our complete guide to Via Ferrata in Chamonix, the route at La Flegere named Via des Evettes features a spectacular Himalayan-style suspension bridge.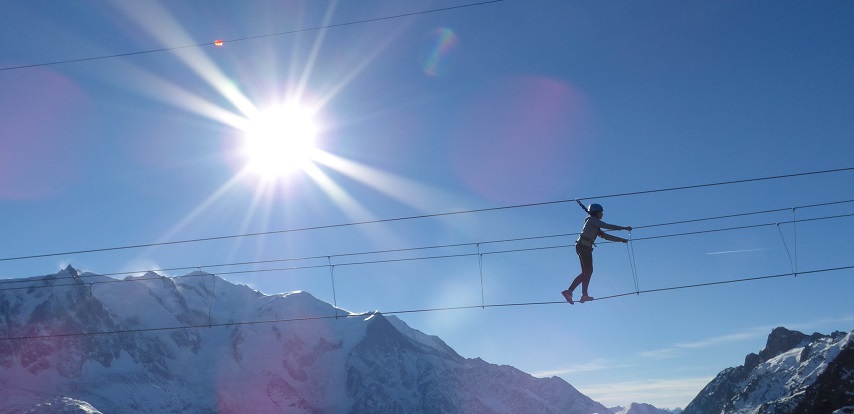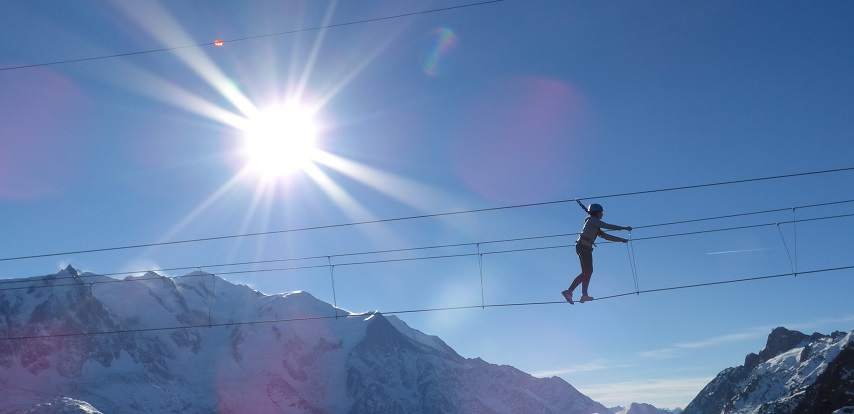 You can also take on the Via Ferrata in Passy and St. Gervais without the use of a lift system. However with many guides on holiday during interseason in Chamonix, book well in advance to secure a guided 'escapade d'escalade'!
Indoor climbing
Get warmed up for taking on Via Ferrata, in the warmth of one of Chamonix's indoor climbing facilities. Whether you're into bouldering or sport climbing there's something for every taste and every level. Mont Blanc Escalade in Les Houches is the perfect spot to escape any wet weather, open year round from 2pm to 10pm during the week, and even longer on weekends. Read our blog about indoor climbing in Chamonix for more info, for you and the next Adam Ondra.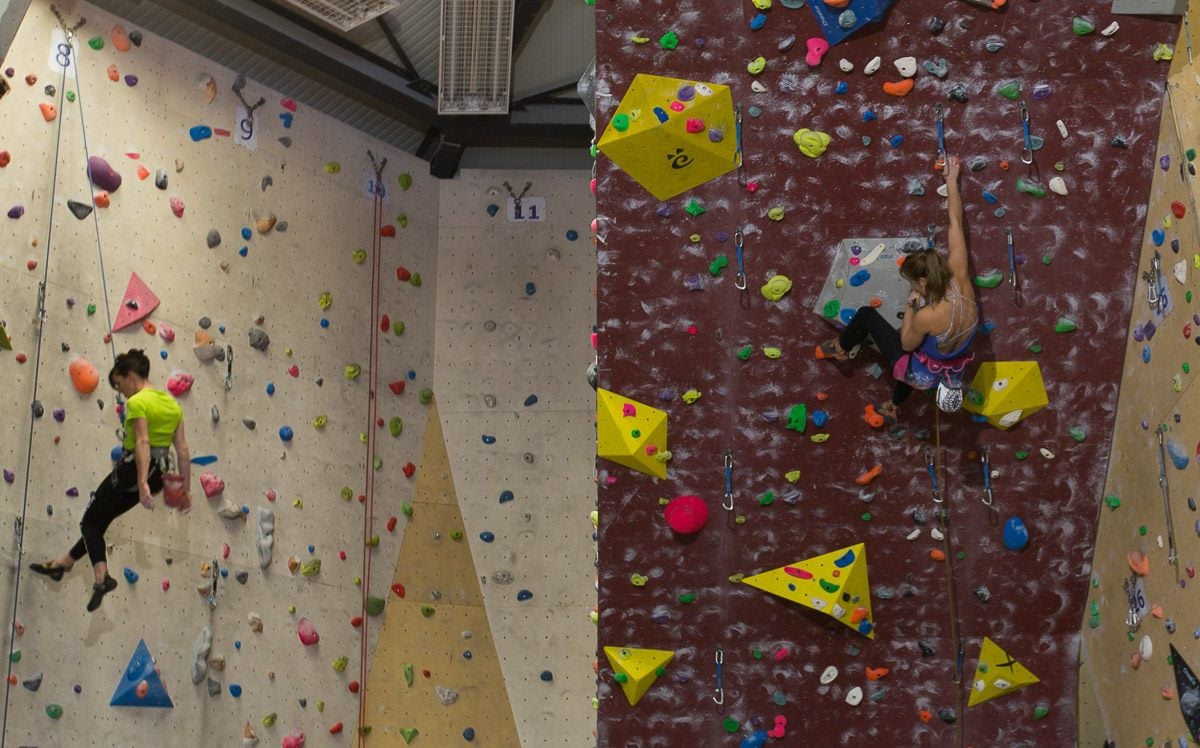 Adventure tree park
If you've got the climbing bug after trying the Via Ferrata and the indoor climbing wall, then head to the adventure tree park for a treetop rope and obstacle course. The Accro'park closes at the end of the summer, but reopens on selected days during the October Toussaint holidays. Check out their Facebook page for the up-to-date opening days – usually weekend afternoons and a couple of afternoons during the week.
Spa day
After a long summer, ahead of a harsh winter, autumn is the perfect time of year to treat yourself to a spa day. In Chamonix Mont Blanc we recommend the QC Terme spa that opened in 2018 next to the Richard Bozon sport centre. The spa is immense with over 30 soins (treatments). It offers a multi-sensory journey that includes an infinity pool whose reflection, according to their website, "merges with the water of the adjacent alpine lake". We recommend the Wellness Lunch for 22€ from midday to 3pm, where not only can you enjoy the facilities but a delicious buffet spread. There is also an evening apéritif offered with your entrance fee from 6.30 to 8.30pm.
LOCAL TIP: If you have settled on tackling the Via Ferrata of St.Gervais (new in the summer of 2018) why not dip into Les Thermes St. Gervais Mont Blanc? The first starting point for the entire Via Ferrata course is located at the same site as the spa.
Bad weather activities
At this time of year we can't expect clear skies every day, but for those days when you'd rather be indoors Chamonix All Year has you covered in our all-encompassing blog with "Top Tips for Chamonix Bad Weather Activities" including:
Museums & galleries
Cinema
Sports centre & ice skating
Bowling
Casino
Shopping
Chamonix library
& stay at home massages
Dates for your diary: interseason in Chamonix
Now that you've fallen in for these autumn activities you can incorporate some of the following festivals and dates into your interseason in Chamonix holiday….
Local traditional festival: Le Foire Froid
In nearby Sallanches on the 3rd or 4th weekend of October, celebrate beautiful cows and the traditional meal – tripe! Cows take pride of place in the city centre with artisanal and agricultural markets. Meanwhile, local restaurants offer of the traditional speciality of rich tripe and porc cheek dishes.
LOCAL TIP: The restaurant 'Cafe des Amis' in Sallanches will be running all day services but only for those who reserve a table ahead of time. We know Martine and Didier well and recommend you call in advance to experience the best authentic local French cuisine.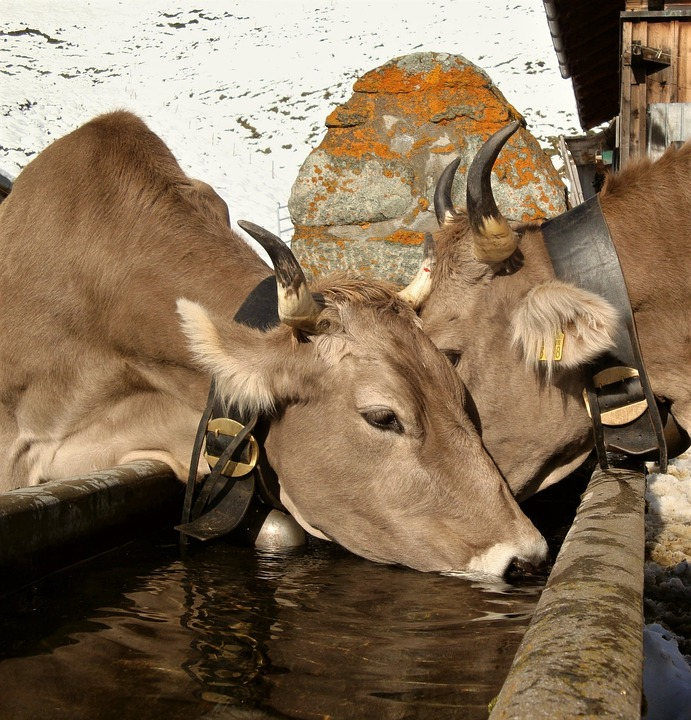 All Saints' Day
All Saints' Day is a Catholic festival, celebrated on 1st November, during which the Latin Catholic Church honours all saints, known and unknown. The French translation is literally 'All' (tous) + 'Saint', and gives its name to the school holiday period, Toussaint.
This is a bank holiday in France which means some major services, such as doctors office or banks, and shopping outlets, such as supermarkets and clothing stores, may be closed and children will not be required to go to school.
All Souls' Day & Mexican Day of the Dead
All Souls' Day is a day when Christians remember and pray for the dead, especially family members, falling on 2nd November. In Mexican culture, the period of 31st October-2nd November also sees traditional celebrations of the Day of the Dead (Dia de Muertos) when they likewise pay tribute to friends and family who've died.
LOCAL TIP: For the best Mexican menu in Chamonix head to Monkey Bar in Chamonix Sud.
Armistice Day
11th November is also a bank holiday in France in honour of Armistice Day, commemorating the ceasefire between the Allies of World War I and Germany. As it was signed at Compiègne, France, this is a big day in history for France when hostilities and bloodshed on the famous Western Front of World War I finally came to an end. The armistice took effect at eleven o'clock in the morning—the "eleventh hour of the eleventh day of the eleventh month" of 1918.
LOCAL TIP: Join the remembrance service in Place du Poilu and tune into some of the ceremonies LIVE on French television.
Thanksgiving
This national holiday for Americans has been celebrated on the fourth Thursday of November since 1941; it is also honoured in Canada on the second Monday of October. At Thanksgiving, Americans and Canadians thank God for a family meal and for the happiness received. (Secular families also take part in the tradition and practice gratitude for what they have in general, sharing a meal with their extended family.) It's not, however, a happy occasion for the turkey population, as 45 million turkeys are consumed annually in the month of November. On the eve of Thanksgiving Day in the United States, two (and not one) turkeys are pardoned by the President. The custom was initiated by President Kennedy in 1963, but it was George Bush who turned it into an annual ceremony at the White House in 1989.
LOCAL TIP: American-owned Bighorn Bistro in Chamonix Sud usually put on a special turkey menu for their Chamonix family, that's you too!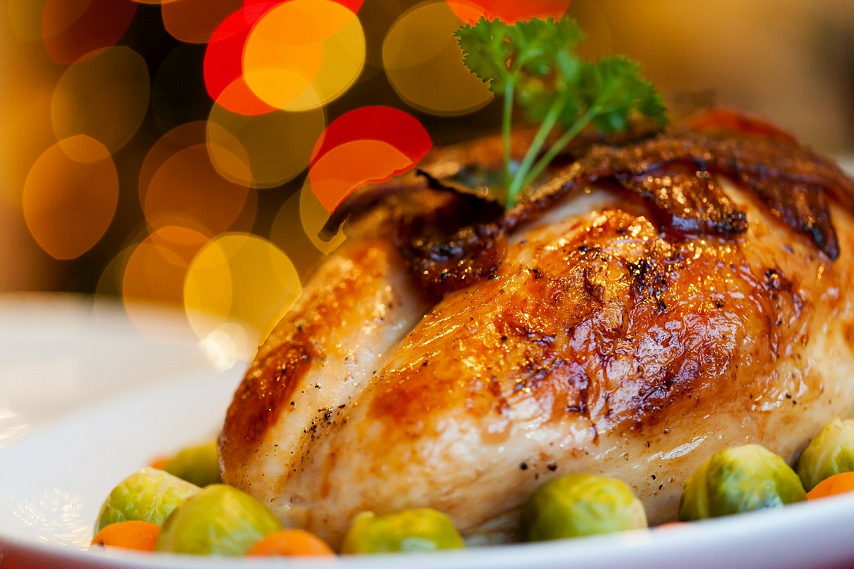 Advent
Advent means 'coming' or 'arrival' and begins on the fourth Sunday before Christmas, which also marks the beginning of the liturgical year for Western Churches…
At church, the ceremony usually involves a lot of candles and can be a beautiful procession to witness at one of the many local churches or chapels of Chamonix.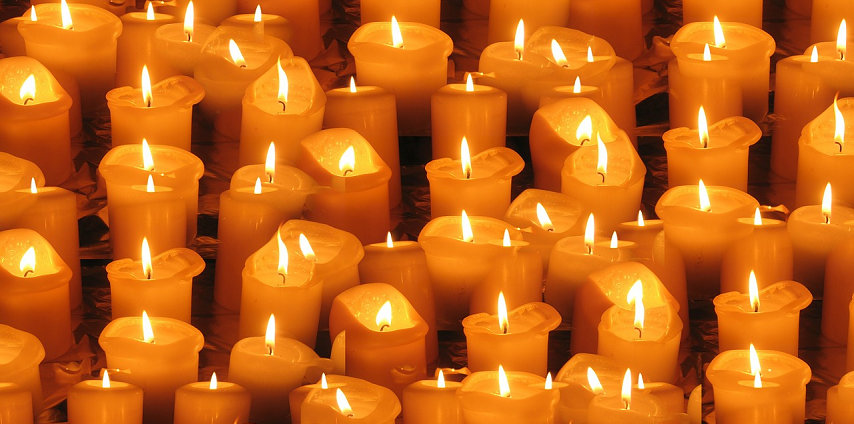 So… all in all, you can't beat fall!
When the leaves start to change, so too do Chamonix All Year accommodation prices. Not everyone is in the know about the benefits of visiting for interseason in Chamonix, which means that prices for accommodation are lower than at other times of year!
This time of year can be the perfect opportunity to holiday in a luxury destination on a budget price. If you're looking for a Chamonix holiday with (almost) all the trimmings this Toussaint or Thanksgiving, get in touch with our sales team. Start a "Live Chat" with us now in the corner of your screen and we'll respond immediately during office hours, or the following day when we get your message.
In the meantime, you can browse our special offers and see our luxury 5* properties. Don't miss our Chamonix weather guide to find out what to expect during interseason in Chamonix.