There's a smorgasbord of options out there to choose from when you're booking your Chamonix holiday, and it is difficult to know who to book with for maximum peace of mind. Therefore, at Chamonix All Year, we do everything we can to reassure new guests that they are in good hands.
So, why should you book with us?
We've been Chamonix experts for 20 years

In 2023, we're celebrating our 20th anniversary. It's always been in our DNA to do everything we can to help our guests get the most out of their holidays, and we still love sharing Chamonix with you all 20 years later.
Our website is a mine of information about Chamonix – we often get mistaken for the tourist office website and lots of Chamonix locals also use it as a reference! Check out our summer blog and winter blog posts, as well as our Chamonix Guide which covers all the local tourist attractions, travel to/from and within Chamonix, and other general info.
With our years of expertise, we've written about some key topics – our most popular articles are essential reading when you're planning a Chamonix holiday:
In addition to all our online content, we also have a dedicated Reservations Team who will be in touch from the time you book all the way through to your departure with a personal touch. They're on hand for any questions that you have before or during your holiday with us.
All of this is why in 2023, we're putting a new motto front and centre, to take us into the next 20 years – all service, all smiles, all holiday!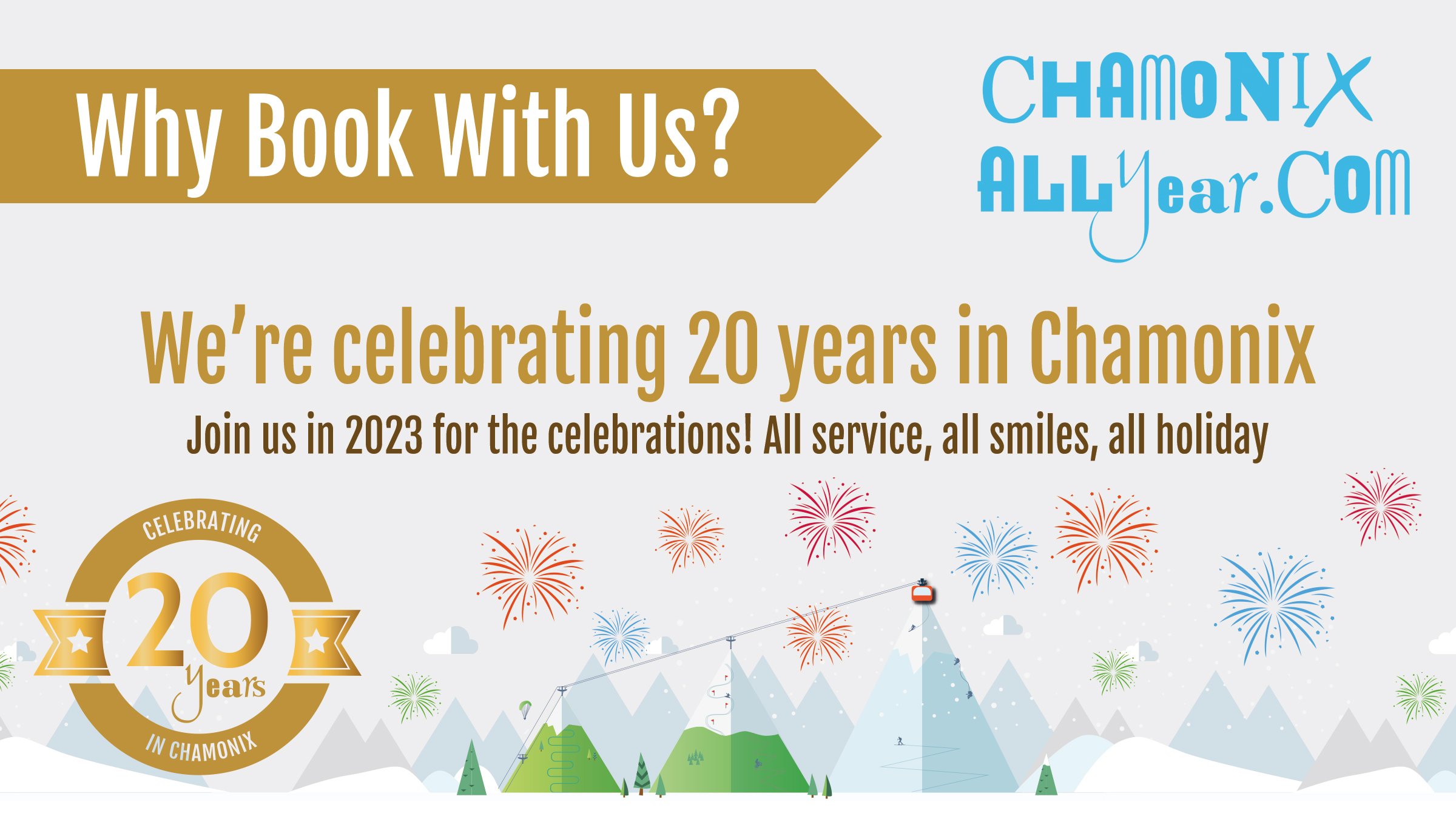 We take excellent care of our guests
But don't just take our word for it…
The best people to tell you about what to expect on your holiday are our previous guests, and there are over 900 reviews to read! We're very proud of the fact that 96% of our guests would recommend us after they have stayed with us.
The reviews shown on our website are independently verified by UpFront Reviews to guarantee you're seeing genuine guest feedback to help you make the right choice.
We have an overall score of 4.5/5 for cleanliness so you know you can expect to make yourselves at home as soon as you arrive. Our friendly team is rated 4.7/5 for customer service, and we're available before, during and after your stay to help you make the most of your time in Chamonix. We also hand-pick all of our properties and they're rated an average of 4.8/5 by our guests for their fabulous locations around Chamonix.
Read a lovely review from our longest standing guest, Lesley, who has been coming back over and over again for the past 20 years!
Not only that, but we also have high ratings on the other booking platforms where our guests book, like Airbnb and Booking.com – read on for more.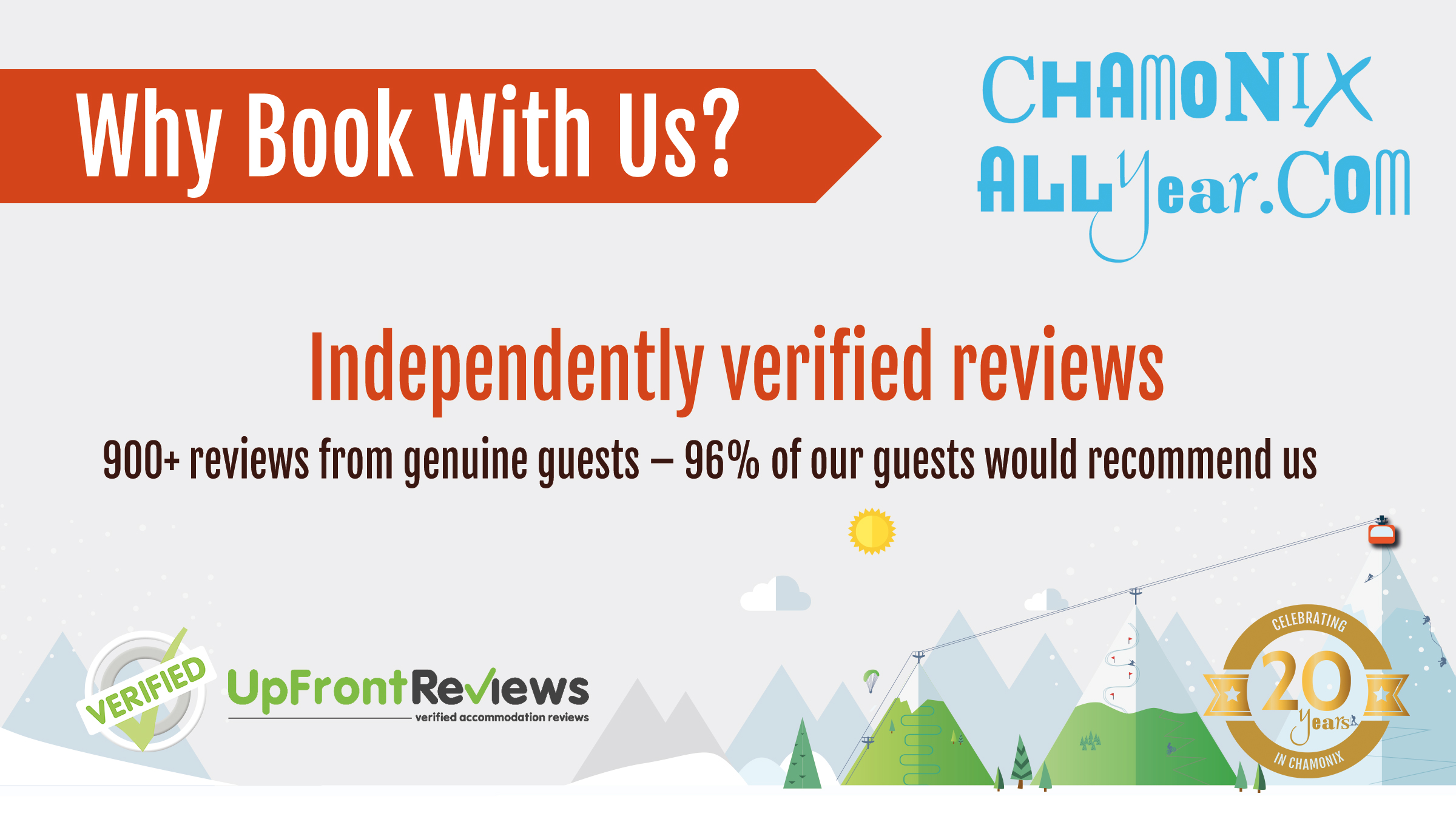 Rewards in our loyalty scheme
All guests are invited to join myCAY from their first stay – whether they've booked directly or via another booking site. We've had so many guests who have trusted us year after year for their holidays, and we wanted to say thank you and show our appreciation, so we put together our exclusive loyalty programme.
When you join myCAY you'll unlock some great benefits and rewards, and each time you stay you'll move up a level to receive even more surprises, discounts and unique services.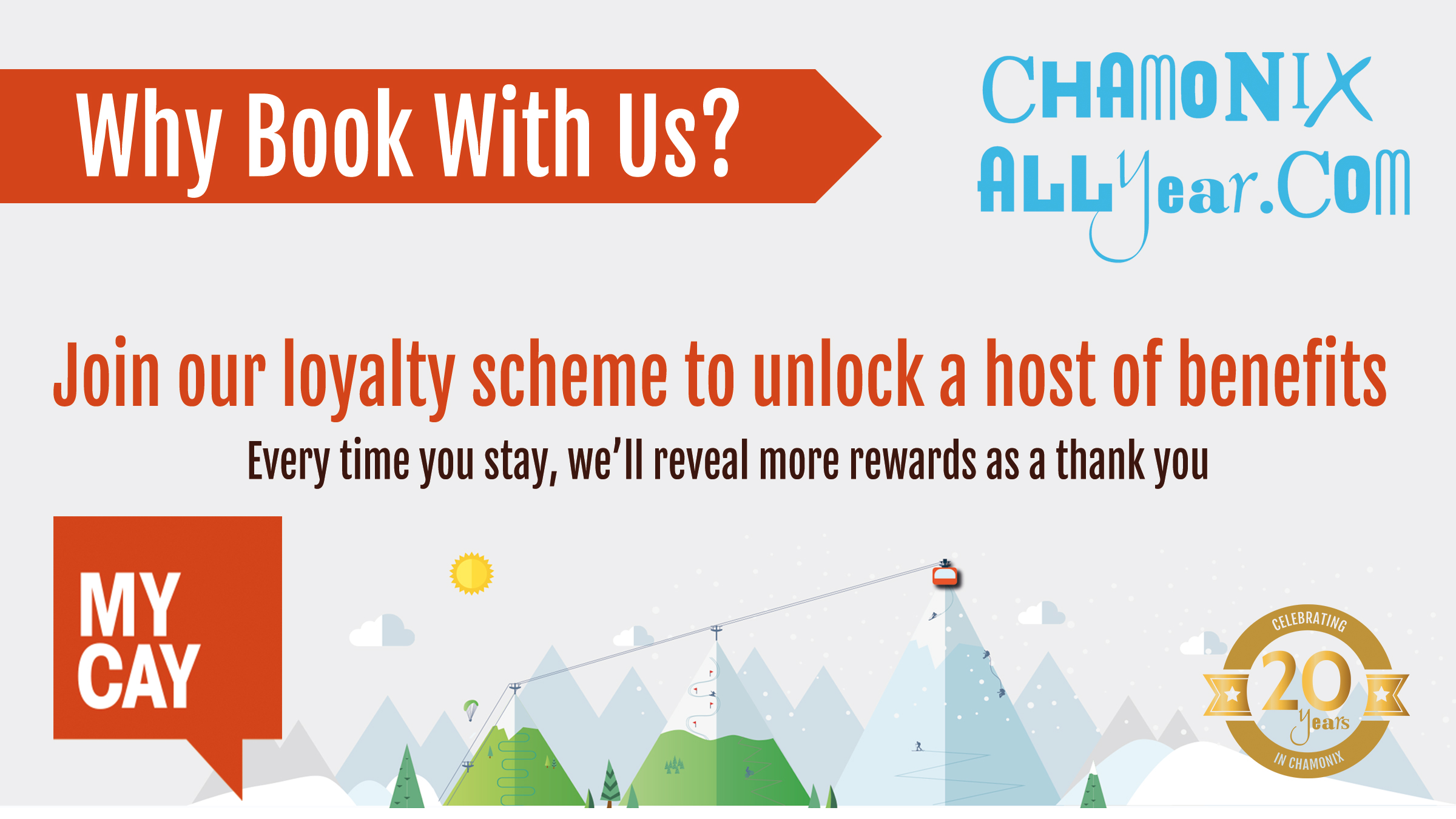 Cancellation protection
In the post-Covid era, everyone is looking for extra peace of mind when it comes to cancellation protection. Our 21-day cancellation policy means you can book with confidence.
All guests can cancel for any reason up to 21 days before arrival and receive a full refund of their accommodation costs. Our cancellation protection is included in the price of your accommodation – there's no additional cost to add on and you have full confidence. You know that if unforeseen circumstances arise, we will return your valuable booking payments.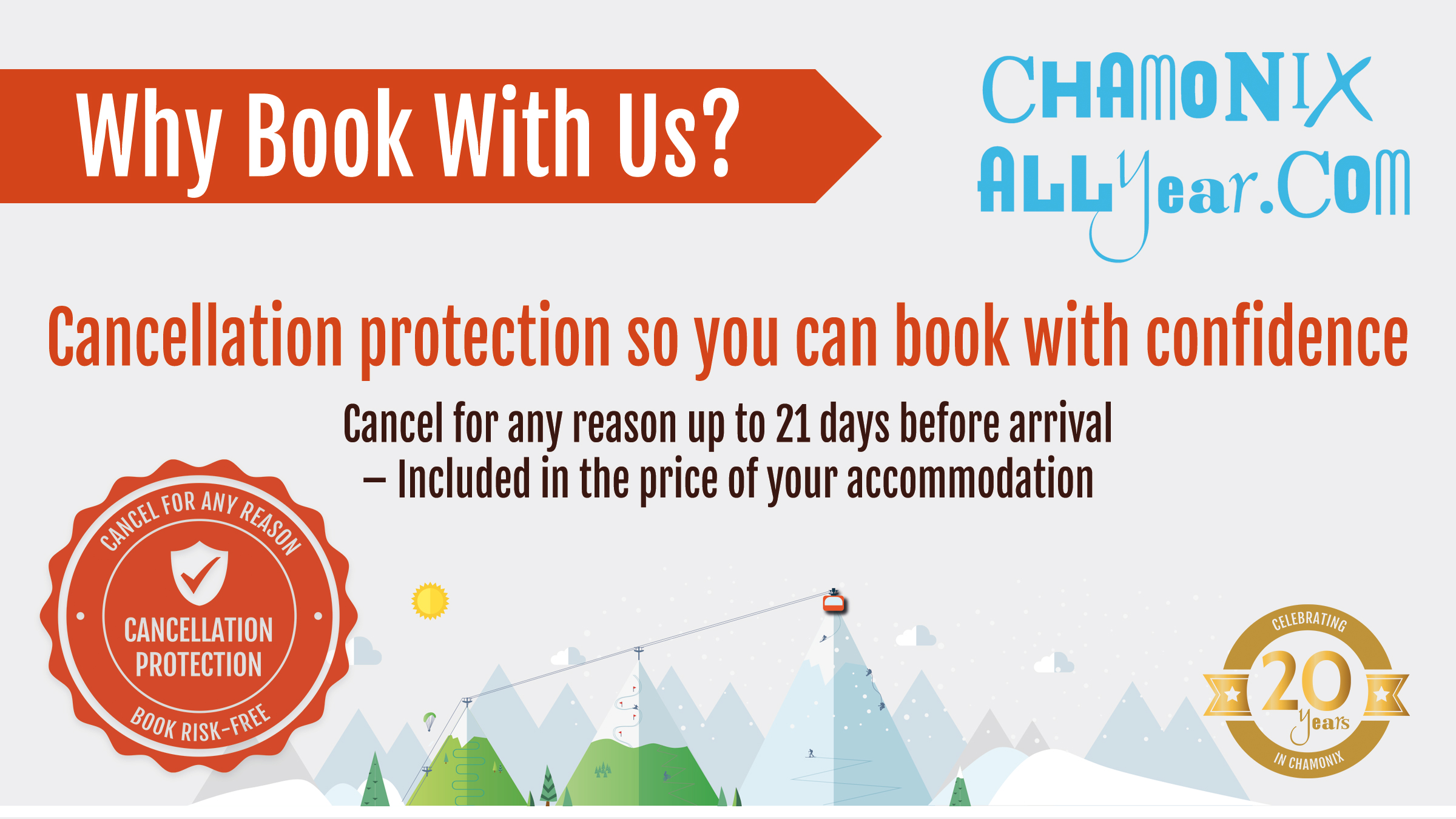 Book instantly online wherever is the most convenient for you
We were early adopters of live online availability and online bookings, back in 2009. Since then, we've made sure that we have advanced integrations with all the key booking platforms so guests can book wherever and whenever it suits them. No need to request availability – just pick your dates and book them to secure your dream holiday home.
PSST – we always recommend that you #bookdirect for the best deal!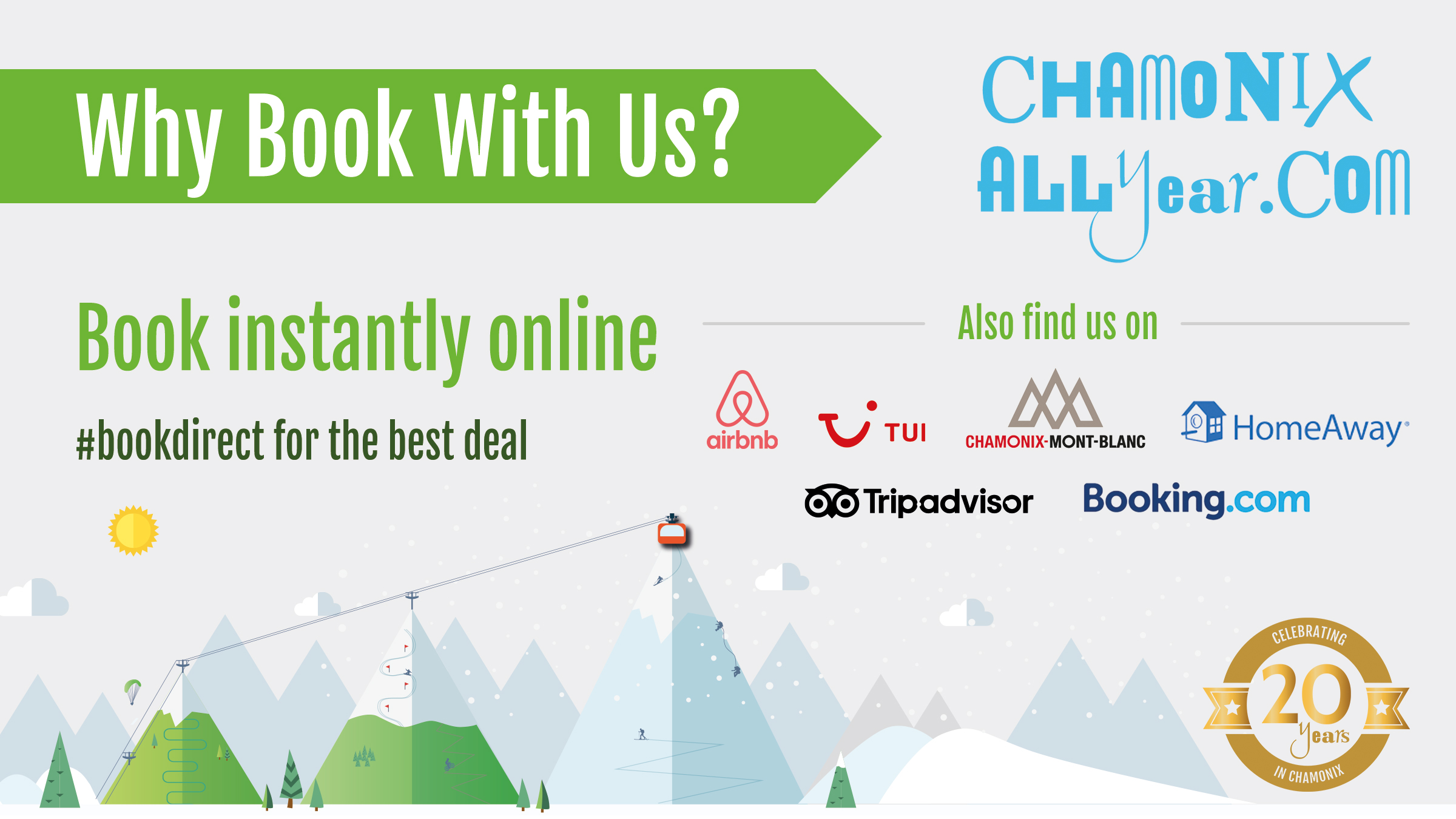 Our booking partners have recognised our high standards
The most important feedback for us comes from our guests, but it's always nice to be recognised by our partners too, especially when those rewards are based on guest comments and review scores!
Airbnb's Superhost status is based on several criteria, including having a high review score of 4.8/5. Superhosts are also extra responsive hosts (response rate over 90% – we're actually at 99%) and less than 1% cancellations by the host. We're delighted to have been recognised for meeting these high standards.
We've also been rewarded by Booking.com – many of our properties are part of their preferred partner scheme and we've also received traveller review awards, again based on high guest review scores.
Finally, we're Recommended on TripAdvisor and our TripAdvisor company profile has an average review score of "Very good".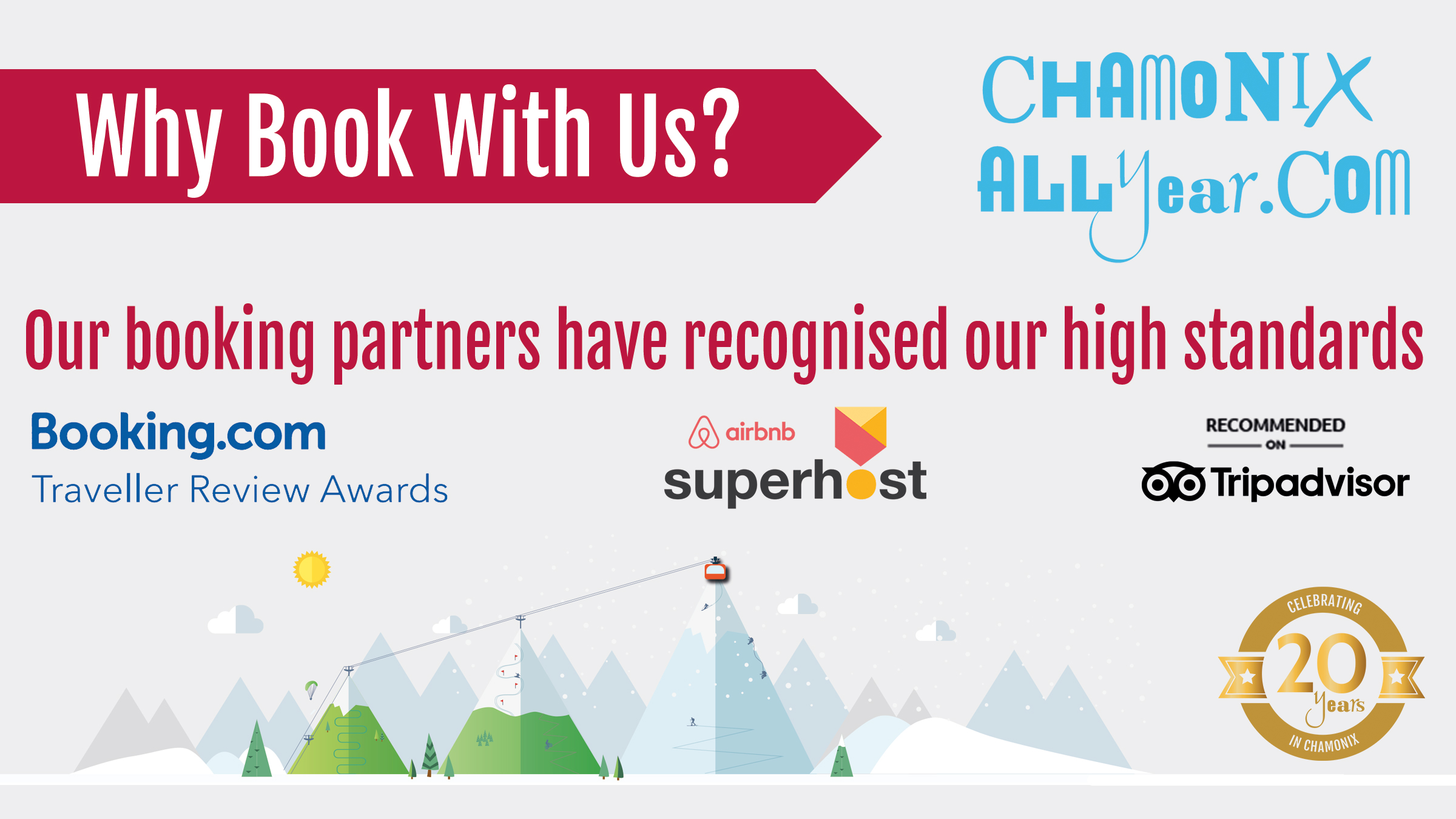 How do I book with Chamonix All Year?
Hopefully you've read enough now to be able to book with confidence with Chamonix All Year. If that's the case, scroll back up to the top of this page on desktop – or down a bit more on mobile – and put your holiday dates in the search box. When you get the results of what's available on your dates, you'll be able to filter by your other requirements, or contact us if you have any questions.
We can't wait to welcome you to Chamonix – #welovechamonix and we know you will too.