We've been in the press!
The owners of Chamonix All Year, Nick & Jo were interviewed in The Times's article "Where to buy property in Chamonix, French Alps" [paywall], which was published 21st January 2022.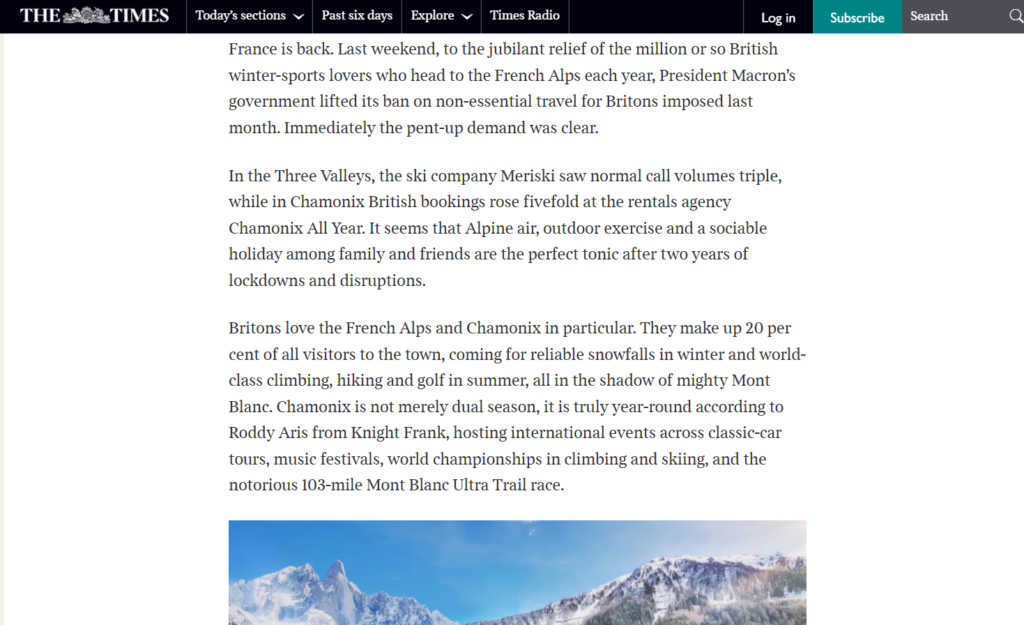 The article came off the back of Covid-19 travel restrictions being eased again between the UK and France, which is great news for businesses in Chamonix where the Brits have long been a lynchpin of the tourist scene.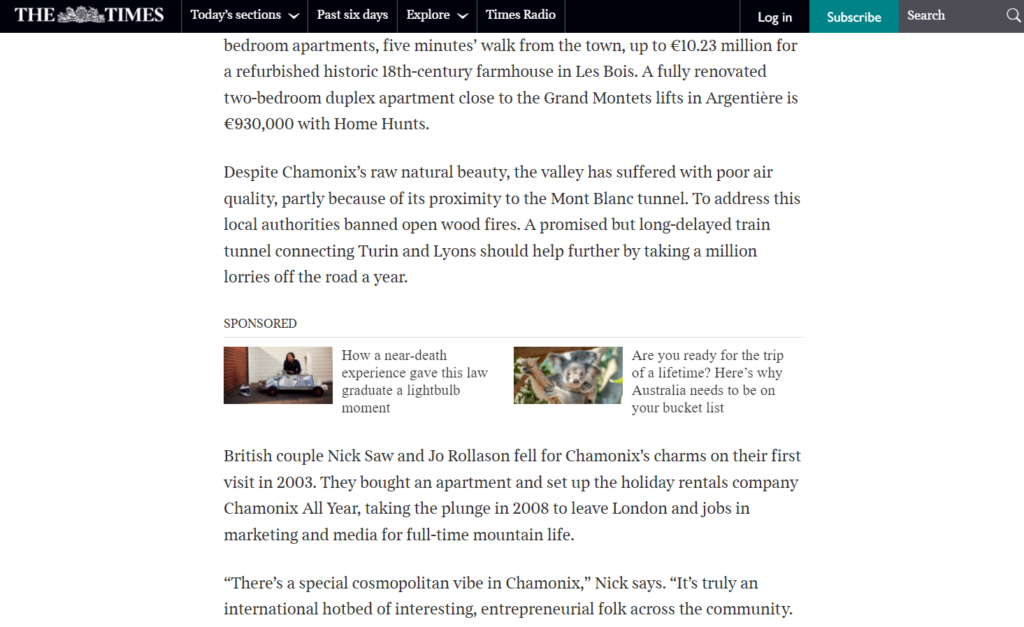 In the article, Nick and Jo gave their personal, local recommendations with some favourite activities and restaurants:
Favourite family activities include powder skiing in Le Lavancher bowl — "especially in January when the slopes are empty," says Nick — summer days at Chamonix Tennis Club and the many local festivals. "Some of our favourite restaurants are Le Vert, Mumma and fine dining at La Cabane," Nick says. "There's a great microbrewery here, Big Mountain Brewing Co, and a wonderful local gin distillery, Altitude Gin."
The Times also got Nick and Jo's expert insight into the rental market for prospective owners of property here in Chamonix.
Chamonix All Year manages 80 properties, and Nick and Jo also run Chamonix Valley Transfers, offering airport transfers. "A good-quality property here rents out on average around 26 weeks each year," Nick says. "But as Chamonix is so popular for short breaks, a property can easily get 30-35 bookings over the year."
Chamonix All Year brings over 18 years of experience to renting property in Chamonix, off the back of Nick and Jo's previous experience in marketing and advertising in London. This positions us very well to offer marketing and website promotion of rental properties, via our own website and key partner sites (Airbnb, Booking.com, VRBO, TripAdvisor etc).
In addition to our experience in marketing & website promotion, we provide a full property management and maintenance service for our owners. We take care of your property and all housekeeping, maintain high standards and work with a network of trusted local tradespeople to handle more specialised jobs.
If you're looking to invest in a property in Chamonix, we can provide impartial advice on what your property needs to succeed in the rental market. For owners who've already bought their dream home-from-home, we can calculate detailed rental income forecasts versus property management charges so you can see clearly your potential net income.
Find out more about the Owner Services we offer, and when you're ready to discuss the rental potential of your Chamonix property, don't hesitate to get in touch with us: info@chamonixallyear.com.