Freshen up your holiday with our favourite fresh water sources in Chamonix! On hot summer days it's easy to empty your water bottle quickly. Our handy guide to local water sources in Chamonix lists all the places you can top up.
Protecting our environment
By using a reusable bottle you can incorporate these water source destinations into your daily routine, or Chamonix day trips, to stay hydrated. We recommend an aluminium or, better yet, a lightweight steel water bottle that will keep the naturally cold water of these Chamonix water fountains fresher for longer in hot weather. (We have more tips on eco-friendly Chamonix holidays.)
Staying healthy
Drink from these lovely sources and you'll taste the raw glacial water of Chamonix Mont Blanc. The natural water from these taps, pumps and fountains contains beneficial minerals that are usually removed from filtered or treated water. Most of these direct water sources do not contain any of the chemicals typically added to the water you'd drink from your kitchen or bathroom sink.
A taste of history
Many of these water sources were developed in the 19th century, however, some are much older, serving the original farming inhabitants of the valley. We recommend catching the free train to Servoz with the use of your guest card to discover the 'Source du Mont' which once served the families and even soldiers of the nearby 'Maison du Lieutenant' dating back as far as 1480.
The local cure
It is said among locals that highest mineral quality water can be found at Route des Pecles. It is said a litre of this glacial Chamonix source water will cure what ails you and keep you young….naturally staying hydrated with any water will have the same effect, but this is the best of the water sources in Chamonix that we could find!
Raw water facts
From the website VOX "raw" water proponents say it contains healthy and natural minerals that get stripped out when tap water or bottled water is filtered and treated. The world over "water treatment removes bacteria, parasites, pesticides, and other contaminants". Researchers, critiquing the trend in Silicon Valley (San Francisco), warn that drinking untreated water comes with serious risks, while contaminant and chemical in-take risks associated with filtered water are downplayed. You'll have to weigh up the risks and benefits for yourself, but the water sources in Chamonix are commonly used without issue and are a great way to replenish your water bottle in the middle of a hot day.
A secret site
One secret find on our map is the ruins of a famous thermal bath site known in English as 'the Sulphurous Source of Les Mouilles'; in an overgrown forest near central Chamonix, you can find this graffiti-riddled time capsule (with permission from the owners, this is private land). Local historian Christine describes the ruin in French on her blog here. Unfortunately, these healing waters are no longer accessible at the site, fallen to years of melancholic, yet beautiful, neglect. Thanks to Christine for allowing us to share her photos below.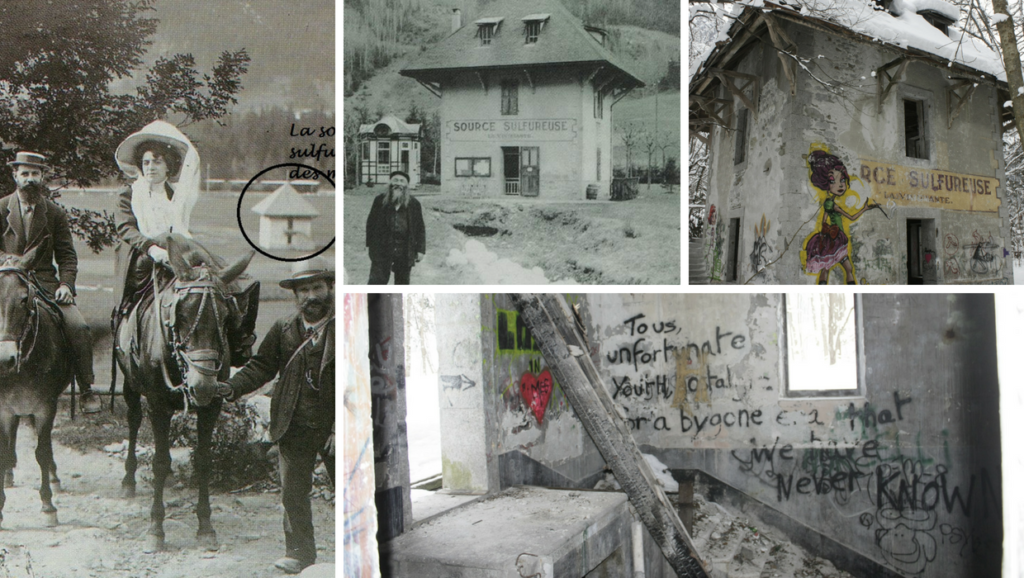 The Chamonix All Year source
On rue du Lyret, close to the Chamonix All Year office, we even have our very own water source! Now fixed with a modern tap, this ancient fountain is what fills our staff with the extra pep to fix you the perfect holiday in Chamonix! Like all of these water sources in Chamonix, the water's fresh from the tap at the ideal drinking temperature.
Our top water sources in Chamonix
Find all of our recommended water sources in Chamonix (and the secret ruin) on our official map below, calibrated with help from the official drinking water directory of France.
La source du Mont
In the heart of Servoz village, you can discover this protected water source in the middle of the road. Modern life has grown around this stone bath located opposite one of the oldest working farms of the area, the Maison du Lieutenant, established in 1480. While you're in the area, you can put the local produce (water, wheat and yeast) to use in the making your own traditional bread as part of the heritage classes open to the public at the Maison du Lieutenant.
La source de la Mairie des Houches
34 Place de la Mairie, 74310 Les Houches
Located opposite La Chavanne à Florent, this water source blends into the brick and stone architecture of the Les Houches high street which begins at the base of the Eglise Saint Jean-Baptiste. This church in the shape of a Latin cross with a single nave was consecrated in 1766. You can marvel at the famous bulb atop the steeple, and baroque style, with your fresh H20 in hand. All this a mere 250m from Chamonix All Year's own Chalet Eveland.
La source des Pècles
572 Route des Pècles, 74400 Chamonix-Mont-Blanc
"La source des Pècles" is a water fountain over a stone trough on the Route des Pècles, a short walking distance from Chamonix All Year's Chalet Martinique. This water source once served the agriculture of the area, as well as thirsty carriage horses on their way in and out of Chamonix, and you'll often still see locals filling up their water bottles from the tap.
Chamonix town centre fountains
La source du Lyret
69 Rue du Lyret, 74400 Chamonix-Mont-Blanc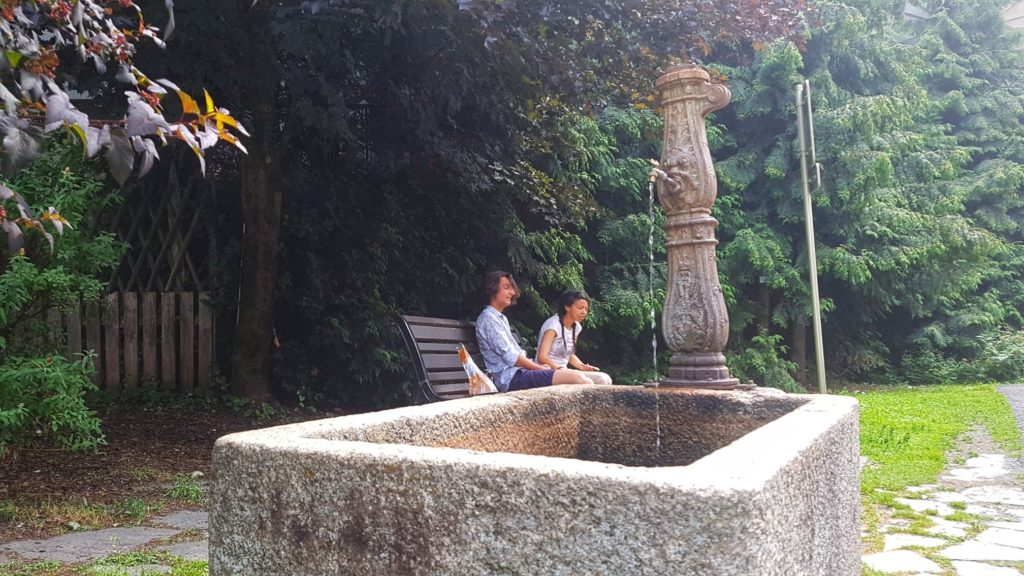 The most convenient source to Chamonix All Year offices (see above).
La source Place du Poilu
Another centrally located water source perfect to fill up your bottles on the way to the train station.
La source de la Poste
A beautiful fountain located right in front of the post office of Chamonix. You can see the fountain here located right in front of Chamonix All Year apartment Le Kursaal.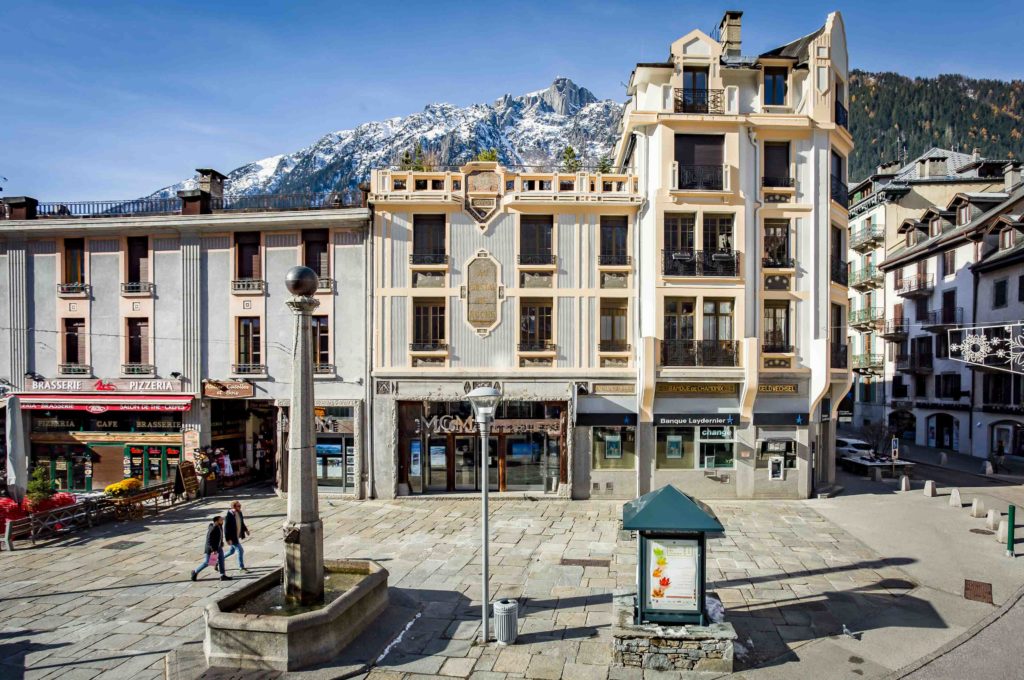 La source des Praz de Chamonix
100 Route des Tines, 74400 Les Praz, Chamonix-Mont-Blanc
Located in front of the Chapelle des Praz constructed between 1941 and 1960 as a thank you for having been protected from the horrors of the second World War. The locale is very close to our properties La Ferme Des Praz, Clos des Roches and Chalet Eden, as well as popular bus stop in front of the Téléphérique de la Flégère.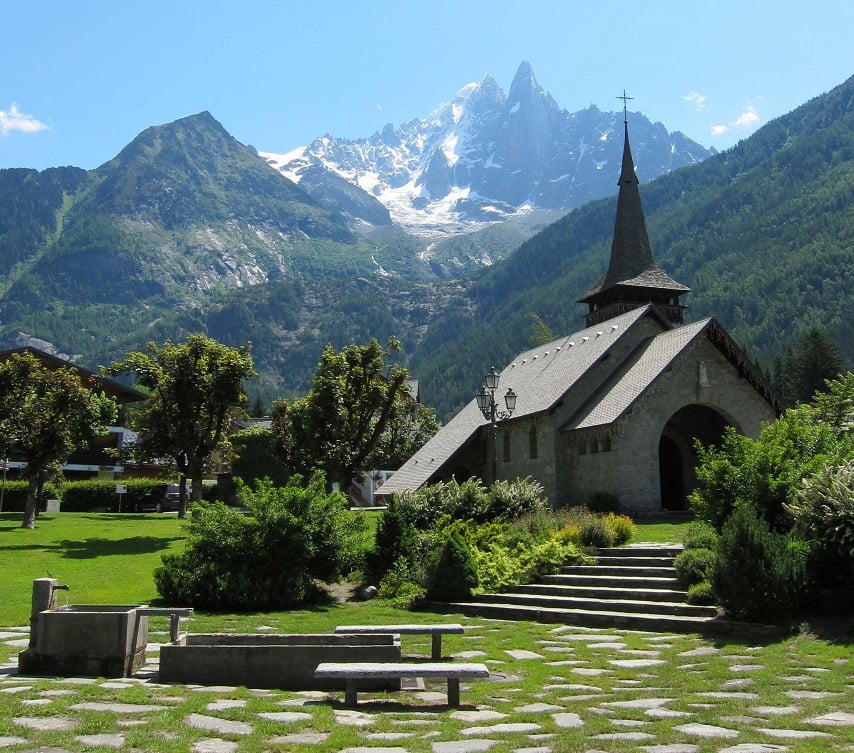 Source des Fontanettes
54 Chemin des Chosalets, 74400 Argentière, Chamonix-Mont-Blanc
Throughout its history, Argentière has been home to a strong Protestant community. In the 1920s they rallied together to build a local church and nearby in 1984 the water source des Fontanettes became another important local feature.
Further thermal water sources nearby
There are also two natural thermal spas within easy reach of Chamonix. One is in France, in the nearby town of Saint-Gervais-Les-Bains, which is named for the baths which have offered pools, sauna and hammam, as well as massage and renowned skin-care treatments or 'cures' since 1807. The other is in Italy, just on the other side of the Mont Blanc tunnel in the town of Pré Saint Didier. These Italian thermal baths have drawn on the local water sources of naturally heated water since Roman times and offer a truly luxurious day out opportunity.
Did we miss your favourite water source in Chamonix?
If so, we would love to hear from you on our Facebook page with pictures to share so that we can add it to our map.
Medical experts recommend that you drink a glass of water with each meal and between each meal. It's also good practice to drink water before, during and after exercise, especially at the high altitudes of Chamonix. Drink water if you're feeling hungry and always drink a glass of water to start the day right!