Climbing higher, striving further and writing history, women in mountaineering have been making their mark for over two centuries in Chamonix and the surrounding area. We've compiled a list of some of the top achievements of these 'Lady Legends' in a chronological timeline below. Their exploits in the alps will inspire you too to get up and give it a go. Why not go with some of Chamonix's top female guides, featured after the following histories as their modern day proxies?
1786 – Elizabeth, Jane and Mary Parminter
Mont Buet
The first recorded female ascent worldwide dates back to 1786 (the same year as the first ascent of Mont Blanc), right here in this region near Vallorcine. The Parminter family of two sisters and a cousin from Devonshire were recorded as having climbed "on" Mont Buet. The first ever ascent at Mont Buet having been undertaken 16 years prior on 20th September 1770 by Jean-André and Guillaume-Antoine Deluc, and Bernard Pomet.
Today this peak is known commonly (likely in honour of these women) as the "Ladies' Mont Blanc", and stands at an altitude of 3096m. The threesome was guided in their ascent by Jean Pierre Beranger and Jean Baptiste Lombard. Various letters and journal entries prove they were the first women to climb a peak over 3000m, later recognized as the first recorded female ascent, one that went largely unnoticed until a 1957 article in the 'Alpine Club Review' of Great Britain by Gavin de Beere.
1808 – Marie Paradis
Mont Blanc
Just over two decades on, in the same region, and practically eclipsing this feat, is the summiting of Mont Blanc in 1808 by Marie Paradis. This feat boosted the reputation of Jacques Balmat (himself one of the first two men to summit Mont Blanc), an accomplished mountain guide, and made Marie Paradis one of the valley's most famous characters: 'Marie du Mont Blanc'. Proving that the infamous Mont Blanc is at the heart of local legend and tourism alike.
The story goes that Jacques Balmat and two other guides had decided to summit Mont Blanc for a spot of fun and training. At the start of their expedition they met the pretty French maidservant, Marie Paradis, then a server in a hostel on the route. Balmat persuaded her to accompany them, promising fame and fortune. According to scholars she vomited and was seized with nervous attacks but insisted she would die happy should she just reach the summit. The ascent was made over two days and it is said she was dragged and carried by her guides through low visibility to the summit itself. Nevertheless, she maintains the title of the first woman to climb Mont Blanc for her efforts.
1838 – Henriette d'Angeville
Mont Blanc
From the humble beginnings of Paradis' feat followed that of a wealthy French countess, Henriette d'Angeville, who successfully summited Mont Blanc in 1838. In her French narrative of the ascent, d'Angeville declared mountaineering lacked a "feminine stamp" and encouraged her female successors to publish their experiences in their own words.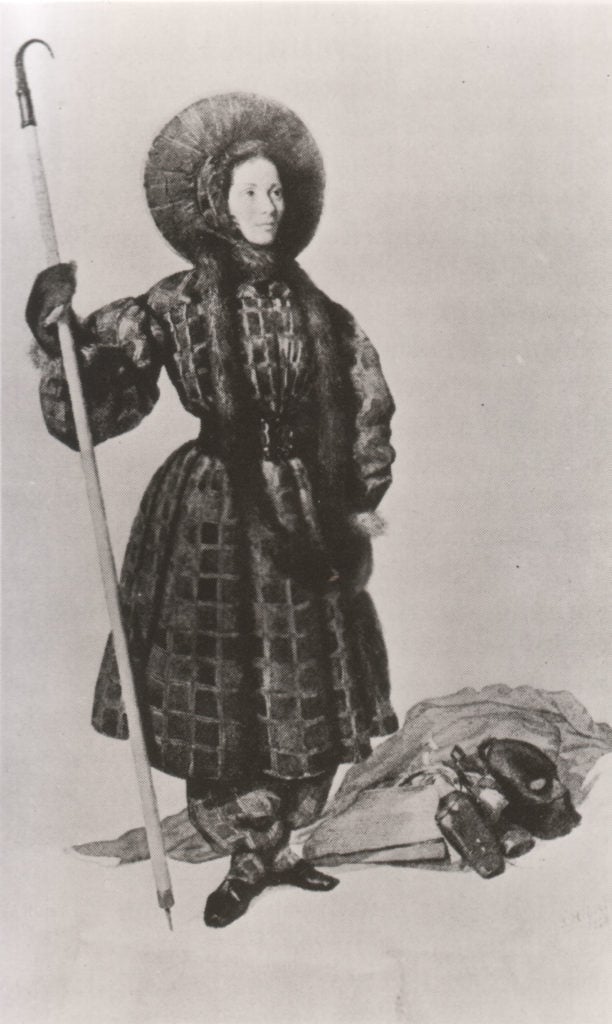 D'Angeville was a forty-four-year-old countess from an established and wealthy French family. Her upper-class background typifies the sort of woman who took on mountaineering challenges in the 19th and early 20th centuries. D'Angeville's wealth enabled her to purchase considerable goods and services to assure her own comfort and safety on the climb. Notably, where Paradis wore a full skirt and reached the summit over two days, d'Angeville completed the ascent in several days wearing a self-made 7kg outfit, that included a socially-frowned-upon pair of knickerbocker pants.
Meanwhile, in Chamonix, local men had placed bets on which point of the ascent she would give up. Both d'Angeville and her contemporaries came to view her own ascent as the true 'first' because Marie Paradis, the prior claimant, was allegedly 'dragged' to the summit.
While Marie Paradis never climbed again and certainly had a helping hand in her 1808 conquest. Henriette d'Angeville was a passionate alpinist who reached the summit "unaided" (wasn't carried) and continued her climbing career into her late sixties.
1871 – Lucy Walker
Matterhorn (among others)
From a wealthy merchant family in Liverpool, Lucy Walker made a name for herself over the course of her 21-year career in the Alps, undertaking 98 expeditions, including 28 successful attempts on peaks over 4,000m. She holds the title of the first female ascent for 16 summits, including Monte Rosa, the Strahlhorn and the Grand Combin. To the astonishment of villagers, she became the first woman to climb the Eiger. She also holds the title of the first ascent (for either sex) of the Balmhorn (1864).
Her most remembered feat, however, is the first female ascent of the Matterhorn of Zermatt, the "most sought after trophee of the alps" (sic), which she completed with her father and local guides.
Having taken no heed from d'Angeville's wishes (that women must write about and share of their own accomplishments), Walker left behind no diaries, newspaper interviews, or personal accounts of any kind. In journals, male climbers describe sightings of Walker drying her clothes at a hut or moving swiftly through deep snow in her favourite dress.
Walker may not have broadcast her accomplishments on paper, but she did become an involved member of the Ladies Alpine Club'. The club was created in 1907 in London as a response to Britain's strict "male-only" Alpine Club scene. From 1913 to 1915, she held the honour of being Vice President of the British Ladies' Alpine Club before passing away at the age of 80 in 1916.
1871 – Meta Brevoort
Second up the Matterhorn (among others)
Margaret "Meta" Brevoort comes from a family of Dutch immigrants who made a fortune in New York as property owners, and she was the second most prominent female alpinist of her day behind Walker.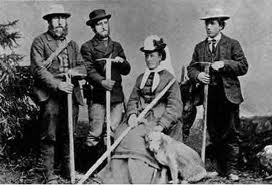 In fact, in a race to conquer the Matterhorn it is said that Walker rushed a trip to the region when she heard that Brevoort was on her way there. Brevoort, having missed her chance to win the ultimate trophy, arrived just after Walker's first ascent, but was not discouraged to conquer the horn for herself. Like a true alpinist she is said to have waited for conditions on the mountain to be just right and, on 5th September she became the first woman to traverse the mountain from Zermatt to Breuil (Cervinia) in Italy.
During the following two weeks, she also became the first woman to ascend the Weisshorn (4,506m) and the Dent Blanche (4,357m). She died before her time from a heart infection and was said to have plans for Everest.
1871 – Emmeline Lewis Lloyd
In the first party to climb Aiguille du Moine
With her enthusiasm for fishing, otter hunting and roaming the hills, Emmeline regularly climbed in the Alps during the sixties and seventies of the nineteenth century. She was regarded as something of a character, a noted raconteur as she talked about her travels and exploits. During a time where there were only half a dozen female climbers in Europe, it is doubtful whether any of them were as autonomously passionate about climbing.
While Lucy Walker always climbed with her father and her brother, Emmeline's usual companion was another woman, Isabella Charlet-Straton (of 'Pointe Isabelle' fame below). She also climbed with her younger sister, Bessie.
Few details are available about Emmeline's ascents but she was the eighth woman to climb Mont Blanc and in 1871 she made the first ascent of the Aiguille du Moine (3412 m) near Chamonix with Isabella and guide Joseph Simond. The two ladies also climbed Monte Viso with Jean Charlet that year. The two had made an unsuccessful attempt on the Matterhorn as early as 1869.
1876 – Isabella Charlet-Straton
First winter ascent of the Mont Blanc
In her twenties, Straton (later Charlet-Straton) became the wealthy heiress to her parents' estate, becoming financially independent with an annual income of roughly £4,000. An adventurous lady of leisure, Straton was introduced to climbing by her friend Emmeline Lewis Lloyd. Together they travelled the Alps, and the Pyrenees, on hiking and climbing expeditions in the 1860s–70s.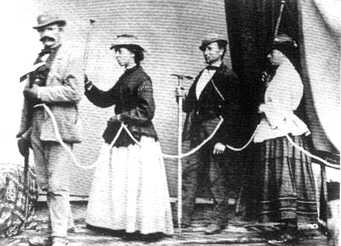 Their failed attempt on the Matterhorn in 1869 was character building, and one of their first climbs together. From this small failure grew success when the following year they became the first women to climb Monte Viso, then together went on to be part of the first ascent of Aiguille du Moine. When Lewis-Lloyd retired from climbing in 1873, Straton continued climbing with Jean Charlet, who would eventually become her husband. Charlet was the local French mountain guide who had accompanied her and Lewis-Lloyd on many of their previous expeditions.
Straton and Charlet climbed together for twenty years, some of the ascents they made together included the Aiguille du Midi, the Aiguille de Blaitière, the Dents du Midi, and the Dom. In 1875 they made the first ascent of a peak on the Aiguille de Triolet, which Charlet named 'Pointe Isabella'. Today in central Chamonix there is even a hotel named in her honour, the Pointe Isabelle – the bar and restaurant are worth a visit for their decoration in homage to Isabella.
Straton climbed Mont Blanc four times, including the first winter ascent in January 1876, accompanied by Charlet and Sylvain Couttet, making her a celebrity with press in local and foreign newspapers.
Romantic fact: in 1881 the pair conquered a new peak in the Aiguilles Rouges in, which they named 'Pointe de la Persévérance' in honour of "the perseverance that they had shown before they had dared to confess their affection for one another".
1887 – Mary Mummery
Climbs the Teufelsgrat of the Täschhorn
Mary began her alpine career in the 1880s when she married one Alfred Frederick Mummery. Mummery had brought his bride out from England to introduce her to the mountains where she proved to be a natural mountaineer.
The first season included the Jungfrau, the Obergabelhorn and, naturally, the Matterhorn. Then on July 15th 1887 they set out from Zermatt to sleep at the highest chalet on the Taeschalp and left at 1.30am the next day. The Mummerys' ascent of the Teufelsgrat is considered one of the most epic husband and wife exploits of mountaineering history. In his book 'My Climbs in the Alps and Caucasus', Mummery insisted that his wife should write the chapter describing their ascent of the Teufelsgrat from her unique position as one of the bravest female alpinists of the day. It's quite the read too with constant threats from falling rock, a lost ice-axe swept away by strong winds and at one point the second guide came off the mountain as the rope was too short!
Mummery was not the first female alpine fanatic to participate in a difficult first ascent, but is known as the first to insist publicly that women would prove better suited to such challenges… as opposed to the comparatively tame ascents to which they were generally delegated!
1907 – Elizabeth le Blond
Founder of the Ladies' Alpine Club
Elizabeth le Blond founded the Ladies' Alpine Club and became its first president in 1907. But that was only the cherry on her cake of achievements! "Lizzy" Le Blond climbed both in summer and winter and her mountaineering career lasted for more than 20 years. She began in Pontresina before graduating to the Chamonix area where she soon did Mont Blanc and the Grandes Jorasses. She also made the first winter ascent of the Aiguille du Tour, the Col du Tacul, the Col du Chardonnet, the Col d'Argentiere and the Aiguille du Midi. She also had the distinction of being the only lady who had led a party guideless in winter and spring.
Born Elizabeth Alice Frances Hawkins-Whitshed, "Lizzie" was the only daughter of a baronet and the heiress to a substantial fortune which included an estate in County Wicklow in Ireland. Elizabeth lived in London with her first husband Fred Burnaby until the birth of their only child, a boy, but before they could celebrate their first wedding anniversary Lizzie had moved to Switzerland 'for the sake of her health.' She then shook up society by taking up mountain climbing, something almost unheard for a woman in the last years of the Victorian age. Lizzie climbed in practical short skirts barely covering her knees; to her scandalised contemporaries, she may as well have been naked!
In 1883 Elizabeth published a precursor to a series describing her mountaineering experiences: "The high Alps in winter, or mountaineering in search of health". Her greatest achievement, however, was in the field of photography. From her early career, her camera was always with her, capturing views which had never been seen before. Over the years she took thousands of photographs, about four hundred of which were included in various publications, while others were given as gifts, donated as prizes or sold in aid of charity.
Her first husband died in battle in January of 1885, then in Switzerland she met John Frederic Main, who after a whirlwind romance ran off to America with his £1000 a year marriage settlement from his wife's Irish estates. Finally, Elizabeth would marry again in 1900 to Francis Aubrey Le Blond of Aldeburgh Suffolk. In comparison to her previous marriages, this final trip to the altar with Francis, 9 years her junior, was followed by wedded bliss. She continued to lead an independent life but often travelled with her pottery-mad husband. She wrote more books, took more photographs and climbed more mountains. She also became one of the first women to take up film-making.
1895 – Lily Bristow
First woman to conquer the Grépon
In the 1890s, women in the mountain world had their standing considerably enhanced by one Miss Lily Bristow, making history as the only woman included on a rope of famous members of the Alpine Club. In 1892 with Mummery and Ellis Carr she made a guideless North to South traverse of the Grand Charmoz; next the North ridge of the Zinal Rothorn guideless with Mummery; followed up with the Italian ridge of the Matterhorn, again without a guide, making the descent by rope on the same route.
In 1893, Lily and friends took on the Petit Dru guideless, leading herself as far as the Gendarme. This is one of the earliest recorded instances of a woman leading on a rope composed of men. In 1894 with her guides she made the first descent of the Z'mutt ridge of the Matterhorn. And finally in 1895 came the climb which crowned her career and brought her undying fame; the second traverse of the Grépon guideless during which she achieved the honour of being the first lady to stand on the summit of the famous Grépon towering above Chamonix.
1929 – Miriam O'Brien Underhill
Aiguilles du Diable to Mont Blanc du Tacul
Miriam O'Brien began serious rock climbing in the Alps in May 1926, her first ascents including the Torre Grande in the Dolomites (a route now known as the "Via Miriam") as well as the first ascent of the Aiguille de Roc near Mont Blanc.
In mid-1929, Miriam O'Brien Underhill made the traverse from Aiguilles du Diable to Mont Blanc du Tacul, this route involves climbing five outstanding summits over 4000 metres in superb surroundings. Then by the late 1920s, she had coined the term "manless climbing".
Her manless approach caused controversy when in 1929 she bagged the first such ascent of one of the most striking mountains in Chamonix: the Grépon with friend Alice Damesme. As news of the ascent went public, respected French mountaineer Étienne Bruhl felt humiliated to share the accomplishment with two women:
The Grépon has disappeared. Now that it has been done by two women alone, no self-respecting man can undertake it. A pity, too, because it used to be a very good climb.
Undeterred by the insult, Miriam went on to snag the first manless climb of the Matterhorn. She then married mountaineer and Harvard professor Robert L. M. Underhill in 1932 and had two sons with him.
After World War II, she climbed exclusively State-side with her husband before knocking off the Matterhorn for a third and final time in 1952.
Today's local heroines – modern women in mountaineering
Before you too can take on a first ascent, or even the Grépon, you'll need to get some hours on the mountain with a qualified guide. These local guides are all female and are available for everyone from the most experienced climbers, to those just starting out with no more than inspiration from the women above… and of course a sense of unrivalled adventure!
They continue the legacy of our 'Lady Legends' day in and day out, conquering ascents and representing equality in an industry which otherwise remains male-dominated to this day.
Fleur Fouque: Compagnie des Guides de Chamonix
Fleur is the daughter of a mountain guide father and a ski instructor mother, and became a guide in 2017. Among her accomplishments, in 2006 she joined the first National Girls' Mountaineering Team within the FFME (fédération française de la montagne et de l'escalade) opening a "Female Route" track on the Biafo Glacier in Pakistan.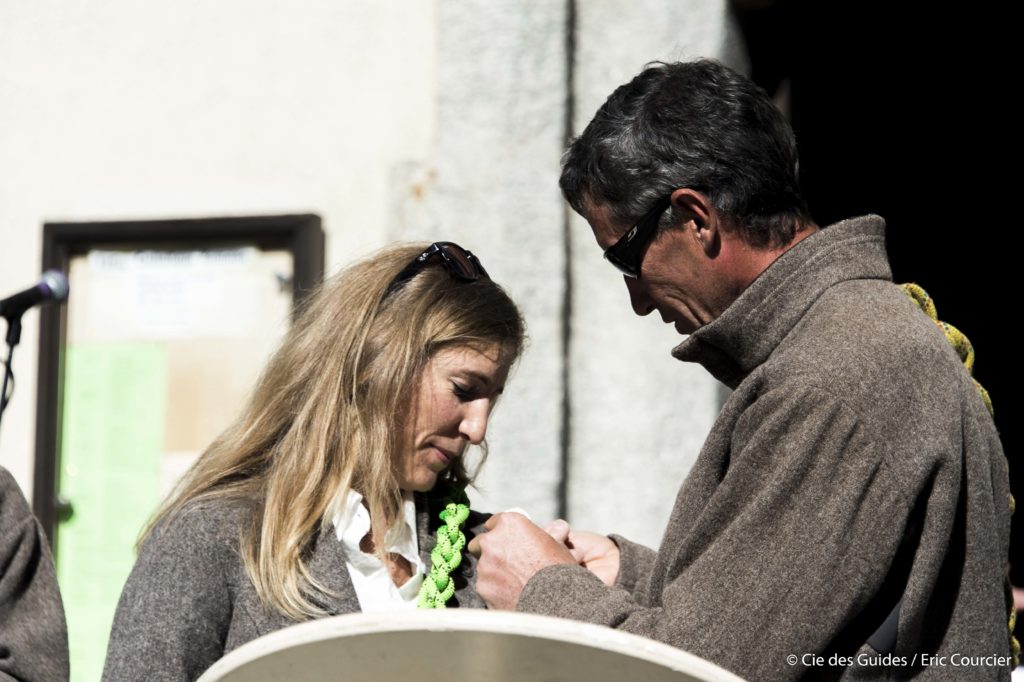 She shares her time between expeditions and ski trips, climbing the rest of the year and always discovering new mountains of the world.
Fanny Tomasi-Schmutz: Compagnie des Guides de Chamonix
Fanny was born in Chamonix in 1987 and grew up between Servoz and Chamonix her whole life. Her father was a mountain guide and teacher at the ENSA (alpine school) and Fanny went on to marry a guide, Damien Tomasi, who also worked at the ENSA.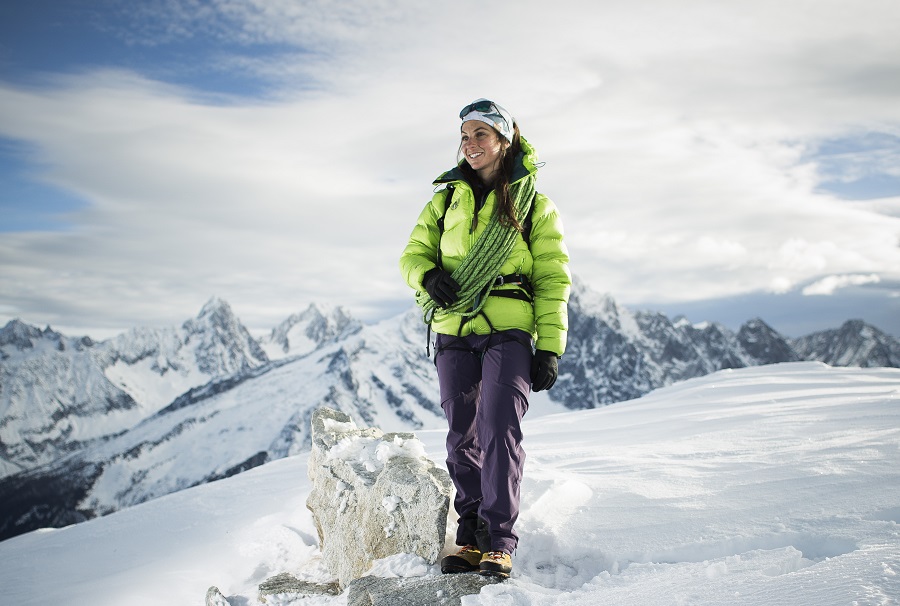 Joining the family legacy, Fanny gave up teaching to become a guide in 2015, today sharing the mountains and her clients with her husband.
In 2015 she joined Damien, fellow local guide Fleur Fouque and Sebastien Rougegré for a first alpine-style ascent of the Lagunak ridge of Ama Dablam (6856m) in Nepal (alpine-style being the light and fast approach championed by such guides as Steve House).
Between continued guiding seasons in Chamonix, her love for expeditions continues, and in 2016 she and fellow female guide Elodie Lecomte accomplished the Bhagirathi III via the Scottish route in 5 days.
For first-time climbers inspired by the historic women in this blog, she recommends a traverse of Les Aiguilles Marbrées (3535m).
Zoe Hart: IFMGA Mountain Leader
Zoe has been passionate about mountains for a long time and became a high mountain guide in 2007. She is more than happy mountaineering, ski touring, off-piste skiing, crevasse rescue, and teaching. She also loves family adventures and children.
She speaks English and French and has lived in the Chamonix valley for 15 years, taught at ENSA and works in marketing for the brand "Patagonia".
Most notably Zoe is also Patagonia Climbing Ambassador and was the fourth American woman to earn her International Federation of Mountain Guides Associations status, the highest level of credential available to professional mountain guides.
Elizabeth Oakes Smart: IFMGA/UIAGM Mountain Leader
Liz Oakes Smart is a mountain guide, ski mountaineer and climber. Her UIAGM/IFMGA guide qualification allows her to guide all over the world but she has been living in Chamonix for the past few years running her own guiding company with her husband.
She has made many ski mountaineering descents including the west face of the Eiger in Switzerland; the Glacier Rond and the Couloir du Cosmiques in Chamonix; the Pan de Rideau and the Polichinele in La Grave, France; the Fuhrer Finger on Mt. Rainier; and various descents in Alaska's Chugach range. Liz has also skied from 7200m on Shishapangma in Tibet. Along with her skiing accomplishments, Liz has done long free climbs in Yosemite and Squamish, British Columbia and has completed a one-day ascent of the Cathedral Traverse in the Tetons.
Experience the peaks for yourself
If you've been inspired by the exploits of these Lady Legends, both past and present, then speak to our Resort Team. We work with several guide companies who can advise on suitable routes based on your experience. Beginners can enjoy a taste of the high mountains on one of our glacier hikes, for example.
Featured image of Henriette d'Angeville is © Guilhem Vellut, shared via Creative Commons Attribution 2.0 Generic (CC BY 2.0).