If you've skied the Vallée Blanche, climbed Mont Blanc or explored other routes in the valley you will know that having a Chamonix mountain guide is not just a nicety but a necessity.  To many it sounds like a dream – after all, they get paid to ski fresh powder! But what does it take to become a guide? And what's life really like when they're not on those dreamy summits? We spoke to Phil Ashby, a British Mountain Guide who lives and works in the Chamonix Valley to get an insight into the life and work of a Chamonix mountain guide.
Life as a Chamonix Mountain Guide
Training to be a Mountain Guide
British guides must demonstrate a vast range of experience as mountaineers and skiers before applying to become a guide.  You need to prove you have climbed difficult rock and ice climbs, reached the summits of big Alpine peaks by serious "Grandes Courses" (like the North Faces of the Matterhorn and Eiger) and skied hard.  This takes at least a decade and I didn't start my guide training until I was in my mid-thirties.  The formal process of training and assessment then takes a minimum of 4 years, starting in North Wales and Scotland before moving to the Alps.  It's a long, arduous and expensive process but worth it in the end.

Describe your job
Tough.  Rewarding.   I'm never going to be rich but I get paid to ski for more than 100 days a year.  I've had hundreds of clients over the years and I can only think of 2 or 3 that I didn't like so you get to share some adventures with some great people.   There's some depressingly early starts (the midnight "breakfast" before climbing Mont Blanc is not a highlight) but when you see the first hint of daybreak a few hours later and the sun rises over the Bernese Oberland and Monte Rosa in the distance it all seems worthwhile.
What was your route into guiding?
I was an officer in the Royal Marines in a specialist unit called the Mountain and Arctic Warfare Cadre and spent 7 winters working in Arctic Norway.  I nearly became a Maths Teacher (!!!) when I left the Marines but took a gamble by starting training to be a Guide – I was worried that I would start to see climbing and skiing as a chore instead of a pleasure but it's not worked out like that. I suspect I would have been a terrible guide as a youngster as I was only interested in doing hardcore stuff for myself, but I've mellowed with age and now get as much pleasure and satisfaction from the vicarious thrill of helping others to have a good time.

It's a very seasonal job – how do you make that work?
I'm based in the Alps but many UK based Chamonix mountain guides travel out to Chamonix for seasonal work. It's important to have a good home-base.  Our high season is weekends and holidays which can be frustrating for family life and we need understanding partners!  But the upside is that we see the best of humanity – our clients are often enjoying the trip of a lifetime and we get to share their enjoyment and sense of achievement.  I've had a 60 year old millionaire businessman give me a hug at the top of the Matterhorn and tell me it was the best moment of his life.  We tend to work hard from mid-December until April, and from June-September, but it's important to pace yourself.  Guiding is physically and mentally demanding and you can't afford to burn out mid season. Some guides extend their seasons by working in more far-flung places such as Antarctica or the Himalayas but I try to have some downtime in the spring and autumn with my young family.
What's the best thing about your job?
The people.  Both clients and other guides. There's good camaraderie amongst Chamonix mountain guides wherever they have come from.  (Although tempers can get frayed on a busy day on the snow arate at the start of the Vallee Blanche and you can learn an assortment of international swearing!)

Who are your clients?
50% Brits, 30% American, 20% Scandies and others.  English speakers often choose English speaking guides as there's an awful lot of time on a guided day not actually skiing for chat and banter – in the lift queue, in the cafe, etc.  I speak good French but I'm not sure I've ever made a French client laugh, at least not on purpose!  I'm always pleased when I have enquiries from American clients – if you've flown across the Atlantic to come skiing in Chamonix you tend to be motivated and a handy skier.  US skiing is very strictly controlled and policed and I love seeing the reaction on US skiers' faces when they realise they are able to duck under the barriers and ski "out of bounds" without being pursued by the ski patrol.  I've had High Court Judges, professional musicians, TV stars, postmen, students and even honeymooners as clients so you get an insight into all sorts of people, lifestyles and careers.
Describe a typical working day:
A typical guided ski day would be a descent of the Vallee Blanche from the Aiguille du Midi (3842m) back down to Chamonix (1000m).  I can take a group of up to 6 clients.  I try to join them for breakfast to check them out (from an email it's hard to gauge ski ability and fitness but much easier face to face), brief them on the day and issue safety equipment (transceivers, shovels, probes), harnesses and crampons.  We catch the cable car up to the top of the Midi, strap skis onto our packs, put the clients on a safety rope then walk 200 metres down an exposed snow ridge  to a flat spot where we can put on our skis.  We then ski 20 km back down to Chamonix.  The first 12 km of this is on a glacier. The skiing is not technically demanding but it's long, the altitude can be tiring and there's plenty of crevasses to avoid.  It's normally a 5 hour round trip and most clients are happy to have a well-earned beer on arriving back in Chamonix but I have done 2 laps with enthusiastic, fit clients in one day.

Image from rawpixel.com
What's on your kit list?
All guides insist that anyone who ventures off piste has avalanche safety equipment (transceiver, shovel, probe) and knows how to use it.  Safety equipment aside, well-fitting modern Freeride boots are a game-changer.  They perform like a downhill boot for descending but they're much lighter and you can walk in them.  The downside?  They're not cheap…And it's always worth carrying a spare pair of goggles if you're out on a stormy day.  Even the most expensive goggles will fog up in a snow storm and having an extra pair can save the day. There are lots of other things to take with you that are useful that you can see here.
Where's your favourite spot in the valley?
I like the Col du Balme area.  There's some great pistes, some excellent tree skiing and you can choose to ski in the sunshine or seek out the cold powder on north facing slopes.  When the Grands Montets is in good nick it offers some of the best skiing in the world but it gets really busy.  And there was a fire 2 seasons ago which destroyed the top cable car and it doesn't look like it's getting rebuilt for this season.  Shame.
How do you manage the risks?
Good training and sensible route choices.  On avalanche prone days I prefer to go to less extreme resorts such as St Gervais where you can find fun, safe tree skiing.  I'd be lying if I said off-piste skiing is completely risk free but given the huge number of people who ski every year across the Alps there are relatively few incidents.
What advice would you give readers seeking a guide for the first time?
Guided skiing may seem like a an expensive luxury but if you split the cost between a group of like-minded friends it doesn't add a huge amount to the overall cost of a holiday.  I often have clients who ski more in a day with me than they do in the rest of their week's skiing.  I know where the good snow is, how to avoid the queues and can, I hope, inspire and encourage clients to really make the most of what the mountains have to offer.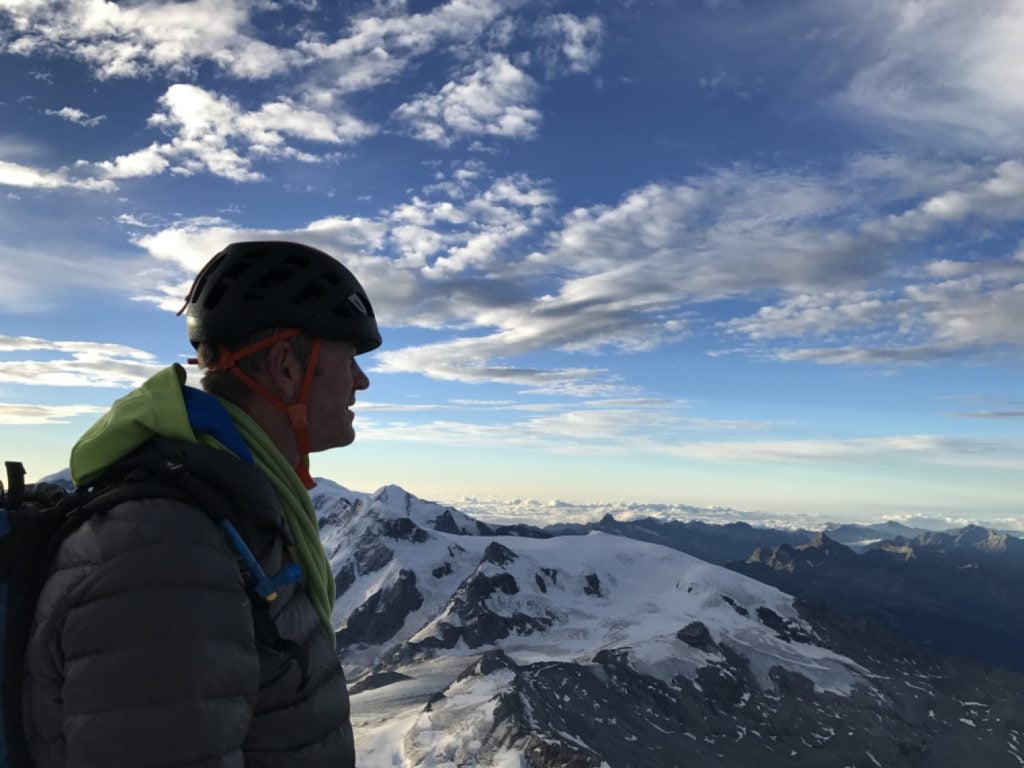 Working in France
There has been much controversy around british ski instructors working in France but it is different for British guides. British guides in the Alps are all members of the British Mountain Guides Association which is part of the much larger International Federation of Mountain Guides Association (or IFMGA).  There are 26 different countries within the IFMGA and thousands of guides worldwide, all of whom go through a rigorous and very technical training to become a guide; the highest possible professional qualification in the mountains.   There are many international guides based in the local area but numbers double during the ski season as oversees based guides come to the Alps to work.
Booking a Chamonix Mountain Guide
Whether you want to ski the Vallée Blanche or other well renowned routes in the Chamonix Valley it is best to take a Chamonix Mountain guide, not only can they take you down the safe routes on the mountain, they also know the conditions and the best areas to go in these conditions. In the summer, a Chamonix Mountain guide can help you achieve goals of climbing Mont Blanc or other high peaks or just show you a new route that matches your ability. You can email us on relax@chamonixallyear.com to book a mountain guide and if you want to book Phil just ask when booking.