New Year in Chamonix is a great occasion to celebrate, whether you're here with family or a group of friends. Many of the Chamonix restaurants will put on special set menus, and the bars will have live music and DJs so you can dance and drink until you ring in the New Year.
New Year in Chamonix town centre
If you don't have any big plans for your New Year in Chamonix, or are planning to celebrate in your accommodation before heading out at midnight, then you'll want to make a beeline for Place Balmat in the centre of town.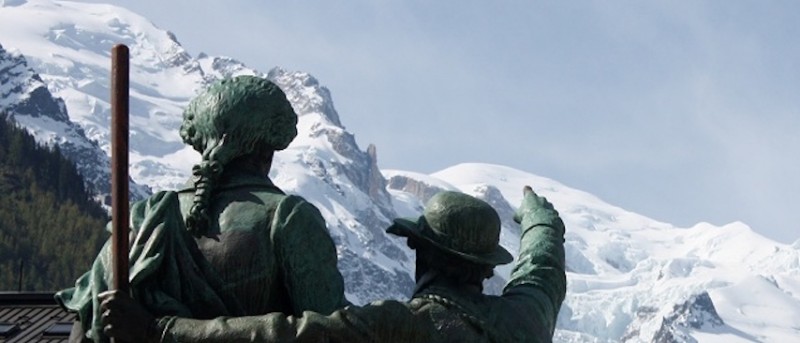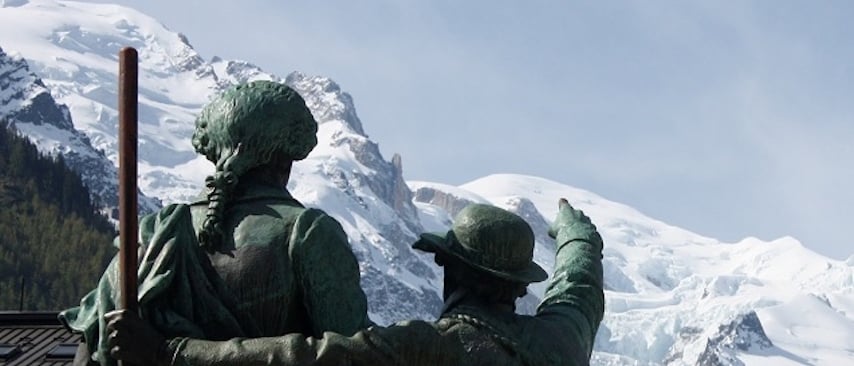 Locals and tourists alike will gather in the square to countdown together for this long-standing tradition. It's not an official event but there will be plenty of people to count down to midnight with, as well as champagne corks flying as the clock strikes 12.
Restaurants for celebrating New Year in Chamonix
If you want to enjoy a meal out on New Year's Eve then we strongly recommend booking in advance. Many of the restaurants will put on a special menu for the occasion and they will be very busy, so avoid disappointment by getting in touch with them to book a table before you arrive or early in your stay. The Tourist Office is keeping a list updated when they receive news from the restaurants in the valley about their set menus.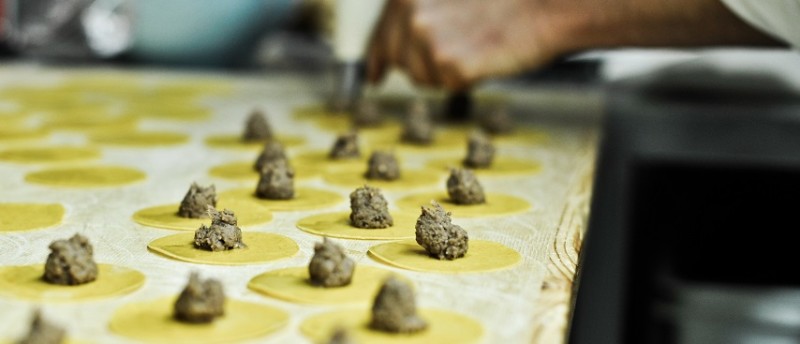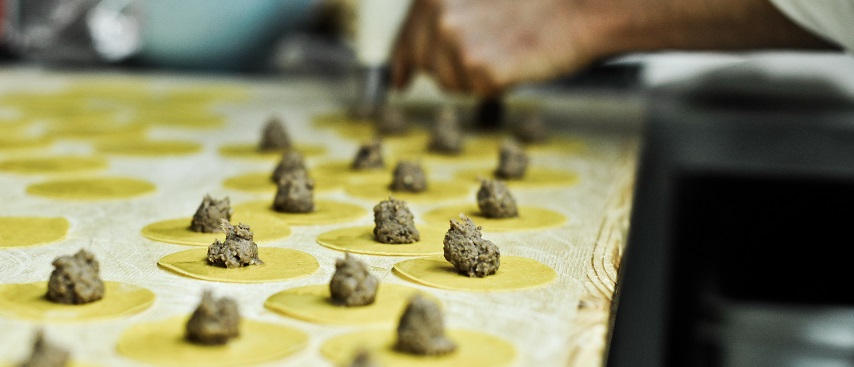 Don't miss our guide to Chamonix's best restaurants for fine dining too, which includes such gems as L'Impossible (photo above), if you really want to splash out on a special meal.
However if you'd prefer the quality food that comes with eating out, but to enjoy in your own Chamonix accommodation, La Remise restaurant in Argentière is offering festive takeaways of a selected range of special treats.
Sliced smoked salmon starts from 7.50€ for 100g, with accompanying whole grain or white bread 5€ for a loaf. Upgrade your takeaway with a cheese platter (35€ for 6 people), foie gras (50€ for 500g) or a steamed whole lobster (40€ – order 48 hours in advance).
Book by email to restaurantlaremise@gmail.com or by phone +33 (0) 4 50 34 06 96.

If you're planning on staying in and celebrating at your accommodation, then as well as ordering in from La Remise, you could visit the Saturday market in the morning of 31st December to stock up on local produce and enjoy an authentic New Year in Chamonix.
New Year in Chamonix's Maison des Artistes
The Maison des Artistes in Chamonix is a new cultural hub, set up by jazz musician Andre Manoukian. It's a lively venue for live music and visiting musicians, but on New Year's Eve you can celebrate in the company of the great man himself, accompanied by some of his friends.
Entrance is 30€ per person and includes a glass of champagne, as well as a concert by Sirius Plan, a jam with Manoukian and his friends, and then DJ set by Radio Krimi Party to keep you dancing until the small hours.
Experience NYE like a local
Bar'd Up is a favourite bar with Chamonix locals and will be offering an authentic experience this New Year's Eve if you want to mix with the international crowd that lives in Chamonix.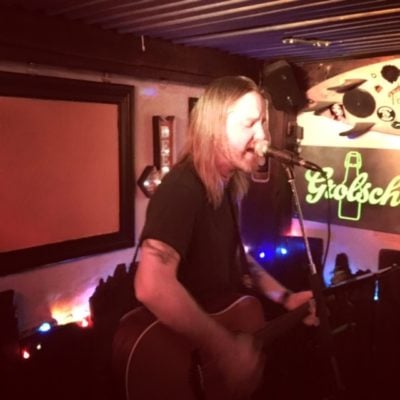 The bar is hosting a private party with the band Titus Pullo playing 10pm-midnight and again from 1-3am, interspersed with some 80s and 90s classic anthems. The evening starts early at 4pm and you can party until 5am. Enquire at the bar for details and prices for wristbands and drinks tickets.
As it's a private party, there'll be minimal queuing and waiting for your drinks, and with the wristband you can come and go as you please throughout the night. So if you want to experience New Year like a local, head along to Bar'd Up, 123 rue des Moulins.
Transport to & from your New Year in Chamonix
If you're planning a boozy night out, then you'll want to make sure that you've got a cab back to your accommodation booked. Uber hasn't yet made it to the Alps, so why not try out Chamonix Cabs' app or call them up as they'll be running all night long? +33 (0) 6 79 01 46 01.
Make the most of your New Year in Chamonix holiday
As well as all the suggestions above for celebrating on 31st December, our Resort Team is also on hand to make sure that you make the most of your holiday over New Year in Chamonix. Make sure your festive break is extra special by booking one of our exclusive activities, and take home unforgettable memories of your holiday.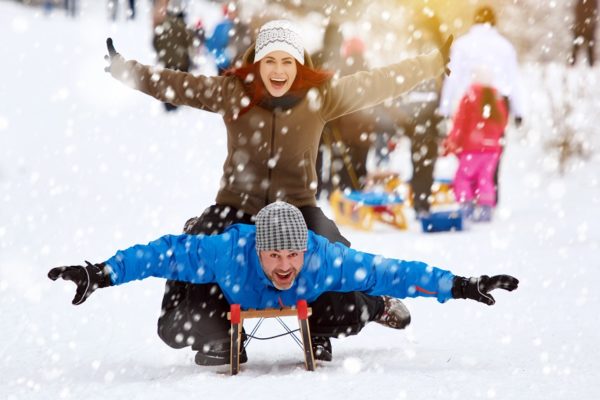 This winter we are offering two brand new, unique experiences that are great for all ages. Enjoy our sledging après-ski adventure in Switzerland, riding down the 3km track before enjoying some drinks and nibbles around an open fire. Or upgrade and finish the evening with an open-air fondue under the stars.
Alternatively, skiers and non-skiers alike will love our igloo fondue experience. Visit the real snow igloo at lunchtime – easily accessible on skis or snowshoes with our guide – or make an evening of it with a sunset snowshoe hike to the igloo, to earn all that cheese!
Both activities are available for groups of 2 or more, with discounts available from 5 people. The igloo fondue is perfect for couples celebrating a special occasion and wanting a meal to remember, while families will love the fun of the fast sledging track.
We can also help you to organise any of our non-ski activities or day trips, whether you want to ski 3 countries or even try an envigorating husky ride through the snow.
Some of these activities are snow dependent, and all are subject to availability, so get in touch with our Resort Team now to find out more, and keep doing your *snow dances*.
Happy New Year!
Whatever you decide to do to celebrate your New Year in Chamonix, the whole Chamonix All Year team wishes you a very happy new year and a healthy 2017.