Summer in Chamonix is jam-packed with possible activities, in the air (parapenting, helicopter flights), on rock (climbing, via ferrata), on ice (glacier hiking) or in the water. There are heaps of water activities Chamonix offers and they are available for all ages too, so keep reading to get a taste of the thrills and spills involved.
The best thing about Chamonix water activities is that they can go ahead whatever the weather. During a heatwave, you'll probably find that a dip in the flowing glacial waters is welcome, but equally if it's a rainy day, it won't dampen your spirits as you'll be getting wet anyway!
As a bonus, our partner for water activities is located in Chamonix centre so the meeting point is convenient and, what's more, they have warm showers to welcome you when you get back.
Top 5 water activities Chamonix
1. Chamonix rafting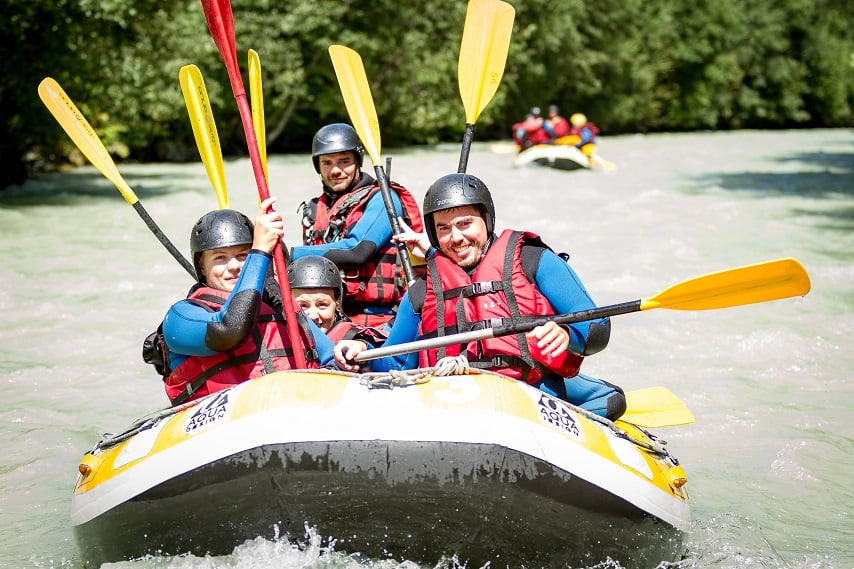 Almost as soon as you arrive in Chamonix and start wandering around the town centre, you'll hear the delighted screams of people in their inflatable boats on the water, trying to splash passersby as the rafts go under the bridges.
Everyone from 8 years old can enjoy riding the rapids of Chamonix's Grade II Arve river, so it's a great introduction to rafting and everyone is sure to be smiling at the end. Allow a couple of hours for getting kitted up, the safety briefing and your watery descent of the valley from Chamonix to Les Houches, where the guides will pick you up and bring you back to base.
Our Resort Team reviewed Chamonix rafting when they tried it out a couple of summers ago – they said:
You jump in the boat – and away you go. The first part of the river is flat and easy so you have plenty of time to get familiar with the boat and paddling, before you start to enjoy the view, passing through Chamonix town centre and seeing how nice it is to explore Chamonix from the river. You'll also pass the Chamonix All Year offices on your way through town, so give them a wave – or a splash like we did!
Chamonix rafting costs around 40€ per person, so it compares favourably to some of the other activities on offer in Chamonix. This is one of the most popular water activities Chamonix offers in the summer, thanks to its wallet-friendly price and the fact that it easily fits into a day of other activities.
2. Rafting in Italy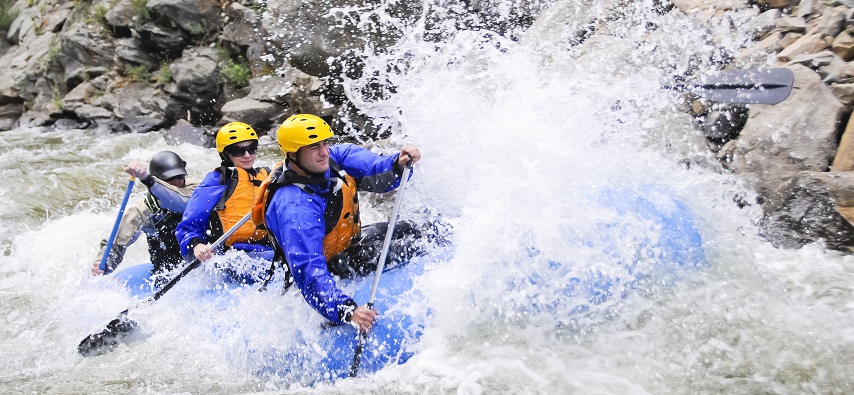 Adults & teens who've enjoyed the rafting in Chamonix should definitely take the next step and tackle the rapids of Europe's highest-grade river: the Dora Baltea in Italy.
This activity can be booked as a half or a full day, to allow for 2 or 3 descents respectively. Lunch in a bona fide Italian restaurant is also included if you plump for the full day!
You'll head through the Mont Blanc tunnel to Courmayeur and follow the river down the valley for some guaranteed adrenaline. The waters originate by the Italian side of Mont Blanc, fed by two glaciers from Val Ferret and Val Veny to make the Grade III-IV river which is more tumultuous than its counterpart in Chamonix.
Bear in mind that due to traffic through the tunnel in peak summer months, rafting in Italy may only be available in the mornings (July and August), or on weekdays. Typical price is 93€ per person for the half day, or 140€ for the full day with lunch.
3. Hydrospeed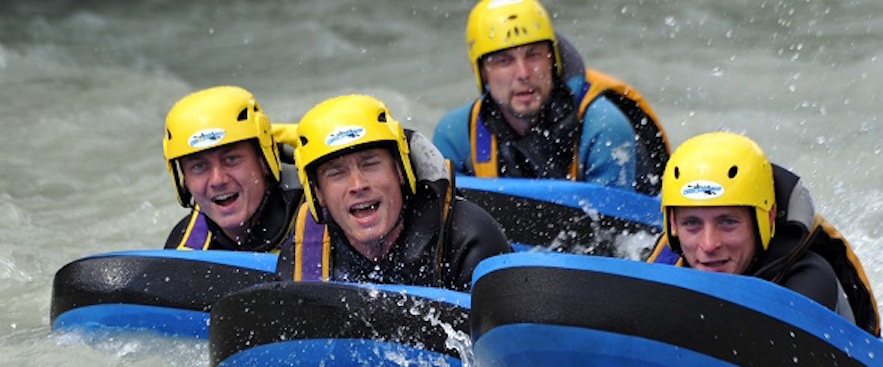 When the waters of the River Arve rise in the afternoon, it's the perfect time for everyone aged 12 and above to try out hydrospeed on the Arve river.
The elevated afternoon water levels ensure that your knees won't bump on the rocky river bed (too much!) and you'll wear a more heavily padded wetsuit to protect you from the cold. Add to that fins on your feet and a large float that your hands direct through the waves, and you'll feel like a shark cruising Chamonix's waters looking for the catch of the day.
Hydrospeed costs approximately 51€ per person and is only available in the afternoons.
4. Canyoning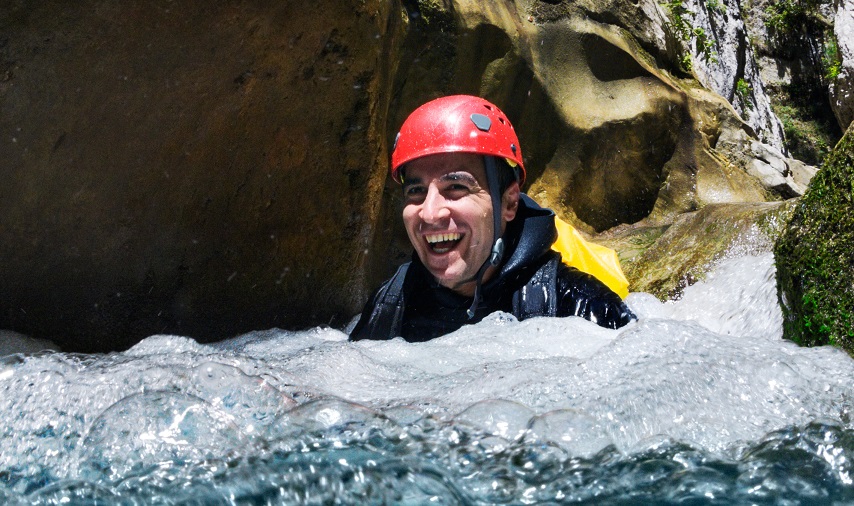 No one will win any sexy kit competitions when you're booked in for canyoning, but don't let that stop you from booking this exhilarating Chamonix water activity. The wetsuits for canyoning have padded bottoms which will get everyone giggling, and means they're all the better for sliding along rocks and down waterfalls, which is exactly what you'll be doing.
As well as your delightful wetsuit, you'll be kitted out with a harness and helmet, so you can scramble over boulders, slide down torrents of water and leap into pools in total safety and to your heart's content!
The canyoning half day takes place at the top of the Chamonix valley, in Barberine canyon close to the Swiss border. Or book a full day and head to Italy. Half days cost approx. 68€ per person, and full days from 109€.
We couldn't put it better than this summing up, from one of our visitors' reviews of canyoning:
I would recommend this to anyone. Anyone with a sense of adventure. Anyone with a sense of excitement just screaming to be tickled. And most importantly. Anyone with a sense of fun.
5. Wakeboarding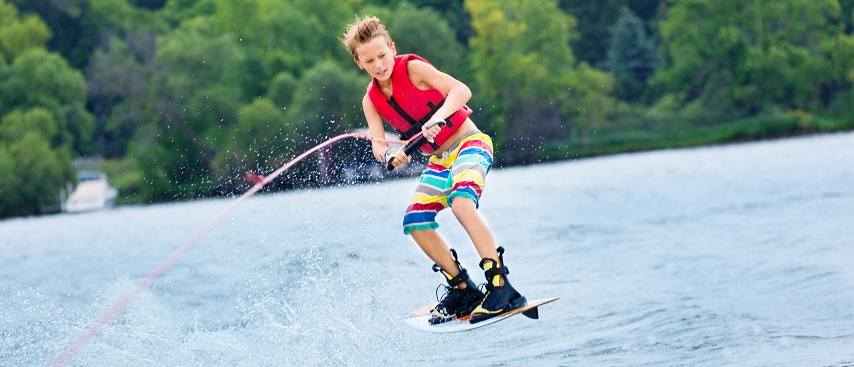 NEW for Summer 2017 is our wakeboarding day trip. Book a place in our minibus on Thursdays to head less than an hour away to the wakeboarding park. There's plenty to enjoy at this lake whether you're a total beginner or have experienced wakeboarding and related sports before.
You can of course try your hand at wakeboarding, but there's also water-skiing or kneeboarding to get to grips with too. The ecological lake is equipped with a tow-rope, so there are no boats rushing around and you're towed instead by the rotating cable.
Choose to book your day trip along with a one or 2 hour session, or enquire about tuition and other options which might be available. Booking one of these sessions includes equipment rental and insurance, so all you have to worry about is having fun.
There's a snack shack and a bar within the complex, making this the ideal destination for a day out from Chamonix if you can't enough of water activities!
Book transport for 60€, plus your choice of activity –  1 hour wakeboarding for 29€ or 2 hours for 40€. (All prices are per person.)
Top tips for water activities Chamonix
To make sure you get the best of the water activities that you book this summer, we've put together some top tips for you too:
an obvious one to start with – don't forget your swimsuits!
if you're going rafting or canyoning in Italy, take your passport
prices quoted above are for activities in a group, and generally include transport and wetsuit, as well as safety equipment
check the age limit and ask us if your kids are younger – some activities may be possible for them with a private guide
ensure you are confident with your swimming ability – speak to our Resort Team if you have any doubts about your skills or those of your children
canyoning is recommended for people who have a good head for heights
bring your beach towel in your suitcase or hand luggage, as many accommodation providers including Chamonix All Year provide towels for use in your accommodation only
Kids' water activities in Chamonix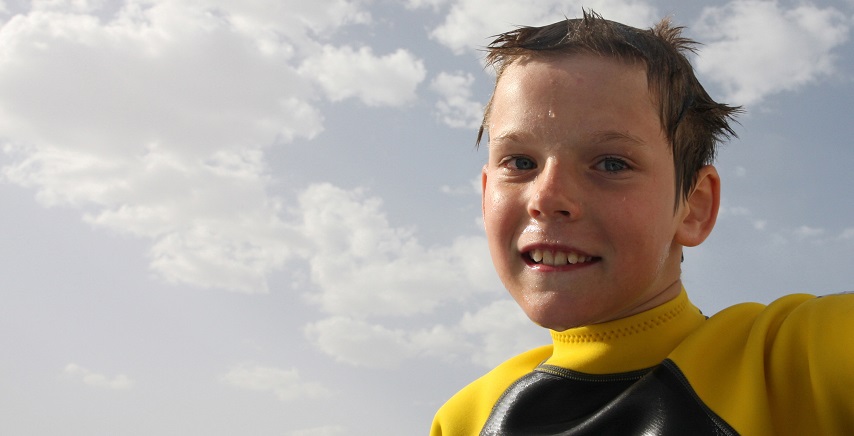 As you will read above, some of the water activities do have age limits on them for safety reasons. Sometimes these restrictions are due to the insurance held by our activity partners and are unfortunately non-negotiable.
However on other occasions it is to allow groups to progress at the same pace, and booking a private instructor will ensure that kids as young as 6 can enjoy canyoning, for example. So if your younger kids are jealous of everyone else's fun, get in touch so we can see what we can organise for you.
Bear in mind as well that younger kids will generally be scheduled to do rafting in Chamonix earlier in the day when the water is less forceful.
If your adventurous offspring would like to enjoy these water activities Chamonix style and with other kids their own age, then check out our Alpine Activity Days which are a great way to ensure a day – or a week – jam-packed with adventure and fun, including age-appropriate rafting or canyoning activities.
Booking water activities Chamonix
The easiest way to book all your water activities in one place is to head to our Chamonix Resort Shop, or contact our Resort Team who can advise on any questions you may have.
Check out videos of some of the water activities Chamonix offers below: