Liana and Céline from our Resort Team were lucky enough to try out the rafting in Chamonix last week – perfect activity for the heatwave!
Resort Team try out Rafting in Chamonix
Last week, Céline and Liana were lucky enough to try out our Chamonix rafting activity on L'Arve river in Chamonix. They had a great time and we even managed to snap a photo of them going past the Chamonix All Year office – see above! We asked them to tell us what they thought in a review, to give our guests a taste of what this popular summer activity involves.
Chamonix rafting review
When you arrive at the rafting base right in the heart of Chamonix, you already feel the excitement as you watch other people leaving before you in the inflatable boats. You only need to bring your swimming suit and towel as everything else is provided. If it's your first time rafting you may feel a bit nervous, but the fun and friendly rafting instructors will soon put you at ease, transforming your nerves into excitement!
After you've given your name and confirmed that you know how to swim 25m on your own you will be given a wet suit, wet shoes and a life jacket, then led to the changing room (where you can leave your stuff – if you've got valuable with you leave then at the front desk with the nice lady) to put all of this on. The fun starts here as you will need to squirm a lot to get into your suit!
When you've managed to get changed, your funny instructor will probably fill your wet suit with cold water to help you feel ready for the rafting. Then you'll need to choose a helmet and a paddle before he gives you all the instructions for the activity.
The rafts can take up to 8 people, so the other people in your group will quickly become your best friends and team for the next hour. In a circle around the boat you will learn how to paddle together, how to grab the life line in case of falling out or going for a swim, how to help your mates to get back in the boat if they fall into the river, as well as how to sit and find your balance in the boat.
Then you jump in the boat – and away you go. The first part of the river is flat and easy so you have plenty of time to get familiar with the boat and paddling, before you start to enjoy the view, passing through Chamonix town centre and seeing how nice it is to explore Chamonix from the river. You'll also pass the Chamonix All Year offices on your way through town, so give them a wave – or a splash like we did!
Your instructor will teach you how to jump into the water, as a quick demonstration of the correct position to take if you find yourself in the water (head upstream, feet up), and then show you how to get back into the boat. He will also make the boat stop at some point on the riverbanks for you to observe the way the river flows, the colour of the water coming from the glacier, the evolution of the river over the years and how to swim in the stream (if you want to!).
When you pass under a bridge he might also show you how to catch it and then jump before you get back to your boat. At the end if your boat is full of sporty guys your instructor will make the boat overturn and you will need to swim to get to the shore, which is really good fun!
After that another guide will come to pick up your boat and team, and drive back to the rafting base where you can enjoy a hot shower after the cool 4°C of the river. On a hot day like it was when we went, rafting is the perfect way to cool off, but as it's a water activity, you can also do it in the rain, as you'll already be getting wet!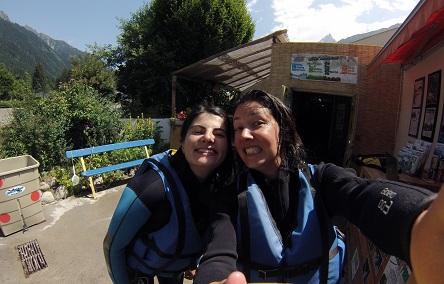 Chamonix rafting is a great way to introduce yourself to the summer activities in Chamonix and warm up to one of our "adrenaline" activities, and it's also a great shorter activity to do with friends or kids. You'll have time to enjoy the views of Mont Blanc, Aiguille du Midi and Brevent, right in the middle of the valley floor, accompanied by the peaceful sound of the river.
How to book
Chamonix rafting is our most popular summer activity as it only takes a couple of hours, takes place right in Chamonix centre and is affordable too. In July and August we strongly recommend booking in advance to avoid disappointment, which you can do before you arrive via our Chamonix Resort Shop website or in resort by speaking to the Resort Team.
Other summer activity recommendations